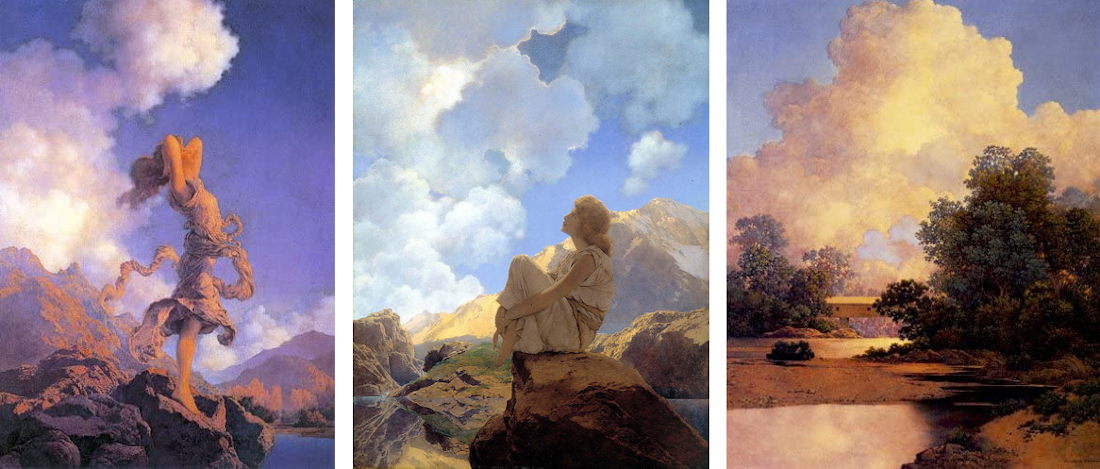 by Dr David, Editor / Publisher
When I lived in the mountains of Vermont's Northeast Kingdom I'd wonder why the clouds all looked like those in Maxfield Parrish paintings. Then I learned that the artist had lived nearby, in New Hampshire's White Mountains.
One early autumn evening up there my buddy and I went to visit the Verges' hunting camp. Ed Verge was the father of five sons, three of whom were grown men. I never was properly introduced to the women folk. They weren't up at hunting camp. (That's part of what hunting camp is about.)
The Verges were Abanake Indians. The Abanake are an unincorporated tribe. The US says they are a Canadian tribe that only came down to weather during the winter. Canada contends they are a US tribe that only came up to hunt.
Evening was rapidly turning to night. Ed took a rifle and flashlight and with a gesture invited me to follow him. We slipped off, leaving the younger males standing in the small clearing in front of the cabin socializing around the fire. (That's another part of what hunting camp is about.)
I followed Ed on a wide trail in the gathering darkness. The fallen golden leaves, reflecting back what little light there was, shone almost luminous against the dark background of the earth. Every now and then, just for a couple of seconds at a time, Ed switched on the flashlight with it focused on a disruption of the pattern of leaves on the forest floor. When he shined a light on it, framing it with the beam, it was obvious, even to me, that here was a spot where a deer had scuffed the ground. By the way Ed raised his finger to his lips, signaling for quiet as we continued on our way, I knew that he could tell that the scuff was recent.
Some short while later we returned to the fire, without a word and without our deer.
Someone has observed, "Intuition is the fruit of diligent study." I'm sure diligent study has a lot to do with it, but I think a sixth sense might also be involved. That trackers can take a whiff of a spot and tell what type of animal peed there is wonderful enough; but how do they notice, walking down the trail, how do they recognize the spot where the animal peed?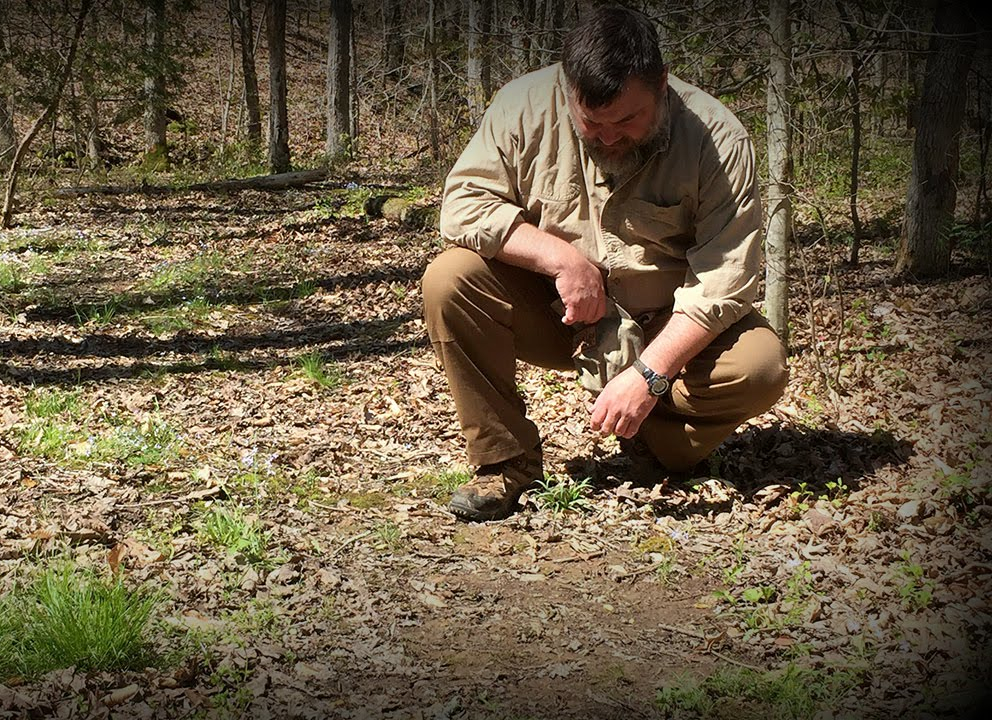 As a doctor what I diagnose most frequently is insensibility. People don't notice, don't sense what is going on in their own body. Or they do sense it, but they don't listen to it.
That little grumble in your lower left abdomen, just barely felt, is your rectum telling you that now is the moment. Ignore it and the urge will go away. Follow it and you will feel better.
It is quite the effort to maintain our upright posture. My head is way to big for my smallish body. Sitting still in front of this computer for long stretches of time, my neck gets stiff. Sometimes I can relieve the tension (and even pop my spine) just by gently (always gently, please) rolling my shoulders back and thrusting out my chest. Sometime I need to stretch out flat on my back. (I sit on the foot of my bed and lie down keeping my feet on the floor or raising them just a little to better stretch the whole spine, maybe with my hands folded under my head.)
Another casualty of my sedentary computer existence are my eyes. The problem being that always focused at the same spot, at the same distance, the muscles around the eye, unexercised, become stiff, kind of frozen in place. Ignoring this for years, insensible to what my body was telling me, I only very recently started listening.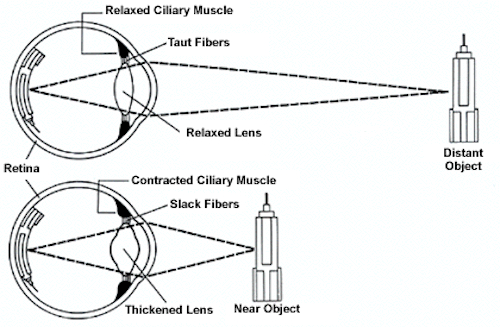 To focus on things close up the lens of the eye gets fat, bending the light more so it converges properly on the retina. For distant objects the lens is drawn thin, because to focus those light waves requires less dramatic bending. This is similar to adjusting, increasing or decreasing, the lens of a projector to focus its light onto a screen.
But you can also focus the light from a projector onto a screen by increasing or decreasing the distance between the projector and the screen. That's what Dr Bates pointed out.
I learned about The Bates Method for Better Vision back in naturopathic medical school. Hoping to find some photos to illustrate this article I hopped over to Wikipedia.
A man here in SMA recently told me, "When I tell people that I don't like discussing politics, because I don't feel that I have an informed opinion, they tell me, 'You must be pro-Trump.' But I'm not pro-Trump."
I also don't like talking or writing about politics, but when I visited Wikipedia this morning I read: