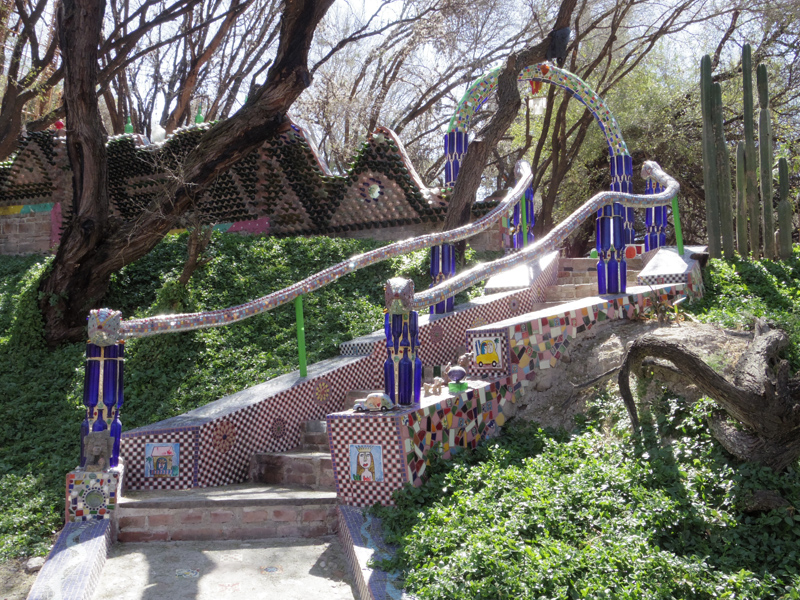 by Dr David Editor / Publisher
photos by Magin (except 2, 3 & 4)
A couple of Mondays back a longtime friend of my girlfriend Veronica, Magin and his girlfriend came to visit. Chileans, they were on a whirlwind visit of Mexico and had 24 hours set aside for San Miguel. They arrived Monday night. I had prepared my Famous Spaghetti Sauce. After dinner Magin, artist and an art teacher, shared a portion of the photos of their trip. Tuesday morning we woke early and, before setting out to the hot springs, washed down micro-doses of powdered Peyote with fresh squeezed orange juice (excepting Vero, who had to teach later in the day).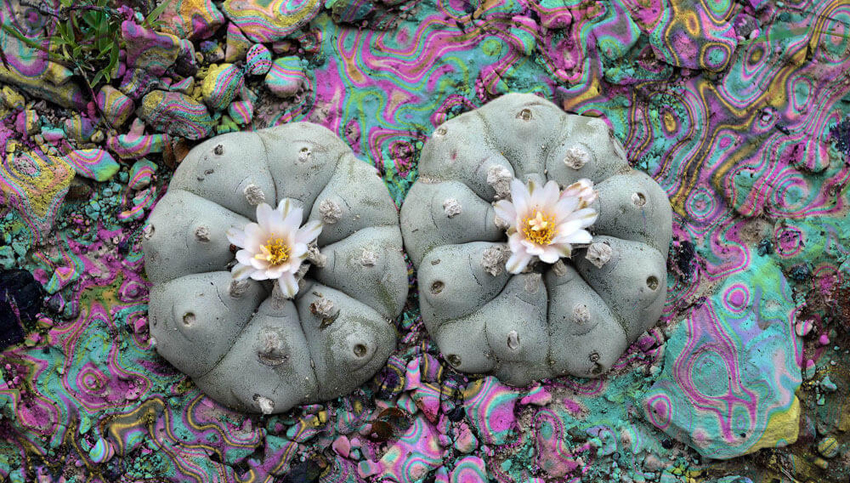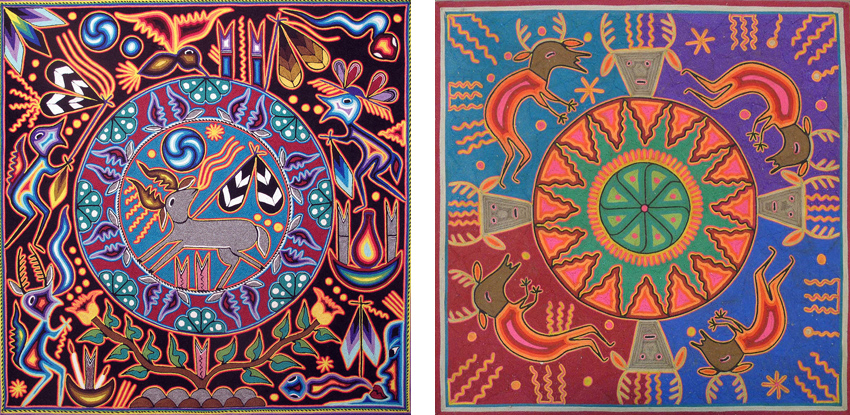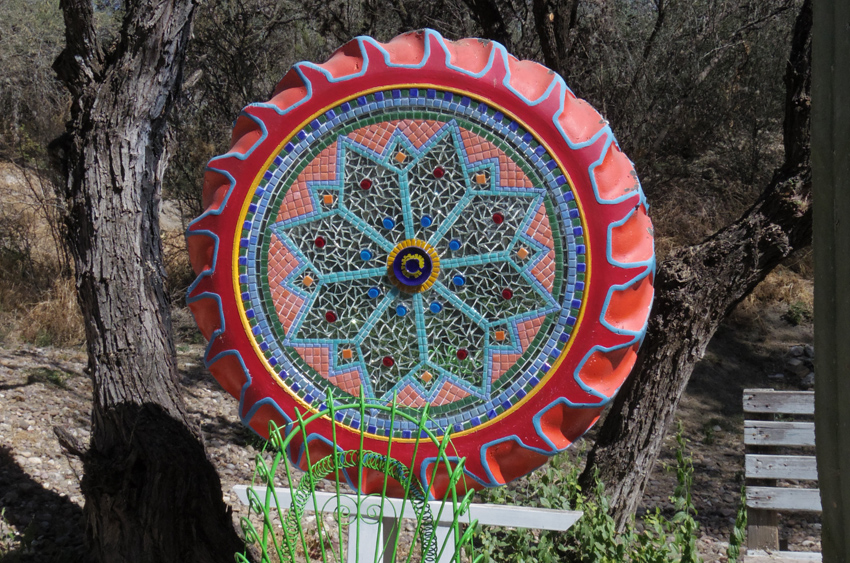 The best selling author, Michael Pollan has just written a volume, How to Change Your Mind (see videos on Youtube), extolling the psychedelic experience. Mind-opening substances have worked medicinal wonders with, among others, alcoholism, depression and the fear of death in terminal patients. Back in naturopathic medical school my neurology professor told us that the brain is best thought of as a reducing filter. Only an infinitesimal portion of the sensory input we receive every moment is allowed into consciousness. Otherwise we would be overwhelmed. We need to focus on what is "important." This perceptual evaluation process is sometimes unfortunate in that focusing us on survival, as it does, we sometime pass over the poetry, grace and connectedness of our experience(s). In Silicon Valley, where they are trying to think in non-ordinary, out-of-the-box ways, micro-doses of psychedelics are encouraged in the workplace.
Off we went with our fruit salads, breakfasts, towels, bathing suits and floats. Escondido Place was practically empty. We had the aguas calientes, including the chorro, the water pouring down in a massaging torrent, all to ourselves. Then we lounged in chairs next to the lily pond, refreshed ourselves with the fruit salads and, like the dozen turtles on the other bank, soaked up the sun. Soon it was time to deliver Vero to school, just around the corner in Atotonilco. There we ate our breakfast, sitting beneath one of the large trees, while we watched the kids at recess. Think idyllic.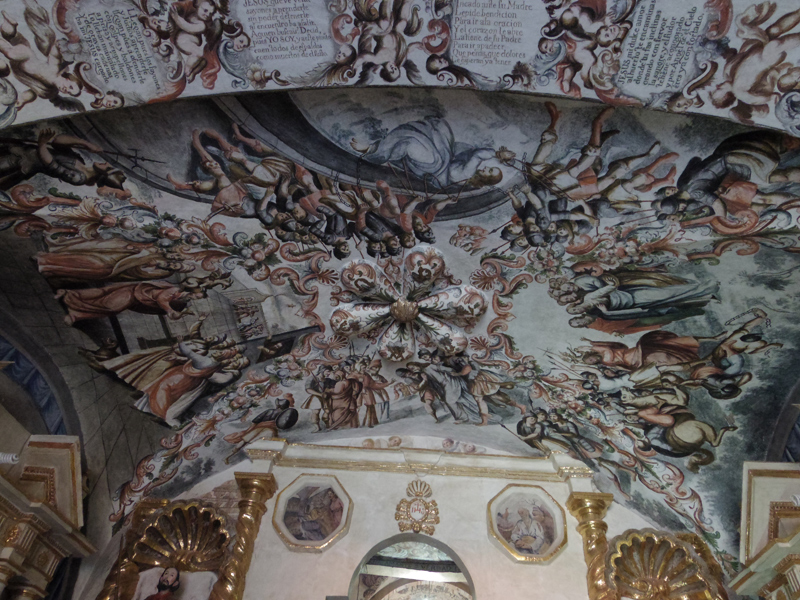 Both breakfast and recess over, we made plans to collect Vero at 2:00, said our goodbyes and drove off to see the chapel. From those shady depths we set off on the sun-drenched back road to Ceineguita. Magin, wrote a book and made a movie about the animas, or descansos (resting places), the roadside crosses that memorialize a loved one, whose often violent demise occurred at that spot. Seeing a family commemorating at one we slowed. At another we stopped and Magin explained that these animas become sites of offerings and are attributed magical, or at least, sacred powers. He told of a road expansion project that would had necessitated the destruction of a particularly revered anima. This proposed desecration was vigorously protested. The issue was resolved, the expansion was canceled, when the man in charge of the project suddenly died.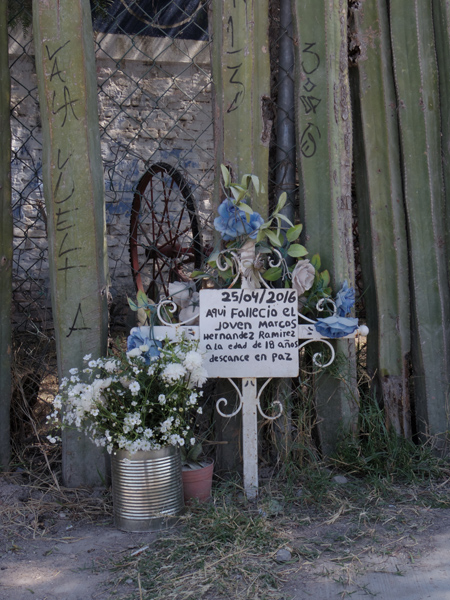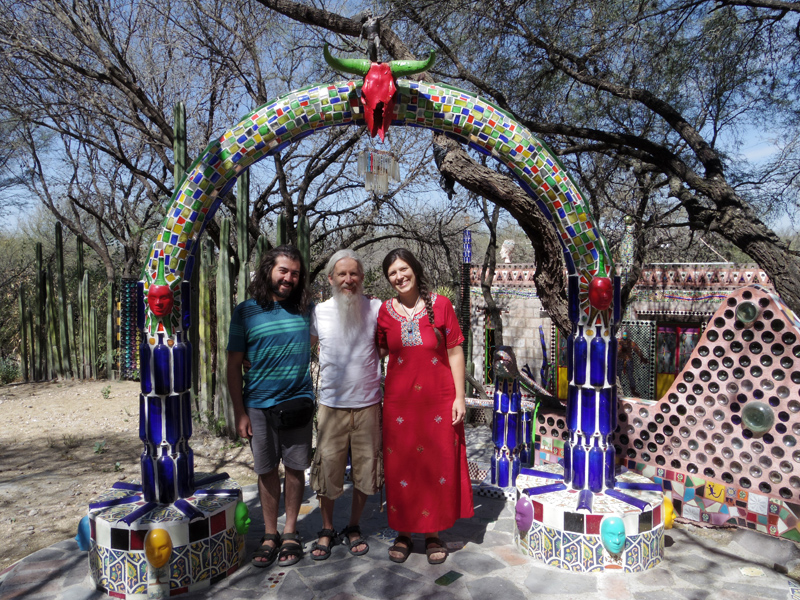 The micro-doses of peyote enhanced everything. It is like going from a snowy, broadcast viewing of TV to one of those super high-definition, 4k screens. Except everything, not just the visuals, was illuminated: touch, hearing, smell and a few senses that we didn't know we had. (You don't usually feel the air inside your nose, but take a breath now and feel it. Go ahead.) Then there are a cascade, a river, a sea of thoughts which never make it to the surface of consciousness. These came bubbling up. The world was exotic. There were no hallucinations; nothing close. The dose was too small for any of that type of thing. But it was like transitioning from Kansas to Oz, complete Technicolor, with us not just watching, but actually walking on the Yellow Brick Road.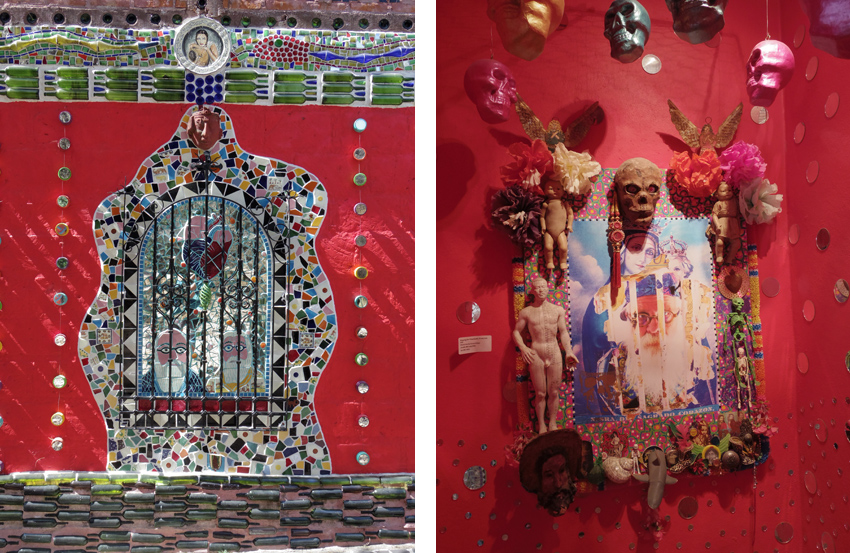 I had hopes of showing my guests Anado's place. But knowing how much he values his privacy my approach was tentative. unlocked as it was, we stood outside the lower gate and made whistling sounds until I caught the attention of a young man on the other side. Not wanting to disturb the maestro, I asked the young man if we could just enter the compound and look around. "Not without permission," was his reply. I gave him my card and asked to be announced. Moments later the upper gate opened and Anado performed a caricature of himself; "This is a private residence. How am I supposed to get any work done with these interruptions?" Funny because it's true. Moving up the road I protested, "Anado it is enough only to see you. You are the real work of art. Everything else is just a reflection." Laughing, he warmly embraced me and invited us in. Taking his keys out of his pocket, he asked his assistant, Carlos, to show us the gallery, and told us to come visit him in his studio afterwards.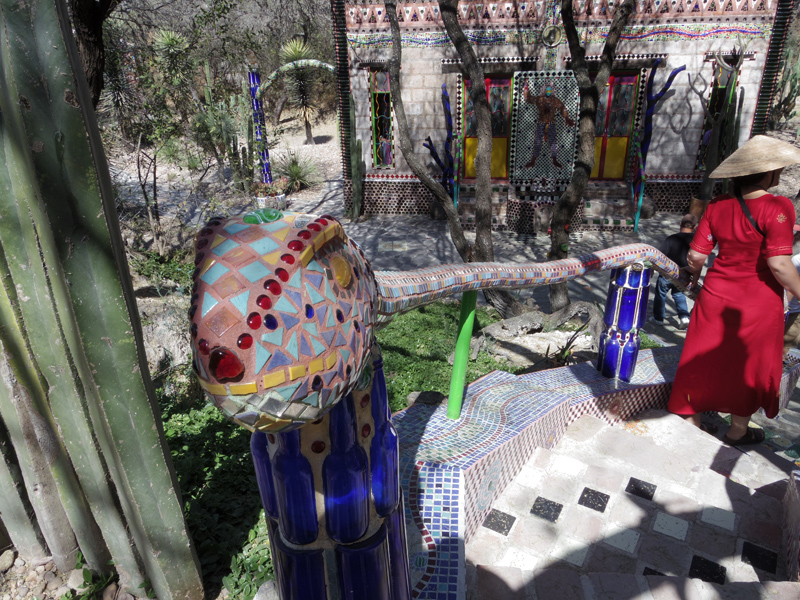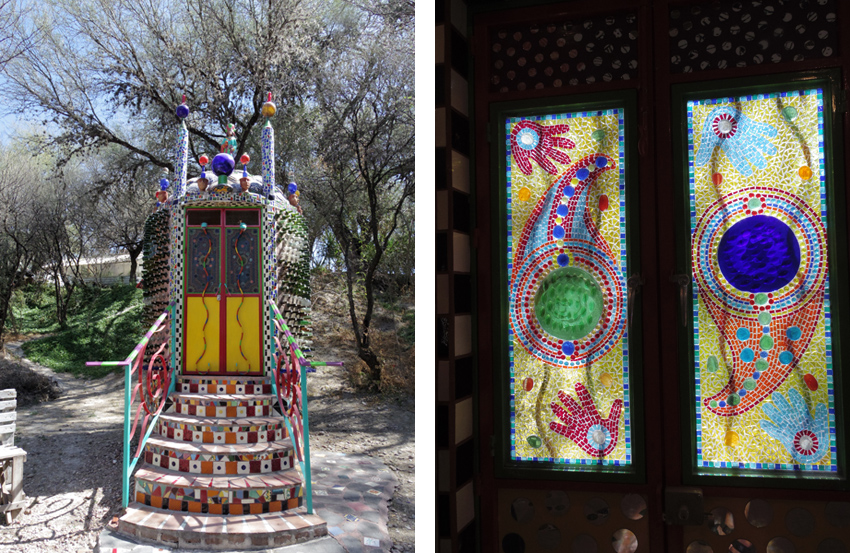 Anado and I have a special relationship: his interview was the first article I published in this magazine (from the introduction: "Now in his 60s this child of the Sixties has long since turned his sack of presents inside out, his art works displaying the hallucinogenic core of existence which the survival-oriented mind, like Ronald Reagan, tries to convince us never really happened."); I have the honor of publicizing his out-of-sight events (Essence: A Three Person Art Exhibition at the Chapel of Jimmy Ray Gallery on Saturday, February 23, 1-5pm); he adored my miso soup; we both have longhair and beards, now both white. Carlos was entirely gracious on our tour of the gallery. After, in his studio Anado was charming and completely entertaining. We've spoken, in passing, about his supplying content on an ongoing basis for my magazine. There in the studio, when I mentioned videos, he turned his iPhone over to Magin and asked me to sit down next to him "placidly." ("I don't know that I can do placid," I protested.) We then shot a preview of his poetry reading, coming up on, Thursday, February 21:
From Anado's we went to the Church at San Miguel Viejo, where we discovered that restoration was in progress. (Magin's mom does restoration.) Magin was fascinated also by the "calvario," the altar some distance in front of the church where the indigenous could and still worship in their own way. These consists of a doorless niche. Within crosses often stand among a profusion floral offerings. The indigenous Otomi and Chichimeca didn't enter the chapel immediately but knelt at the calvario offering reverence, incense and prayer to their ancestors' departed souls. (Thanks to Joseph Toone.) .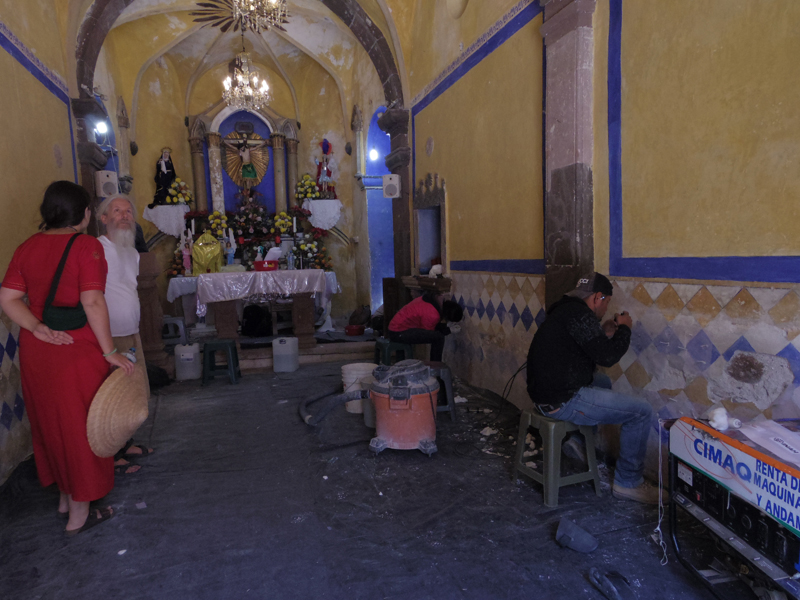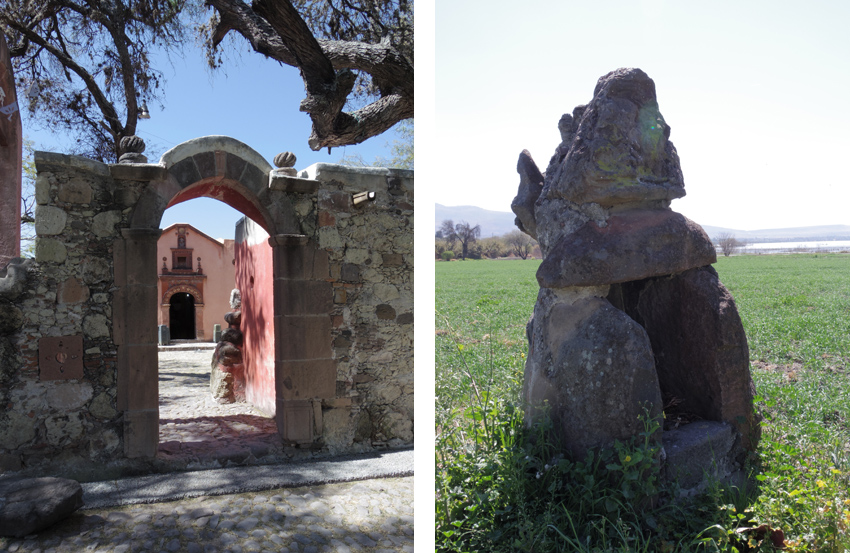 From there we buzzed up to the Botanical Garden and the greenhouse there. The cacti on display seemed to be communicating, on a different time scale and in a more subtle dimension, with the cactus Peyote that was still subtly influencing our perceptions. [Peyote is transformative. It is medicinal and more. I use it in my practice and on my tours. Interested?]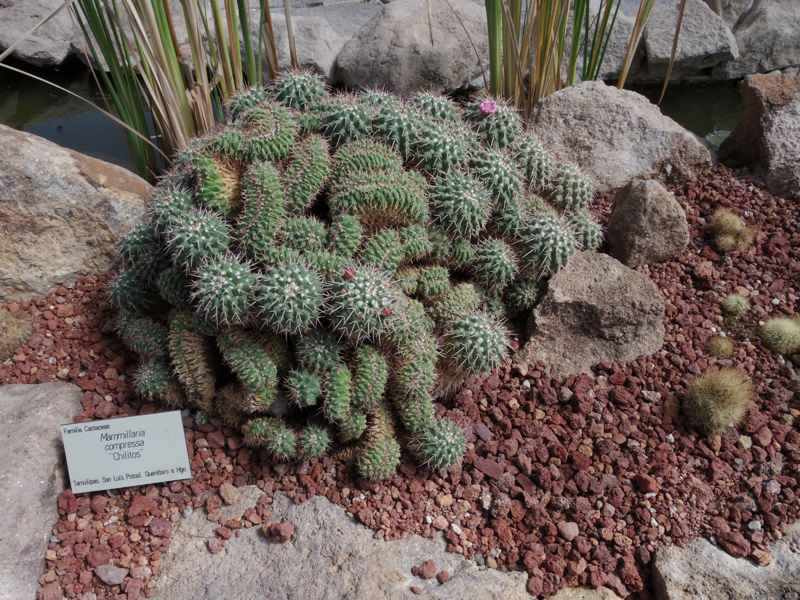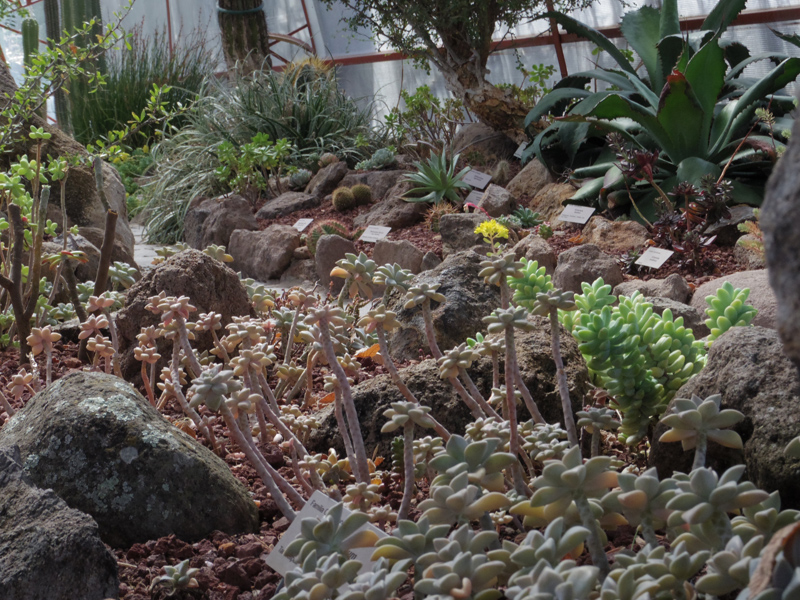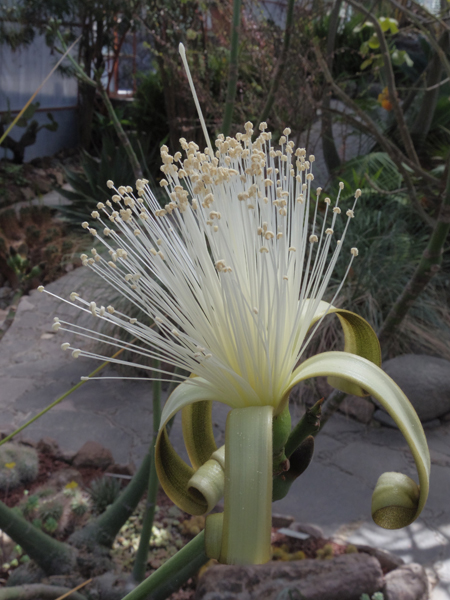 Wanting to avoid the traffic at the glorieta in front of La Comer that I saw on our way up, we came down from El Charco on the road (for the first quarter mile rutted dirt) through town. Thus, they got to see a bit of the actual city even while skirting over to Obraje and then the back way to Pollo Feliz and the Carratera a Dolores and Atotonilco to pick up Vero. That accomplished we stopped at Las Gorditas de Don Ciro for lunch and then toured El Centro until the sun was low in the sky and it was time for them to leave. A great time was had by all who attended.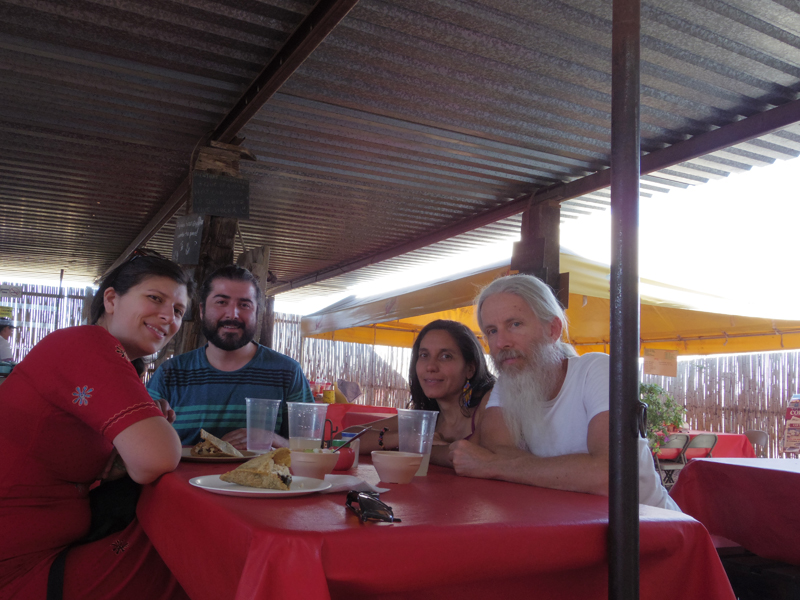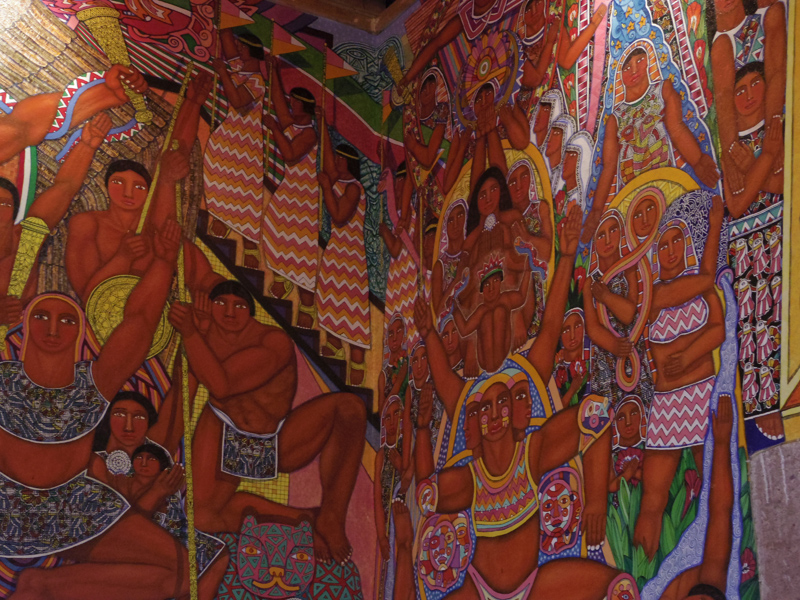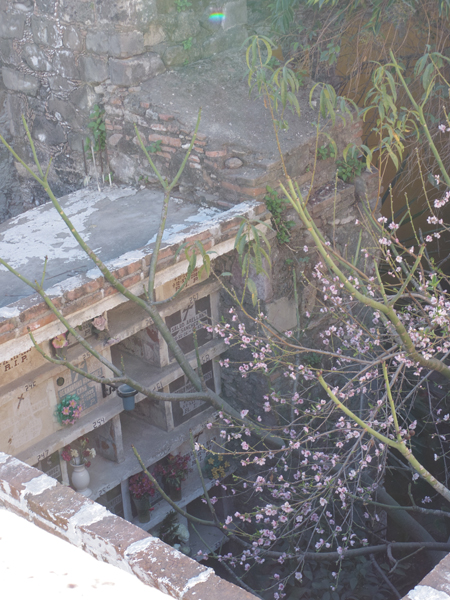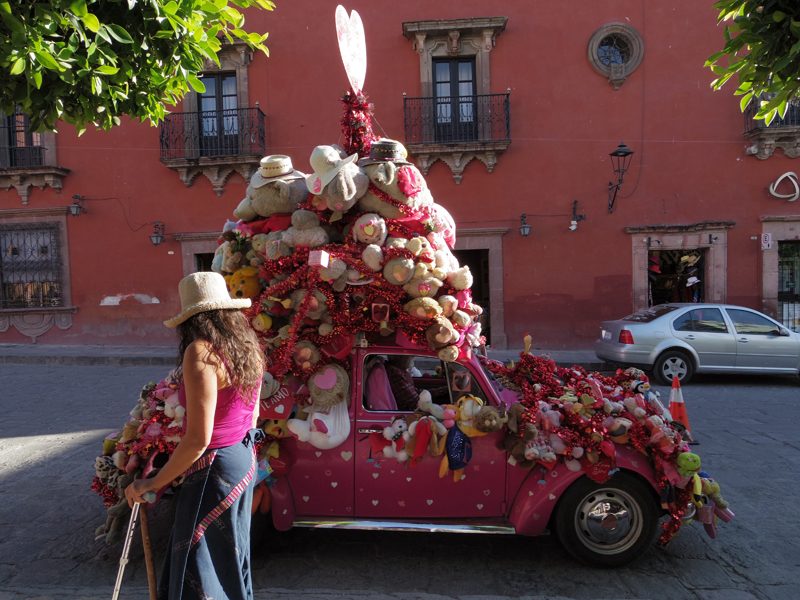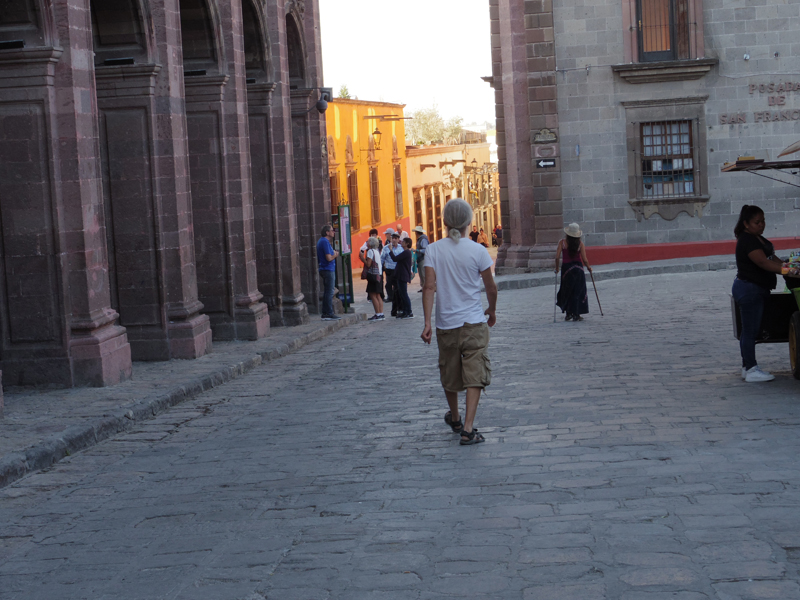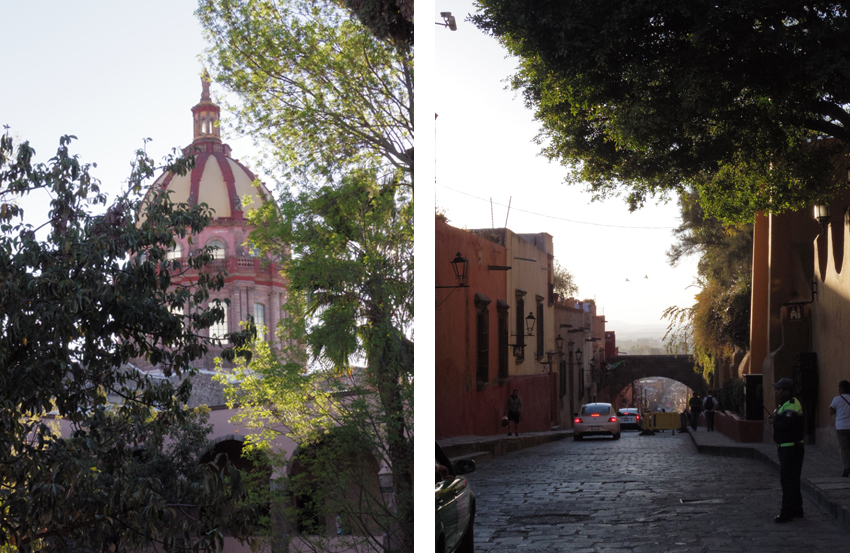 **************
Anado's Upcoming Gigs
Essence: A Three Person Art Exhibition
at the Chapel of Jimmy Ray Gallery on Saturday, February 23, 1-5pm
Poems of Home and Beyond
Thursday, February 21, 5-6pm
**************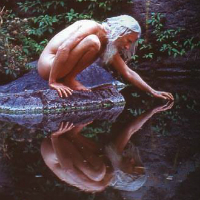 photo: Alessandro Bo (cropped)
Dr David has invested years of his life and more money than he cares to reckon into his global Lokkal project, an event calendar and searchable directory/business network for towns and cities around the world, combining aspects of Facebook, Google and Trip Advisor. Think: Digital Town Square. Think: the yellow pages for the new millenium. See more. A madman crying in the wilderness for years, reinforcements are recently arriving, the A team is assembling and preparations to launch in other cities are being made, gracias a dios. Interested?

You must register and log in to write a comment.
Please use the "login" link at the top (right) of the page.