Sunday, December 8, 5-7pm
Bordello Galeria, Organos 19
free
Thrill and Nostalgia, Andrew Osta - opening
by Danica Tanjutco
Before moving to Oaxaca, Ukrainian-Canadian artist, Andrew Osta, had been residing in the magical town of San Miguel de Allende for seven years. Today, alongside his paintings, his wife, and his two beautiful children, Andrew is coming back to San Miguel for yet another much awaited show. One can say that this will be a homecoming of sorts, but what is it about San Miguel that appeals to so many artists?
I had the pleasure of staying with Andrew and his family for a few days in their home in Oaxaca. If you are wondering what an artists' home might look like, well, it does slightly resemble an art gallery... or a small museum. Paintings hang on every corner, and artworks on every countertop. Living with an artist and learning from his craft is such a pivotal step in my own growth as an artist as well. Undoubtedly, this will be one of the highlights of my trip to Latin America.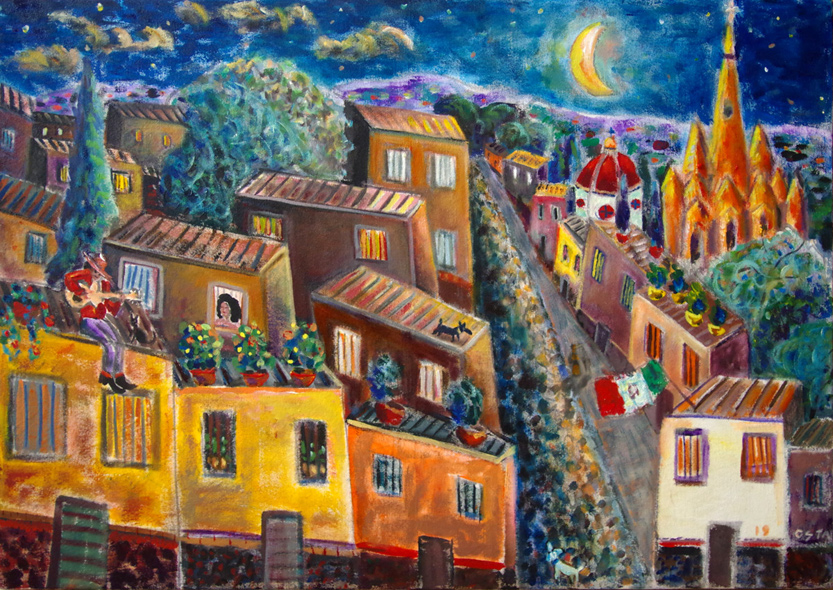 Andrew's works, which range from small to massive, are colorful, joyful, and fascinating paintings.

A year has passed since Andrew last appeared in San Miguel. Like all of his shows, the last one was a big success, with great sales and attendance. I am sure that this exhibit, which features much previously unseen new work, will be as successful, if not more. Certainly, the people of San Miguel will have a sense of thrill and nostalgia in seeing Andrew and his works again.
If you would like to meet the artist, whose works permanently hang in the "Hecho en Mexico" restaurant next to those of his friend and mentor Toller Cranston, please come to Andrew Osta's exhibit on Sunday, December 8, at the Bordello Gallery. (Casa de la Noche, Organos 19, Centro)