by Andrew Osta
Toller Cranston
Not too long ago, my keychain had four special keys on it. Each of these keys unlocked an artist's studio, and each of the artists they represented was a universe unto himself. The first key opened my own studio on Hospicio street, but I'm not going to talk about myself. The second key was more interesting, as it had been given to me by the late Toller Cranston – one of San Miguel's eccentrically brilliant personalities, a fantastic champion of figure skating and a prolific and successful painter. We met at one of his events and quickly became friend. Before long, I formed a habit of visiting him late in the afternoon, usually to find him happily painting in his studio with music blasting at full volume from his paint-stained old stereo. By the time I came by, he would usually be alone, his extensive staff of multiple helpers and maids having gone home for the day. With just the two of us there, we were able to speak honestly, without feeling like we were taking part in a big a show being put on for the entertainment of the guests who always joined Toller around his breakfast table. Not wanting to stop painting and come down from his studio to open the door for me every time I visited in the afternoon, Toller gave me a key.
"Just come in whenever you want," he said.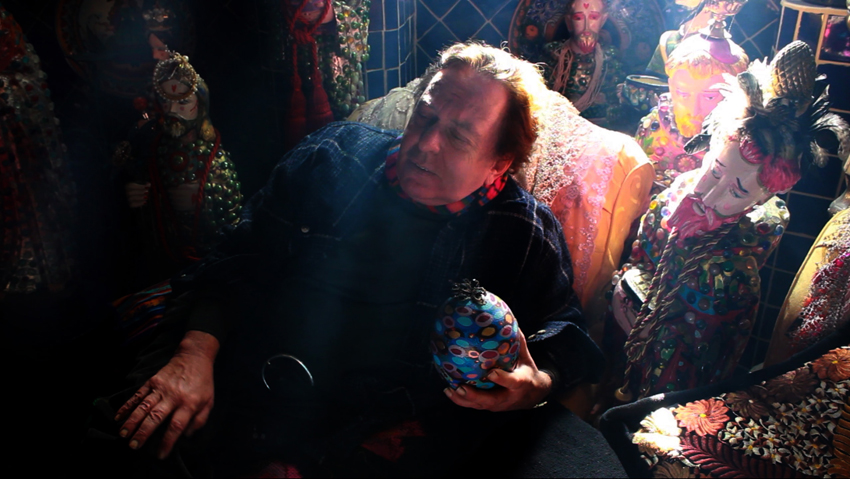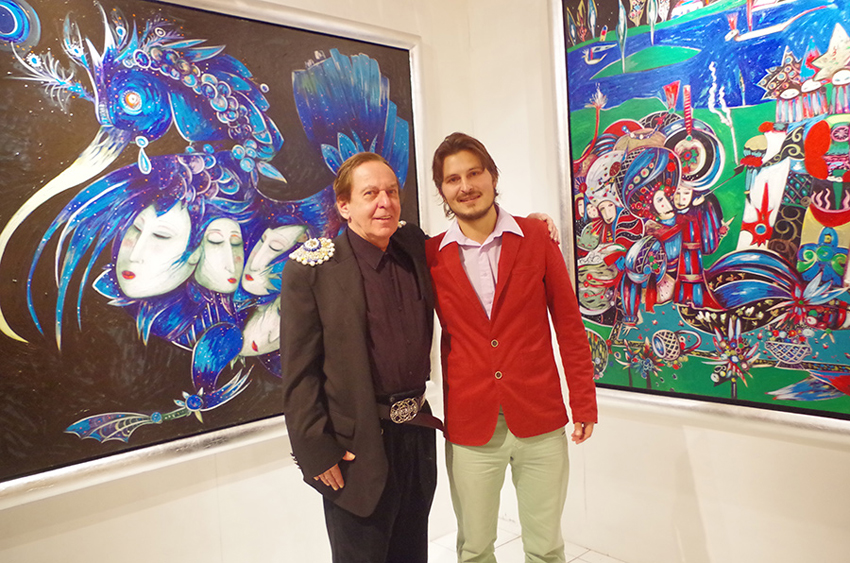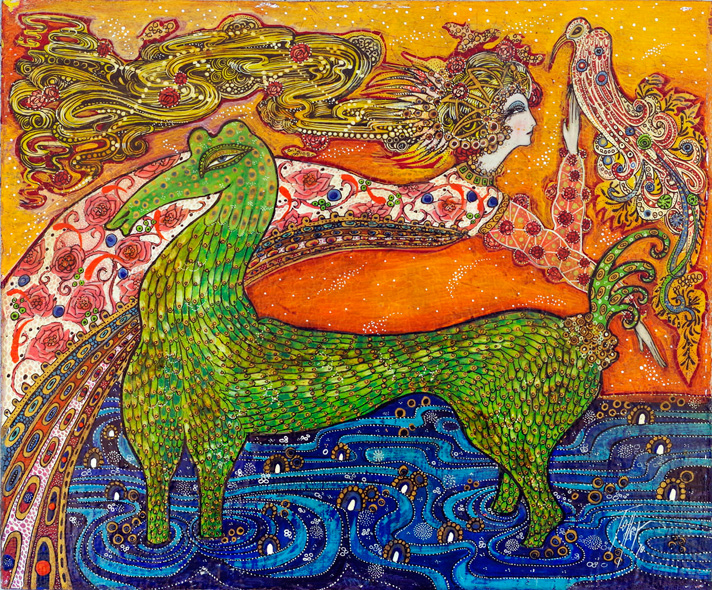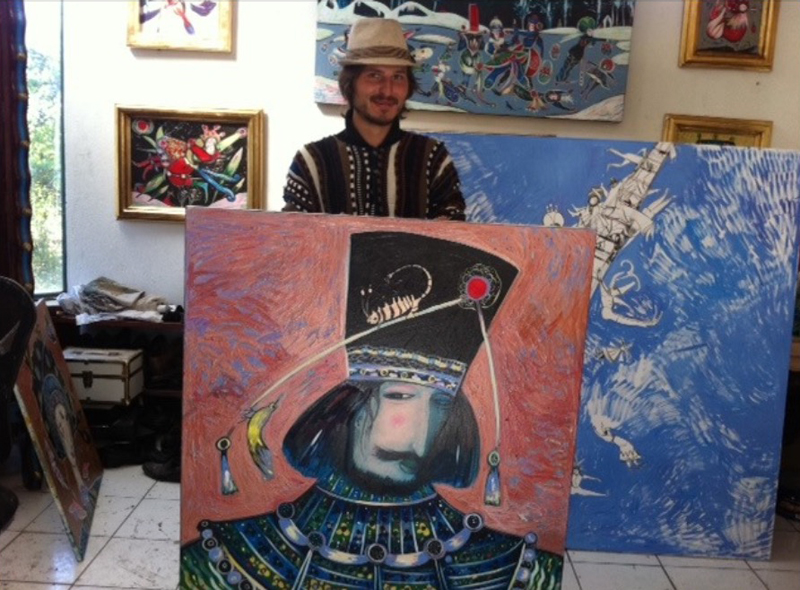 Andrew holding Toller Cranston's Andrew Osta Remembering Kiev
***
This was how I obtained the second key on my keychain, and aside from the key that opened my own studio, Toller's key was the one I used most frequently. I used it when invited to come over, but also when I happened to be passing by the Juarez park with nothing to do. Sometimes, I would walk in on private luncheons and witness important meetings with collectors during which five figure sales of paintings were often made. If Toller was pushing a sale and there was a lot on the line, I'd just wave goodbye and leave, not wishing to be a distraction. But most of the time, he'd just hand me a chalice full of wine and ask me to stay. Sometimes, I came with my girlfriend or, later, my wife and family and just sat around on his shady patio waiting for him to get home. The point is that he never said, "Now is not a good time" or "Please be sure to call before you come." I believe that this speaks volumes about his uncommon breadth of spirit.
***
E.C. Bell
The third key on my chain belonged to South Carolina artist E.C. Bell. Although we first met in 2011, we became better friends around the time Toller Cranston died. In fact, on the evening of Toller's death, my wife and I were attending E.C. Bell's opening at the Pergola Gallery in Instituto Allende. As we were walking back, perhaps around nine in the evening, she suggested that we take a shortcut through Toller's property, getting in on Sollano and crossing one block to Recreo. I often did this, but never at night. It felt strange and eerie to visit Toller's property so late in the evening, so told my wife that I'd rather go around. Little did we know that Toller would die from a heart attack in the room directly under his studio that very night, at about that same time that we were walking home, before going to bed, still dressed for the day. What would have happened if we had opened that door and gone through? We would have passed right by his studio, and seeing the lights on, would have gone in to say hi. Could we have saved his life by taking him to a hospital? Unfortunately, we will never know.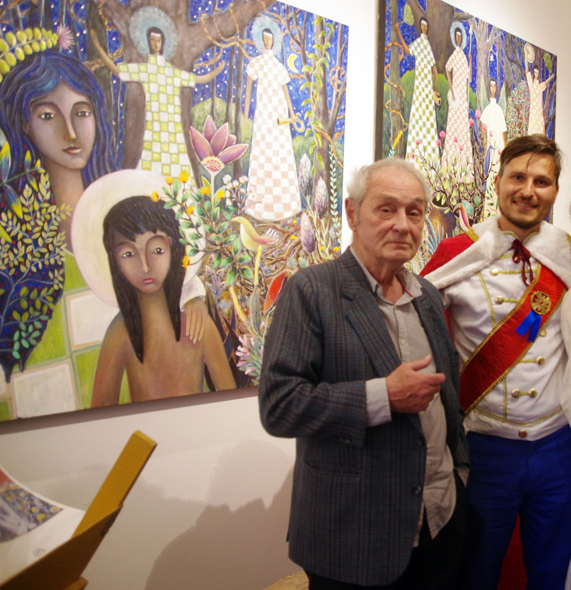 In any case, my friend E.C. Bell also gave me a key to his studio – so that I could let him in if he happened to get locked out. Within three or four days of him giving me that key, the most improbable thing happened. I was out on my bike and somehow got a flat tire. Because there was a bike shop next to E.C.'s studio, I decided to take my bike there to get it fixed, planning to visit my friend in the meantime. Leaving my bike in the shop, I knocked on E.C.'s door, but he did not answer. I knocked again and yelled out his name, but again heard only silence. Since I had a key, I decided to go in and wait on his couch while the guys next door worked on my bike.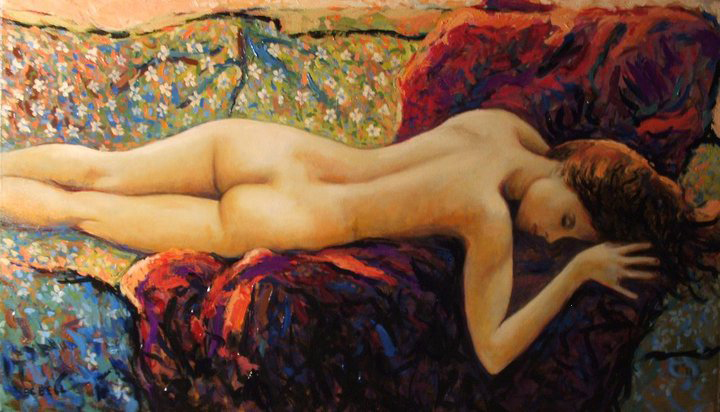 When I opened the door and stepped in, I saw to my astonishment that E.C. was actually home. In fact, he was standing in the middle of his living room, clutching his chest with one hand and gripping his telephone receiver with the other.
"What's going on?" I asked. "Are you OK?"
"I've been having unbearable pain right in the centre of my chest and it won't go away," he gasped.
E.C. used to be a soldier, and in the six years we had known each other, I had never once heard him complain of pain, so I knew that something was terribly wrong. Determined to not let him die from an unattended heart attack the way Toller did, I immediately ran to nearest pharmacy to buy aspirin. After E.C. had taken two pills, I waved down a taxi and we headed to the nearest hospital.

EC Bell's portrait of Andrew Osta
****
To make a long story short, the doctors did some tests and found out that E.C. did in fact suffer a heart attack. Thankfully, they were able to stabilize his condition and transport him in an ambulance to a free public hospital, where he spent the night. Shortly thereafter, he flew to the United States to undergo heart surgery, and remains alive and active to this day, still misbehaving with his models, still painting nudes, and in my opinion, enjoying life more than he did before. Unlike Toller, he had been given a second chance.
***
Jaro Slavko
The last key on my keychain belonged to Jaro Slavko – a successful artist born in France to Ukrainian parents. Jaro had been living literally two doors down from me on Chiquitos street for years without us ever meeting. He was very exclusive. He used to sell his paintings in La Jolla in San Diego for up to 30 thousand dollars each, and when he held shows in his studio, it was by invitation only. I met him at one of his shows in 2015 after being taken there by a mutual friend. Because we were both artists, both Ukrainian, and living only steps away from each other, Jaro and I quickly became friends.
Jaro said that he did not think of himself as a painter but rather as an artist.
"What's the difference?" I asked.
"Painters are interested in painting," he said. "Artists are interested in the lifestyle."
To clarify, an artist's lifestyle according to Jaro involved fame, fortune, celebrity friends, enjoyment of legal and illegal substances, sexual freedom, endless parties, and basically all other forms of hedonism.
By the time I met him, Jaro drank and smoked constantly, sometimes buying a bottle of rum one morning and emptying it by the next. Visiting him meant drinking rum and coke while inhaling abundant amounts of second hand smoke, and this inconvenience severely limited our time together. Still, we became close enough for him to entrust me a spare key to his studio.
To Jaro, everything had been better before and was presently going downhill with ever increasing speed. "It's another lousy day in paradise," was one of his favorite things to say upon waking up in the morning.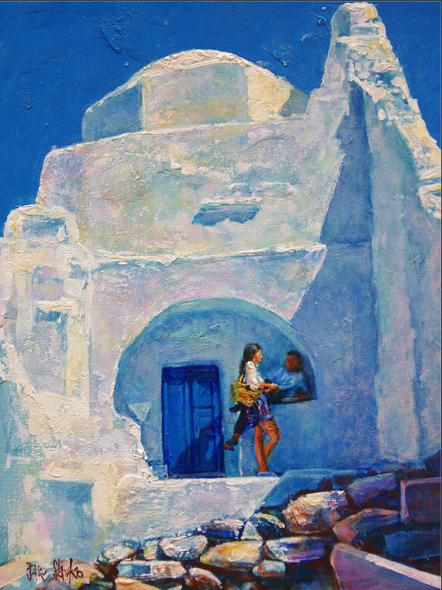 In a way, I could understand him. Back in the day, he sold paintings to Arnold Schwarzenegger, Marlon Brando, and Charlie Chaplin's and Albert Einstein's descendants. By the time we met, he wasn't selling much at all, having priced himself right out of San Miguel's art market, with medium sized paintings going for 7000 USD.
Jaro had lived in some of the most beautiful places in the world and was once married to a beautiful woman whom he divorced because she wanted kids, which was incompatible with his concept of an artist's lifestyle. Now that I am a father myself, I can understand his pragmatism. It makes sense in a way, since being a successful artist while also being a good father is almost impossible. However, the most beautiful things in life sometimes don't make sense.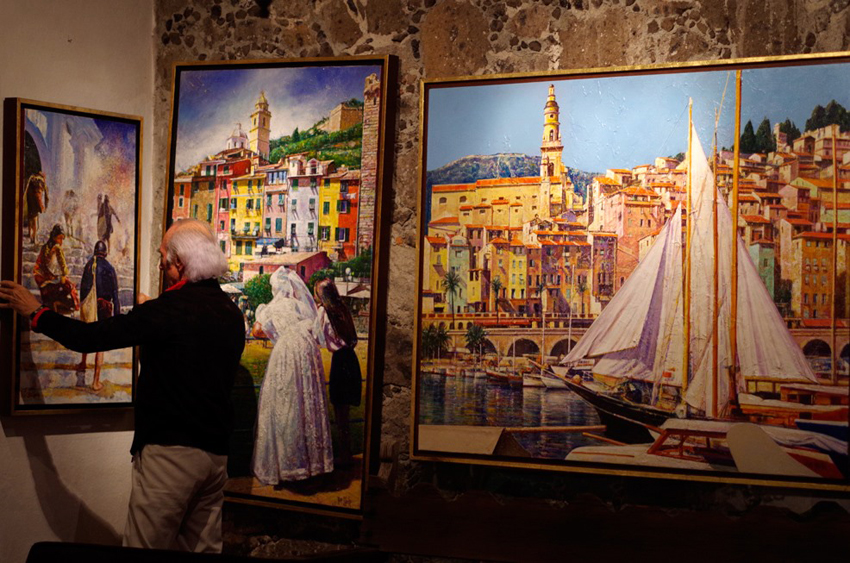 I last saw Jaro in the summer of 2016 in the south of France. Having sold everything, he moved to Arles, where Van Gogh lived out his final years, to claim his pension. We met in Nice and walked together from St. Paul de Vance – Marc Chagall's place of residence – to the town of Vance, several miles away, where Matisse had designed a little chapel. The walk involved climbing a massive hill that left both me and my wife breathless. But Jaro climbed that hill in his high heel boots without as much as breaking a sweat, and upon reaching the top, triumphantly lit up a cigarette.
"I was planning to die by now," he told me. "I sold my house several years ago and have already spent all of the money, because I was sure that I would die in a year. Now, I'm still alive and I'm broke. Frankly, this wasn't part of the plan."
That summer, Jaro crashed in a spare room in my dad's apartment in Villefranche and stayed there for several weeks. Although I tried to talk about art with him, he seemed to be more interested in discussing the quality of the baguettes he bought every morning from one of the town's bakeries. He kept trying to explain to me how the baguette from the corner bakery differed from the baguette baked in the old part of town. We talked about nothing else at the breakfast table for days, but no matter how he tried to enlighten me, I could never taste any difference. And Jaro's key? It had it on my chain, but I never used it once.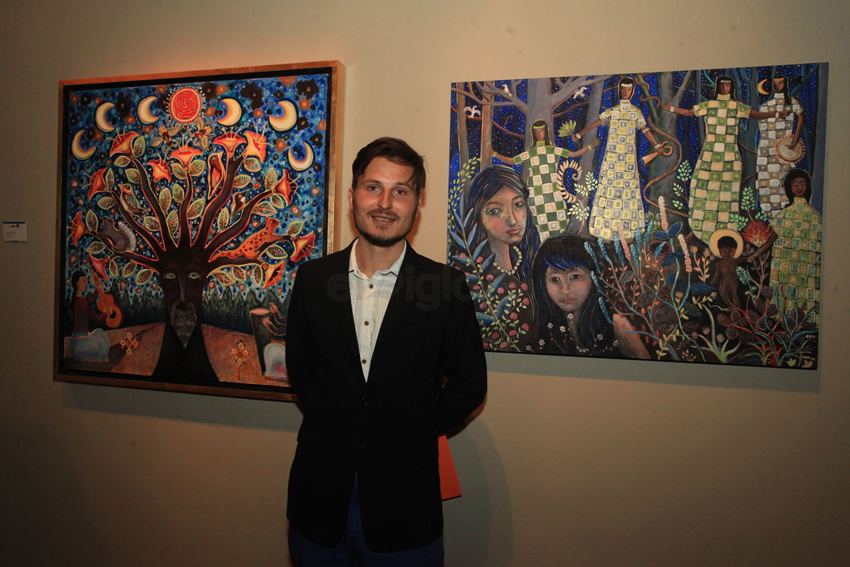 Andrew with his paintings
**************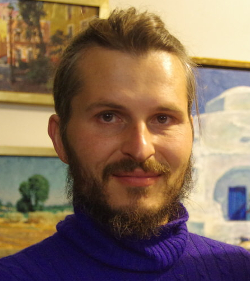 Andrew Osta is a popular and well-collected oil painter, printmaker and the author of several books. His artwork can be seen in the Hecho en Mexico restaurant on #8 Ancha de San Antonio. Andrew can be reached through his web page, www.AndrewOsta.com or through Facebook, www.facebook.com/Andrew.Osta. Hand finished prints of his most popular paintings are available directly from the artist, and he also accepts commissions.
Andrew is currently based in Mexico. Originally from Kiev (Ukraine), Andrew Osta has lived in Toronto (Canada), Cheonan (South Korea), Iquitos (Peru), and various parts of Mexico. Since 2005, Osta's work has been shown in international solo and group exhibitions, including museum exhibitions in Italy and Mexico, and solo shows in the United States, Canada, Mexico, Peru, France, Italy, Switzerland, and South Korea. Today, hundreds of his works are held in private and public collections worldwide.