Sunday, March 26, 11am-5pm
Plaza Civica
free
10 presentations, repeating every hour
An event for the whole family, free admission. There will be music, dance, workshops, audiovisual projections. Everything to learn more about the water situation in our region and how to take care of our water, our body, our future.
Agua Vida is a network of civil society organizations and individuals working in San Miguel de Allende to preserve and restore our finite water resources and to ensure the right to clean water for all through an informed and engaged society.
________________________________________________

Un evento para toda la familia, de entrada libre. Habrá música, baile, talleres, proyecciones audiovisuales. Todo para conocer más de la situación del agua en nuestra región y cómo hacer para cuidar de nuestra agua, nuestro cuerpo, nuestro futuro
Agua Vida es una red de organizaciones de la sociedad civil e individuales que trabajan en San Miguel de Allende para preservar y restaurar nuestros recursos hídricos finitos y para asegurar el derecho al agua limpia para todos a través de una sociedad informada y comprometida.
________________________________________________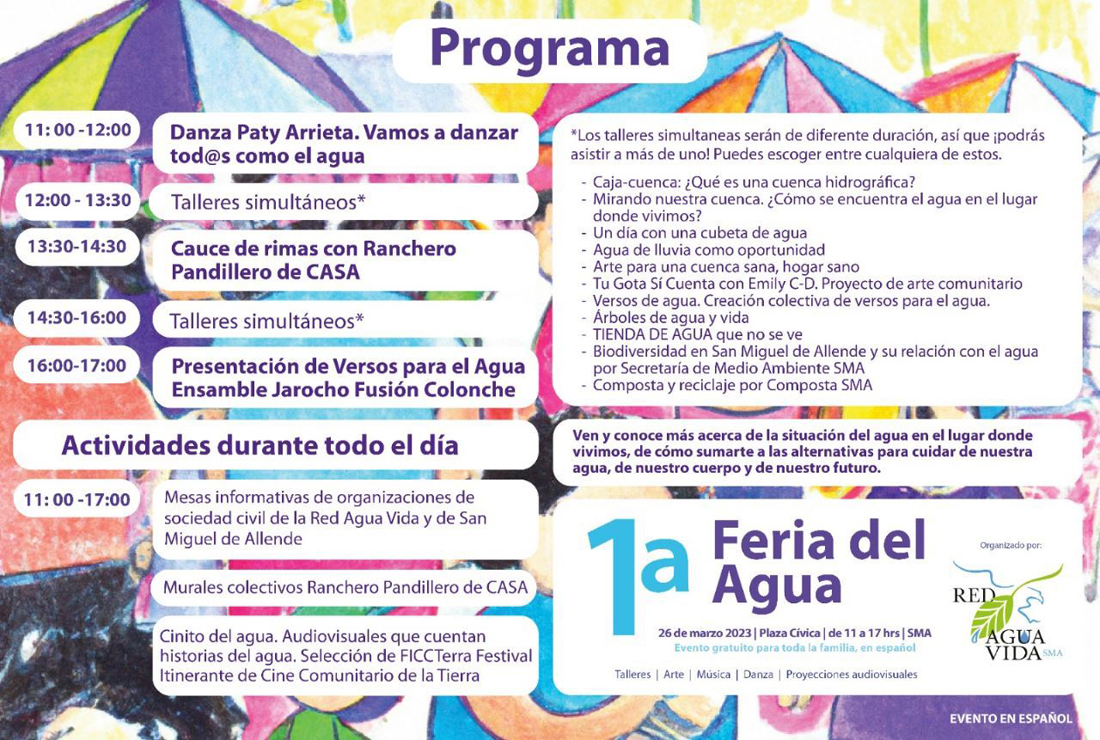 Hosted by the
AguaVida Network
Non-governmental environmental, social and educational organizations of San Miguel de Allende – working together for water and sanitation
World Water Day 2023 is about accelerating change to solve the water and sanitation crisis.
♦ Learn more about water and what we all can do to join forces for healthy water conditions in SMA.
♦ 10 presentations, repeating every hour, including Audubon's presentation on the infestation of Lirio Acuatio (Water Hyacinth) in the Presa Allende.
******
***
Please contribute to Lokkal,
SMA's non-profit community publication: