by Alejandro Anaya, text, art, photos
With our move to our new apartment, I've been discovering new routes to walk to el Centro. It is a different and interesting experience because it allows me to discover roads and landscapes of the city that I did not know. For an artist this provides a healthy dose of surprise and daily inspiration.
I bumped into my good friend Doug, a Canadian living here during the winters, who is just as passionate about drawing with ink and watercolor as I am. We made a date to meet on the terrace of the Santa Cruz Church to do our thing with the spectacular view of San Miguel afforded by that venue. The last time I had the opportunity to admire that vista was when I got married and was leaving the church hand in hand with my bride.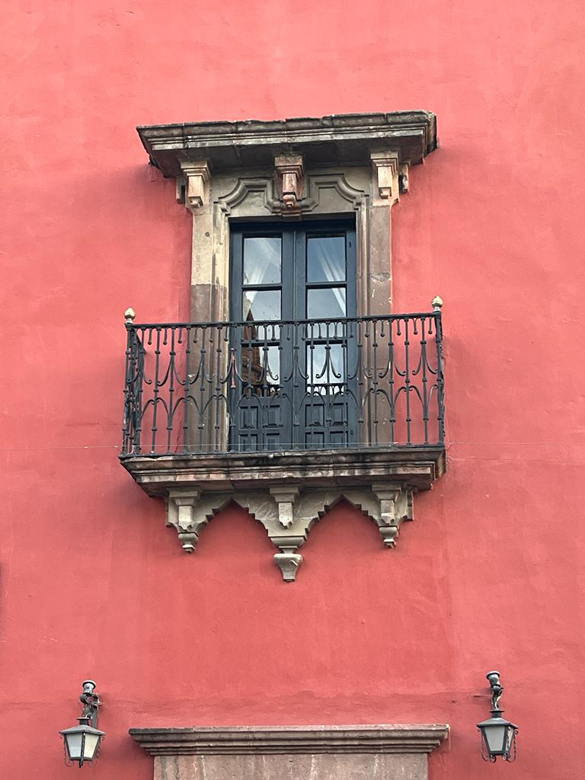 Drawing at la Santa Cruz was a good plan. When doing "urban sketching" it is ideal to surround yourself with images that awaken creativity, that invite you to find shapes and figures that you only notice if you adjust your eyes to find what normally goes unnoticed. Then, of course, the small chapel is a peaceful place that facilitates reflection.
When starting my walk towards El Chorro, which is where the small church is located, Google maps told me that I could take a shortcut if I went down a small street that I had never been through, and that ends right at the entrance to the temple patio. Going down the steep stairs of the road, I began to feel the emotion of a traveler who discovers little by little an unknown land, only a few blocks from his house. In the sky some herons flew, huge, white and majestic, like guardians of a well-kept secret.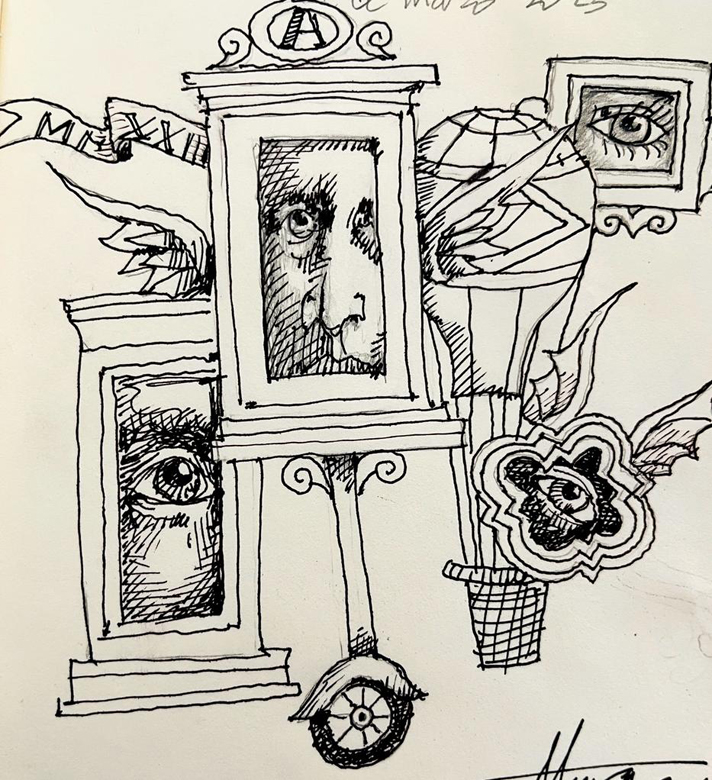 Along the way I began to notice the shapes of the windows of the houses, somehow greeting me with their different forms of stone and quarry, with little angels in the frames, wings, in some cases the names of the couples that inhabit them. I thought: The windows of San Miguel are the windows to the imagination. When you peek, you find an qqq alebrije or a skull, some friends laughing in a cafe or Mexican handicrafts that remind us of the origins of the people who inhabit this place.
Filled with these reflections, I came upon Doug, with coffee in hand. He told me that the church terrace was closed, but that there was another interesting space in another chapel a few meters away. Along the way, I was still engrossed with the windows, which for some reason I hadn't noticed in the four years I've lived here. Windows represent moments, opportunities. We say, "a window of opportunity". Those frames of pink stone and brown tones that give San Miguel its personality, that seem to watch us as we pass, became the subject of my next series of drawings.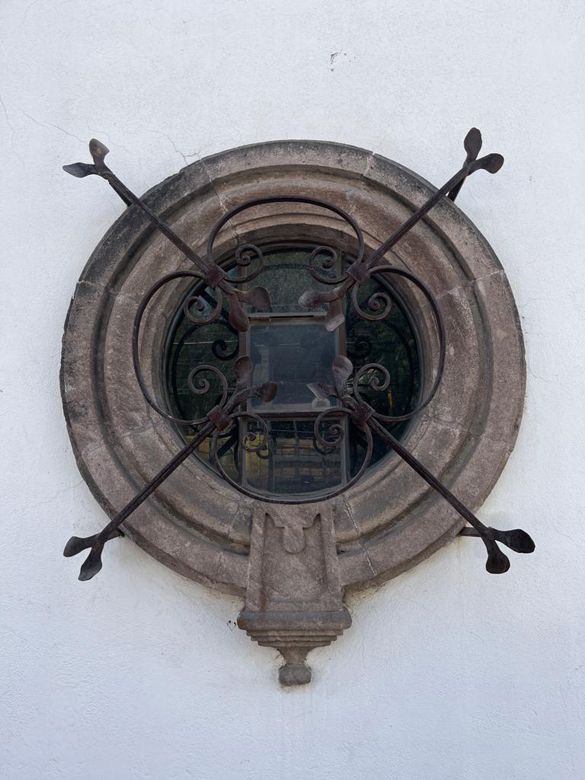 When we arrived at the Chapel of our Blessed Virgin of Seven Sorrows, the windows and niches of the small temple were already waiting to bewitch me with the idea of the characters that once passed through here, and the moments that have been lived in the shadow of these structures. The bell began to ring and the dogs of the neighborhood with their barking contributed to the symphony of the city. With each bell the windows of the chapel spun my head. Ideas came to me on how to incorporate these elements into my work, and how to represent them through my vision, my faces, my watercolor, ink and charcoal stains.
At the end of the morning, I said goodbye to Doug and we went our separate ways, both of us happy that it had been a productive morning. Windows for me now represented the thresholds that we constantly cross from the known to the unknown, from the normal to the extraordinary. We only have to dare, to gaze, inside or out, to see what is there.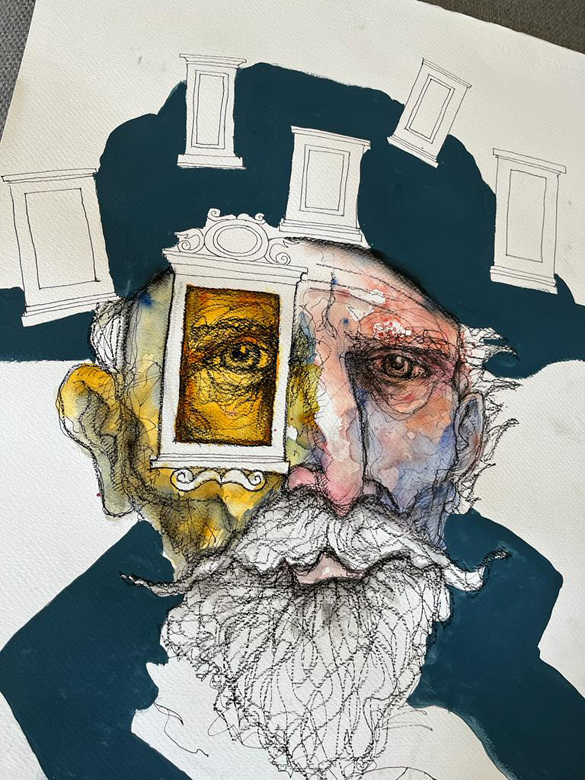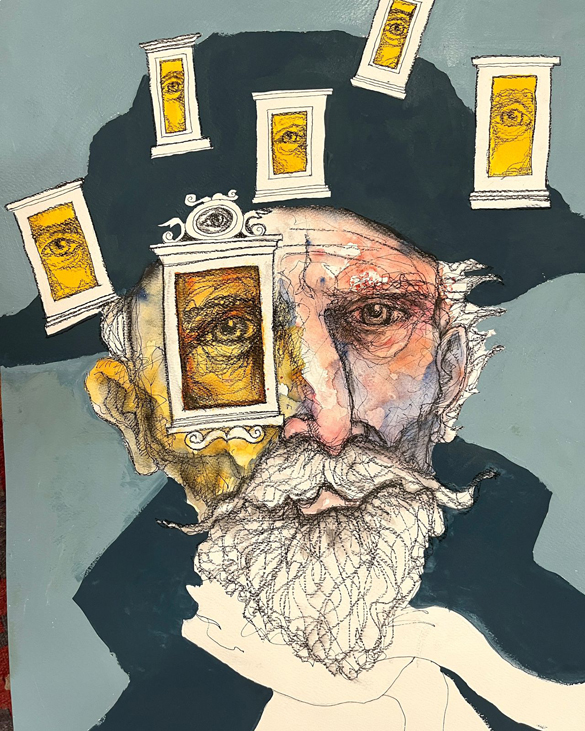 **************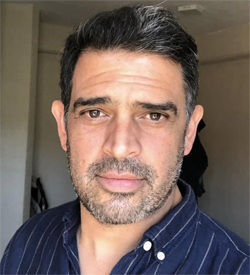 Alejandro Anaya is a visual artist and writer, originally from Torreon who, for almost four years, has lived and actively participated in the San Miguel community. His collaboration with Lokkal is part of his philosophy as a storyteller, and his commitment to share his discoveries and reflections on this beautiful part of Mexico, with all who seek to live a unique experience in our magical town.
**************
*****
Please contribute to Lokkal,
SMA's non-profit community publication:

***
Discover Lokkal:
Watch the two-minute video below.
Then, just below that, scroll down SMA's Community Wall.
Mission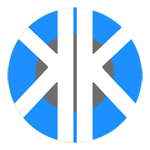 Visit SMA's Social Network