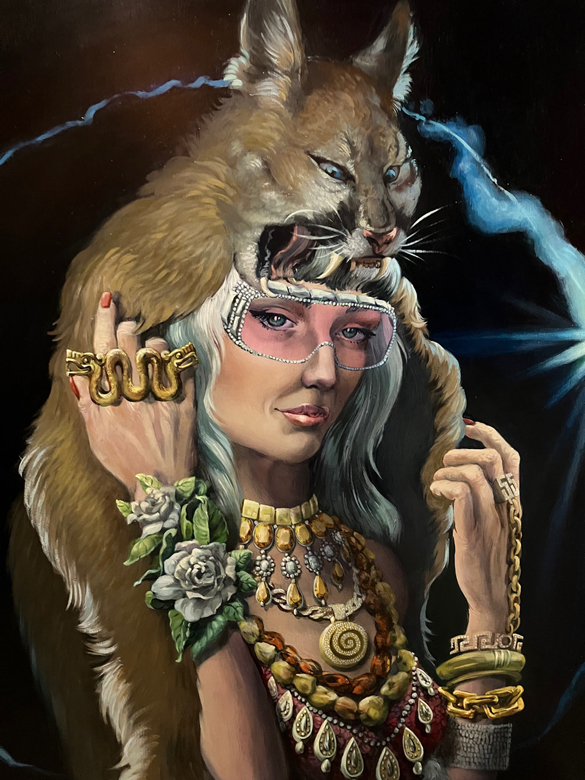 Mar. 12, 2023
by Zyanya Gallegos
March is Women's History Month, drawing our attention to the oppression and disparities that women face globally. It is a time to reflect and to see how we can get involved and support women. I decided to interview Isis Rodriguez, one of San Miguel's most radical and controversial female artists, who paints mythology of issues that women face today.
What is feminist art, Isis?
Feminist art is art that is made from women, that is critical of injustice and assumptions about womanhood, that deconstructs institutions of patriarchy, and focuses on the construction of new narratives from a woman's perspective.
There are many theories when feminist art began. The dominant perspective is that it began in the 60's and 70's with Judy Chicago, Ana Mendieta and others.

But a new opinion has challenged this mainstream Wikipedia perspective, put forward by Katie White of Artnet.com. This new point of view focuses on a Baroque painter named Artemisia Gentileschi.
After being raped her mentor at the age of 17 and enduring a grueling public trial, in 1612 Artemisia did a violent painting called Judith Beheading Holofernes. Artemisia uses herself as the model in her painting. This particular artwork has now become part of the traditional feminist oeuvre.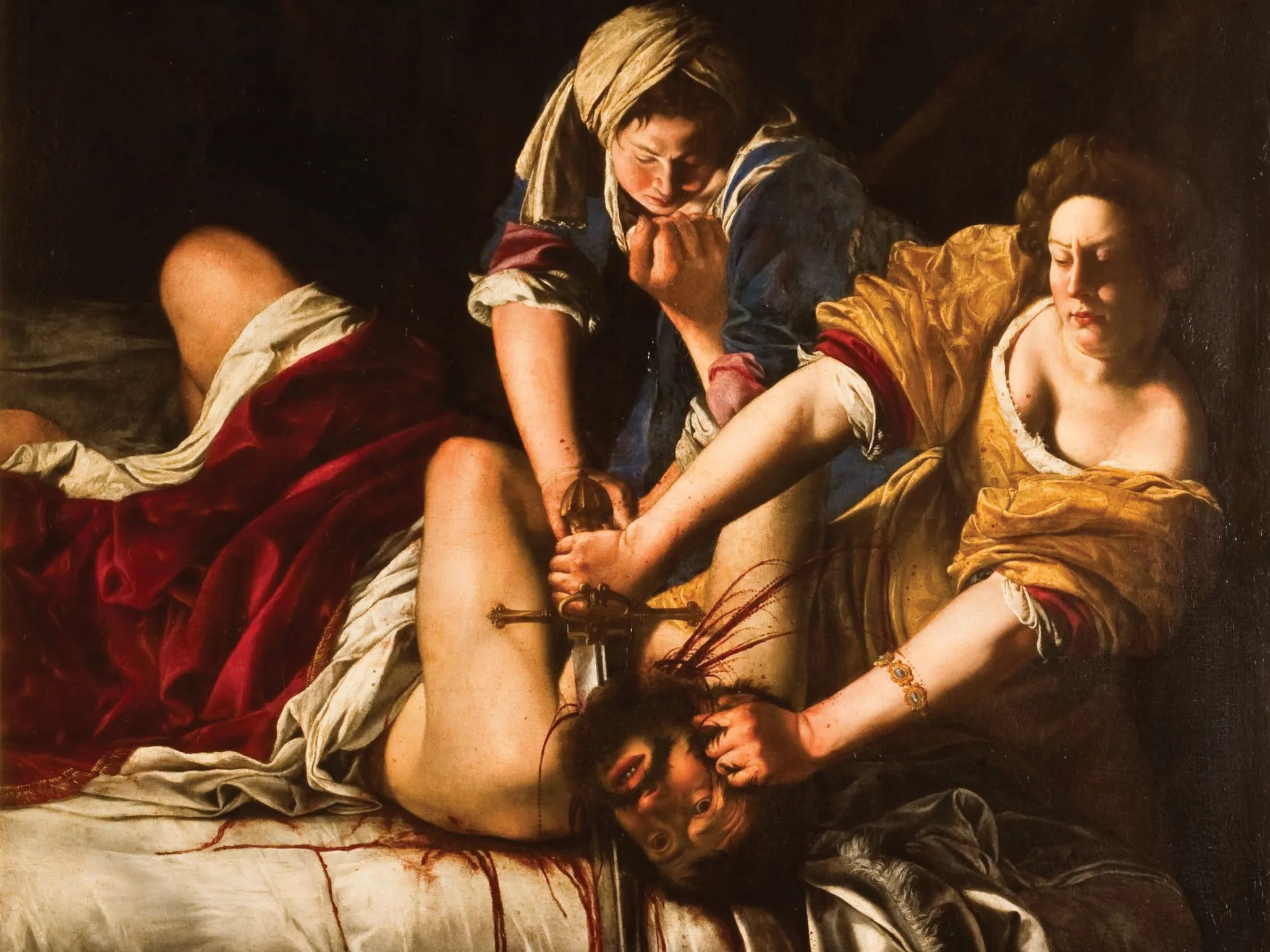 Judith Beheading Holofernes
*
Tell us about your upcoming art exhibit "Spiritual Manifestations in the Feminine" (SMITF) opening up at your concept gallery and studio?
SMITF is an exhibit about contemporary mythology that is filling a void in the feminist art world. Feminist art is stereotyped as always being about protest, injustice and about the patriarchy. But where is the conversation about spirituality? Is feminism always going to be about doom and gloom?
I am more interested in the construction of a spiritual journey of a woman. This journey reflects my own person in relation to popular social media narratives of women.
What is contemporary mythology?
I research a topic like shame or unconditional love. Then I take my findings and begin creating new archetypes that reflect my topic. I paint them as portraits, put them in scenes and create still lifes of objects that coincide with their meaning. Then I hang all the paintings on walls where people can follow the paintings like a giant baroque comic book, in which each painting is like a panel in a comic book. This is what I call contemporary mythology.
Can you explain what you mean about filling the void in feminist art with spiritual painting? Do you mean doing biblical painting with Jesus? Or putting a Buddha in your artworks?
[Laughing] Not quite. Let me give you an example. When I was a labor activist back in San Francisco, my artwork was about exposing and crushing the patriarchy. In time, I grew tired of this. I saw the world becoming polarized and I didn't want to be part of dividing people. I wanted to focus on bringing people together and help them overcome their problems. I realized that bad government and bad people result from bad childhoods, generational and ancestral trauma. And so I began asking myself what would a painting about a woman battling trauma look like, or one that shows how she overcomes it? What would those two paintings look like? This was my first step to creating spiritual art.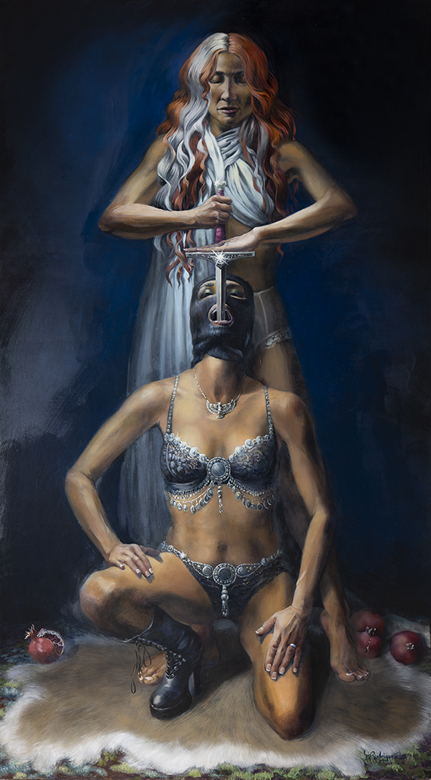 The Initiation
*
Can you give us a peek into some of your archetypes?
These two archetypes in The Initiation are the liberator, who wears white and a masked woman who is overcoming shame. Sword swallowing is an ancient performance that symbolized a death defying act in which the person swallowing the sword had supernatural powers over death, giving her a Goddess-like quality. This painting is initiating courage.
The painting, GONE! is from my CRUSH series about unconditional love. There is a video where you can hear can hear me talk about it.
Are your archetypes inspired by Greek or Roman mythology?
No. They break away from this history because my archetypes are results of current technologies. Today, technology has given women the power to sculpt and change their bodies to fit their definition of health and beauty through exercise, diets, surgery, and birth control. Being able to have control over our bodies, now we have access to education and jobs that promote financial stability and well-being. My archetypes have risen out of this technology.
Do you believe that women are still being oppressed?
Oh, absolutely. The internet is now the big oppressor. American-based internet companies, like Facebook, Google and Instagram are mainstream platforms that once promised an opportunity to artists outside the mainstream art world to attract new eyeballs on their works. Now women artists are being shut out because the AI morality police sees our work as "glorifying porn" or "glorifying hate" or "glorifying violence". Would we accuse Frida Khalo's paintings called A Few Small Nips or The Suicide of Dorothy Hale of such nonsense? (see more)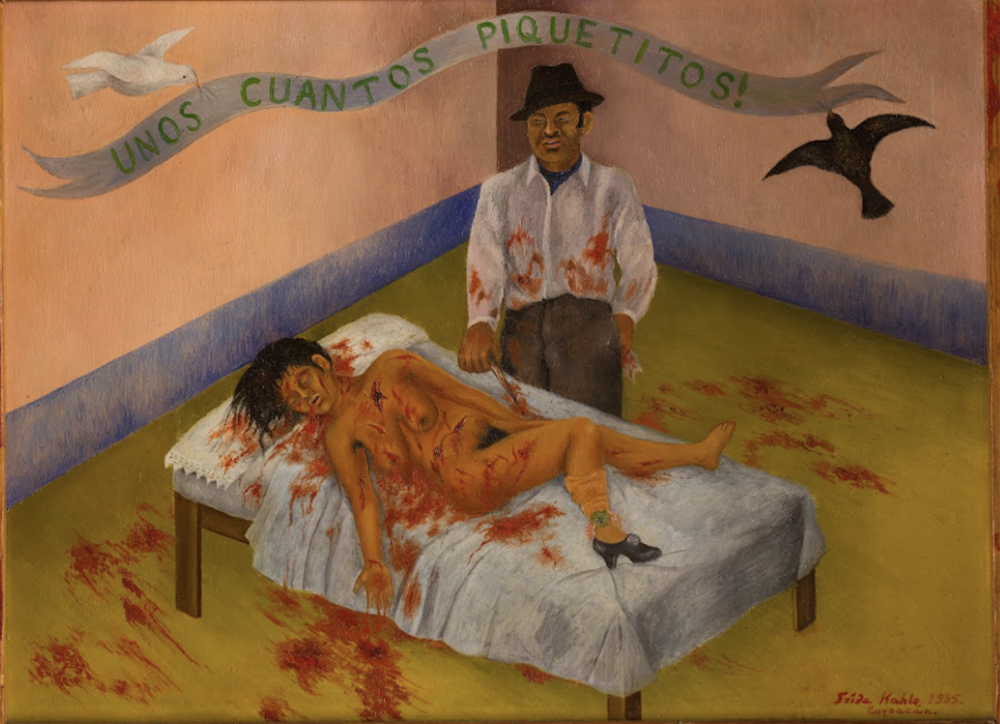 A Few Small Nips, Frida Khalo
*
No. We understand these paintings are showing the injustice and pain that women suffer. And Frida herself was undergoing her own suffering from a bus accident. Who could better produce such works authentically?
Have you had any of your paintings censored, Isis?
Yes. Most from my CRUSH series and LEGENDS. The internet is responsible for the loss of 50% of my income and most of my exhibition opportunities, since my art can no longer get seen on social media platforms.
Will we be able to see your censored artworks at Spiritual Manifestations of the Feminine?
Yes, fortunately, you can see the best and most controversial of my art works the old fashion way, by coming to my art opening. This will be an opportunity for the public to make their own decisions on whether they think my work is offensive or not.
Why should people go to your art exhibit?
Well, very few women artists are doing spiritual art that includes social commentary, compassion and protest, all the emotions that we feel when we are undergoing important changes. It is important to overcome the censorship going on in popular social media platforms. Come to my gallery and see artwork that has meaning and engages the public in what are important issues facing women today.
What can be done to protest censorship of women artists?
There is hope. There is a new website called Don't Delete Art in which one of their founders is world renown Spencer Tunick. Artists can upload their censored artworks.
They also have a petition to sign to support our cause to change important laws in favor of artists on the internet.
The public can also subscribe to their favorite artist website, write good reviews if they like the artwork and become patrons on Patreon.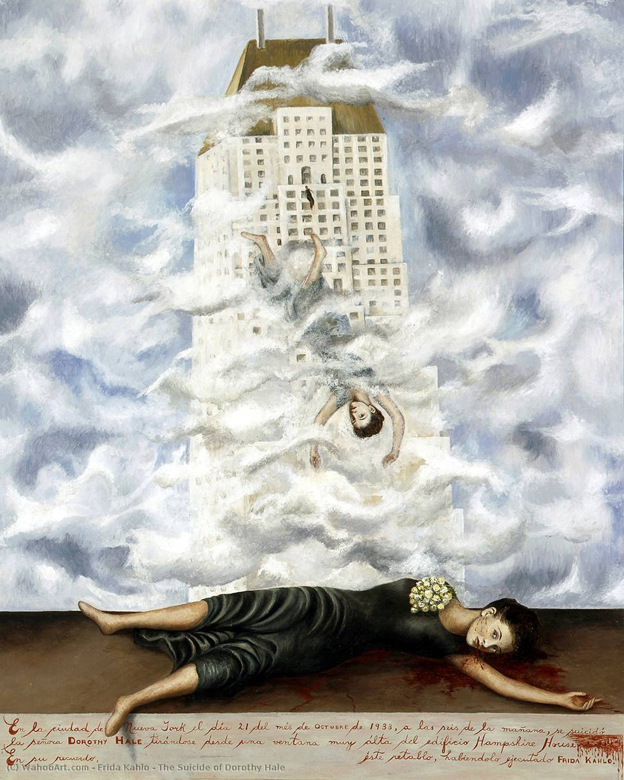 The Suicide of Dorothy Hale, Frida Khalo
*
www.isisrodriguez.com/
www.patreon.com/isisrodriguez
******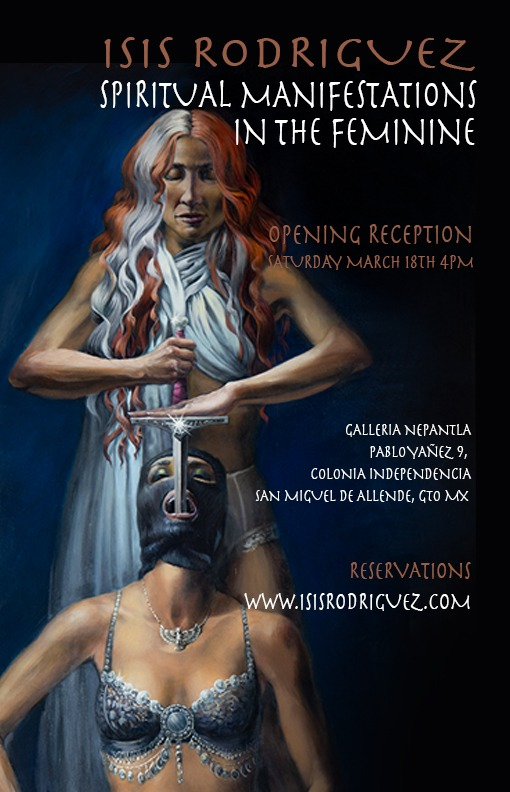 Spiritual Manifestation in the Feminine - opening
18 and over, registration required
Saturday March 18, 4-7pm
free
Imagine yourself walking into a giant Mexican Baroque comic book where darkly glamorous masked women in lingerie, cougars, bulls, angels and spirit warriors wander in the realm of nepantla. Celebrate International Womens Month. Bring your friends.
**************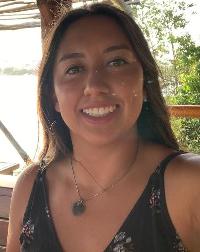 Zyanya Gallegos studied Communication and Digital Media and in the process fell in love with the world of publicity. She has been working as a Social Media Manager in San Miguel de Allende and Querétaro for more than three years. She loves helping people, animals, culture, art and learning new things.
**************
*****
Please contribute to Lokkal,
SMA's non-profit community publication:

***
Discover Lokkal:
Watch the two-minute video below.
Then, just below that, scroll down SMA's Community Wall.
Mission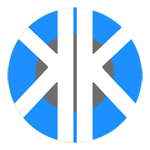 Visit SMA's Social Network