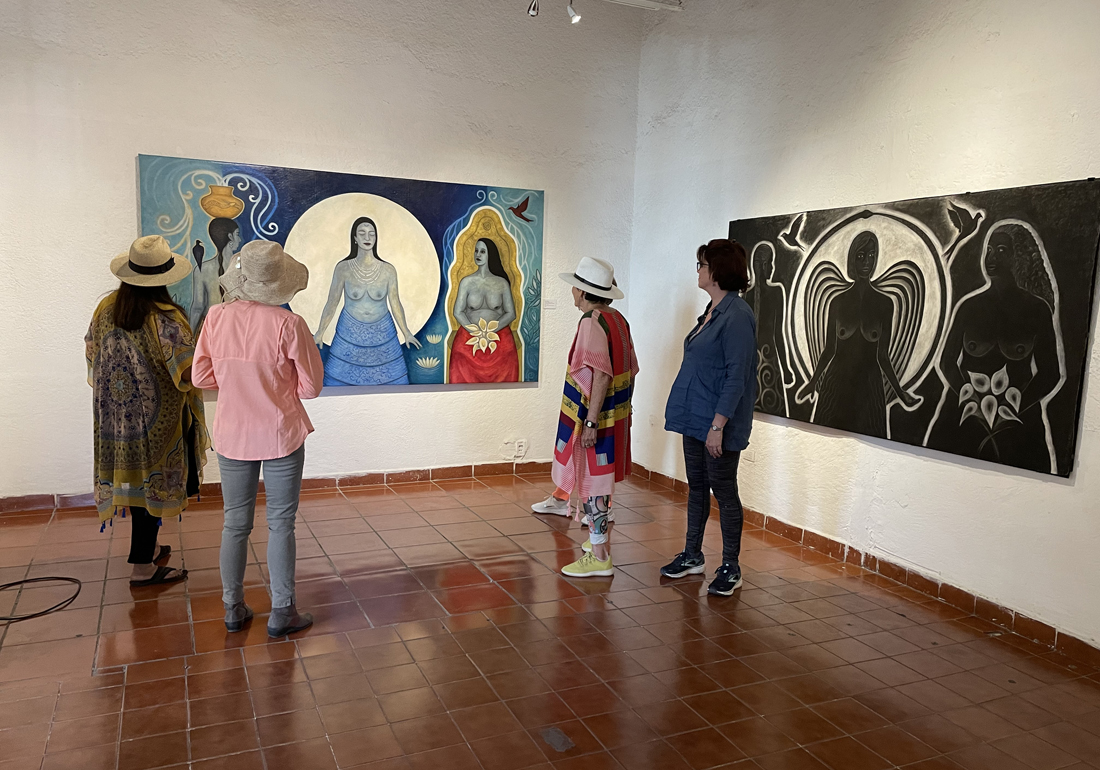 Mar. 12, 2023
Visions of the Sacred Feminine is Glen Rogers's exhibition as part of Visionaries, Six Women Artists on display at Casa Europa during International Women's Month. Walking into her gallery, one is taken with the large-scale paintings and charcoal drawings depicting women in their strength, their power, and their sensuality – all with a feminist agenda. She weaves ancient mythologies with archetypal symbols from her travels to sacred sites around the world where she gathers her inspiration.
Rogers will present an Artist Talk, free to the public, on Tuesday March 14, from 12 to 12:45pm discussing her motivation, her inspiration and her process. Here is an opportunity to hear the artist's viewpoint as she walks you around the gallery telling her personal stories about the work. For over forty years, Glen's artwork has been women centric and inspired by the Sacred Feminine. Glen's art honors women as life-givers and divine creators who are grounded with Mother Earth yet connected to the spiritual realm.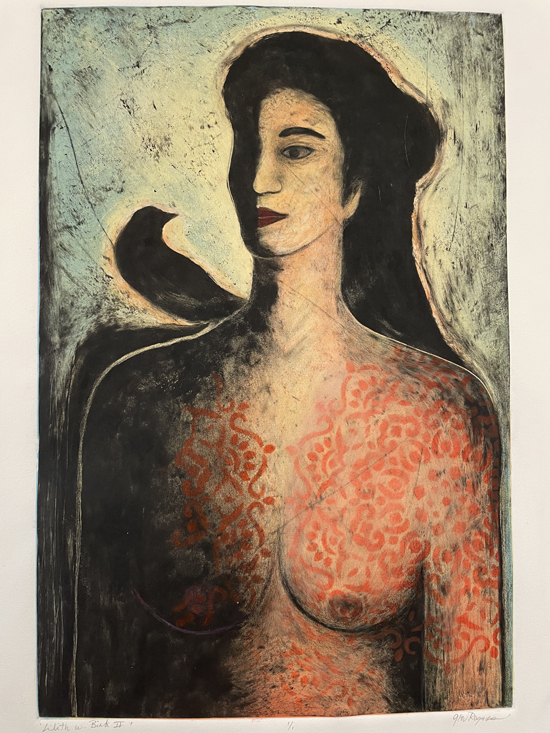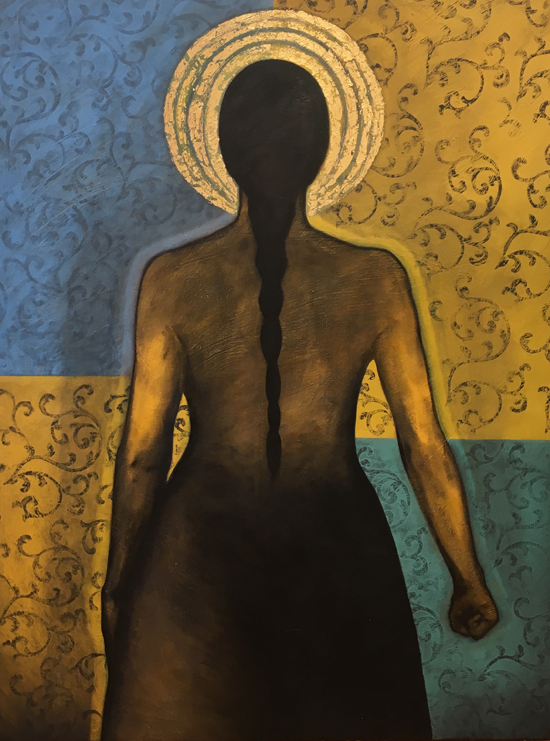 In HerStory, a revisionist history, women radiate independence, as they maneuver the arbitrary barriers that women encounter throughout their lives. In Maiden, Mother, Crone: A Sacred Feminine Landscape, the three phases of a woman's life from Celtic mythology, the story unfolds in life-size images. Here, the figures call on the mystery of the moon to use their magic, communing with birds, snakes, and deer – all symbols of the goddess. In her monoprints, disparaged figures from the Bible like Lilith and Mary Magdalene take back their power. In Lilith II, a small bird sits on her shoulder, a symbol of our intuition – will we listen to the little bird?
In her early 30's, Glen's work shifted from the figure to a symbolic approach as she began discovering early Matriarchal cultures where priestesses ruled. She took pilgrimages to sites such as Newgrange in Ireland and Knossos in Crete, studying their artifacts and symbols. Her symbolic abstraction to the divine feminine can be seen in her books, Art & Sacred Sites: Connecting with Spirit of Place, and Symbols of the Spirit: A Meditative Journey Through Art.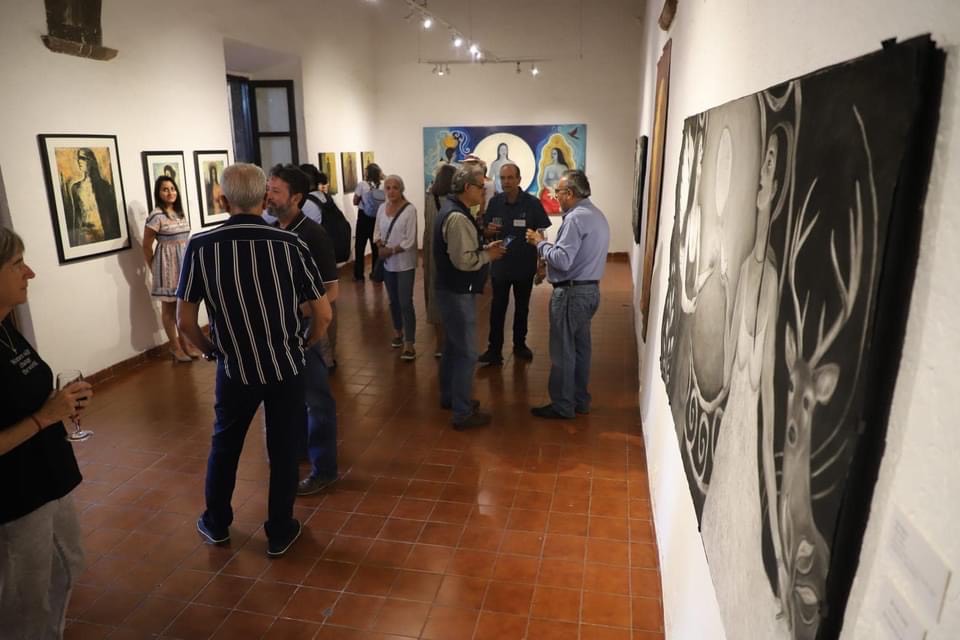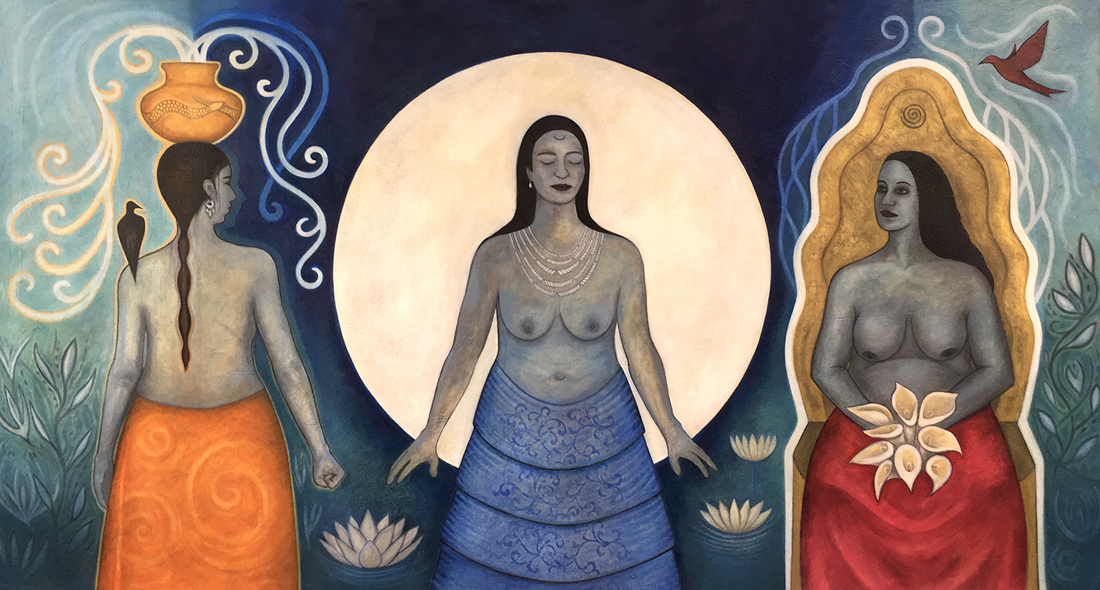 Maiden, Mother, Crone
*
The recent return to the figure in her art began while working at an artist residency in Morocco in 2018. Now combining both the figure and symbols on paper and canvas, her visual vocabulary tells a story of women in their power. In The Sacred Feminine Trilogy: Strength, Spirit, and Abundance, three women interact in another play on the Maiden, Mother, Crone image. On the left is Strength – a young indigenous woman holds a tight fist, in defiance – "a don't mess with me" stance. The central winged figure, Spirit, takes her place in front of the Full Moon, the most feminine of symbols. She faces us with one hand upturned to receive, the other to give back, a sacred mudra hand gesture. The Ouroboros, the snake eating its tail – an ancient symbol for renewal and the cycle of life – encircles the moon. On the right, Abundance, the young mother, pregnant with new life holds white cala lilies in front of her stomach – a symbol of fertility. She looks towards Spirit for guidance as she moves towards motherhood.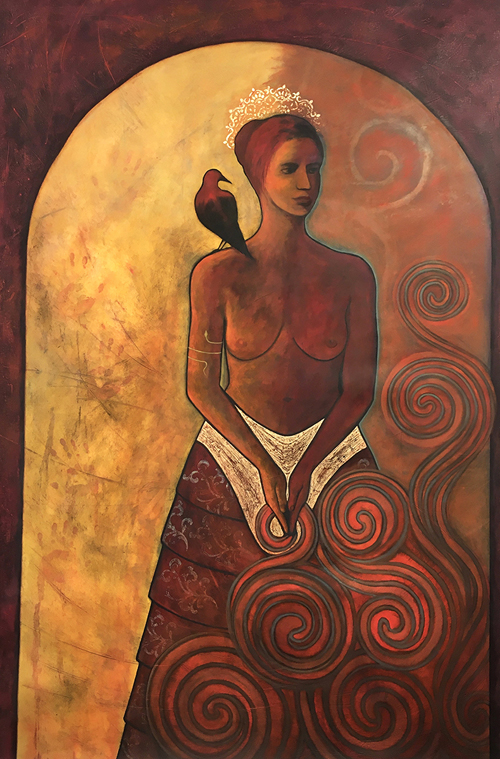 The exhibition continues through April 1 at Casa Europa, San Francisco 23, Monday-Sunday, 10am-5pm.
***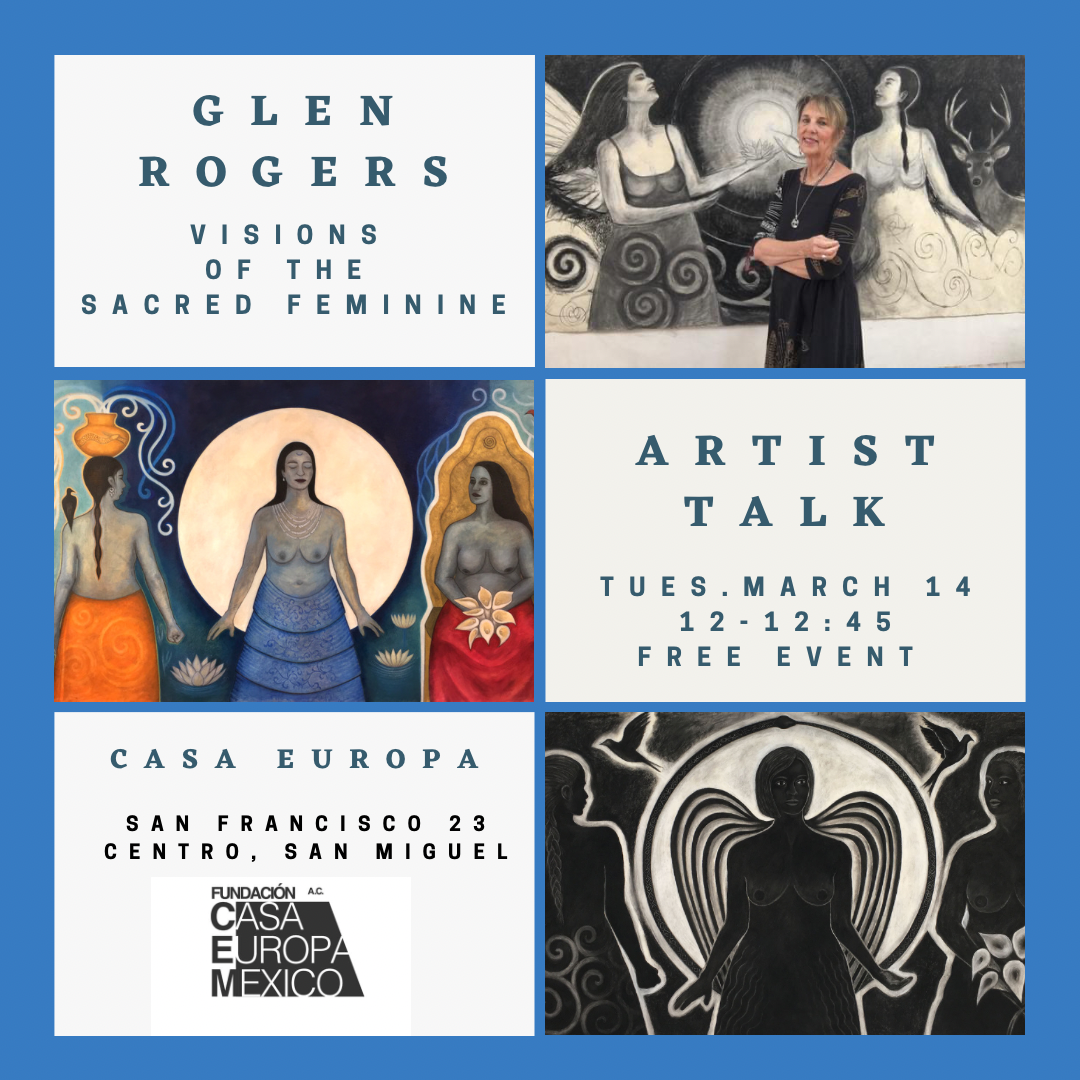 Visions of the Sacred Feminine
Glen Rogers Artist Talk
Tuesday, March 14
12-12:45pm
free

Casa Europa
San Francisco 23
*****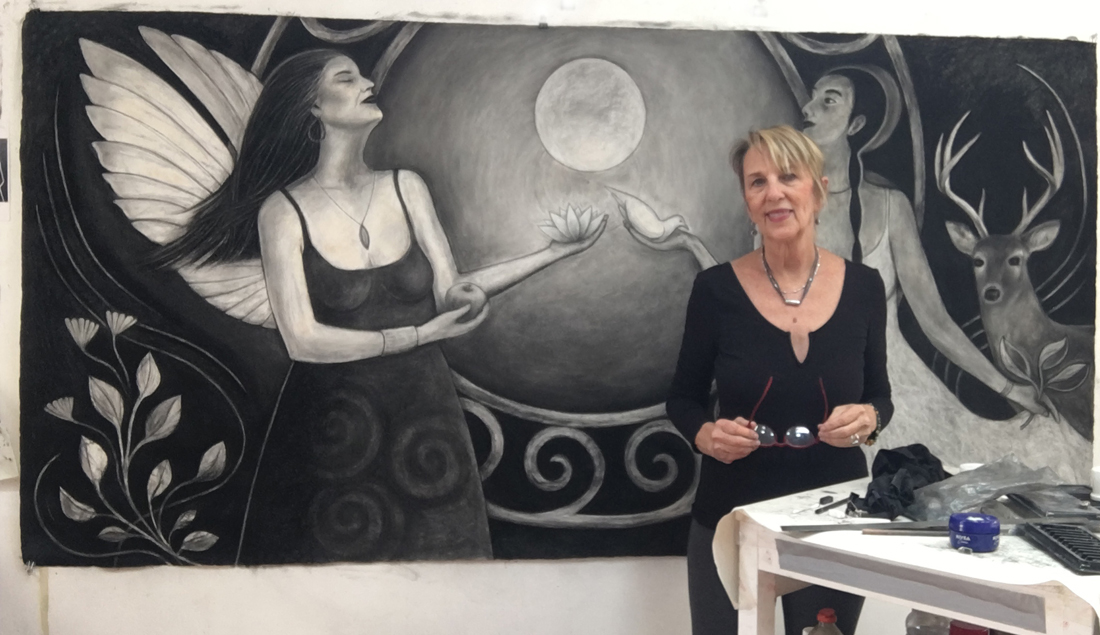 Glen Rogers
*
Links for Glen Rogers:
Calling the Circle
Website
Blog
Spirit Cards - 50-Card Oracle Deck
Book - Symbols of the Spirit: A Meditative Journey Through Art
**************
*****
Please contribute to Lokkal,
SMA's non-profit community publication:

***
Discover Lokkal:
Watch the two-minute video below.
Then, just below that, scroll down SMA's Community Wall.
Mission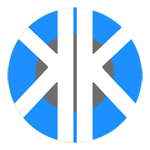 Visit SMA's Social Network