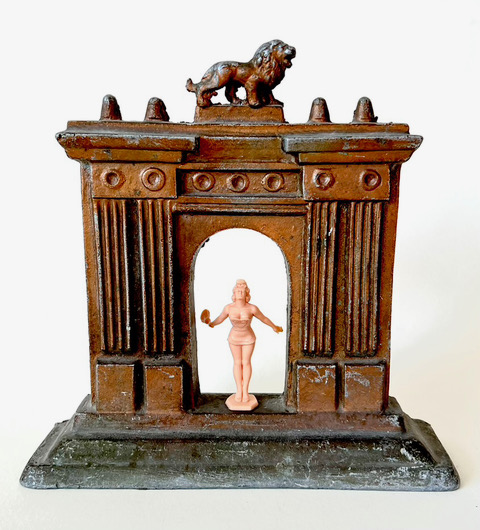 I dreamed I was dusting
*
Jan. 22, 2023
The practice of drawing and sculpting from the nude model did not develop until the 15th century in Renaissance Florence. What ensued was a routine exploitation of the female body as a signifier of erotic desire. At that time the painters, spectators, and collectors were men.
In the 20th and 21st century artists emerged, many of whom were women, depicting all aspects of the body. There are drawings and paintings that acknowledge the body, bowels, genitals, and emotions. Two of the more well known artists in this category are Louise Bourgeois and Frida Kahlo.
Two artists here in San Miguel, Linda Soberman and Kathleen Cammarata, create sculptures and mixed media works that reveal interior thoughts and experiences.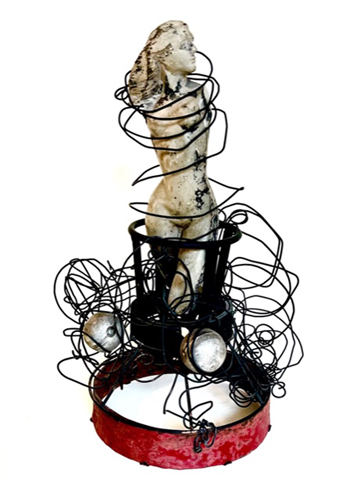 Entangled
*
Soberman works in metal and found objects. In her piece "Entangled" wild whorls of black wire rise up and surround a pale ceramic female figure. The figure is surrounded by both the wire, a metal cup and two metal balls. Do the balls represent the male? Is the cup female? Though she is enmeshed in wire she looks out into space perhaps anticipating an untangled future. Figure that out!
Soberman's piece titled "I dreamed I was dusting the Arc de Triomphe" is a tongue-in-cheek mixed media piece. The arc is an unadorned pared down replica of the famous French arch and the figurine is plastic, both found objects. The figurine's position, her outfit, the arch and the title make for a very humorous piece.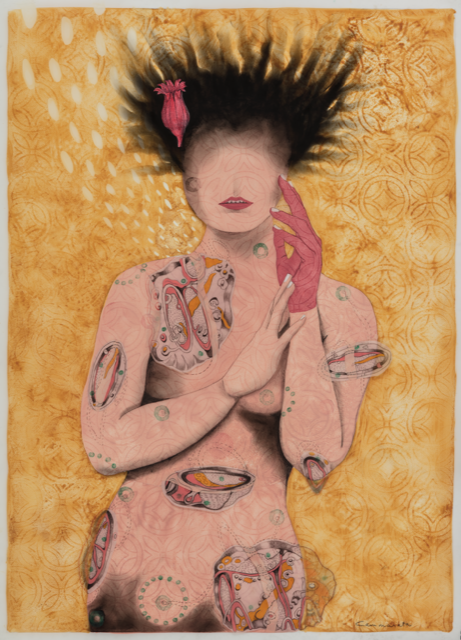 Body Fictions
*
Cammarata works in mixed mediums as well. Her drawing title "Body Fictions" is composed of pencil, colored pencil, paint and charcoal on mylar. This figure is displaying interior cells treated as a design element. She appears to be wondering about something that makes her hair stand on end. Again, a touch of humor.
Cammarata's piece titled "heartfelt" is made with pencil, paint, charcoal, pastel and collage on paper and mylar. The figure's hand is touching her chest while flowers burst out of her heart. Is she staring out at you though she has no eyes? And what would she say if she could speak out of her blue lips? Is she a figure of speech?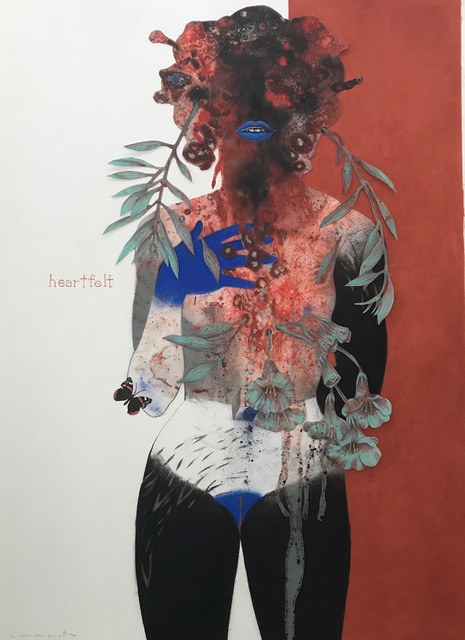 heartfelt
*
******
Figure This...
Soberman-Cammarata / exhibit-opening
Alameda 6, Colonia San Antonio
Sunday, January 29, 1-4pm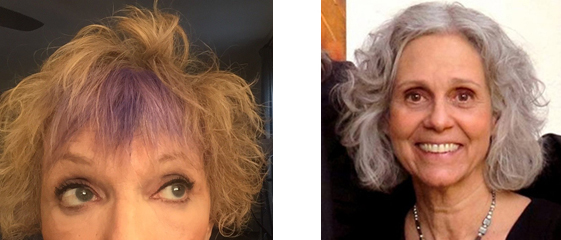 Soberman's work deals with collective memory, the passage of time, and a historical framework that can uniquely intermix printmaking, painting, photography, photo transfers and objects that transmit the patina of time. She has exhibited nationally and internationally.
Cammarata has been painting for 38 years. She taught in two museums and at the University of Massachusetts Lowell. She has received numerous grants and awards. Her work is collected in the USA, Canada, and Mexico. She lives and works in San Miguel.
**************
*****
Discover Lokkal:
Watch the two-minute video below.
Then, just below that, scroll down SMA's Community Wall.
Intro / Mission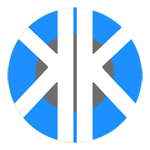 Visit SMA's Social Network