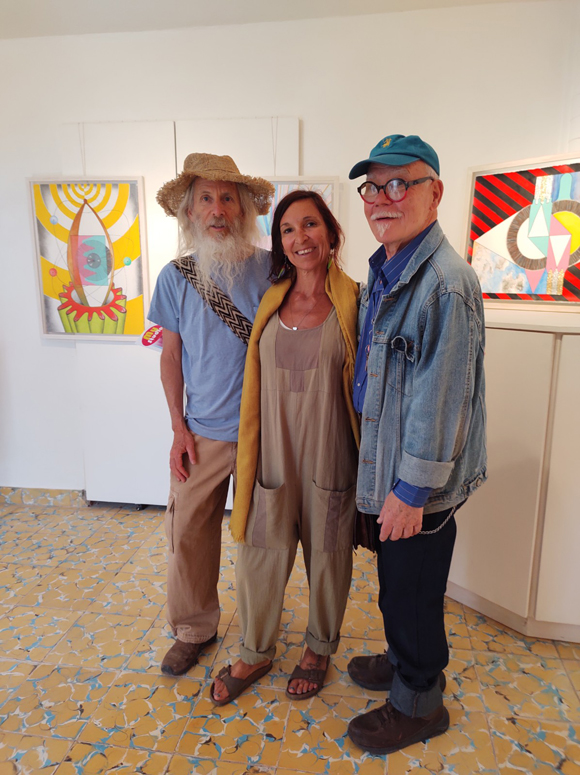 The author with Sara and artist Peter A. Davis
photo: Gail Schwartz
*
We did, meeting at Mercado Sano at 12:30. From there, before we had walked two blocks down Stirling Dickinson, I had greeted a half dozen people, including, in the same outdoor cafe, Ulises, the editor of This magazine, and Maia and Wyman, whom I had left in stitches as they waited for their brunch. It's always good to exit on a high note. "Leave them laughing", is my motto.
Beautiful women attract other beautiful women. A quarter of a block, not 20 seconds, after the cafe, I met Griselle, Ah, lovely Griselle, an acquaintance for years, an author whom I've published; just the kind of person you want to kiss and embrace, whenever really, but especially when you would like to impress another elegant lady, whom you're just getting to know: "Well, he doesn't seem like an axe murderer."
In her perfect, but accented, English, Sara asked me, "Do you know everyone?"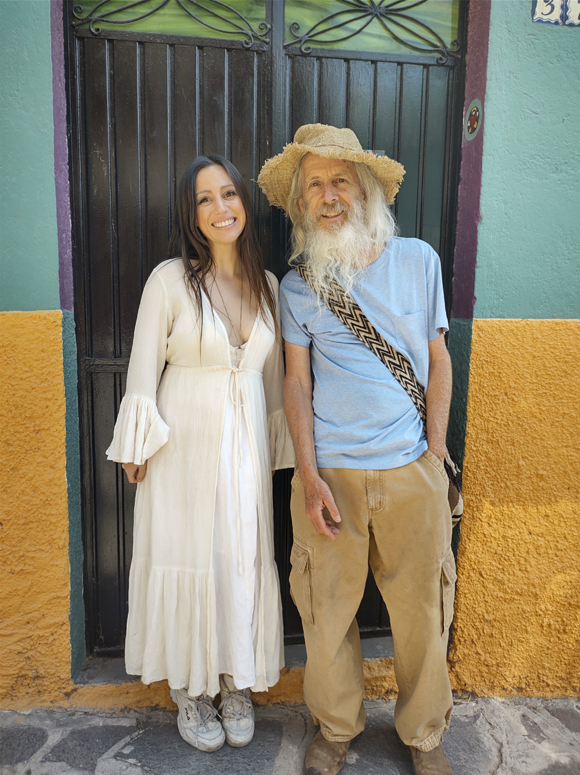 Another beautiful woman
*
We began our whirlwind tour of studios at Alifie Rojas'. Alifie mentioned that she wanted to publish her most recent nature study series as a book. I approved and suggested that we could also publish the series on Lokkal.
So went the day, studio by studio, proposal after proposal, memorable interactions with other art walkers... When I am operating at full speed, I can be too much for people. Ungoverned, I am best in small doses. So, the format of short encounters that the day required was perfect.
Sara, who was getting a very large dose of my antics, was fine with it all, laughing along, setting up the photos I asked her to take. She took it in the best spirits when I introduced us to one woman as a married couple with two grown children, even as she protested, "It's not true. I just met him." But our rapport was such that we could have known each other for years. The poor woman didn't know who to believe.

The woman who didn't know who to believe.
*
Sara also met quite a few people she knew, including students from her yoga classes. She was particularly keen on seeing photography and ceramics, both hobbies of hers. She carried out a survey of the ceramic studios where she might fire her porcelain jewelry. Towards the end of the day, I arranged to barter publicity with Alberto Sá in exchange for his doing just that.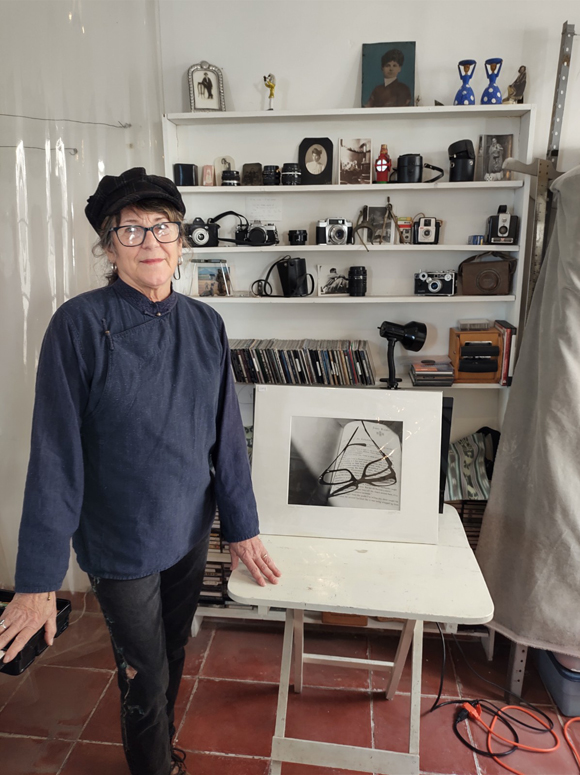 Shannon Reece, artist and the Godmother of San Antonio
*
The art walk was delightful: popping into one art-filled studio after another; walking the streets in between, looking for the tell-tale balloons affixed aside each entrance, alternating perfectly between the shady side of the street, which after a while was too cold, and the sunny side, which after a few blocks was too hot. All this while getting to know a charming new friend.
Her first time touring San Antonio, Sara was very impressed. Having lived in the neighborhood for 11 years, I was also surprised, mostly by the cute cafes and restaurants that have sprung up in unlikely places, like plants taking root and blossoming between the rocks.
Over the five hours we were together, seeing me interact with a lot of people, Sara, got to know me very well. Comfortably going along with my schtick, she was in good spirits. She was laughing continually, right up until the end, when we parted, a little past 5:00, with me staying behind in the home/studio of >Michael Schwarcz.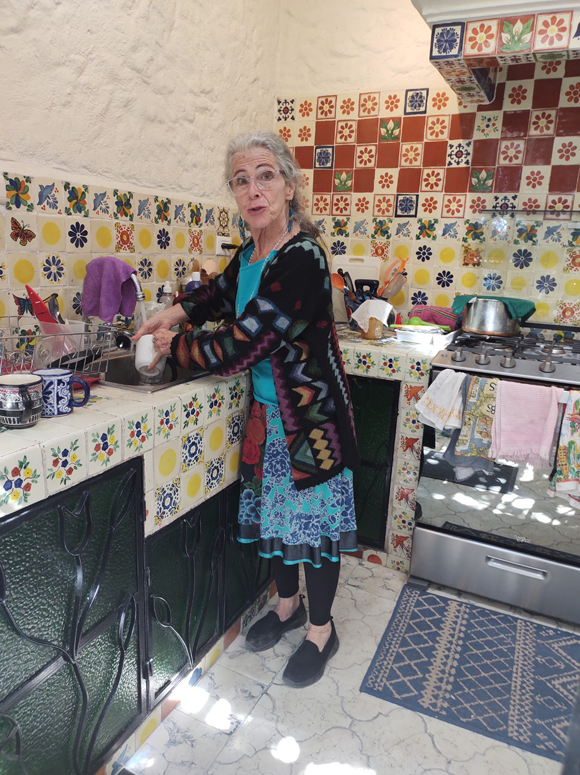 Goldi washing up
*
And, far from shy herself, I got to know Sara's opinions, sensibilities and style. It was easy and rewarding to spend the afternoon with her. Also, it's good for one's standing in the community to make the scene with a beautiful stranger by your side.
Once upon a time, my thoughts would have turned to romance. And, once or twice, I admit, they did. But, thanks in large part to the mercifully lowered levels of testosterone that have come with age, and my recent, hard-won semblance of emotional stability, the hope I have for my relationship with Sara is for her to express her sophisticated opinions, sensibilities and style in the pages of Lokkal. That's something we can all look forward to.
**************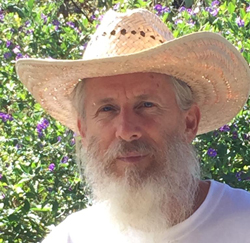 Dr. David presents Lokkal, the social network, the prettiest, most-efficient way to see San Miguel online. Our Wall shows it all. Join and add your point of view.
**************
*****
Please contribute to Lokkal,
SMA's non-profit community publication:

***
Discover Lokkal:
Watch the two-minute video below.
Then, just below that, scroll down SMA's Community Wall.
Mission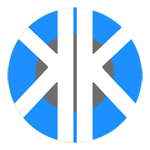 Visit SMA's Social Network