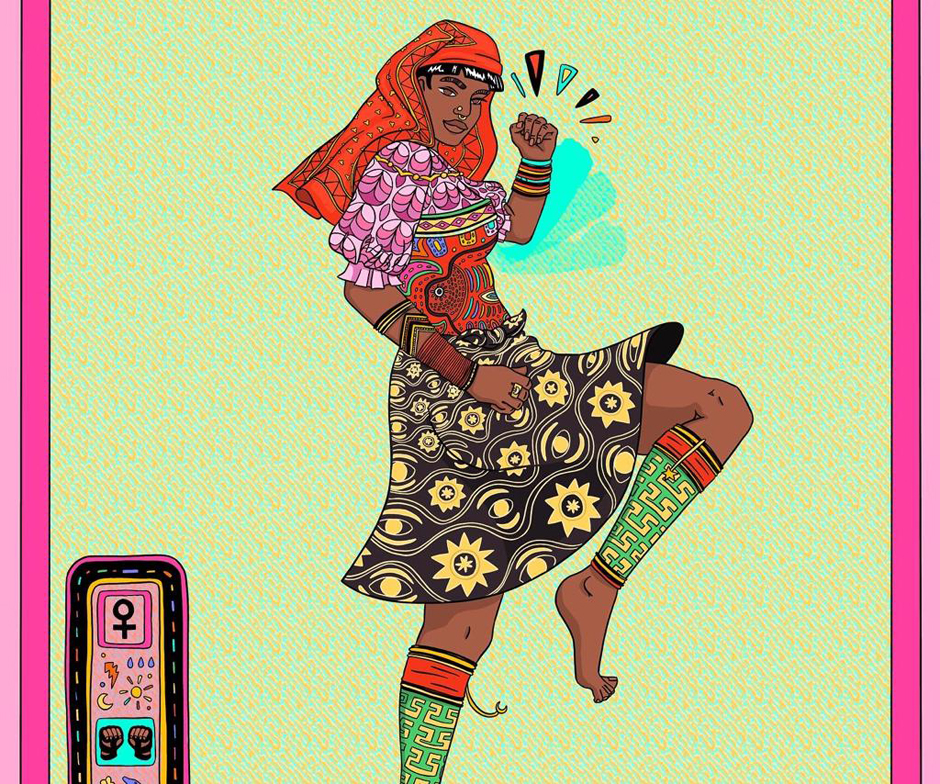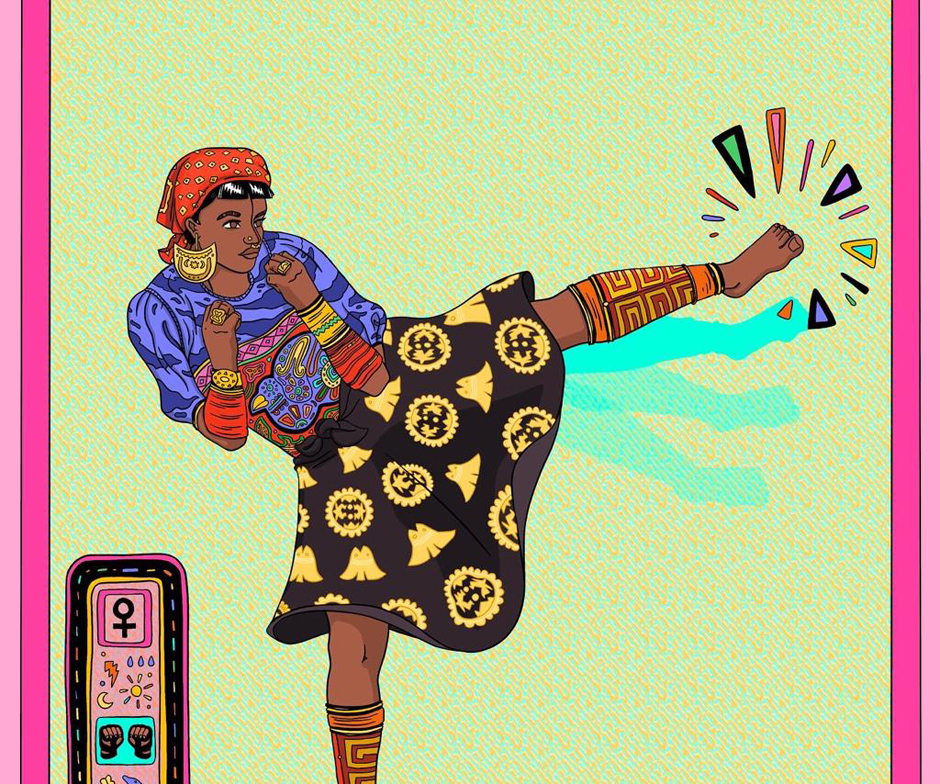 April 16, 2023
by Sofie Engström von Alten, text and art
The Kuna Indians of Panamá are a small group of 300,000 indigenous people living in what is present-day Panamá and Colombia. Long before Captain Morgan arrived on their shores to hide his gold and rum, their matriarchal society was prospering.
Because of countless affronts to their territory and identity, the Kuna Indians are notoriously protective and empowered. They maintain ownership of a long coastline and 300+ white sand islands that span the Caribbean and are the stuff of dreams.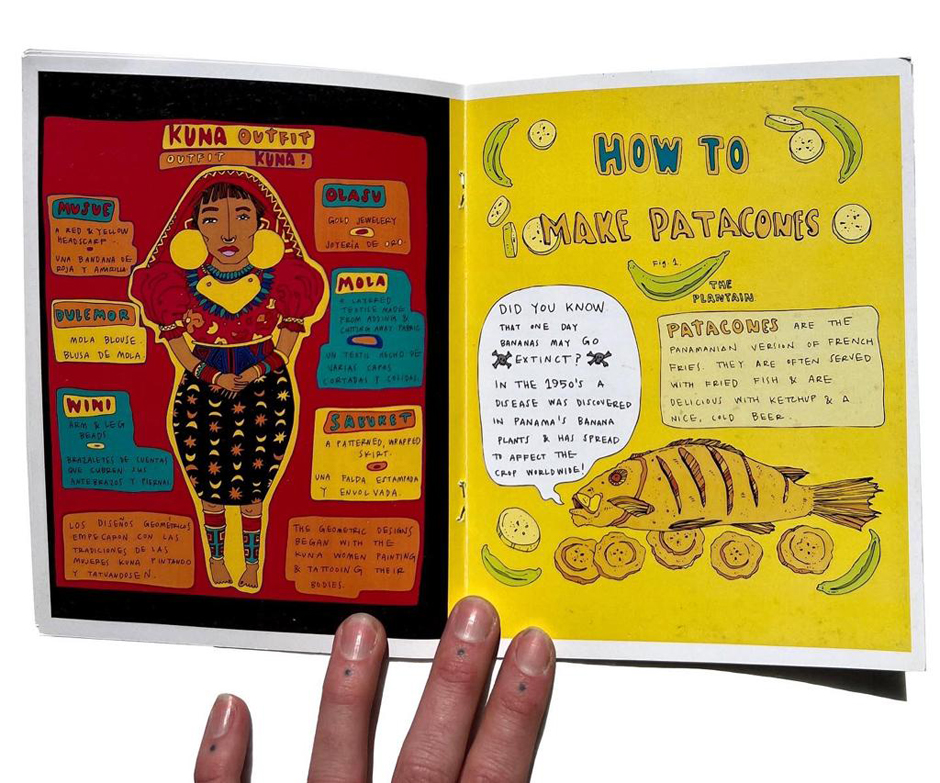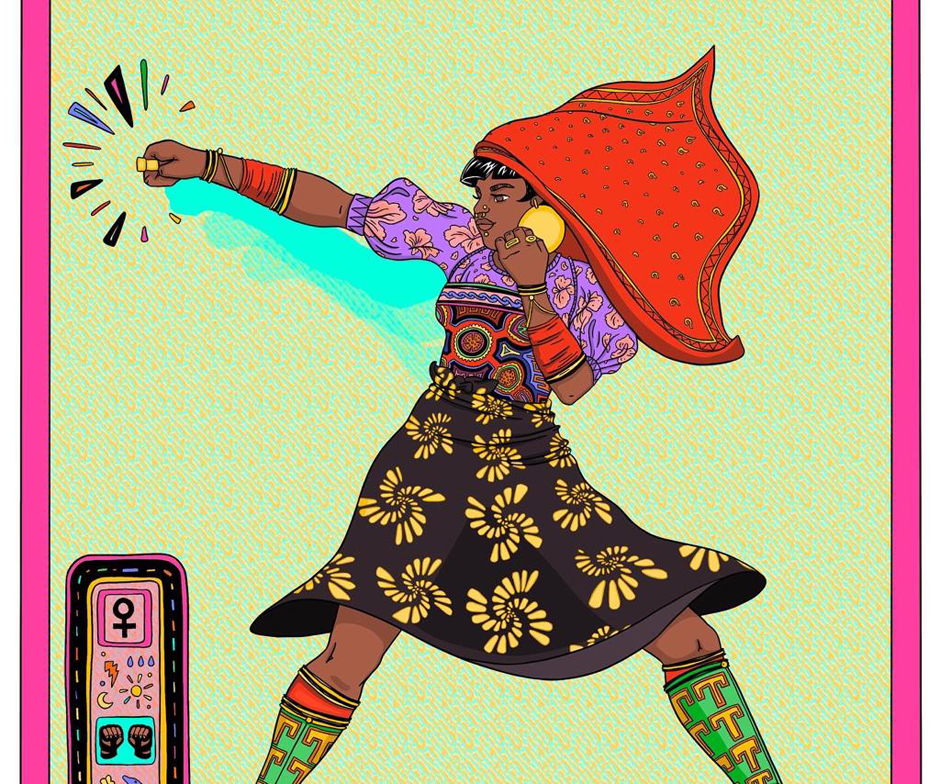 Just last year the Kuna filed and won a lawsuit against Nike who had used the Kuna's Mola designs – a colorful garment, hand-sewn with a reverse appliqué technique and worn around the midline of women – without permission on a series of shoes. This was only one of many battles that the Kuna Indians have fought to maintain their ancient heritage.
I had the great privilege of taking a visit to the Kuna'a San Blas Islands last year. This was no easy endeavor. First, I had to track down a local Kuna man, a task made complicated as unlike the colorful Molas and beaded outfits that the women wear, men wear normal, even dark, clothing. After paying a lump sum and following his directions to a T, my companion and I met up with a 4x4 Jeep at 5am outside the Casco Viejo, the old town of Panama City.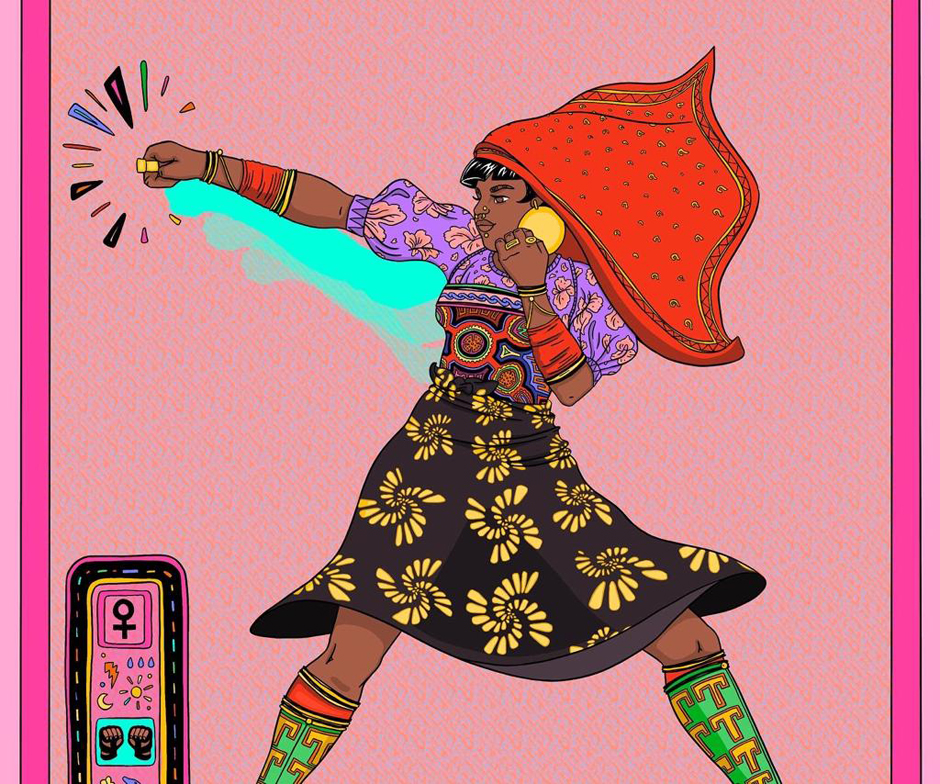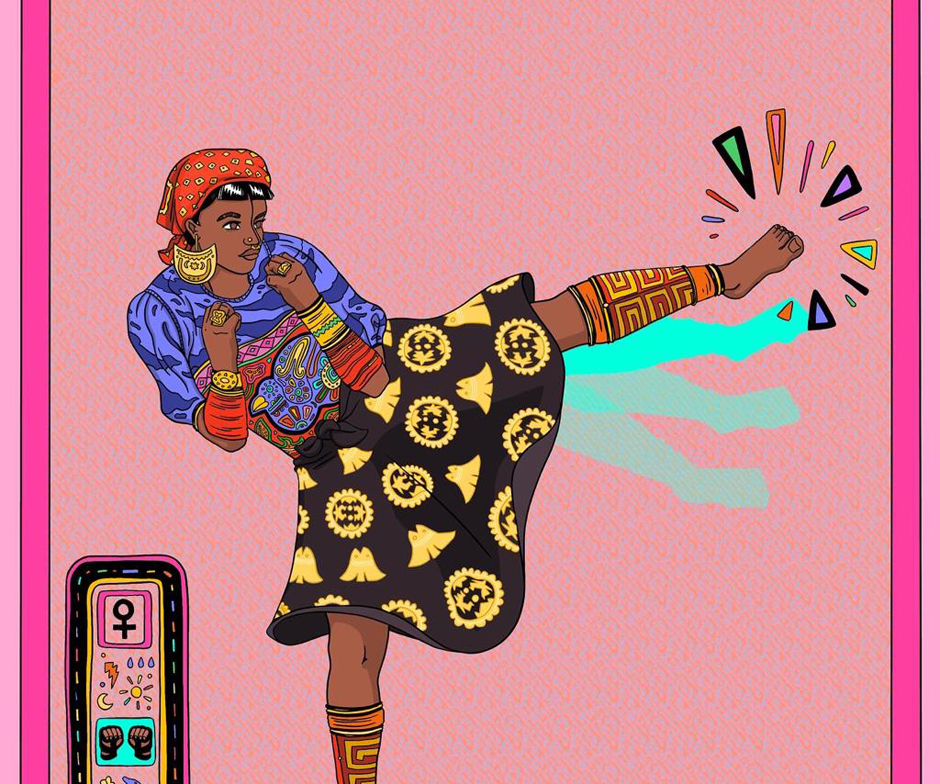 Our journey took us along bumpy dirt roads for a five-hour drive, through passport control, to the coast. After that, seemingly interminable experience, finally we boarded a small motorboat, and in a delightful while, went all the way out to a picture-perfect island, to which we had been assigned. Our fee included three nights in a small thatched-roof cabin, three meals a day (I ate lobster every night, naturally) and three full days of other-worldly island life.
The stern but warm-hearted Kuna people fill their days with fishing, playing cards and sewing. They manage the line between tourism and a natural life, showing grace and a good sense of humor towards the gringos – if you see a coconut fall on the island you can't even touch it as it's legally Kuna property.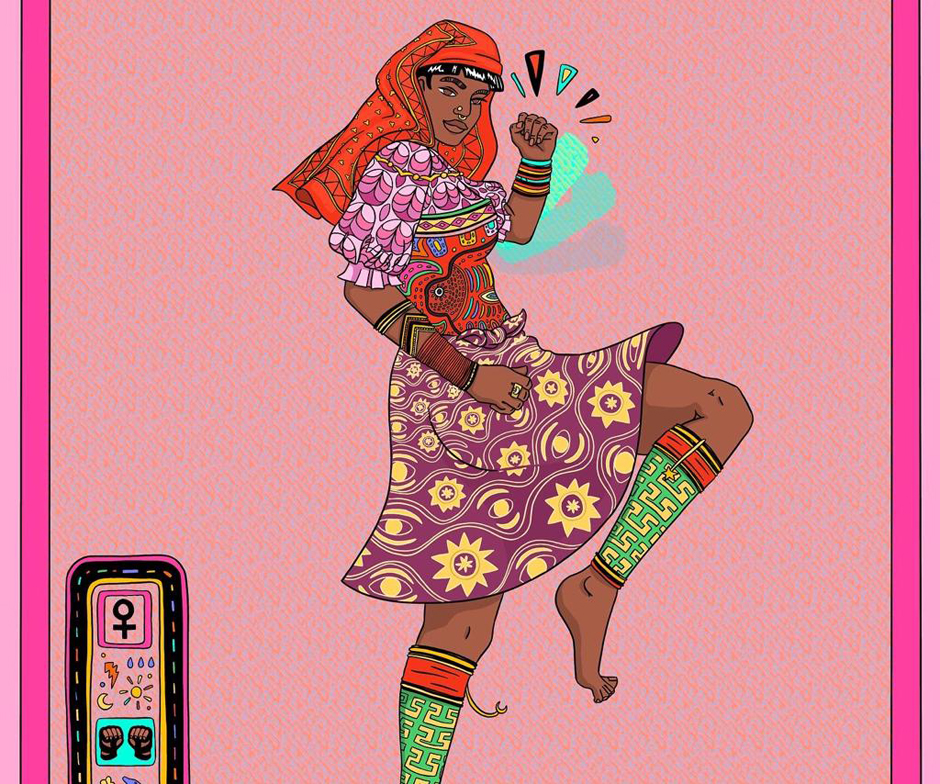 The Kuna Warriors illustrations demonstrate authentic Kuna values, with a kitschy twist. I drew them in a playful style reminiscent of trading cards or superheroes, in an attempt to capture and honor the awesomeness that are these Kuna women. The warriors fight for their right to exist and look fly as hell while doing it. I used many layers and fine lines. The illustrations echo the Molas and iconography that I saw while in Panamá.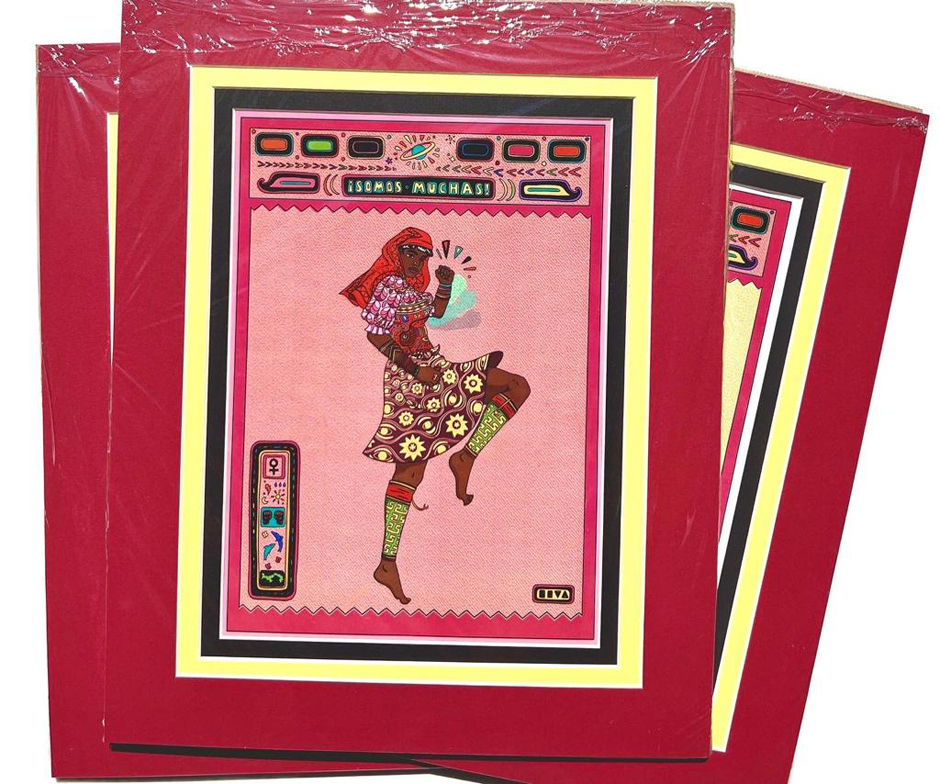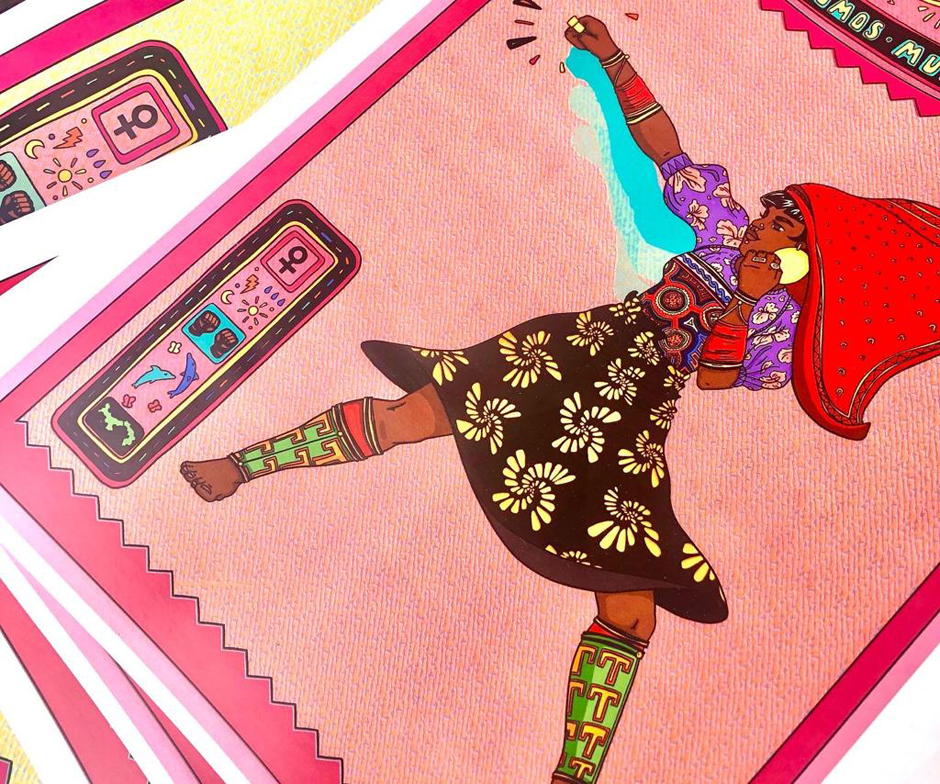 *
This illustrated series was made for a pop up gallery show in Panama City. These prints are available for sale.
**************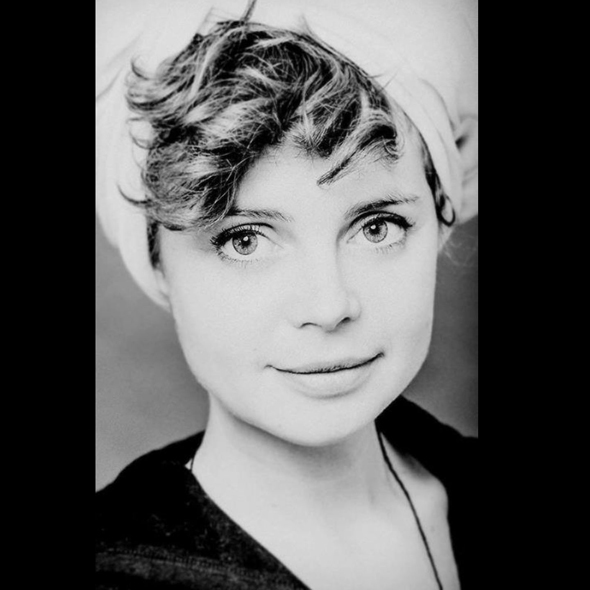 Sofie Engström von Alten was born in San Francisco, California in the 90's. She grew up doing yoga around hippies and jazzercisers. Her parents put her in a bilingual school, so she grew up speaking French.
As a teenager Sofie worked and studied with the Grateful Dead poster artist, Stanley Mouse, who is also renown for designing iconic images for the likes of Jimi Hendrix, Journey and Moon Alice. This personal mentorship was formative.
In 2012 Sofie moved to Berlin, Germany. With that the cultural crossroads as her homebase Sofie traveled to over 50 countries, absorbing art and culture like a sponge. In 2014 she was invited to complete an artist's residency in India. While she was there, she attended a yoga teacher training course in Rishikesh, in the foothills of the Himayalas. Upon returning to Berlin, she brought her yoga knowledge to children at the esteemed language school Berlitz.
Sofie currently lives in San Miguel de Allende, Mexico, where she is an artist, practicing yogi, and creator. In her free time she likes to make ¡Chula Libre! handbags and drink Coronas on the rooftops of San Miguel while sketching unsuspecting people in her sketchbook. She also makes self published 'zines.' She has over ten unique, hand drawn coloring books, travel guides, and comic books.

You can see more of her work here: www.hyperkitsch.com

And even purchase some sweet zines here: www.hyperkitsch.bigcartel.com/

Visit Sofie's Patron page here: https://www.patreon.com/hyperkitsch
**************
*****
Please contribute to Lokkal,
SMA's online collective:

***
Discover Lokkal:
Watch the two-minute video below.
Then, just below that, scroll down SMA's Community Wall.
Mission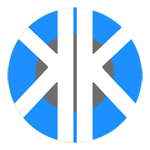 Visit SMA's Social Network