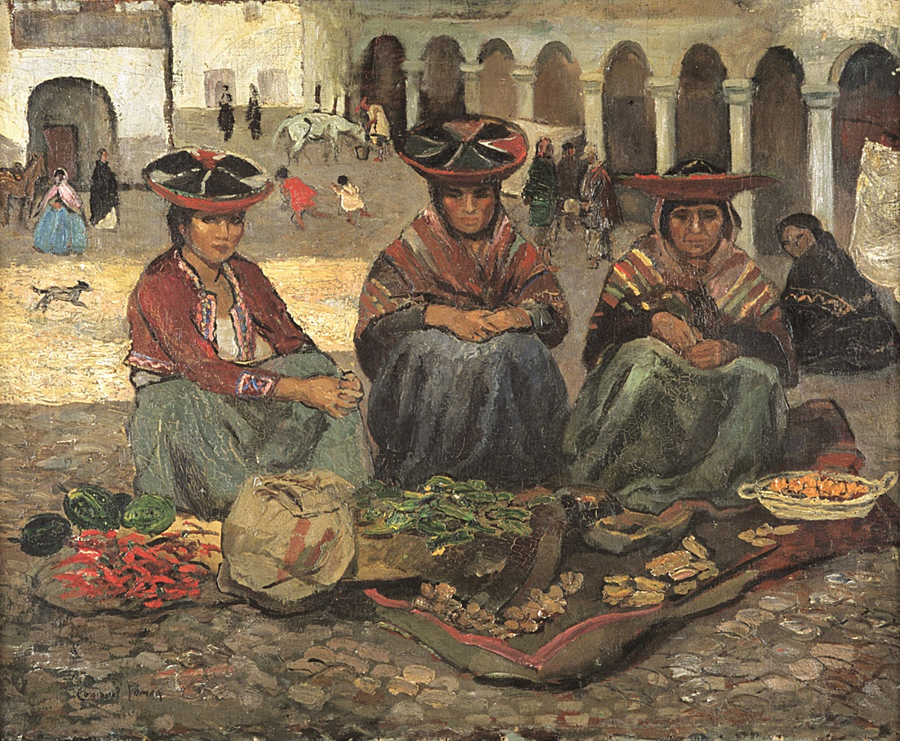 Mercado de Cuzco
*
April 16, 2023
by Natalie Taylor
Felipe Cossio del Pomar, was born in 1888 in San Miguel de Piura, in Peru. When he was twenty, his family moved to Brussels, where his parents pressured him to study law. Felipe, however, was more interested in art, and was quickly seduced by nearby Paris, which was becoming a nucleus for the arts. More than that, it was an irresistible, never-ending party, a hub of brilliance, and a magnet for an inquisitive, intellectual young man like Felipe. In Paris Felipe met Diego Rivera and other Mexican artists, and writers who awakened in him a great desire to visit, and learn more about the ancient cultures of Mexico.
He visited San Miguel de Allende in the late 1920s, and was instantly smitten. He drank the water from El Chorro, daring the traditional saying that "whoever drinks of that water, must come back." Cossio went back to Peru, but when his country fell under a dictatorship, he became a target of political persecution, and life became unbearable. He returned to San Miguel—as if to fulfill the injunction of having drunk El Chorro's waters.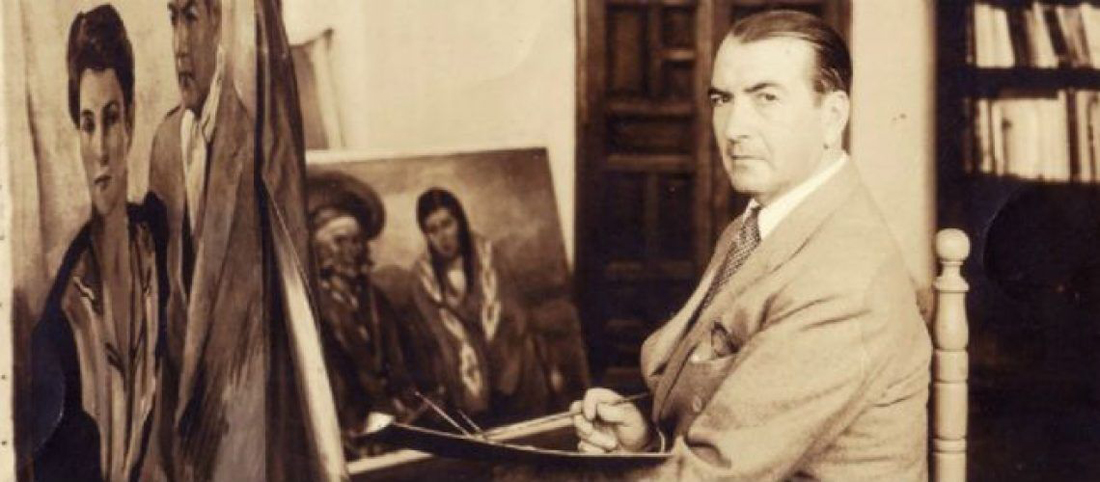 The year was 1937, and Cossio was now an art connoisseur and critic, a diplomat, and a painter. Cossio did not come simply to find political asylum, he had a vision for his newly adopted city. In San Miguel, with a population of only 12,000, he saw the potential of a university center of art education. Through the joint efforts of Cossio del Pomar, Jose Mojica, and Stirling Dickinson this dream became a reality when they founded the Escuela de Bellas Artes, in the abandoned convent of Las Monjas. Most are familiar with this major contribution of Cossio to our city, but Felipe Cossio del Pomar was also an artist in his own right. I believe he would have liked to be remembered as an artist, because he himself said: "...the biography of an artist is in his works."
Cossio received a doctorate from the School of Arts in Cuzco, Peru, but it was in Paris where he encountered some of the best artists and thinkers of the times. While in Paris, he met many Impressionist painters, as well as Pablo Picasso, Amadeo Modigliani, and Diego Rivera. He also met the great writer Guillaume Apollinaire; and the poets Miguel de Unamuno, and Pablo Neruda. Although Cossio's achievements as a visual artist never reached the level of the masters he interacted with, there is no question that he was a skilled and accomplished painter. While living in the United States he gained a reputation as a portrait artist, and was commissioned for private works. He also did historical portraits of famous Peruvians.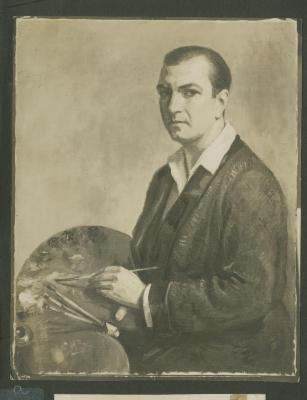 Self-portrait
*
Many of Cossio's paintings feature common people in the countryside, or in the market—some in his native Peru, others in Mexico, where he spent 30 years. These people are shown with great respect, as in "Mercado de Cuzco" (above). Three indigenous women sit in a market square, their blanket strewn with fruits and vegetables. In spite of their humble life and surroundings, they show strength and dignity, particularly in the eyes of the young woman whose unabashed gaze is directed at us from the painting. This, and other works reflect the painter's empathy for the common man, and his political leanings.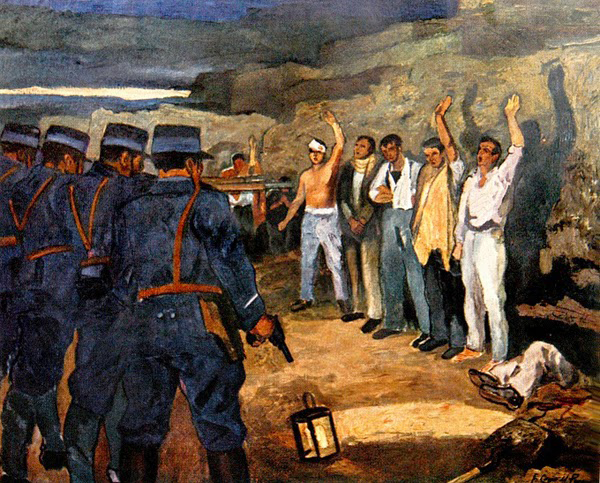 Execution at Chan-Chan
*
In "Execution at Chan-Chan" he depicts the 1932 mass shooting of political dissidents, members of the Aprista party that advocated for the rights of the common man, and an overturn of oligarchic rule. Cossio's painting evokes Manet's famous depiction of the execution of Emperor Maximilian in Mexico. Many of Cossio's paintings—particularly the landscapes and still lives—show the influence of the Impressionists with whom he spent time in Paris.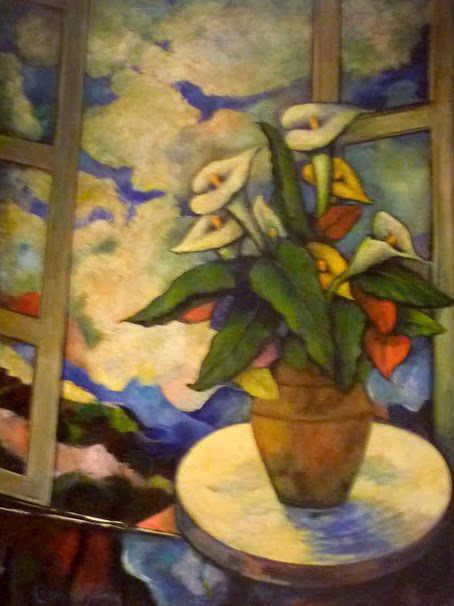 A still life called "Flowers in the Window," for example, is similar in composition and colors used by Gaughan, or Cezanne. Either consciously or not, Cossio was paying homage to those painters with his own works.
Cossio spent many years in the other San Miguel—not the one of his birth, but his adoptive city—San Miguel de Allende. He ended his life back in Peru, where he died in 1981, at age 92. He claimed to be "Peruvian by birth, Mexican by heart, and a man of the world by choice and destiny." A prolific writer, Cossio captured big truths with his words. Acknowledging that beauty is connected to spirituality, he said that he hoped to add to present, and future spirituality "with the small lamp that is art."

**************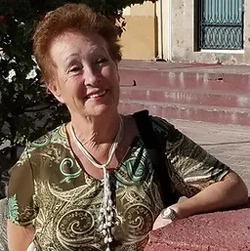 Natalie Taylor, born to Ukrainian parents, grew up in Argentina, where her family fled after WWII. They eventually moved to the U.S., and she spent most of her adult life there. She has a journalism degree, and an MFA in creative writing from Vermont College, Montpelier, VT. Her short stories, and poetry have been published in numerous literary magazines, and she has received several literary awards. She and her husband currently reside in San Miguel, where she has a weekly column in Atención, for which she also does translations. She has two books about San Miguel, available on Amazon or at the Tesoros Book Store: "Of All the Towns in All the World," and "SMA Self-Guided Historical Walking Tour." Her memoir, "The Tango House," will be coming out soon.
**************
*****
Please contribute to Lokkal,
SMA's online collective:

***
Discover Lokkal:
Watch the two-minute video below.
Then, just below that, scroll down SMA's Community Wall.
Mission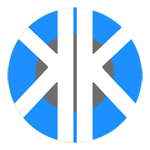 Visit SMA's Social Network