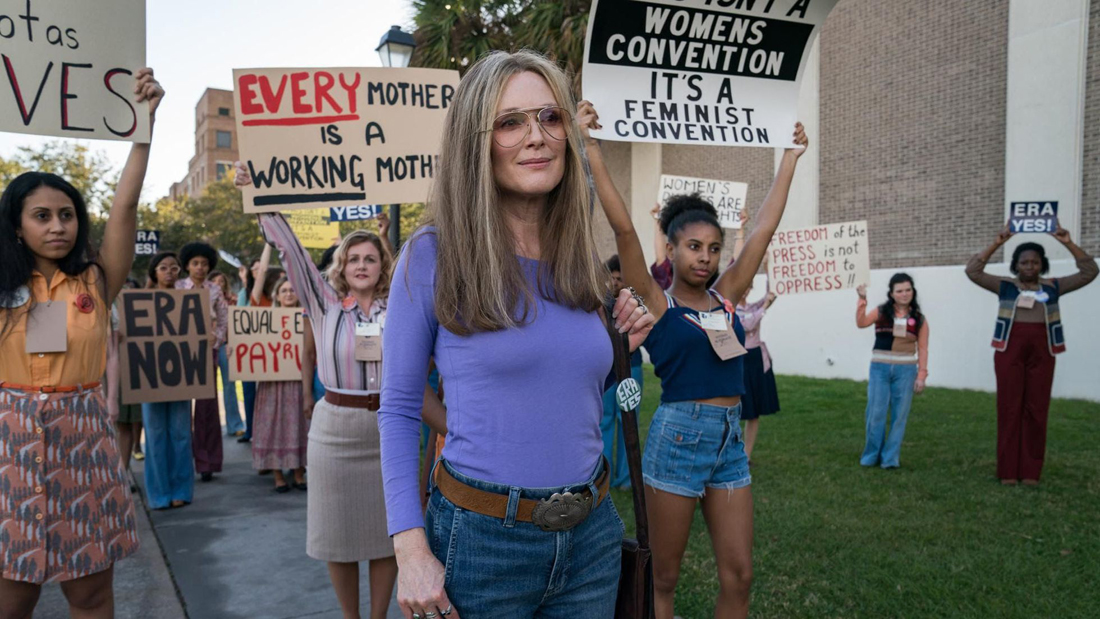 by Jeffrey R. Sipe
Time may appear linear, but human lives certainly are not. In The Glorias, Taymor strives to capture the multidimensionality and intertwined timelines of life by casting four different actresses to play Steinem at various times of her life. The actresses, headlined by Julianne Moore who plays Steinem as a mature adult, include Alicia Vikander, Lulu Wilson and Ryan Kiera Armstrong. And before all is said and done, Steinem herself shows up on screen, as well.
"When I told her that I wanted to do the film with four different versions of her with four different actresses sometimes all of them together and talking with one another," recalled Julie Taymor, director of The Glorias, the Gloria Steinem "biopic" presented by Compartimento Cinematografica at Mezcal Art on Wednesday at 7pm, "I wasn't sure how she would react."
"That's exactly right," Steinem responded, dispelling any unease. "I have those conversations all the time. How did you know I talk to my younger self?"
"I titled it The Glorias not because we used four different actresses to play Gloria," Taymor said, "but because these are all the various Glorias, the different aspects that go into making a life."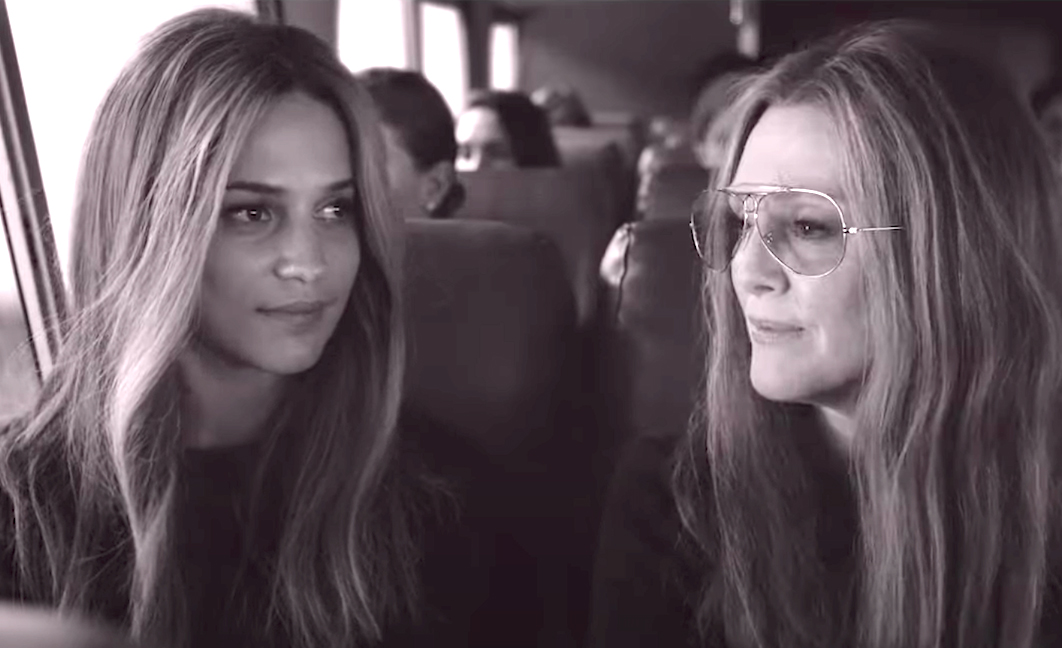 Taymor and Steinem had known each other in New York. Taymor said that Steinem had always been supportive of her work. Taymor fell in love with Steinem's autobiography, My Life on the Road.
"It was really the first female road story," Taymor said. It is also a very non-linear take on Steinem's own life, relating disparate on-the-road accounts of her younger years as the roots of a peripatetic lifestyle that propelled her from a career in journalism to a leading role in the nascent feminist movement.
"People have looked at very early feminism, but no one has really done anything on feminism in the 60s and 70s," Taymor said.
"If you look at her life, there are multiple planes of so many different concerns and activities; there was everyday life, her struggles to be a journalist, these link together."
Biopics often unavoidably become constructs, as rarely if ever is anyone's life lived according to a plot. In order to tie together the various and disparate strands of Steinem's very active life, Taymor came up with what she called "the ideograph" of the bus passing through America. "This was the glue that held it all together," she said, referring to the black-and-white interior of the bus from which The Glorias observe the progress and upheaval of life in America over the past 80 years. (Steinem is currently 86 years old.)
"It was about movement. The bus was out of time, forever traveling to the next demonstration, the next talk, the next rally. That's how she lived. Always going to the next place," Taymor said.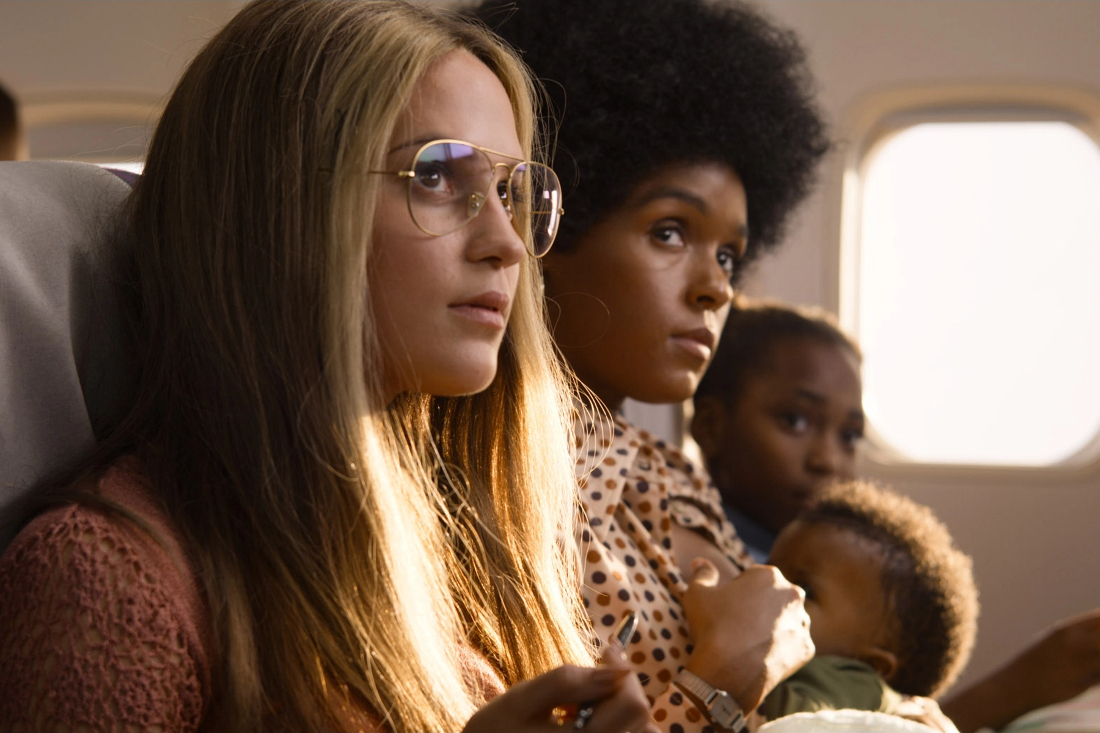 "There were big things in her life that I could do in 30 seconds if I could find the right image," the director continued. "But we also had a lot of documentary footage with the real people, so we intermixed it with our actors, and I feel like that gives a kind of edge to it because it is real. But it was also very difficult to get it right, combining the archival with the newly filmed."
The archival footage does, however, help in establishing timelines and time periods as Taymor eschewed identifying the various years with on-screen titles, opting instead to identify time periods through hairstyles, fashion, cars and other indicators. Some viewers have apparently deemed that confusing, but it also works to enhance the interrelatedness of the disparate times and activities.
The kind of restlessness with purpose that Steinem has lived is not a lifestyle unfamiliar to Taymor. Having shown a serious affinity for live theater at a very young age, Taymor's parents – her mother, a political science professor and activist, and her father, a gynecologist – sent her to Sri Lanka (then Ceylon) and India as part of an international study group. After graduating from high school, she studied at L'École Internationale de Théâtre Jacques Lecoq in Paris. As a college senior, Taymor won a year-long Thomas J. Watson Fellowship that began after her graduation from Oberlin College in 1974. The Watson allowed her to travel to Japan and Indonesia, where she continued to live and work independently from 1975 until 1979. In Indonesia, she developed a mask/dance company, Teatr Loh, consisting of Japanese, Balinese, Sundanese, French, German and American actors, musicians, dancers and puppeteers. The company toured throughout Indonesia with two original productions, Way of Snow and Tirai, which were subsequently performed in the United States.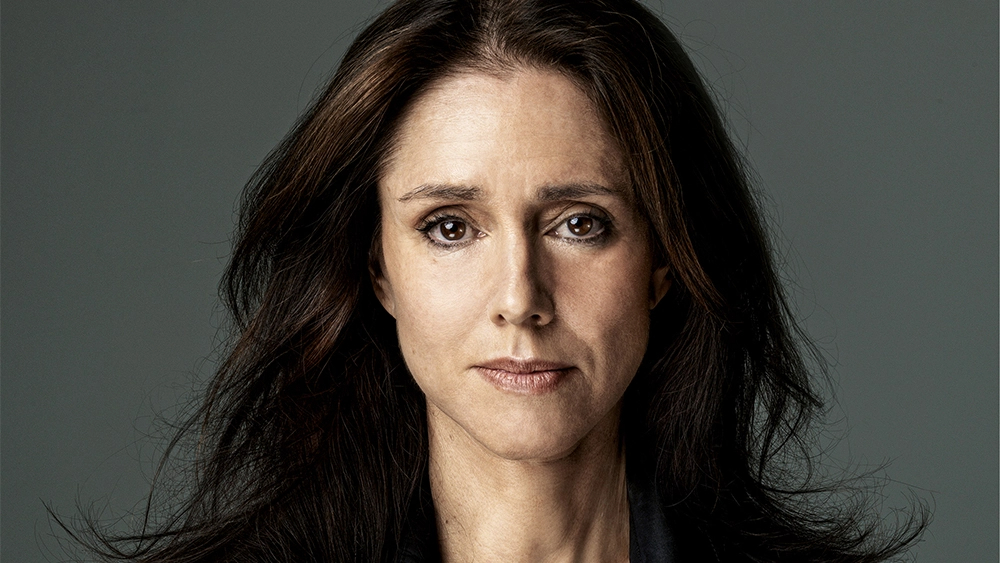 Director Julie Taymor
***
From there, Taymor went on to write, direct, produce and design highly regarded theater productions, bringing her affinity for masks and mythology to the American and international stage. She gained popular recognition when the Broadway production of The Lion King brought her a Tony Award for Best Direction of a Musical and Best Costume Design.
Her film work includes Fool's Fire, her debut film which aired on PBS's American Playhouse, and Frida, the Frida Kahlo biopic that was shot entirely in Mexico. She had actually wanted to film in San Miguel de Allende, but found it impossible to make San Miguel look like Mexico City.
Wednesday's screening of The Glorias will be one of the few to actually take place on a big screen. Just as Taymor and her crew were preparing to promote the film with a bus trip across the US, Covid 19 wreaked havoc on the film industry, shutting down theaters across the world and ending the theatrical release plans for numerous films, including The Glorias. In the case of The Glorias, however, the knock-on effect was palpable. Financing for the film came from a non-profit (that could not be named) and profits were earmarked for Steinem-friendly social advocacy groups. With the film now available solely on streaming sites, those profits are not going to materialize.
Taymor is currently in San Miguel de Allende along with Elliot Goldenthal, her long-time collaborator and music director, for some rest, recreation and discussions with author Jennifer Clement regarding a film adaptation of Clement's latest novel, Gun Love. Clement wrote Prayers for the Stolen, on which last year's acclaimed Mexican feature, Noche de Fuego, was based.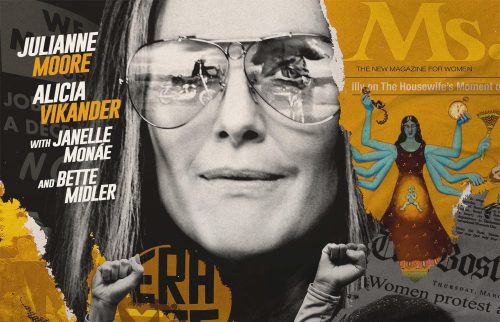 The Glorias will be shown on on Wednesday at 7pm
at Compartimento Cinematografica at Mezcal Art, Calz. de la Estación 59.
Director Julie Taymor and Music Director Elliot Goldenthal will be in attendance for a post-screening Q&A
**************
Jeffrey R. Sipe is a writer/journalist, who, no matter how hard he writes, having grown up in Speedway, Indiana, still can't get the sounds of race cars rounding Turn 4 out of his head. He has written about the film industry for Variety, The Hollywood Reporter, Sight and Sound, The Financial Times and other publications. He also once worked as the "boom guy" on a film that nobody saw, but he challenges everyone to see just how long they can hold a metal tube with a microphone attached over their heads.