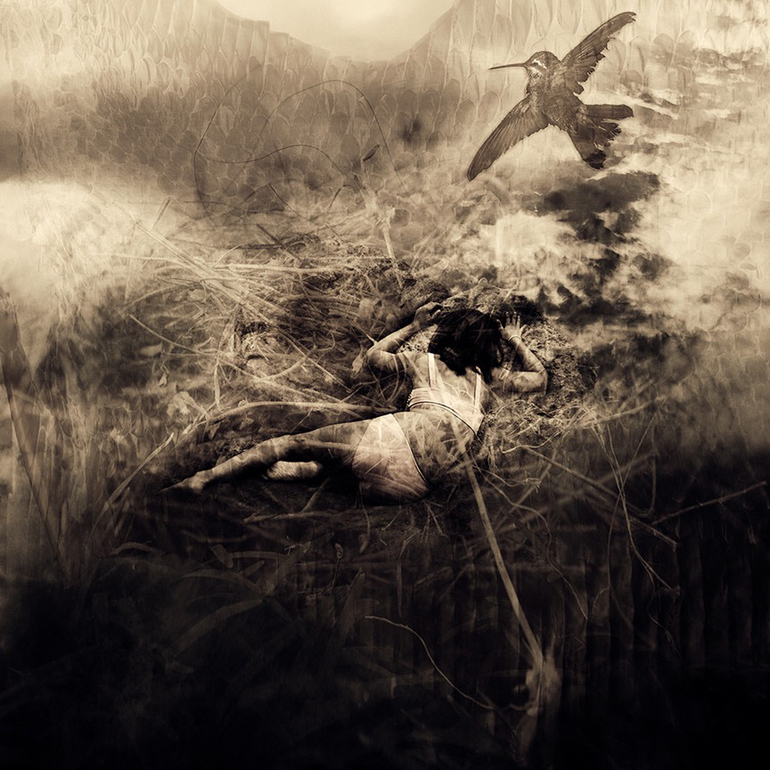 ***
I have always used photography as a way of orienting myself to what was going on, both around me and inside me. Being behind a camera gave me an excuse to hide myself, and also a way of focusing in and seeing things in new ways. I loved spending long hours in the dark room with the magenta toned safe light, where I was mesmerized by images floating to the surface of the chemical filled trays.
***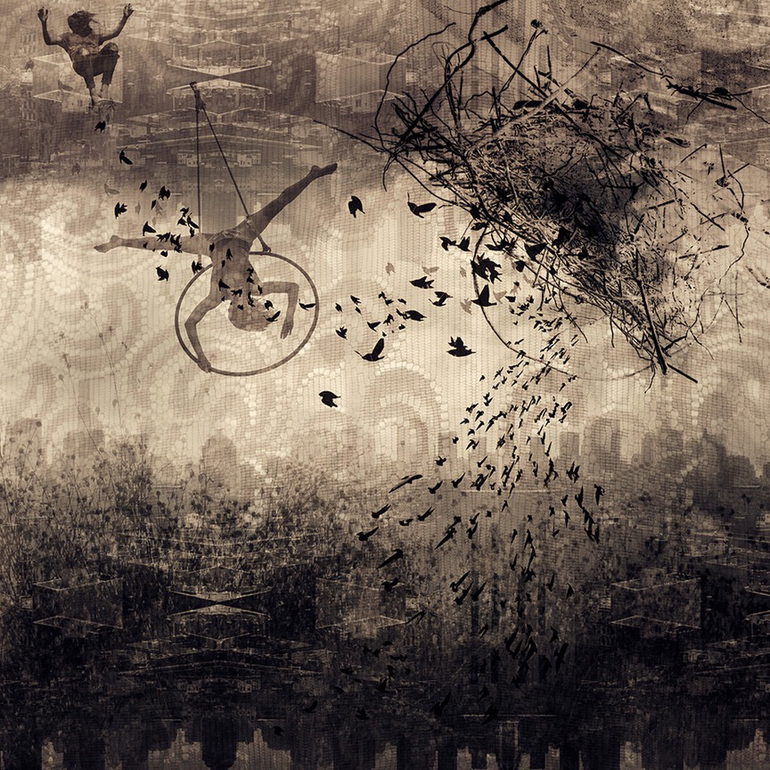 ***
Changing technology affected my career a lot. I gradually moved to digital and opened a digital fine art printing studio after I moved to San Miguel. As a mother with two young children, I found myself working on the computer whenever they napped or slept at night. I began compositing images that I already had to create new forms. I did this more and more, to the point where I almost never went out and photographed.
***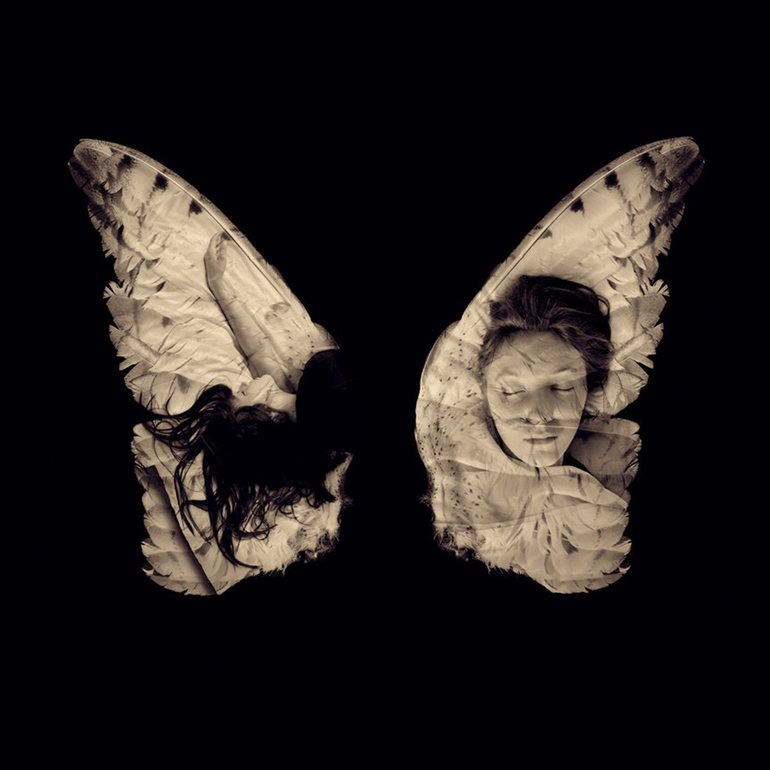 ***
I started up a printing business with friend and artist Jod Lourie who I met soon after I moved to San Miguel. She is an artist and wanted a digital printer for her personal work. Because I couldn't afford to rent a separate studio, we decided to share the space and the printer.
We used the printer to start a business that would pay for the space. The business gave both of us the ability to work on our personal work, and to generate income. It has also provided a way of experimenting with all kinds of media and led me to create new lines of design products like wallpapers, lampshades, fabric prints, and more.
***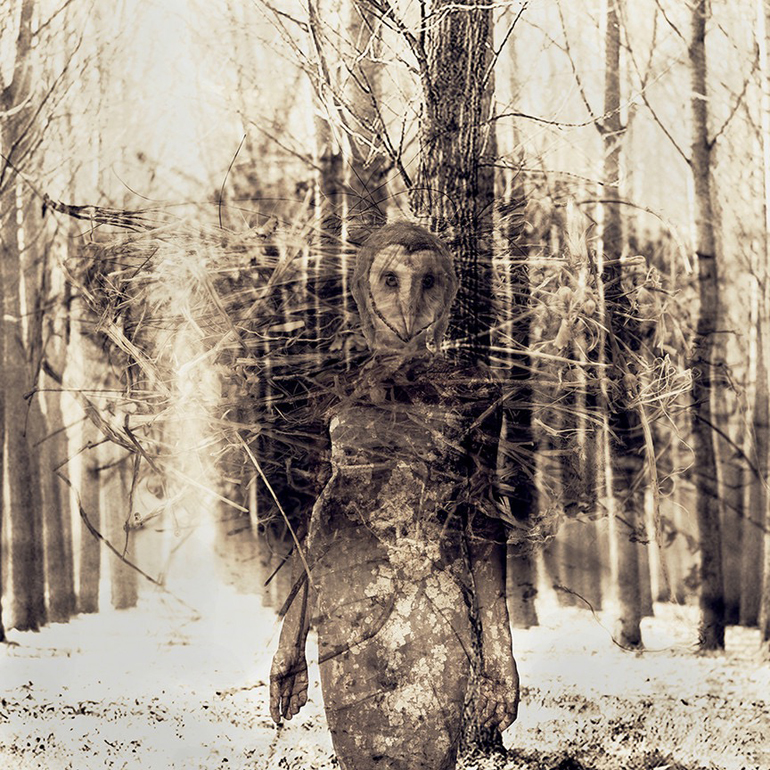 ***
When my daughters were 6 and 3, I saw an ad for a performance by the local circus troupe, Gravityworks. I took my kids and I loved it. I discovered that they were offering kids' classes, so I enrolled my 6-year-old. I would take her and watch every week. A couple other moms and I approached the teacher, Ceci Corona, and asked if she would teach an adult class. She agreed.
***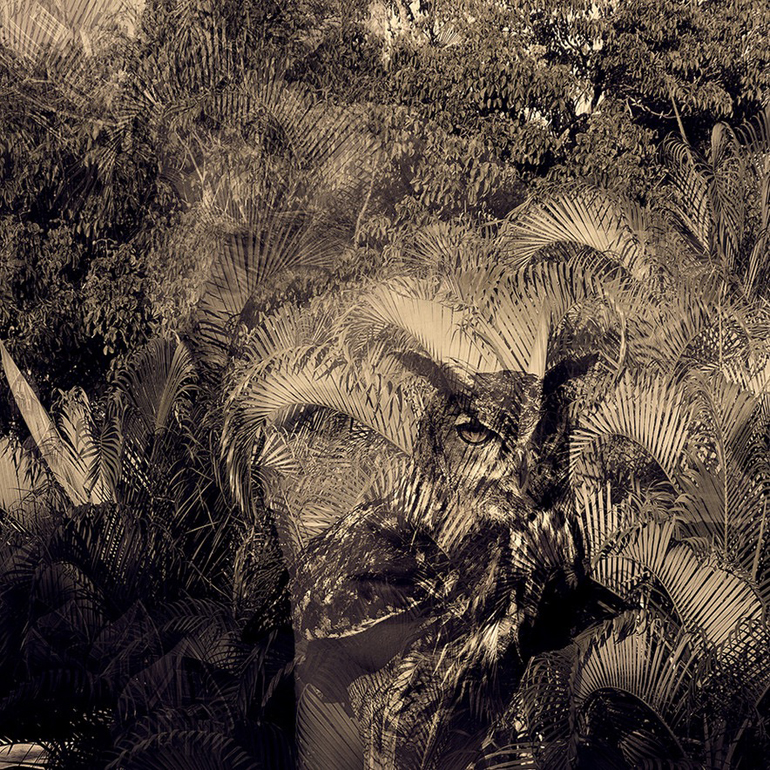 ***
About a year later, Nisha Ferguson, the founder and director of the adult circus troupe, invited me to join. The rest is history. I was a member of Gravityworks from 2009 onward. It became a big part of my life, not just because we trained for 12 hours a week, performed many shows in and around San Miguel, and basically spent a lot of time in trainings and rehearsals, but also because of the community it created. Because the kind of work was fun, specialized, and also dangerous, it required a lot of energy, trust, and dedication. We all became very tight-knit, and supported each other through all kinds of personal growths and traumas. It was like a second family.
***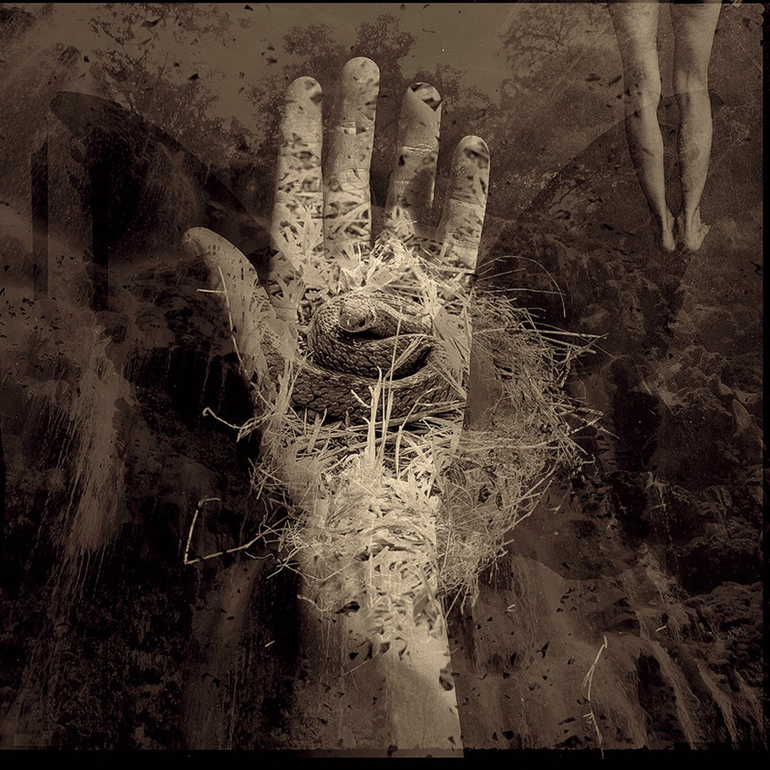 ***
My most recent project is called "Betwixt." It is the latest work that I have exhibited (at Galería Intersección, SMA in 2019) and the work that is being rescheduled for showings in 2022. It is a series of sepia toned digitally collaged photographs. The subjects of these photographs are nests, birds, my two daughters and myself. The work is about the shifting parameters of home. This work has been influenced by surrealism and magical realism that have surrounded my life raising kids as an expat in Mexico. I have created a few new pieces during the pandemic, and am working on some video projections to accompany the prints as well.
***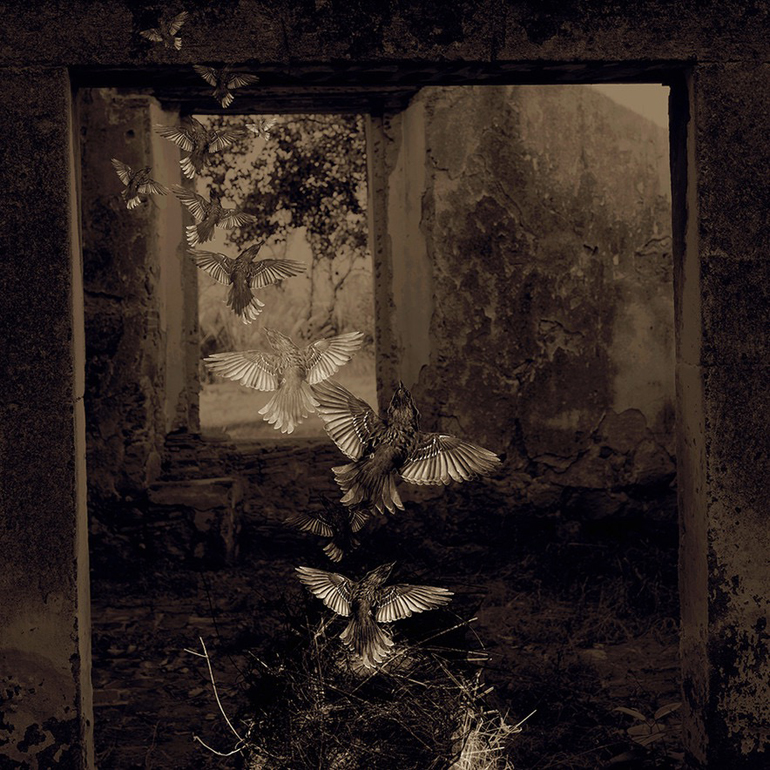 ***
My art has changed a lot from where I first started out. I began with 35 mm documentary work. I used to believe that cropping an image was a crime. I didn't even like to print photographs without a filed out negative carrier to show every millimeter of the negative. Now I work almost exclusively in photoshop, often creating forms that don't have any semblance of a photograph.
For young creatives, I would advise doing what has meaning. Do projects that scare you. And do projects that reveal some kind of feeling, even if you don't know what that is or can't explain it.
***
***
I went to grad school when my first daughter was one. While in graduate school, she became my thesis project, along with my mother, who spent a lot of time with me to help, and myself. While I hadn't planned this, I knew that I couldn't pull myself away to photograph anything else.
I have always been introspective, and it was only natural that my work focused more and more inward. When my daughters were young, photography shoots were just a part of home life. As they became adolescents, they didn't want to be involved. This is one of the reasons I turned to digital, and began combining existing photographs to create new work.
***
***
I do yoga every morning and dance many times a week. Doing something physical and connecting with other people is important, and for the last few years I have pursued ballroom dance: salsa, cha-cha, bachata, tango, waltz, foxtrot, and more. The pandemic has both given me the time and focus to work on the ongoing financial stability part. For me, creating and enjoying my life are easy. Getting paying work rolling in is not as much fun, but this last year has allowed me to focus on getting my various projects into marketable positions.
***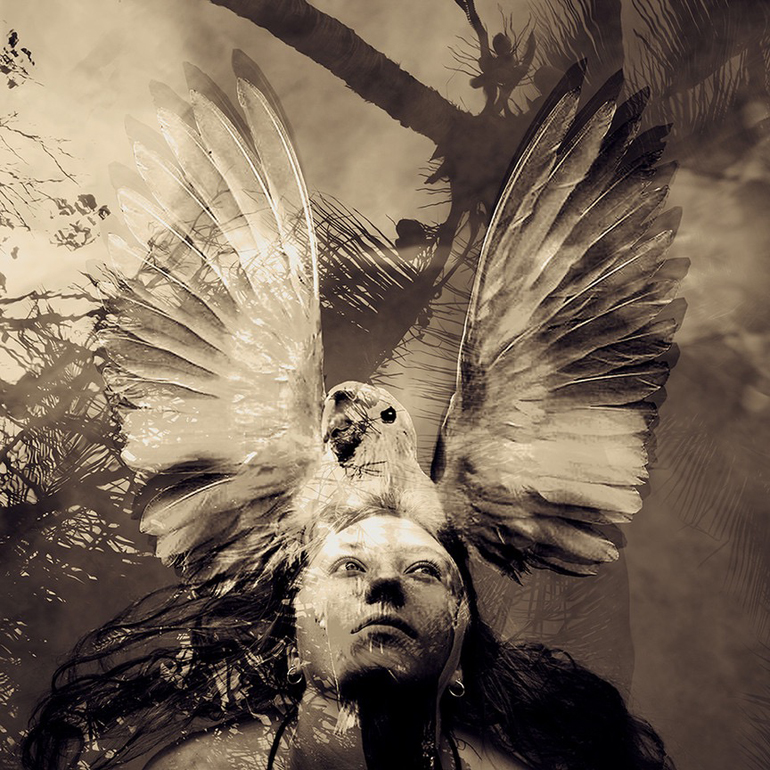 ***
The text above is extracted from an interview in Real Creative Magazine.
******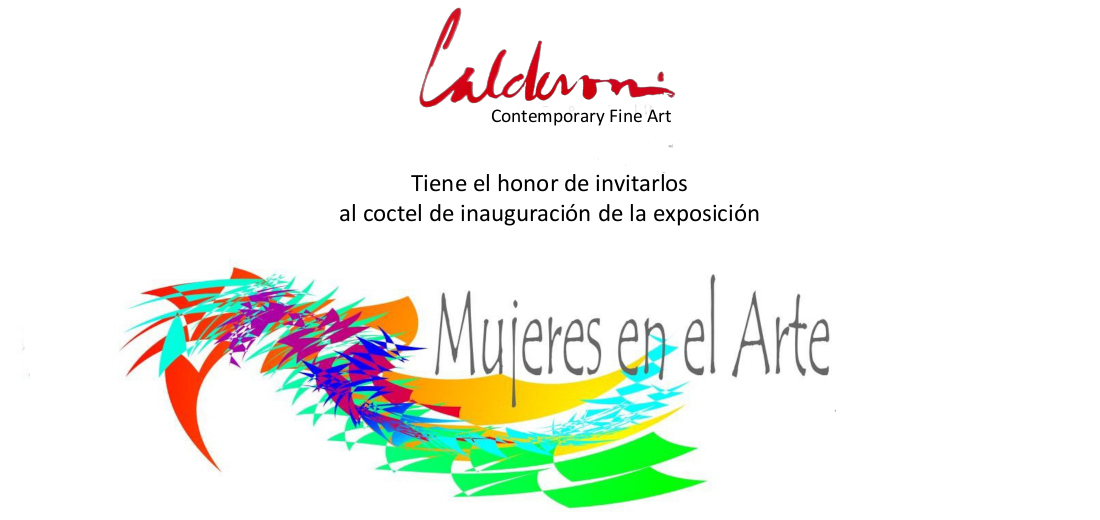 Saturday, August 13, 5-7pm
Gallery Calderoni, Fabrica la Aurora
*****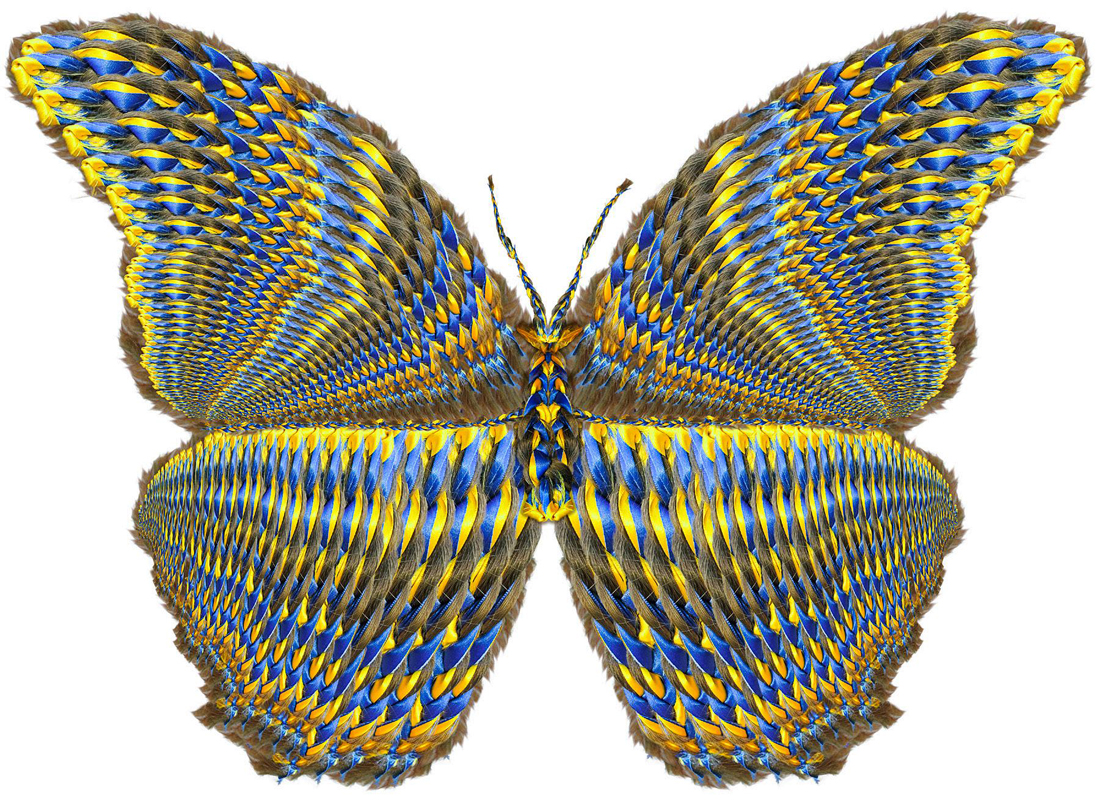 Ri Anderson
Education

2005 Massachusetts College of Art + Design, Boston, MA, USA | MFA fotografía

Individual Expositions

2022 Museo de la Mujer, CDMX | Ri Anderson – Sueño Liminal
Casa de la Cultura San Pedro, Monterrey, Nuevo León MX | Ri Anderson – Betwixt & Mariposas
Casa de la Cultura Vista Montaña, Monterrey, Nuevo León MX | Ri Anderson – Betwixt & Mariposas
Casa de la Cultura Cima, Monterrey, Nuevo León MX | Ri Anderson – Betwixt & Mariposas
2019 Galería Intersección, San Miguel de Allende, Gto. MX | Ri Anderson
2017 Museo de la Ciudad de Querétaro, Qro. MX | Sangre de mi Sangre
2015 Bellas Artes El Nigromante, SMA, Gto. MX | Sangre de mi Sangre
2014 Griffin Museum of Photography at Digital Silver Imaging, Belmont, MA USA | Mexican Parlour Games/Secret Sibling World
Gallery Nord, San Antonio, TX USA | Ri Anderson
2012 Galeria 6, Mineral de Pozos, Gto. MX | Ri Anderson
2005 La Petite Mort Gallery, Ottawa, On. Canada | Ri Anderson
Photographic Resource Center, Boston, MA USA | NEO: Northeast Exposure Online www.bu.edu/prc/anderson.html
Bakalar Gallery, Massachusetts College of Art, Boston, MA USA | MFA Thesis Exhibition
2004 Essex Art Center, Lawrence, MA USA | Ri Anderson
2002 Studio Soto, Boston, MA USA | Ri Anderson: Recent Work
2000 DeCordova Museum, Lincoln, MA USA | 2000 DeCordova Annual Exhibition

Selected Collective Expositions

2022 Art San Miguel, Distrito SOMA, San Miguel de Allende MX | Contemporary Art Fair, curated by Ana Julia Aguado
Senado de la República, Mexico City MX | Exposición Voluntad en Movimiento
Worcester Center for Crafts, Worcester, MA USA | Realism Reboot, curated by Kat O'Connor
2020 Worcester Center for Crafts, Worcester, MA EU | Realism, Kat O'Connor curador
2018 DeCordova Museum, Lincoln, MA EU | Lived Space: Humans and Architecture
La Huipilista Artspace, San Miguel de Allende, Gto. MX | Take a Chair Collective
PhotoPlace Gallery, Middlebury, VT EU | Myths, Legends, and Dreams, juror Amy Holmes George
2017 Pingyao International Photography Festival 2017, Pingyao, China | Old School New School
2016 Studio Soto, Boston, MA EU | Lunenburg
2013 Galeria 6, Mineral de Pozos, Gto. MX | Mellow Yellow Pink Trapeze
2009 Photographic Resource Center, Boston, MA EU | First Annual Photographic Resource Center Juried Publication Dana Faconti, juror
2008 Trustman Art Gallery @ Simmons College, Boston, MA EU | Uncommon Denominator, Photography
2007 Arsenal Center for the Arts, Watertown, MA EU | In Sights: Photography by Award-Winning Massachusetts Artists
Cushing-Martin Gallery, Stonehill College, Easton, MA EU | Staged: Constructed Narrative in Contemporary Photography
2006-07 DeCordova Museum, Lincoln, MA EU | Approaches to Narrative
2006 Griffin Museum of Photography, Winchester, MA EU | 12th Juried Exhibition Bonni Benrubi, juror
Photographic Resource Center, Boston, MA EU | PRC Members' Exhibition, Jeanine Fijol, Photo District News, juror
Studio Soto, Boston, MA EU | Lunenburg Revisited
2005 Flying Space, Sag Harbor, NY EU | Bedtime Stories, Invitational Group Show
Doran Gallery, Massachusetts College of Art, Boston, MA EU | Stranger Than Fiction
2004 Doran Gallery, Massachusetts College of Art, Boston, MA EU A | Unsettled Domisticities
Fort Point Art Community (FPAC) Gallery, Boston, MA EU | Open Studios Group Show
Doran Gallery, Massachusetts College of Art, Boston, MA EU | Project Pittsfield
2002 Fuller Museum of Art , Brockton, MA EU | Almost Home
DeCordova Museum, Lincoln, MA EU | Alone: Images of Isolation from the Permanent Collection
Studio Soto, Boston, MA EU A | Tainted Love
New England School of Art & Design, Boston, MA EU | Digital City: New Squirts for Now People
2001 Bernard Toale Gallery, Boston, MA EU | Boston Drawing Project Inaugural Exhibition
Gallery @ Green Street, Boston, MA EU | 150 x 150
Lillian Immig Gallery, Emmanuel College, Boston, MA EU | Pinhole Madness
Copley Society, Boston, MA EU | Manifest 2001: A Juried Exhibition of Contemporary Photography
2000 Contemporary Artists Center, North Adams, MA EU | What's the Big Idea?
Studio Soto, Boston, MA EU | The I of the Beholder: Objectifying the Self
1999 Federal Reserve Bank Gallery, Boston, MA EU | Cambridge Art Association National Prize Show
1998 Kingston Gallery, Boston, MA EU | NewArt '98
Viridian Artists, New York, NY EU | Viridian Ninth Annual National Exhibition
Copley Society of Boston, Boston, MA EU | Manifest '98: A Biennial Survey of Contemporary Visual Art
1997 Cambridge Art Association, Cambridge, MA EU | Fin de Siecle: Trends of the Nineties
Bernard Toale Gallery, Boston, MA EU | In Dialogue: New England Women and Photography
Cambridge Art Association, Cambridge, MA EU | The Art of Love
Midtown Plaza Galleries, Atlanta, GA EU | Revealing Regionalism: Contemporary Documentary Photography
1995 Copley Society of Boston, Boston, MA EU | Manifest 95: Exploring the Non-Traditional Visual Arts

Publications
2022 LensCulture | Art Photography Competition Gallery
En Honor a la lucha contra el cancer pero esencialmente al constant ¡Triunfo de la vida! p 7 (MX) | Ri Anderson
2021 Real Creative Magazine Issue 7 (pages 34-39) | Ri Anderson, entrevista por Lon Levin
2020 LensCulture | Galería de Concurso "Journeys"
2019 LensCulture | Galería del Concurso Art Photography
2018 Myths, Legends, and Dreams Catalogue (EU) | Ensayo por Amy Holmes George
2017 Printmaking Today (UK) | 'Sweat Drawings' Ri Anderson
BETA – Developments in Photography Issue 22 – pages 38-57 (Australia) | 'Sweat Drawings' Ri Anderson
Pingyao International Photography Festival Catalogue (China) | Old School/New School
2005 MFA Thesis Exhibition Catalogue (EU) | Ri Anderson
2000 DeCordova Annual Exhibition Catalogue (EU) | Ri Anderson
PRENSA
2019 Atención San Miguel (November 8) | Dos artistas de San Miguel exhibirán sus majestuosas obras por Margot Duell
2017 Atención San Miguel (January 20) | El Bordado Digital de Ri Anderson: Sangre de mi Sangre por Valerie Mejer
2016 Atención San Miguel (March 11) | Matrilineages by Raisha Andeferg
2015 Atención San Miguel (April 17) | Sangre de mi sangre por Nicole Findlay
2014 Atención San Miguel (March 13) | Explorations of the Sacred and Profane by Nicole Findlay
2013 Atención San Miguel (July) | Mellow Yellow Pink Trapeze by Nick Hamblen
2012 Atención San Miguel (Aug. 31-Sept. 5) | Ri Anderson & Larimer Richards at Galería 6 by Nick Hamblen
2005 Ottawa Xpress (Dec. 1) | Death Becomes Her: Ri Anderson at La Petite Mort by Dale Smith
Boston Globe (May 6) | 5 Degrees of Inspiration by Cate McQuaid
2002 Art New England (Oct/Nov) | Photography by Emily Belz
Art New England (Aug/Sept) | Studio Soto/Boston Ri Anderson: Recent Work by Lisa Amato
Boston Herald (June 7) | Photo Exhibit Makes You Feel at 'Home' by Joanne Silver
2001 Boston Globe (Sept. 27) | Pinhole Vision by Cate McQuaid
2000 Time Out New York (Aug. 10-17) | Small Town Color by Valerie Stivers
Boston Sunday Globe (July 23) | Art's the Big Idea in North Adams by Cate McQuaid
The Advocate Williamstown & N. Adams (July 12) | What Happens When Artists Interact With a Berkshire city? By Mark E. Rondeau
The Advocate (July 12) | Visiting Artists Express Their Impressions of North Adams by Mark E. Rondeau
Harvard Post (June 30) | Museums by Kathryn Liebowitz
Boston Globe (June 23) | Disparate Solo Shows Strong at DeCordova: Murder, Ants & Clay Mutants at DeCordova Museum by Cate
McQuaid
Worcester Phoenix (June 2) | Bug-eyed: The Insect makes its Debut at DeCordova's Annual Exhibition by Leon Nigrosh
Framingham Metrowest Daily News (June 1) | Art all Over by Naomi R. Kooker
Boston Herald (May 26) | Babies and Beehives Create Buzz at DeCordova Show by Joanne Silver
Boston Sunday Globe (May 14)
1997 Art Papers (Sept/Oct) | Revealing Regionalism by Susan Todd-Raque
Atlanta Magazine (June) | Not a Pretty Picture by Lee Walburn

Permanent Collections

Berkeley Art Museum | Berkeley, CA EU
DeCordova Museum & Sculpture Park | Lincoln, MA EU
Prizes

2016 Critical Mass Finalist
2011 Critical Mass Finalist
2007 Massachusetts Cultural Council Artist Grant Finalist, Photography
2006 Critical Mass Finalist
2004 New York Times Magazine Student Photography Finalist
1997 Best of Show, The Art of Love, Bernard Toale juror
1996 Ernst Haas Golden Light Award Honorable Mention, Top 100 Photographers
1995 Jean and Kahlil Gibran Award, Copley Society of Boston

Showings

2022 Santa Fe Workshops - Co-Instructora, Personal Mythologies: An Interior Journey | San Miguel de Allende, Gto., Mexico
Co-Instructura, Empiezas Nuevas | San Miguel de Allende, Gto., MX
Casa de la Cultura – Instructora, Digital Embroidery | Monterrey, Nuevo León MX
2018 Instructora, Photoshop Laboratory | San Miguel de Allende, Gto., Mexico
2017 Instructora, Self-Portraits as Birds | San Miguel de Allende, Gto., Mexico
Instructora, Self-Portraits as Bugs | San Miguel de Allende, Gto., Mexico
2016 Instructora, Manifesting Your Inner Vision Through Photography | San Miguel de Allende, Gto., Mexico
Instructora, Basic Black and White Darkroom | San Miguel de Allende, Gto., Mexico
Instructora, Pinholes & Photograms | San Miguel de Allende, Gto., Mexico
2006 San Miguel Workshops – Instructora, Basic Photography | San Miguel de Allende, Gto., Mexico
2005 Massachusetts College of Art – Instructura Invitada, Intermediate Black and White Photography | Boston, MA EU
Massachusetts College of Art – Instructura Invitada, Introduction to Digital Photography | Boston, MA EU
2004 Massachusetts College of Art – Asistente de enseñanza, View Camera with Nick Nixon | Boston, MA EU
Massachusetts College of Art – Asistente de enseñanza, Visual Language with Sarah Bapst | Boston, MA EU
1998-2002DeCordova Museum School of Art – Instructora, Adult Basic Photography, Beyond Basics, Portraiture | Lincoln, MA EU
1999-2000Boston Photography Collaborative – Instructora, Introduction to Black and White Darkroom | Boston, MA EU
1997 Harvard University Extension School – Asistente de enseñanza, Documentary Photography with Jack Leuders-Booth | Cambridge, MA EU
Radcliffe College – Instructora, Black and White Darkroom | Cambridge, MA EU

Art Conferences

2021 Santa Fe Photographic Workshops – Discurso de la artista | San Miguel de Allende, Gto., MX
2017 Pingyao International Photography Festival – Discurso de la artista, Old School/New School
2005 Massachusetts College of Art – Discurso de la artista, The Contemporary Portrait | Boston, MA EU
2001 Emmanuel College – Discurso de la artista, Pinhole Madness | Boston, MA EU
2000 DeCordova Museum – Discurso de la artista, 2000 DeCordova Annual Exhibition | Lincoln, MA EU
Tufts University – Oradora invitada, Beginning Photography | Medford, MA EU
1999 University of Massachusetts – Oradora invitada, Black and White Photography | Lowell, MA EU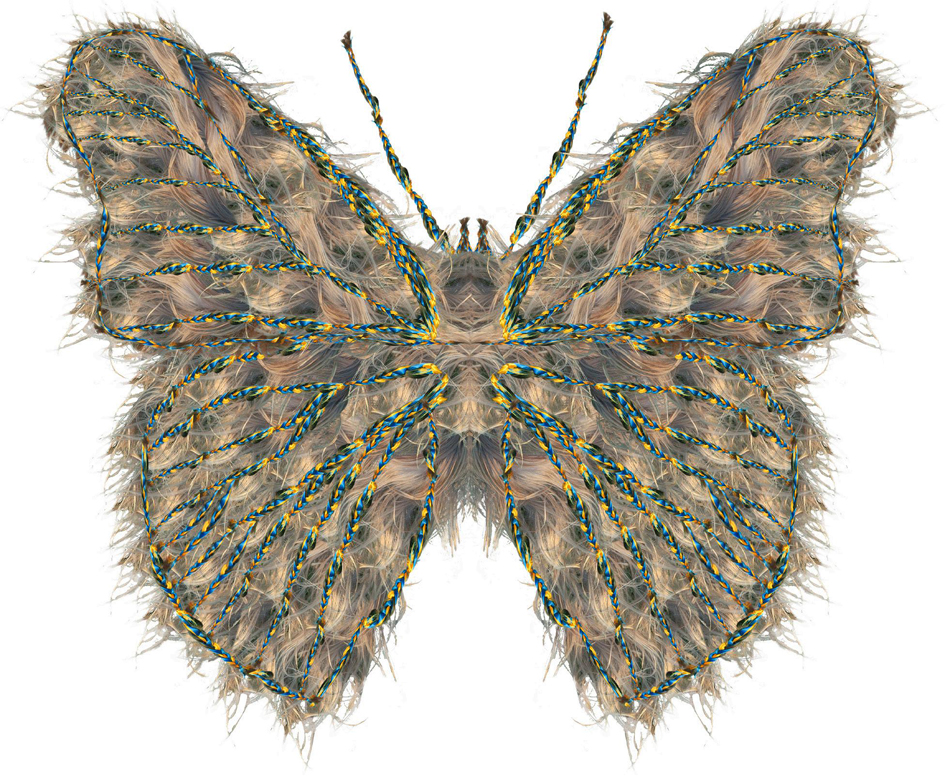 **************
*****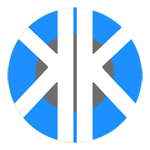 Visit SMA's Social Network