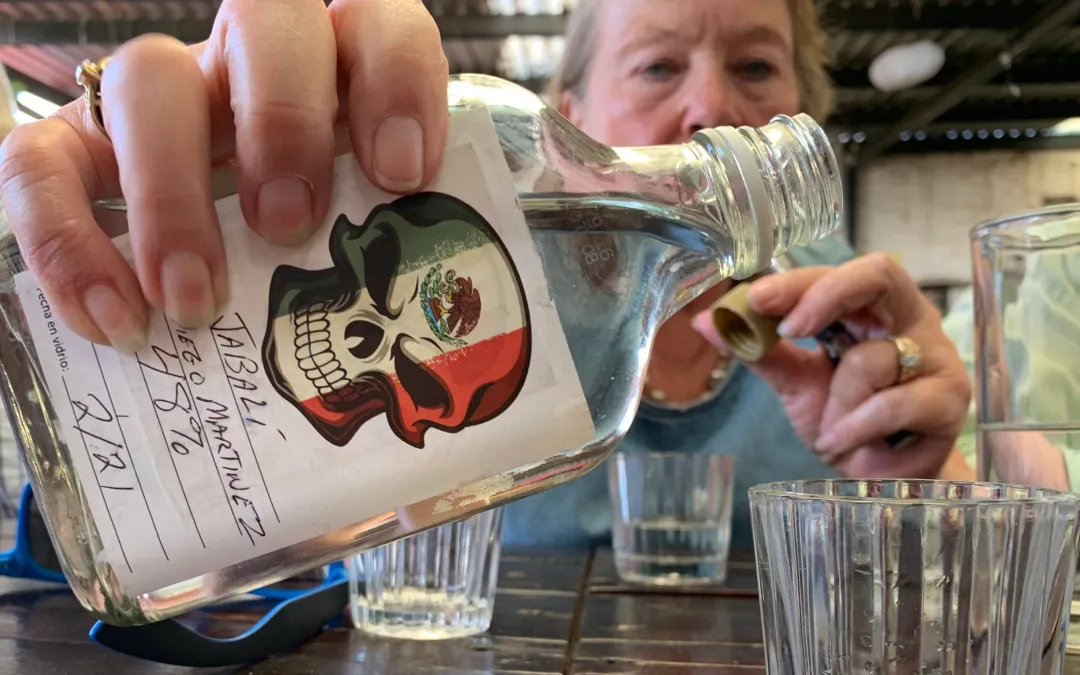 by Don Day
It didn't go quite as planned. The plan was just to be a spectator on the sidelines at the cathedral, the chapel, the temple, the tabernacle, where, on each and every Friday, the all-powerful of all spirits is raised and praised. I had come to watch not to worship. But, next thing I knew I was all caught up in the fervor. I was on the cusp of being converted.
The temple was a place called Mezcal-Art. The holy spirit was mezcal. The parishioners were the most dedicated of dilettantes.
Now I've never been a big fan of mezcal. A little too much fire. A lot too much smoke. But I'd run into the parishioners a few times later on Friday evenings as they made their merry way to other watering holes. And I liked them.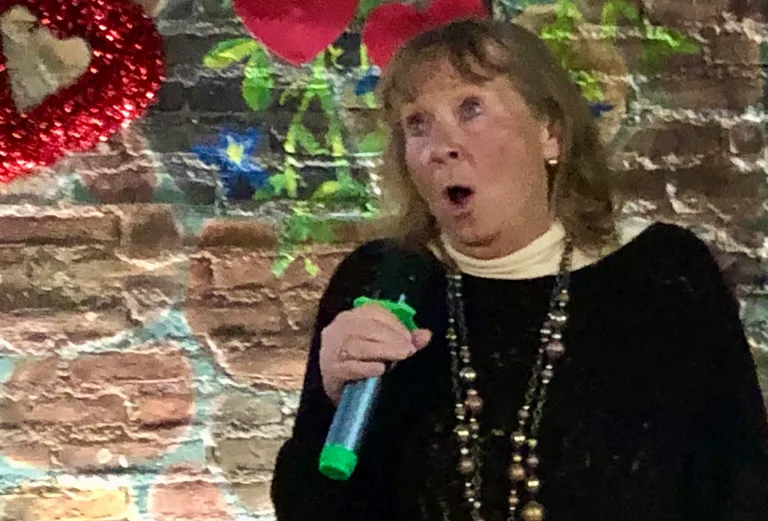 Then, one night, at a place called Don Lupe, one of the more fanatical followers, a woman called Barbara Shaw, offered me the opportunity to fulfill a 60-year-old fantasy, the chance to be a Pip to her Gladys and leave with her on a Midnight Train To Georgia. Her husband Fred, a seasoned, suspender-wearing Pip, and I chatted later that evening and, again, I heard about the glories of agave and those Friday night frolics.
It was another guy though who made it a must-visit to Mezcal-Art, a self-anointed mezcal maniac named Jonathan Lockwood. Jonathan recently started a blog and nobody reads blogs more than fellow bloggers. Jonathan took me on a wish-I-was-there few days to Oaxaca and a must-be-there evening to their place of communion.
I rounded up a couple of other high-spirited seniors and, last Friday, off we ventured to Mezcal-Art. It's on the other side of town almost no matter where you live in San Miguel de Allende. Still on this side of the railroad tracks, but only just.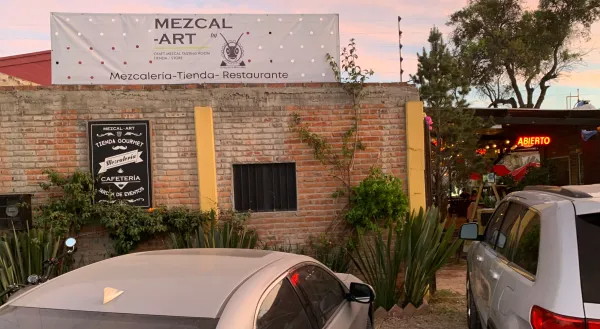 I'd passed Mezcal-Art a dozen times without being inquisitive enough to venture in. But there we were. A red neon sign shone Abierto. And it was 4:00 pm, time I'd been told that holy communion commences on Fridays.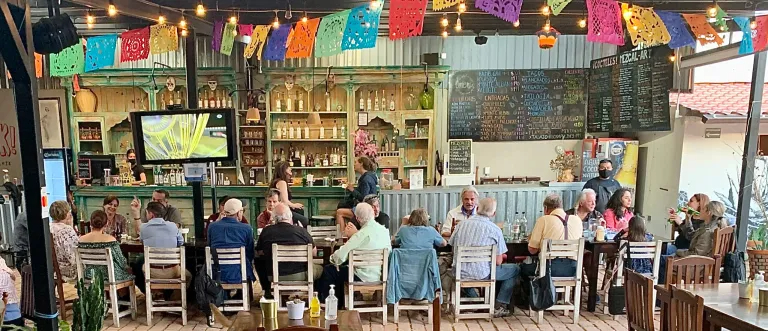 Inside, the space is wide, warm and welcoming. Smoke billowed over the longest table. Where there's smoke there's fire and where there's cigar smoke, you'll often find mezcal. We ventured closer.
Blue-eyed soul-singer Barb gave me a welcome hug despite my desperate attempt at replicating the Pips choreography and before we knew it, glasses were being baptised with what Barb told us was, "An Espadin but this Espadin is different; it was distilled in a clay pot".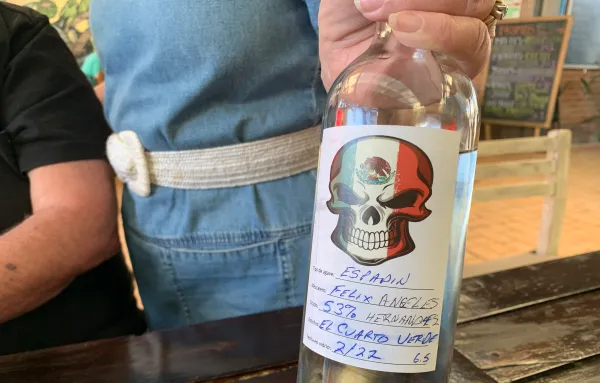 OK, let me now do a side-step like the Pips did on the Sullivan Show and leave the festivities…sorry, communion…at Mezcal-Art for a moment and tell you almost everything I know about mezcal.
Mezcal starts with the pina or center of an about-to-flower agave plant. The pina is picked, roasted, fermented and distilled. Sounds simple? Well it used to be. Because when mezcal first touched my tongue, mezcal was always mezcal. These days, it's much more complicated. There are about 30 different species of agave that are used to make mezcal and afficionados like the Friday congregation at Mescal-Art search for the tiniest nuances of taste. The Espadin that Barb started us off with is the most popular of the agaves.
"I like it", I said to Barb, as I struggled to find an appropriate adjective. "A little fiery, maybe, but next to no smoke".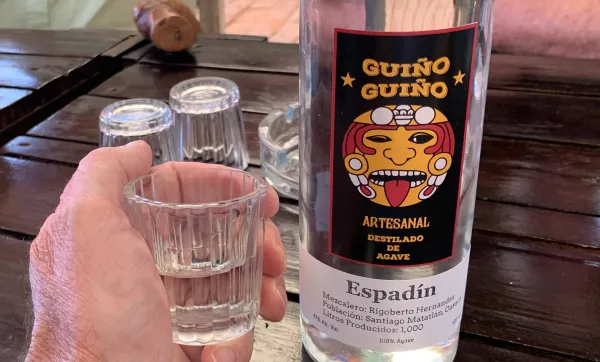 It was then on to another Espadin, this one wearing Jonathan Lockwood's private label, that wasn't done in clay and that I liked a little better.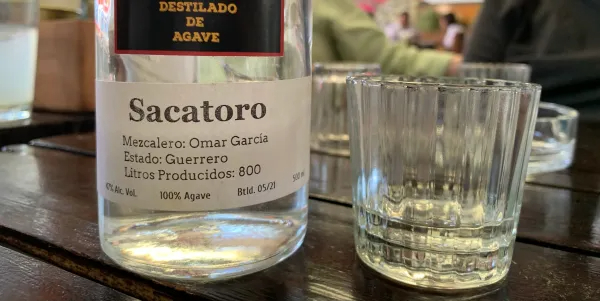 We continued on to a slightly less boozy Sacatoro, trudged on to a Jabali with a hint of anise, crawled on to a grassy Capon, as I begged our servers to miniaturize the measures.
It was time for Jonathan Lockwood to strut his best stuff.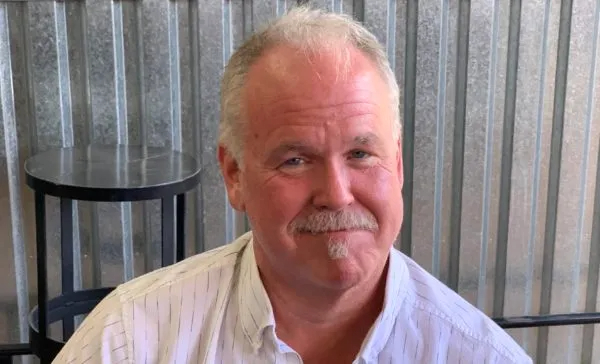 "This one is enormous" he said, with his almost omnipresent mischievous grin. "You just need three microdots on your tongue."
Not sure about "enormous" but it was definitely the tastiest, definitely the headline attraction of the evening. The agave was Tobalá and, if you'll excuse my wine-snob lingo, there were floral, spicy, citrus notes that I hadn't tasted in the others.
Was I drunk or had I found religion? I ordered a diet cola and asked for a menu.
I'm always nervous about choosing beef in a mid-range Mexican restaurant but I was sat beside Buffalo Tony and, despite him abstaining for Lent, I still respected his opinion. "The boneless beef ribs are the best" said Tony, "and the burgers good. I think they put the price up but they've been fixing up the place so that's OK."
I went into a huddle with Mark and Ben, the other potential converts I'd brought to Mezcal-Art, and strongly suggested we order the burger, the ribs, and, to stay in the state of Oaxaca where our beverages originated, their answer to the pizza, the tyaluda, topped, again, with beef. We'd ask the kitchen to split them all into three.
Buffalo Tony was right.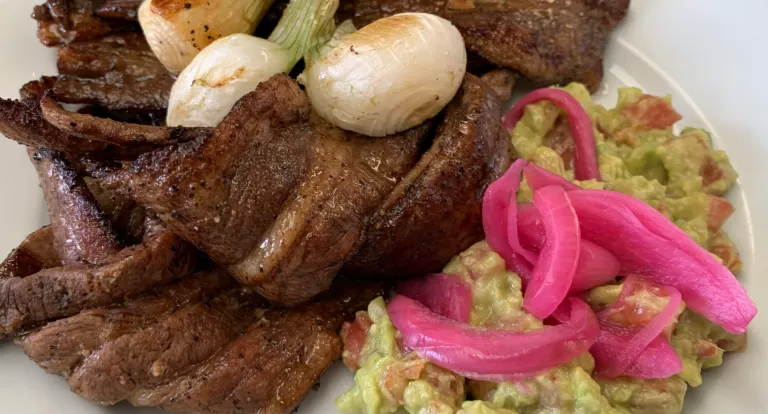 Mark, one of the other two revellers I'd rounded up for the pilgrimage, recognized the ribs as thin sliced flank. I gave them recognition as tender and tasty, reminiscent of the best Korean style. The accompaniments, grilled cebollitos, pickled onions and guacamole were ideal.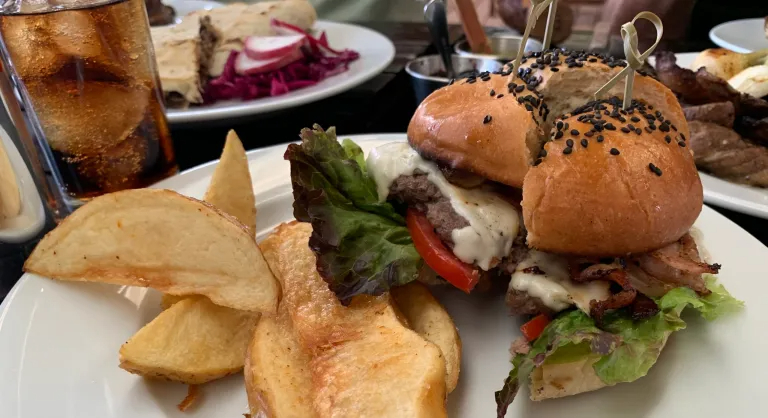 The juicy burger was spiced perfectly. The undercooked fries easy to ignore.
The tyaluda crust had a nice crisp and was generously filled with chopped beef, sautéed mushrooms and genuine Oaxaca Cheese.
Whenever I ask to meet a chef, the food is either very good or very bad. This food was very good.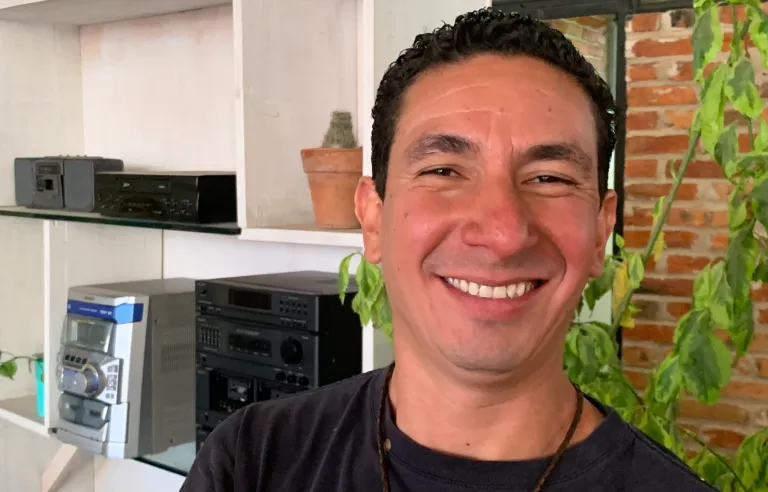 I congratulated Rafa Vasconcelos and, when I discovered he was also the owner of Mezcal-Art, also congratulated him on the ambiance and atmosphere.
"One more?", asked Barb, after I think I convinced her to sing "You're The Best Thing That Ever Happened To Me" the next time I saw her.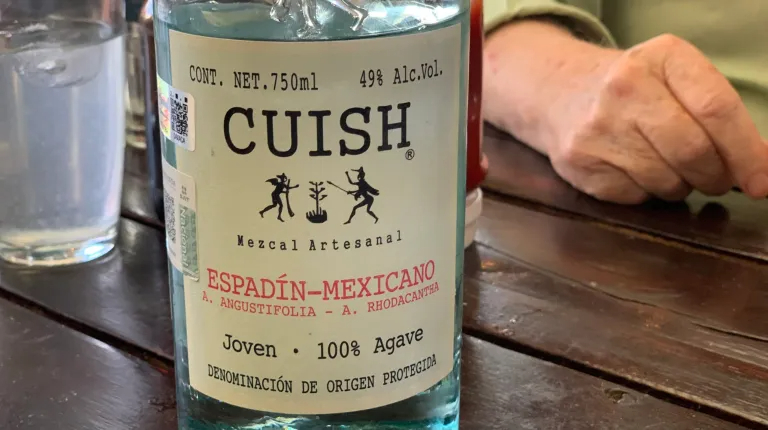 "I want you to try an Ensamble, a blend. This is Cuish, one of the bar's house mezcals".
One more, we agreed, as my brain tried to remember the traditional mezcal toast.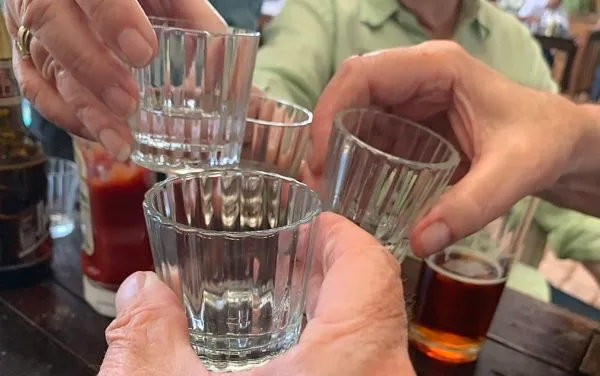 "Para todo mal, mezcal, y para todo bien, también", I said, as our four glasses did their final clink.
As our driver gave us the "be there in ten minutes" call and we wandered out to the car I wondered. Had I really been converted? Would I now be regularly sipping on mezcal at social occasions?

I looked at the bottle of Jonathan Lockwood's Tobalá that was now cradled in my arms and I knew.
Mezcal-Art is located at Calzada de la Estacion #59 in San Miguel de Allende, Mexico. They're open on Tuesday and Wednesday from 8:00 am to 10:00 pm; Thursday to Saturday from 8:00 am to 11:00 pm; Sunday from 8:00 am to 5:00 pm.
See Jonathan Lockwood's blog:
www.mezcalmaniac.substack.com.
See Don Day's blog:
www.dondayinsma.com
**************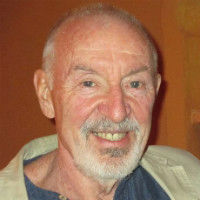 Glenn Griffin writes about food and wine in San Miguel under the pseudonym Don Day. You'll find his blog at www.dondayinsma.com