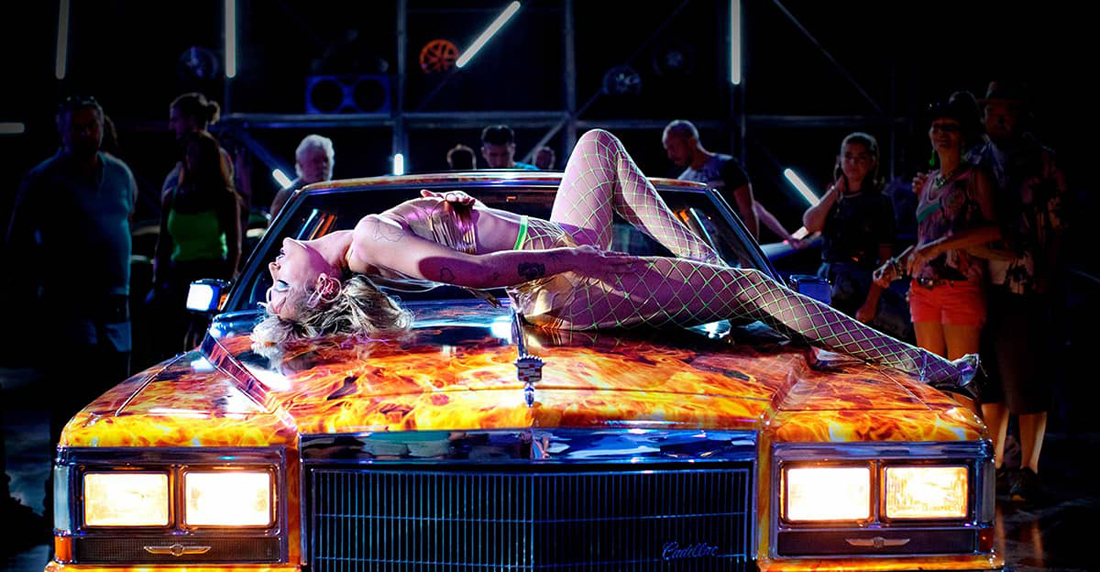 by Jeffrey R. Sipe
"We violate the command and law that we bore audiences to death in rituals of circumlocution and propose to break all the taboos of our age by sinning as much as possible. There will be blood, shame, pain and ecstasy, the likes of which no one has yet imagined. None will emerge unscathed."
So wrote artist/filmmaker Nick Zedd in his manifesto, The Cinema of Transgression, in 1985, announcing that he and a group of like-minded underground artists were intent on taking film away from Hollywood, film schools and commercial exhibitors "to rip [film] out of the stifling straight jackets of film theory in a direct attack on every value system known to man."
Today, some 36 years later, Zedd and company's vision of an abrasively confrontational cinema manifested itself with the awarding of the 2021 Cannes Film Festival's Film d'Or, perhaps the film world's most prestigious honor, to Titane, French director Julia Ducournau's sophomore feature, following her 2016 directorial debut, Raw, that cataloged the cannibalistic escapades of a veterinary student.
Though unlikely to become a holiday tradition in the vein of White Christmas, Titane is screening through the end of the year as the final entry in the Winter French Film series presented by Compartamento Cinematografica at Mezcal-Arte, a bar/restaurant just next door to the immigration offices on Calzada de la Estacion.
Compartimento Cinematografica has helped reinvigorate serious cinema in San Miguel following its near disappearance with the arrival of COVID 19. The small group of mainly young women, headed by Nina Rodriguez, programmer for the Guanajuato Film Festival, spent months earlier this year screening the best of contemporary Mexican cinema, often followed by Q&As with the directors.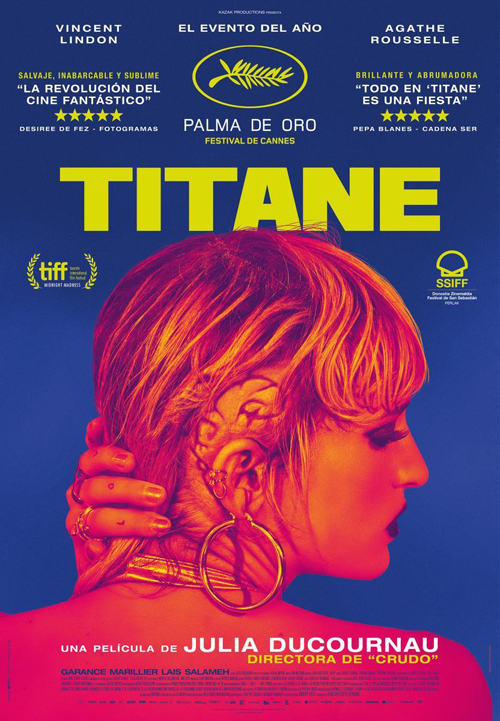 As Palm d'Or winner, Titane, is the highest profile title in the series and the most likely to garner the most interest from SMA's resident cinephiles. Other titles, however, should demand serious attention, as well. "Little Girl" (Petite fille), directed by Sebastien Lifshitz, is an absorbing and heartbreaking documentary about mainstreaming Sasha, a seven-year-old born a biological male but identifying unequivocally as a female. The film is a tribute to both the love of family and, oddly enough, to a society seeking how best to nurture those who live a truth outside the parameters of what was once considered normal. The third film in the series, Papicha, is set in Algeria in the late '90s when thuggish Islamic extremists were fighting to decimate the rights of women, especially those seeking to live in a modern world where their education and creativity place them on the same footing as men. Directed by Mounia Meddour, the film was named Best Feature Film at Lincoln Center's New Directors/New Films festival in 2020 and has picked up several awards at festivals around the world. But back to Titane.
In the film, a father is responsible for a car accident that leaves his young son seriously injured, resulting in the implantation of a Titane plate in his skull. The son eventually goes missing, but ten years later, the father believes that he has been reunited with his son. The reunion takes place in the midst of a wave of graphically depicted and gruesome murders that the audience knows have been committed by a female punk star who reinvents herself as a male and proceeds to pose as the reemerged son. The reemerged "son", however, is pregnant and forced to hide "his" protruding belly just as "he" has been forced to tape down "his" breasts so as to successfully pull off "his" charade.
One of the most salient aspects of transgressive cinema is that it is not simply a home for horror, raw violence or uncensored and perverse sexuality. Although such content is often part-and-parcel of what might be termed "transgressive", a film is truly transgressive when it succeeds in altering our perceptions of aspects of life that we have far too complacently accepted as unalterable.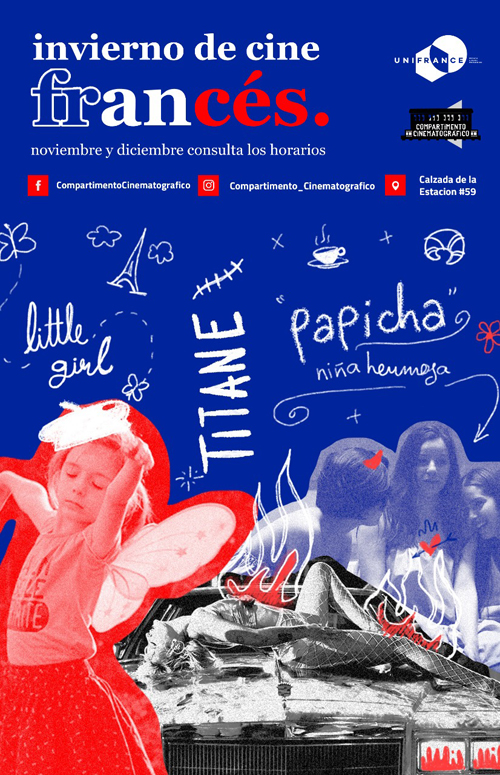 Titane is operating on all cylinders when it comes to turning our expectations of the world upside down. The violence is, at times, excruciating to watch but so is the bizarre transformation of the homicidal rock star into the long-lost son. The sexuality that permeates Titane is a far cry from what most of us embrace. The parameters of the father-child relationship are shattered. The relationships of men-women, women-women, and men-men as depicted in the film are both foreign and confrontational to the viewer. The audience is under attack by the filmmaker and the casualties are the snug-as-a-bug-in-a-rug assumptions we held when we took our seats.
Technological advances in filming and make-up enable the over-the-top body horror depicted in Titane, but it is important to remember that transgressive cinema has existed, in one form or another, almost since the Lumiere brothers. Long before Nick Zedd codified it, the Surrealists were pursuing the same goal in the wake of the horrors of WWI. Rene Claire's dadaist Entr'acte (1924) reportedly prompted riots when it screened during the intermission of an opera in Paris. The opening scene of Un chien andalou (Andalusian Dog), Luis Bunuel's and Salvador Dali's 1928 take on sex, culture, religion and, yes, body horror, still stuns the uninitiated (and, frankly, no matter how many times one sees that scene, its power is undiminished). Todd Browning's Freaks (1932) is a subversive fairy tale aimed, like Entr'acte, Un chien andalou and other Surrealist shorts from the late 20s and 30s, at destroying the smug complacency of the bourgeoisie. Even Ruggero Deodato's much later faux found-footage Cannibal Holocaust (1980) fits the bill.
So Titane is in good company when it comes to the history of cinema. Whether you are likely to harbor fond memories of it is a different question.
There are many reasons not to love Titane – let's face it, transgressions are not intended to make us feel all warm and fuzzy inside -- which makes the Palm d'Or all the more interesting given the jury of international luminaries headed by Spike Lee and including Maggie Gyllenhaal, Taher Rahim, Melanie Laurent, Mati Diop, Mylene Farmer, Jessica Hausner, Kleber Mondonça Filho and Song Kong-Ho. Yes, the acting, the cinematography, the lighting, etc., are all spot on. But I think it is the film's unbridled exuberance at its wholesale subversion of just about everything in sight that makes it so emblematic of the power of cinema.
In an odd way, Titane is the perfect endpoint of Compartimento Cinematagrafico's year of screenings. The films are always challenging, provocative and unlikely to bring you sweet dreams. Titane is kind of the epitome of that.
*******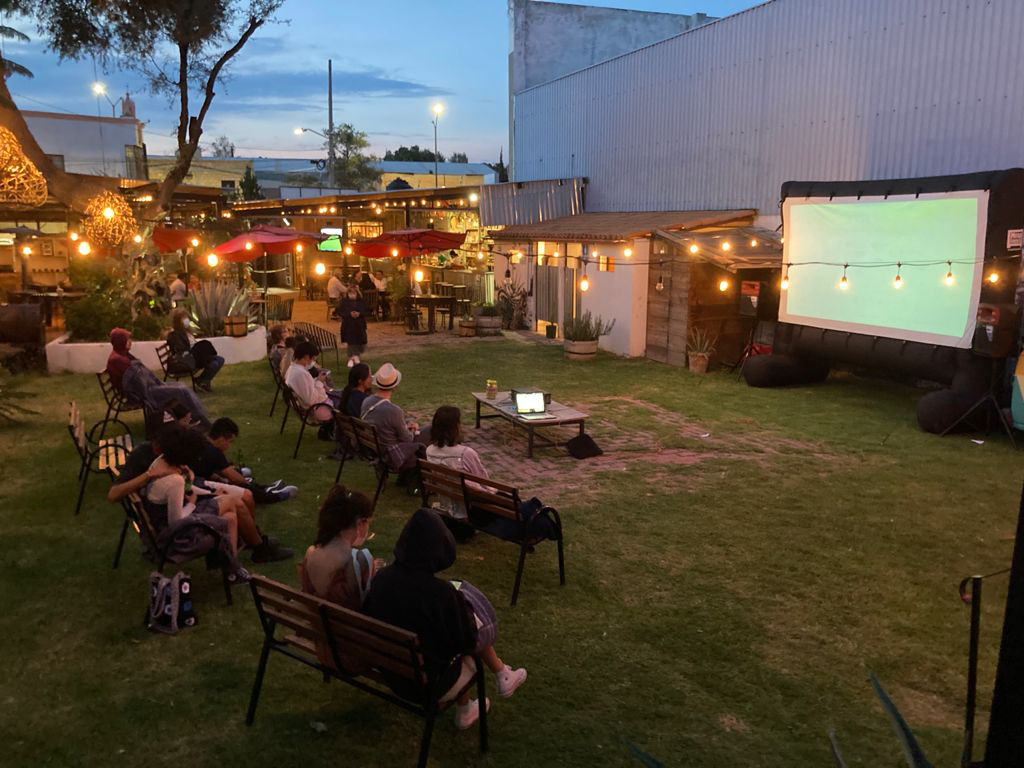 Compartimento Cinematográfico at Mezcal-Art, Calzada de la Estación 59
*
Titane by Julia Ducournau (France, 2021) Friday 17 and Saturday 18 December, 20hrs
Niña Hermosa (Papicha) by Mounia Meddour (France, Algeria, 2019) Saturday 18 December, 18:00 hrs
Little Girl by Sebastian Lifshitz (France, 2020) Friday 17 December, 18:00 hrs
Located inside Mezcal-Art restaurant on Calzada de la Estación #59 (next to Immigration offices), Compartimento Cinematográfico serves as a meeting point where locals can enjoy cinema as a shared cultural experience. We currently present a curated film program with two screenings daily from Wednesday to Saturday. In addition to providing access to Mexican cinema, we also program foreign films that do not reach commercial theaters in the region. We invite you to check our full weekly movie program including many other titles and films for kids through our social networks.
Full program and further information:
FB- compartimento cinematográfico
IG- @compartimento_cinematográfico
Reservations: compartimentocinematografico@gmail.com
Limited capacity.
Mandatory use of facemasks.
**************
Jeffrey R. Sipe is a writer/journalist, who, no matter how hard he writes, having grown up in Speedway, Indiana, still can't get the sounds of race cars rounding Turn 4 out of his head. He has written about the film industry for Variety, The Hollywood Reporter, Sight and Sound, The Financial Times and other publications. He also once worked as the "boom guy" on a film that nobody saw, but he challenges everyone to see just how long they can hold a metal tube with a microphone attached over their heads.