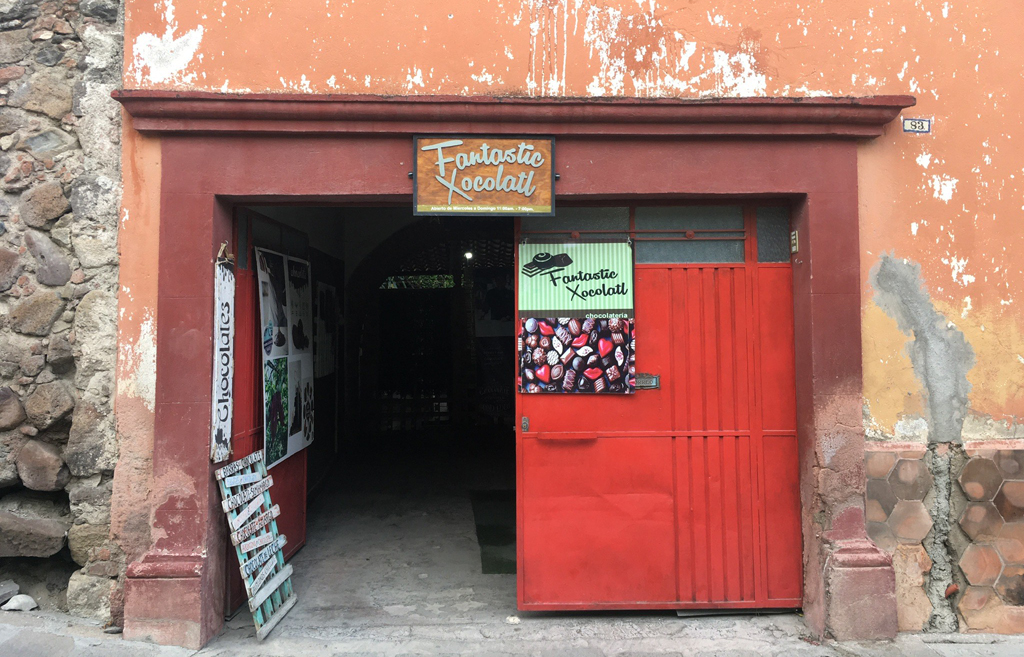 by Colette Morya
Cocoa was discovered along with America by the European conquerors. History tells that this exotic food was first brought, to Seville, to the Franciscan Friars around the year 1521. It would not be until the end of the 16th century, that it would become the delicious habit of wealthy Europeans, conquering the Old World with its pleasure.
The cocoa bean undergoes much processing, acquiring different flavors and textures along the way. The Europeans added sugar to it, to reduce its bitter taste. In this way cocoa evolved little by little, becoming what today we know as chocolate; a mixture of cultures, the original, ancestral race of the American continent, blended with the European search for the perfect satisfaction of the senses. What a magnificent fusion.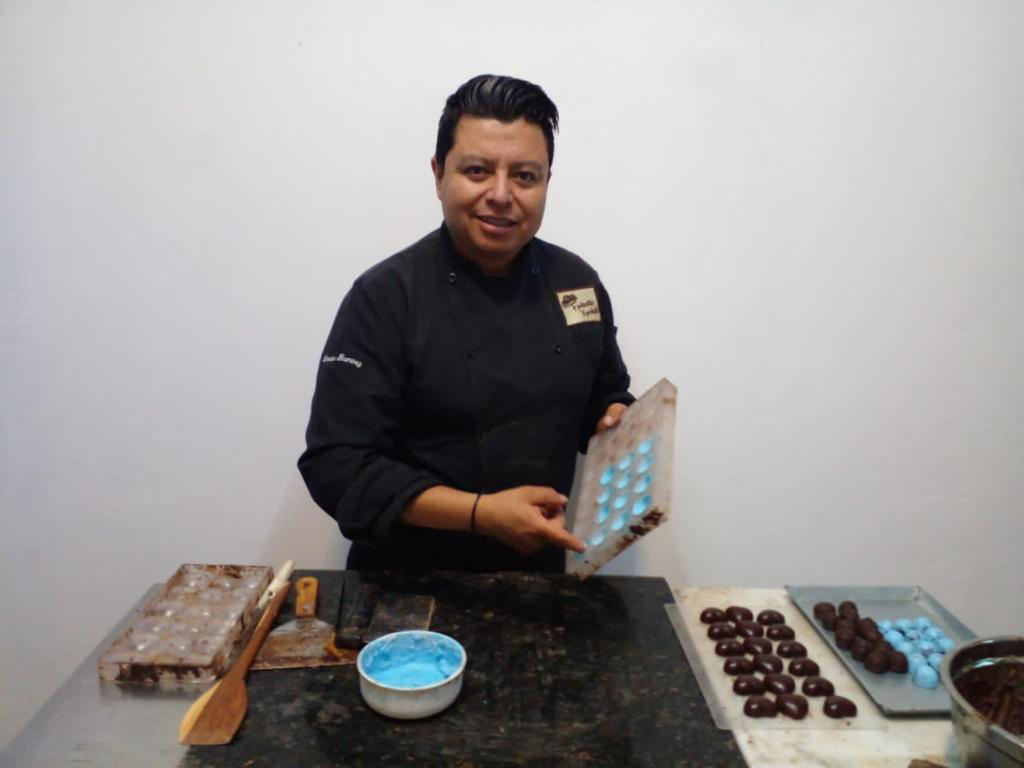 Currently, the Swiss, the Belgians and the French are recognized for taking cocoa to another taste level. However, here in Mexico, there are places where simplicity is still honored: a tablet of cocoa is dissolved in water or milk, pulverized with the aid of a wooden implement; its foam grows, and then it is enjoyed, sopped up with bread.
Lately, due to the over-demand of the delicacy, this luxury of the gods, has been diminished in quality. There is a big difference between the chocolate that is prepared by hand in the villages of Oaxaca and that which is sold in the supermarket, with a barcode but without a soul. This mass-produced version often has chemicals to artificially enhance its flavor, preservatives and other accessories to disguise it as good chocolate, to trick our palate.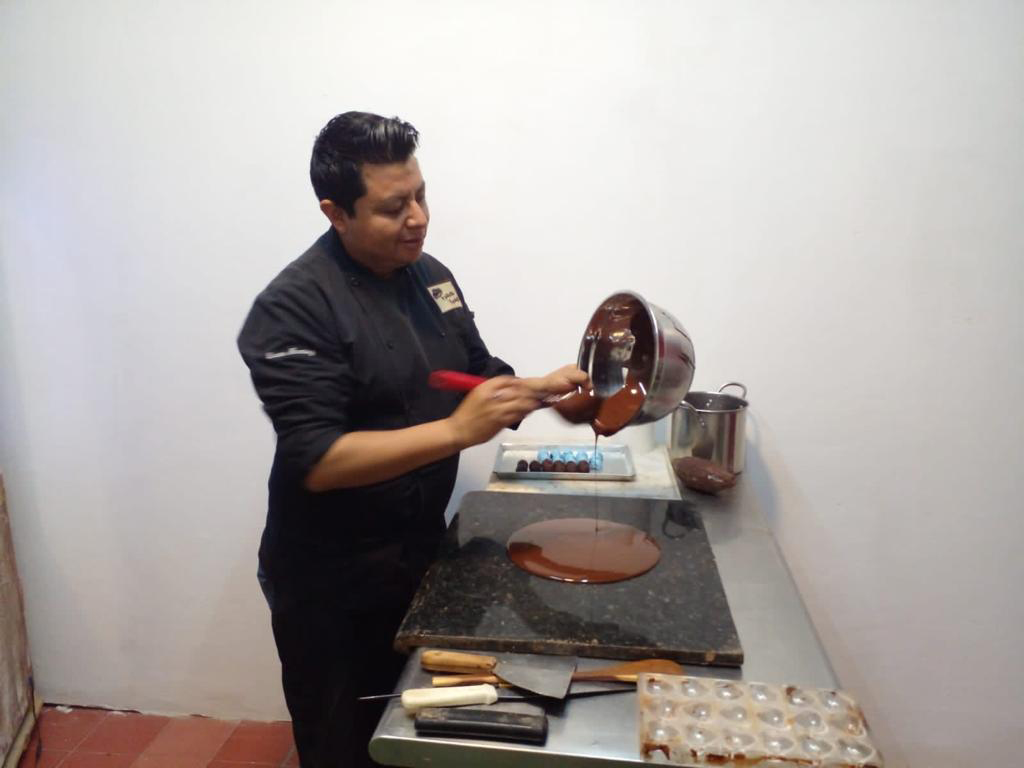 Call me old fashion, but I am drawn to purity in process, the traditions that are lost due to industrialization. Mass-made products do not have the love and warmth of the artisan's hand in his art of chocolate.
Walking as always in the streets of San Miguel de Allende, I came across a small space, a business among other houses coming down Aldama from the Center, just a little past Parque Juárez. The first thing I noticed was a photo in the entrance of a young man mixing cocoa paste on a griddle. I shyly looked at his sideboard, and saw that his bar chocolates were wrapped in a transparent cellophane paper, with a small sticker showing the name of the establishment: Fantastic Xocolatl. This simple packaging arrested my attention immediately for one reason: it did not have a barcode.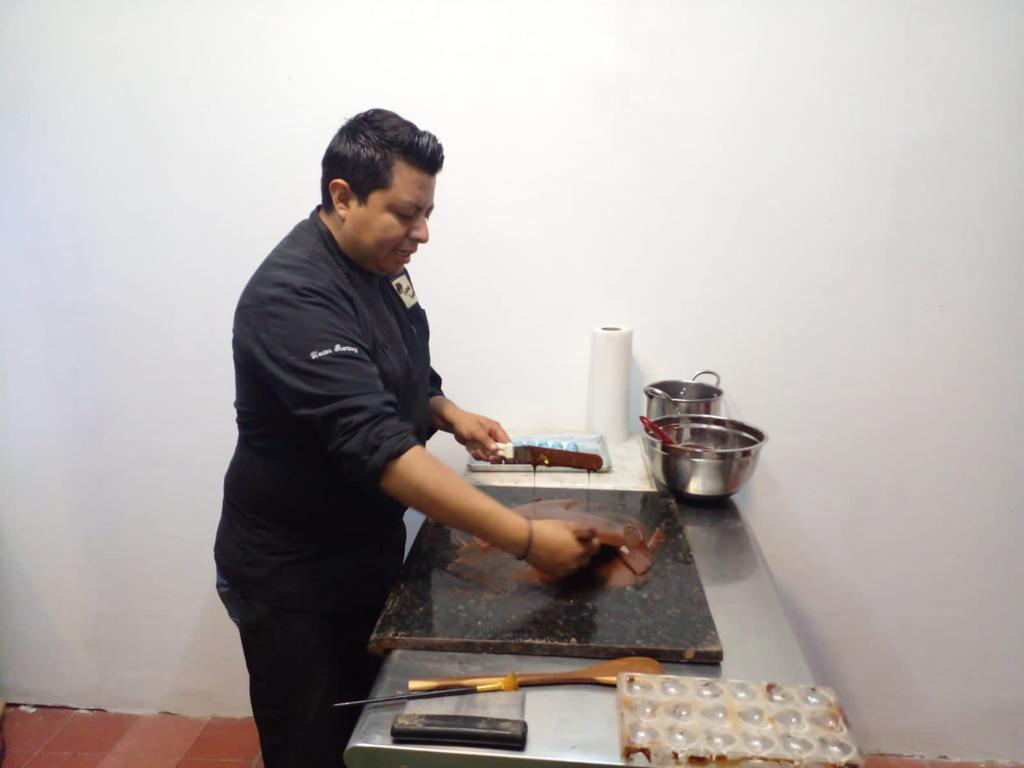 The young man in the photo, a few years older than shown, came out to greet and invite me in. Héctor Ramírez is himself originally from Mexico City, but his family comes from San Miguel. Falling in love with SMA he has resided here for four years, moving here after deciding to become an entrepreneur and spending three years learning the trade in one of the best chocolate factories in the capital.
His little magical shop, in this town full of magic, started by selling some chocolate bars and small bites, the most basic ones. Little by little he expanded his products. Talking with Héctor and listening to his processes, I heard things that convinced me that he was an authentic chocolatier.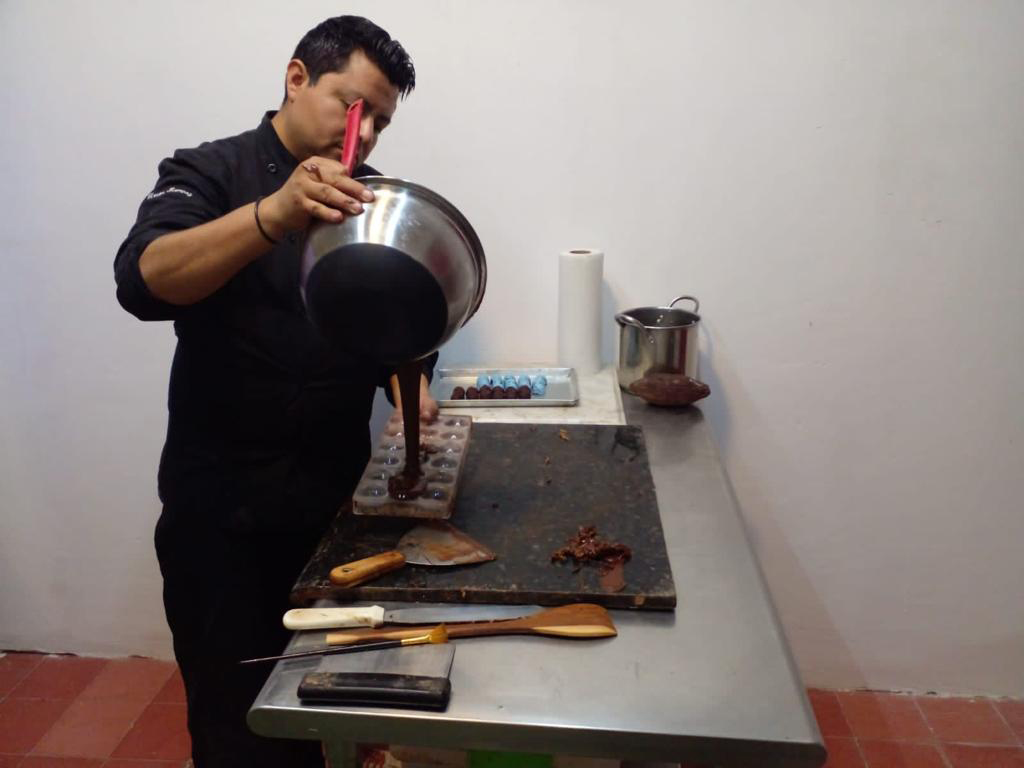 The main point is that with his market small and still growing, he offers something that large industries cannot, a really fresh product. A small batch production, it is renewed week by week, without allowing the product to get old. In this way, he avoids the use of preservatives and chemicals, so typical in any bar of chocolate in the supermarket.
I had made a study of production and expiration dates on commercial chocolate bars, understanding that their shelf-life is made possible by the addition of chemicals. Doing the math, I realized the question is, would I rather eat a two-year-old chocolate bar, whose last sales date is still a year in the future, "preferably," or a chocolate bar that is no more than a week old?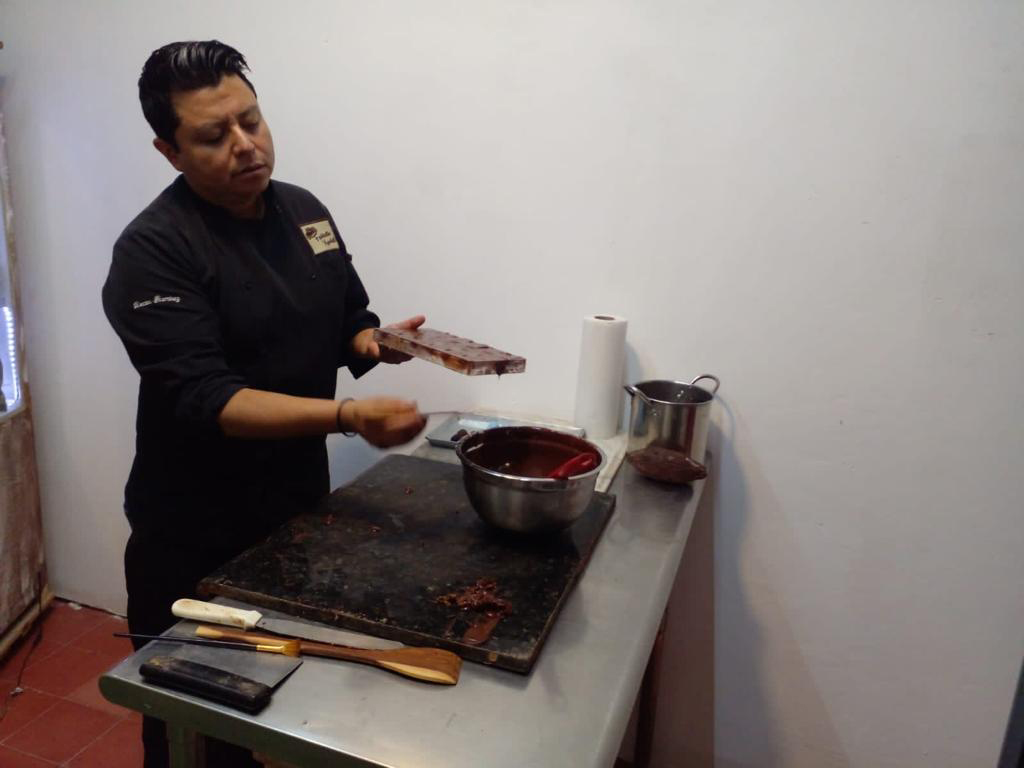 Héctor's chocolates have freshness and artisanal care as part of their essence. In an industry characterize by a love of money, they are marked with the love of chocolate.
These days, one of his best-selling specialties are truffles. These have flavored fillings including, mint, Baileys, coconut, caramel and the very popular mezcal.
I first enjoyed authentic chocolate in Oaxaca, from the hands of las chantas, grandmotherly figures who prepare the cacao in the ancestral manner. There I drank hot chocolate and also partook of a delightful assortment of heavenly mezcals. Here, in Héctor's mezcal truffle, I traveled back and experienced those flavors again, chocolate and mezcal, but now both together in the same savory morsel.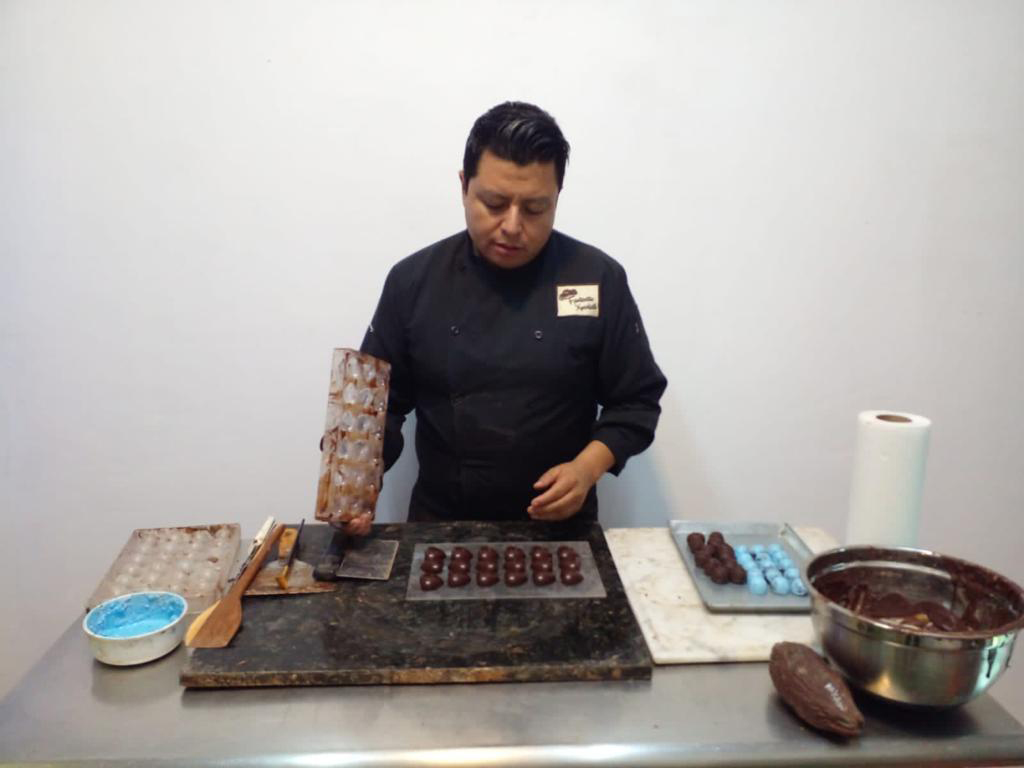 Mezcal was the first I ordered, the first of a rich assortment. Chocolate covered raisins and almonds were another delicacy I added to my cart. Then Héctor gave me some bars of chocolate to try. I loved his aesthetic, his sense of balance. With 95% cocoa, almost bitter, combined with a good espresso, they made my mouth water. Bitter is my favorite flavor, so as not to forget the sweetness that life gives us.
At the end of my visit, the bill turned out to be small. "Are you charging me for everything?" I asked him. He had, and this was another surprise. An additional advantage to Fantastic Xocolatl, apart from the freshness and purity of their products, is their price. A fair price for something so healthy and natural. Perfect for me.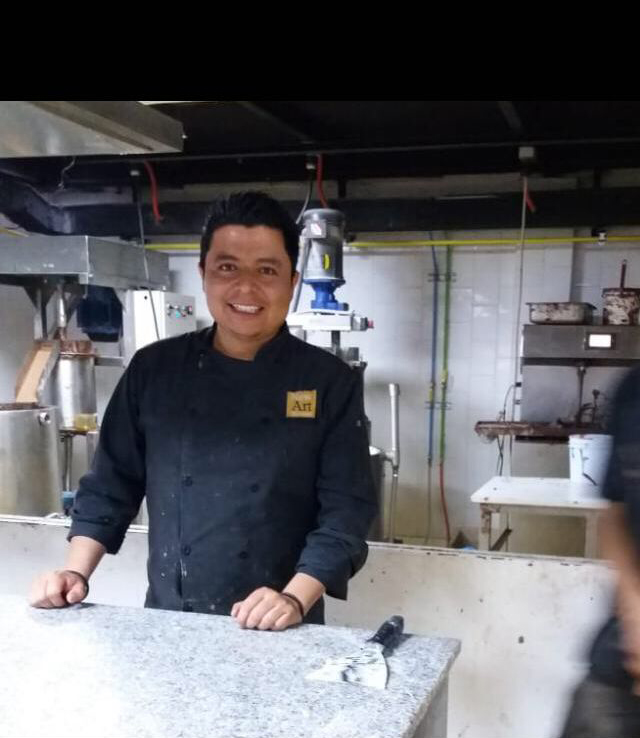 That day, like a little girl, I went home and decided to experiment with the tastes. I took the first truffle at random and put it in my mouth. With a patience that allows me to endure eternity, I enjoyed each instance while it melted in my mouth. Little by little the chocolate invaded my palate until finally, its filling appeared. The sensation of the moment, led me to continue my Oaxacan dreams that started when I heard from Héctor about the chocolate filled with mezcal, and were reinforced when I first tasted it in his shop. But now, at home, I was able to live it at ease. I felt the taste of it, very subtle and elegant. Delicious mezcal!
How much time passed? I will never know. It was a pleasant moment that reconnected me with the magic of ancestral cocoa. I traveled through its evolution, its different processes and improvements. With all of this, at this moment, thanks to Héctor's art and love of chocolate, I can better enjoy the pleasure of living. I give thanks for this delicious feeling.
At that instant, I really understood why chocolate is called the Food of the Gods, and well deserves the name.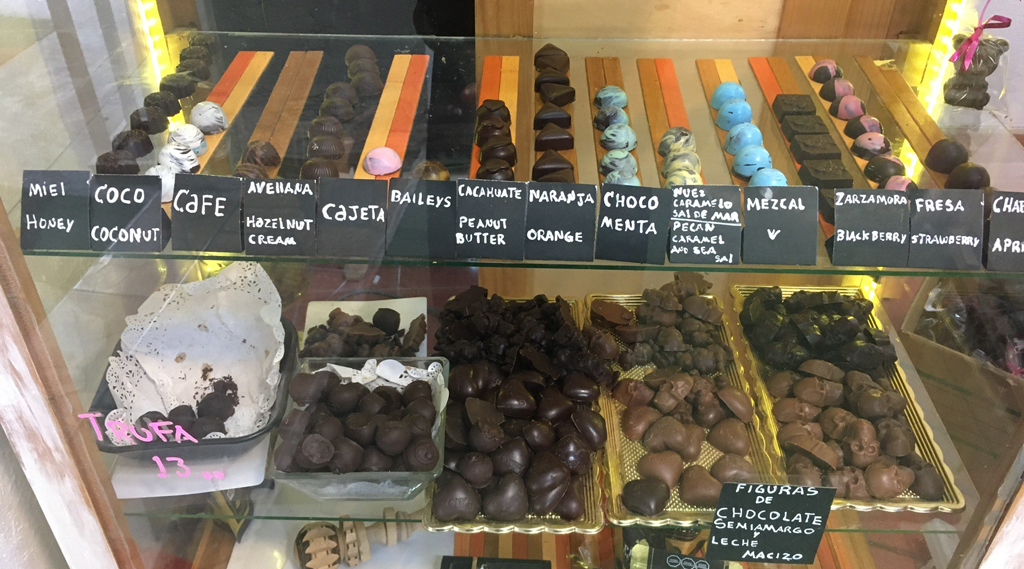 *****
Fantastic Xocolatl is open at Aldama 83 from Wednesday-Sunday from 11am-7pm.
Some of their chocolates can be found at Mercado Sano.
**************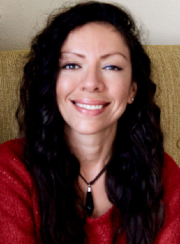 Colette Morya is a poet and traveler-writer now residing in San Miguel where she is learning about historical and anthropological culture through her "urban tourism."