by Dr David, Editor / Publisher
I was invited to the building of a compost pile following the Biodynamic method at the local Waldorf School in Atotonilco last Thursday. Biodynamic agriculture and the Waldorf system of schooling are both the creation of Rudolf Steiner, who also founded Anthroposophic Medicine, Eurythmy and, no doubt, other still vibrant movements of which I am unaware. Steiner (1861-1925) was an Austrian philosopher, social reformer, architect and esotericist. His was an era of spiritualism. But unlike most of his contemporaries, his spiritualism resulted in lasting practical endeavors.
My girlfriend, Veronica, who teaches at the Arbol de Vida Waldorf School, invited me to the compost building. Through her I have come to know the people and philosophy involved in the education there. There is a lot of heart and practical, not just academic, education. The development of the whole child is their goal. The education and the process of building the compost pile is holistic. The children will learn biology and more from the compost pile.
***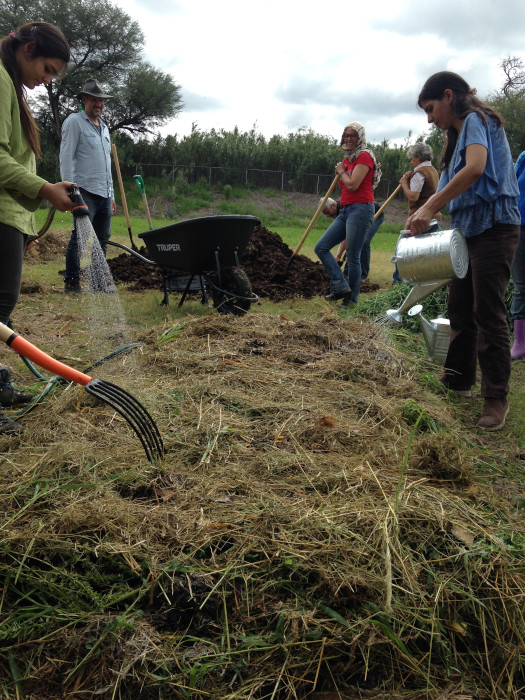 Here is a layer of straw on top of a layer of fresh plant matter. We sprinkled on a lot of water throughout the building of the compost pile because moisture content is very important to the biological processes that will take place within it.
***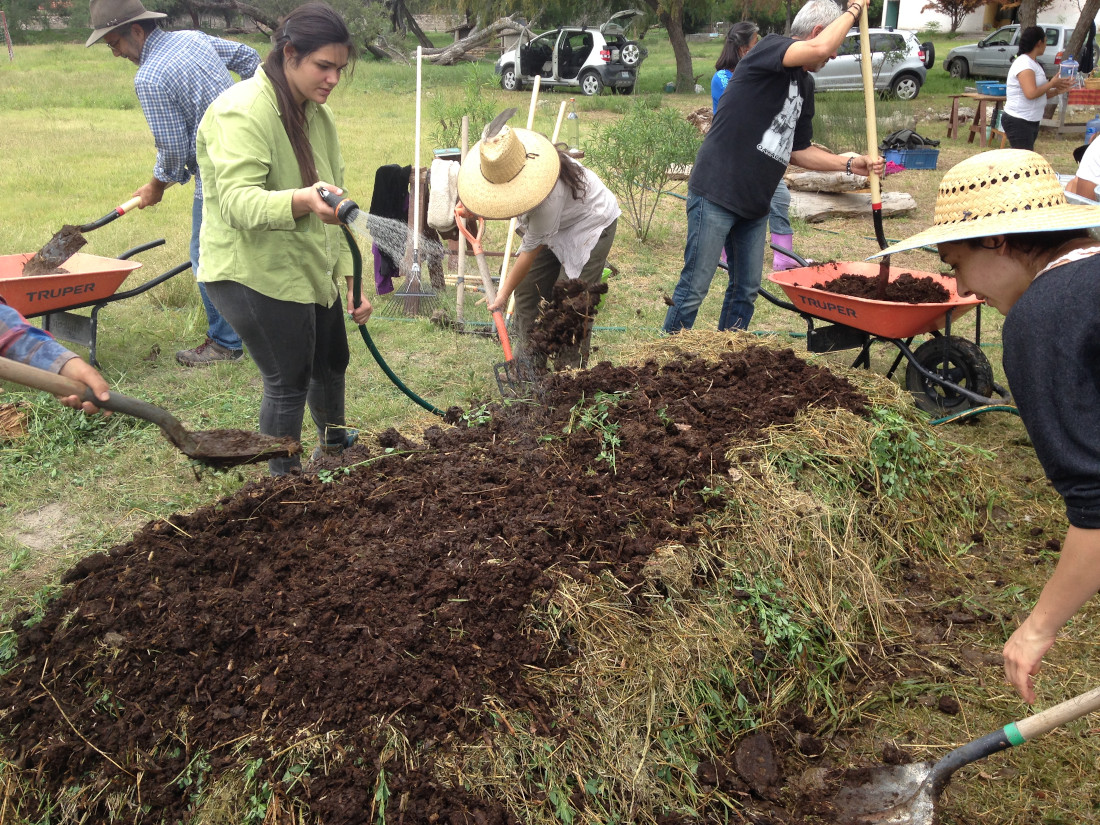 A layer of cow manure is applied on top of the layer of straw. On top of this a layer of soil from the garden is lightly dusted to inoculate the compost pile with the micro-organisms present in this particular micro-environment.
***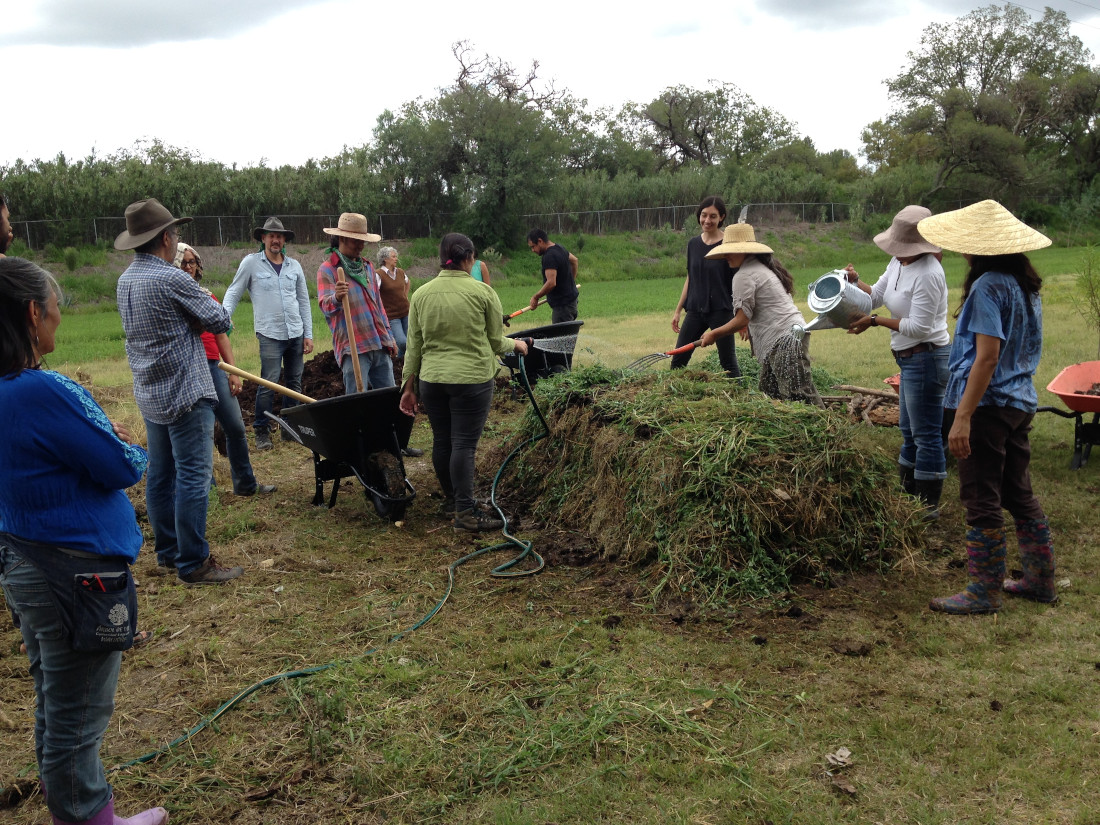 The layering process continues, fresh plants, straw, manure, fresh plants, straw, manure... Many hands (we started with 20 volunteers) make light work.
***
Lunch break. From the left (minus the guy in the hat, Jared Jiménez a talented musician and visual artist) are four teachers from the Waldorf School, Vivian Piña (head of school), Yolanda Mujica, Manuel Choza, Veronica Genta. On the right is Biodynamic maestro
Eduardo Rincón
, who leads the day's process.
***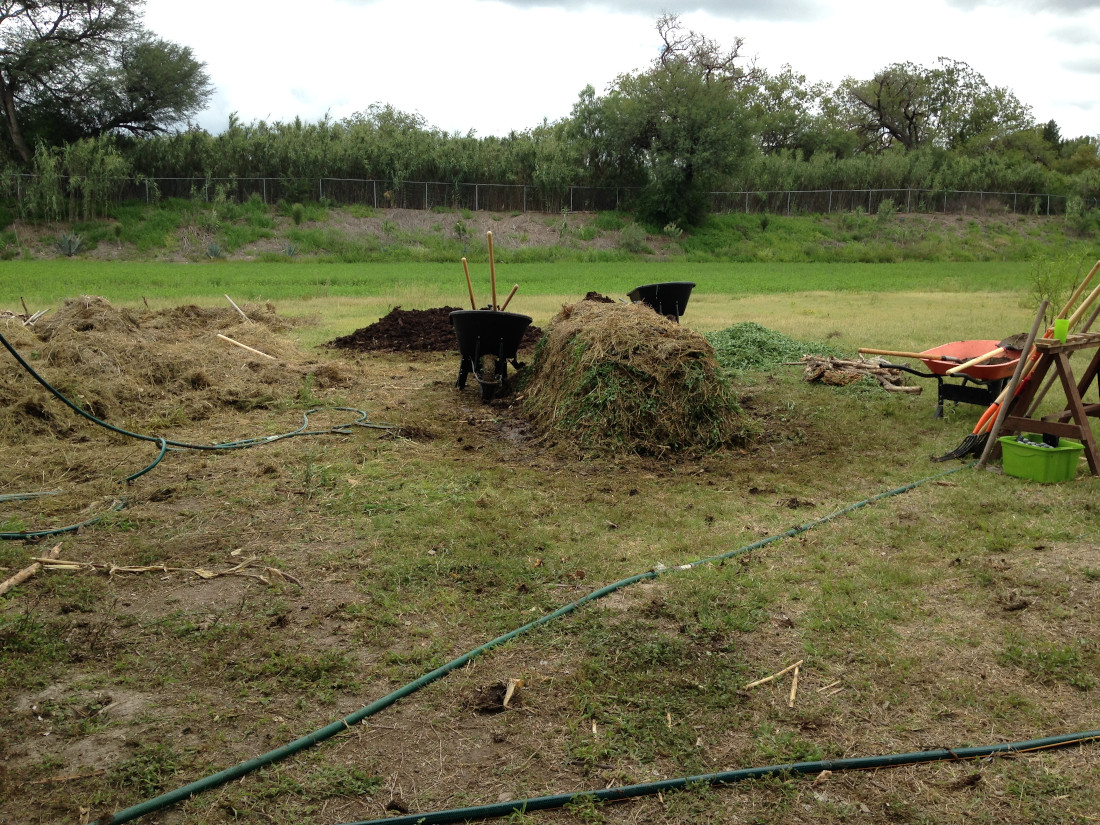 The compost pile during lunch. You can see the pile of green plant matter just to its right.
***
The lunch line with the school in the background.
***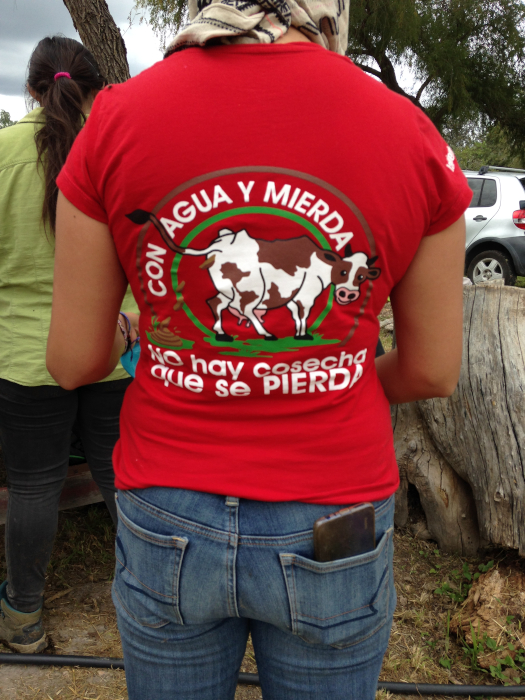 "Con agua y mierda, no hay cosecha que se pierda."
(A rhyme.) "With water and shit you'll never lose a harvest."
***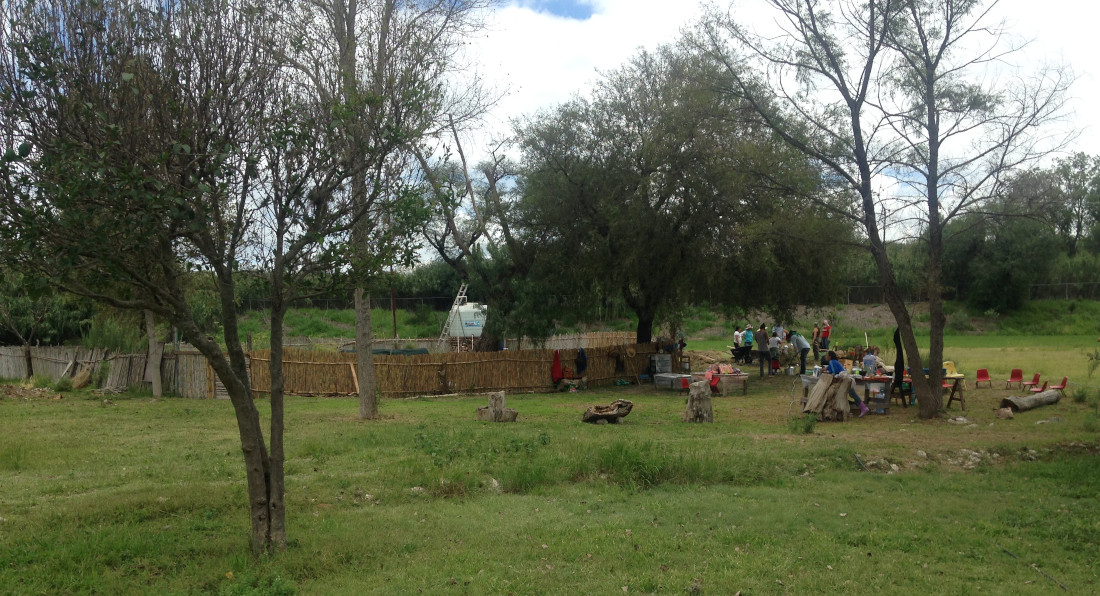 The garden, surrounded by bamboo fencing, to the left of the composting site.
***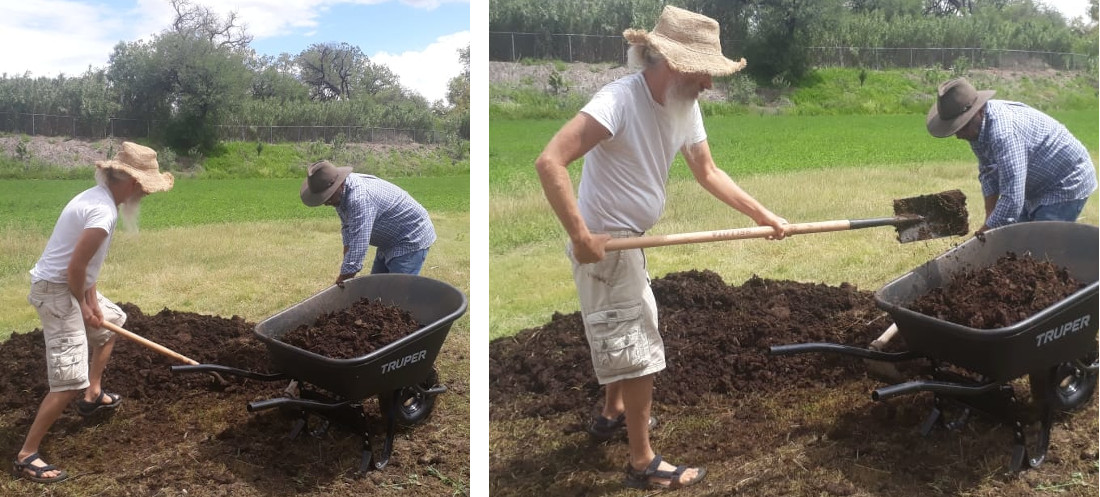 Your author shoveling caca after lunch.
***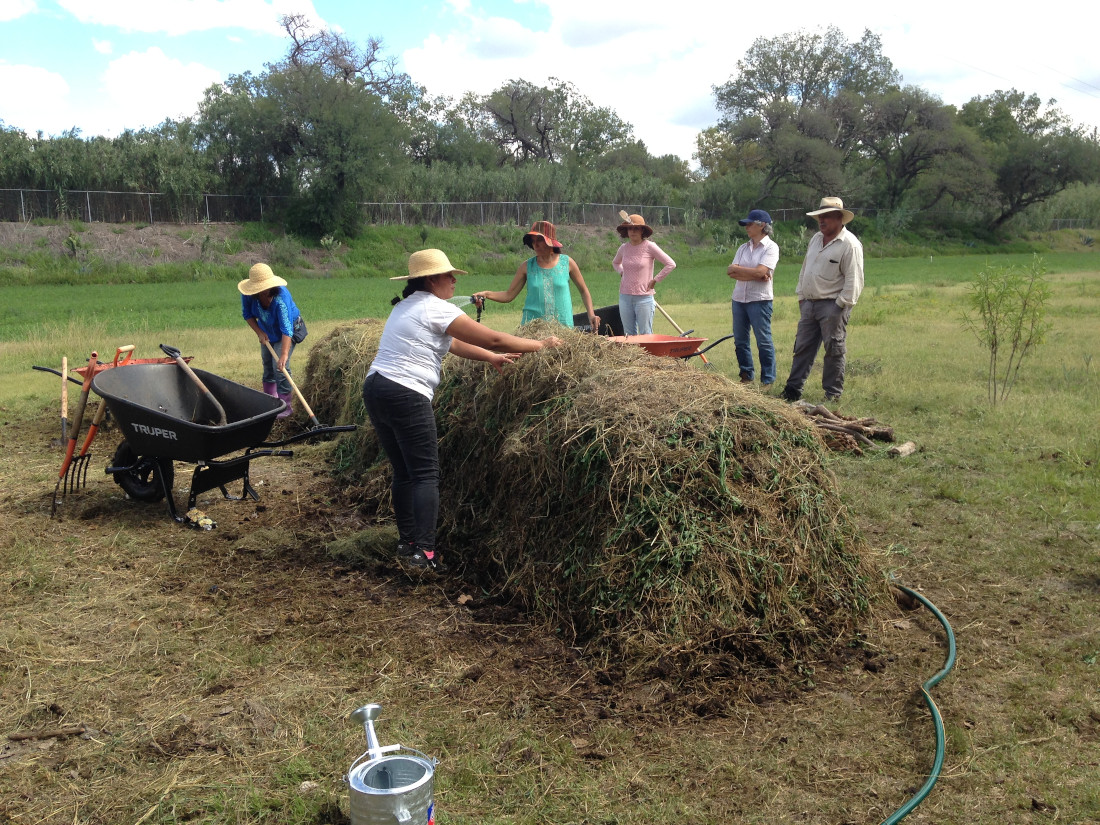 The compost pile grows, nearing completion.
***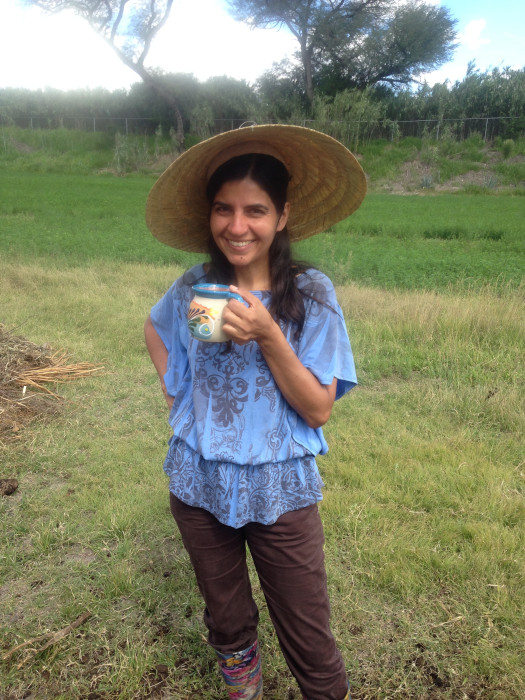 Maestra de kinder
(garten), Amy Padilla, happy with the work done.
***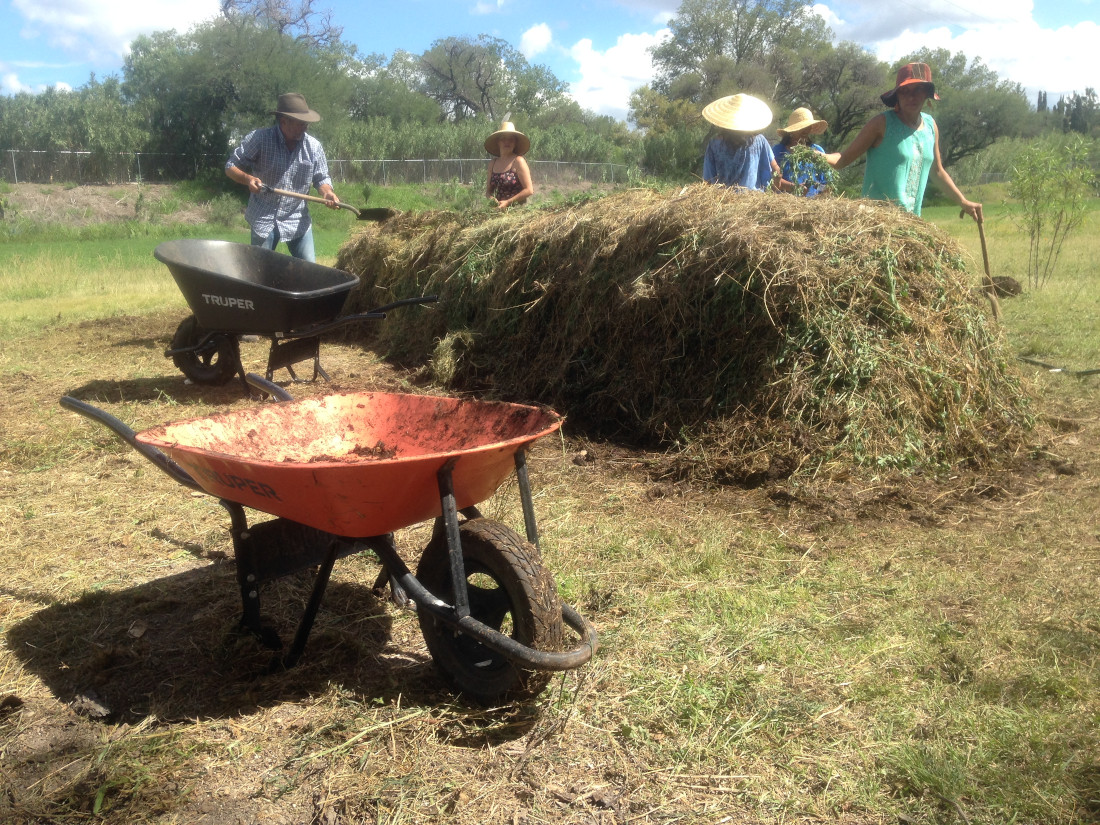 Finishing touches.
***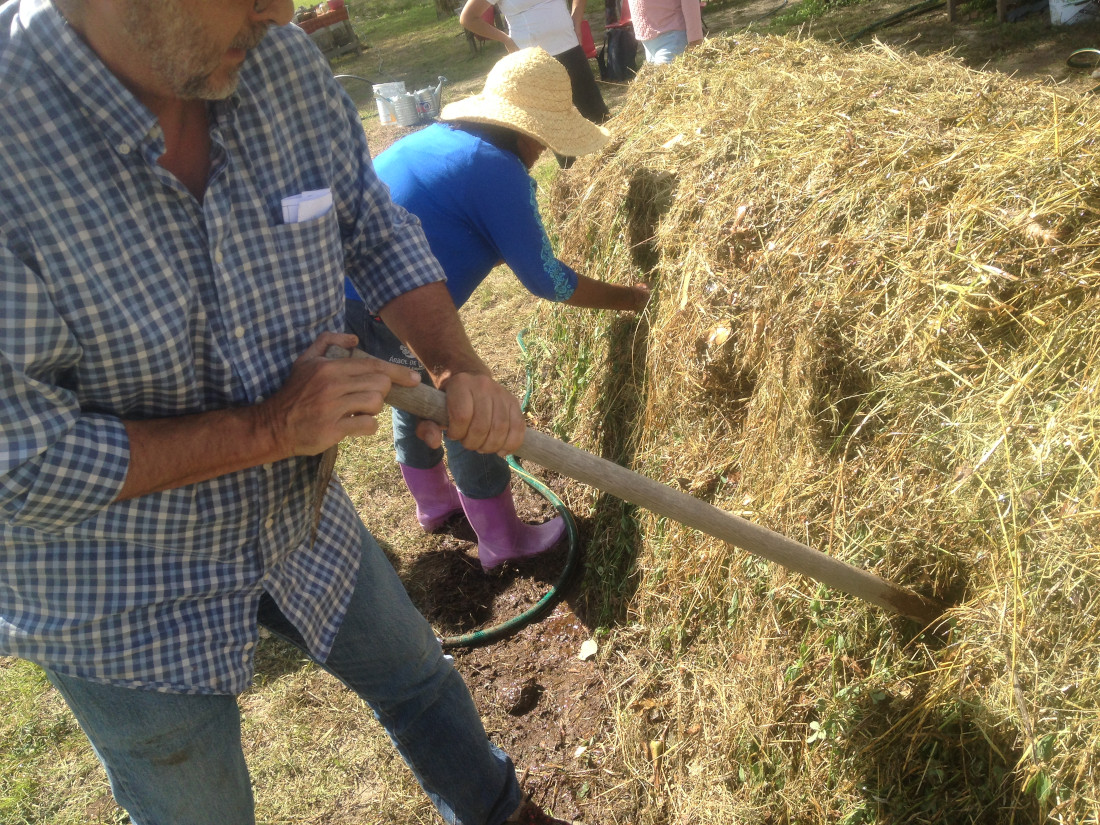 Eduardo poking holes deep into the pile and Vivian depositing special Biodynamic preparations therein.
***
Rudolf Steiner developed a meta-narrative, a grand system, that claims to explain life. We in the post modern era are prejudiced against meta-narratives: religion is passe. Western Enlightenment, including science, facts and rationality, is condemned; capitalism and meritocracy are oppressive ideologies... Post modernism is relativism, an "anything goes" attitude. (Look at the extremes of what passes for modern art.)
Post modernists would have us reject all ideologies as harmful fictions. But we humans are story-tellers. We listen to or tell ourselves stories to make sense of, to order, to give direction to our existence. Are the stories objectively true? I'm not sure that's the right question. I would ask, "Does your worldview enrich your experience?"
Of course, we need to get along with each other, to make sure that our story doesn't oppress someone else. In this I start with Rabbi Hillel who said, "What is hateful unto you do not do unto another." Most of us agree that that's the first rule. Beyond that I would say that a more global ideology, one that encompassing, admits, accounts for and explains more of experience, is a better worldview. I like to say, "Whoever has the richest personal mythology wins." At the Waldorf School, the children, parents and teachers are winning.
Compost is a wonderful metaphor for the process of cultural storytelling. It combines, animal (waste), vegetable, mineral (special Biodynamic preparations), earth, water, air and fire (the interior of the compost pile gets hot enough to burn you) into a fertilizer that improves the crop, making it tastier, more nutritious and more abundant. If the stories that form the basis of your philosophy give you tastier tomatoes, what more can you ask?
Which reminds me of that old Woody Allen joke: First man: "My brother thinks he's a chicken." Second man: "That's a shame. Why don't you have him committed?" First man: "I would, but I need the eggs."
**************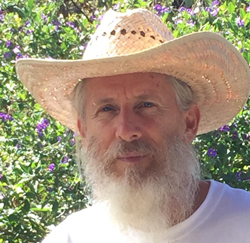 For a moment there, while shoveling the cow caca Dr David felt like he was back in NE Vermont, and that was a very good feeling.