This group of platters was made by the ancient Japanese firing method called Raku. The idea of calligraphic design, only taking some element of calligraphy and using it loosely, or abstracting it, seemed to fit with the firing method. I also began looking at the stamps that Japanese ceramic artists use to sign their work. As a nod to that, to make my own "stamp," I added a small piece of red, gold luster or blue glaze. All of this contributed to a strong Asian influence with a more contemporary look.
Raku is an ancient Japanese process where pieces of ceramic are heated in a kiln and pulled out when they are red-hot. They are then plunged into a container of combustible materials; Edna uses newspaper and sawdust. These materials burst into flame. They are then covered to deprive them of oxygen. The result is that in the places where glaze has been applied, you get a wonderful variety of colors. In places with no glaze you get a matte black coloring.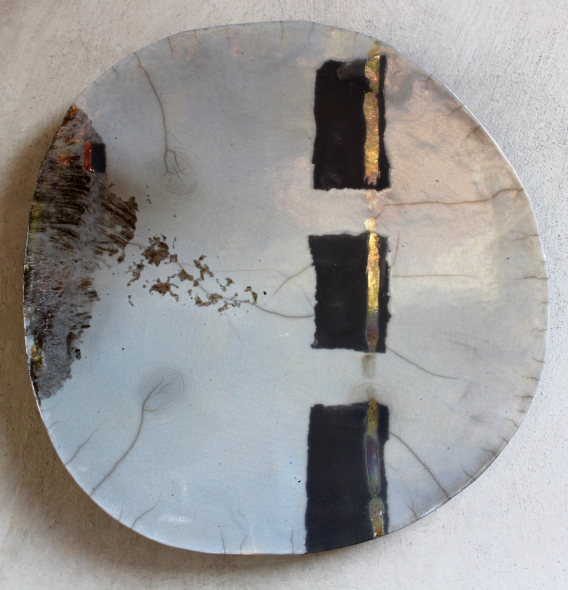 Dickinson says that what attracts her to Raku firing is the excitement, unpredictability and mystery of finished pieces. "The results can be quite different and unexpected from what was imagined. The pieces endure a journey that rapidly plunges them from the extreme heat of the kiln through fire. They emerge scarred from their ordeal. For some pieces the damage makes the design. For others it can be fatal, which makes the ones that emerge whole even more special."