by Natalia Ospina
I was born and raised in New York City. My parents immigrated there from Colombia. My parents started their own business from scratch. They invested every waking moment establishing the economic base that would make our many sacrifices worthwhile. They plowed through all tasks, big and small, to make sure the business survived and grew so that we could survive and grow. Just like all New York City dwellers, our lives were a choreography of efficiency in chaos.
In that setting, before underground cell phone service in the subway, there was down time underground. The mind could settle when you were fortunate enough to find a free seat on the train and there close your eyes. That setting did not allow time for immersing together in kitchen duties and the pleasure of sharing the table. I had a cup of Tropicana "orange juice" for breakfast as I walked out the door, a ten dollar sandwich-and-something-else lunch and a decent, balanced dinner. None of these meals were shared with the family. Food existed just to feed the body, the overworked motor, not to feed the soul. Later I learned to share meals with the computer screen while I worked. I felt a great void in my stomach and in my being.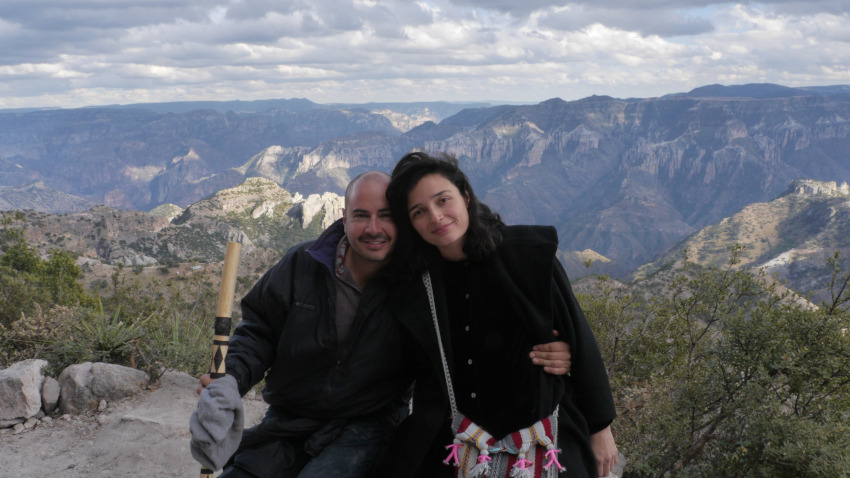 When I had the chance, I left. I chased my own, very different idea of life all the way to Mexico. Here I found my foodie husband Adrián and through him a new rhythm around food where every meal is a special occasion.
Mexican food is a mosaic of ingredients and techniques inherited through generations of cultural crossings; trade, migrations, conquests, family recipes and, most recently, the internet. These influences have converged to create the "traditional" flavors of Mexico and also those we enjoy as "new proposals."
This richness is the base of Adrián's culinary obsession. Adrián's upbringing was very different from my own. His most cherished childhood memories, as well as past, present and future family treasures are all associated with the sharing of food. The family's heart beat in the kitchen.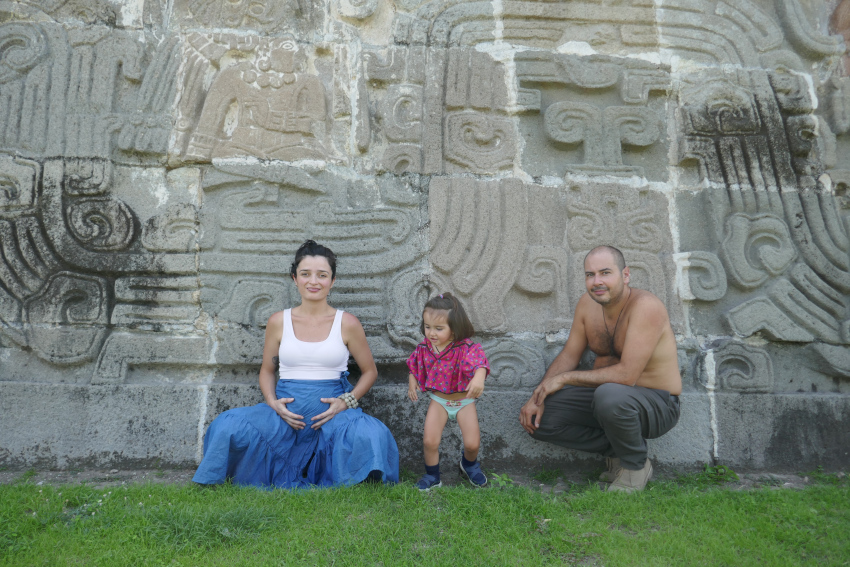 Now, for the seven years of my family with Adrián, it has been our delightful daily custom to eat our meals together. Moreover, it is part of the daily duties to organize what, how and when we are going to eat. I suppose that might be the norm, but for someone like me, having grown up in the eat-as-you-go rhythm, it is a pleasure... and a challenge. How can we satisfy each family member's palette and have everyone's appetites coincide and best use what is in the fridge and prepare a balanced meal?
Last year we celebrated our daughter's 2nd birthday in New York City. Preparing for the party we pondered what we were going to feed our guests; not a decision to be made lightly. We always prefer preparing the meals we will share with our loved ones, as our offering. But the ingredients had to suit our budget and the recipes our guests' very diverse tastes. Adrián remembered his great-grandmother Carmita's savory pies. His family had often relied on her high-yielding, delicious, versatile pie recipes; important factors in a home where the children and grandchildren habitually ate together. Those were also important considerations for our large multicultural family get-together. Once again, Carmita's pies saved the day; they were a big hit at Ávia's party. Thank you, Abuela Carmita.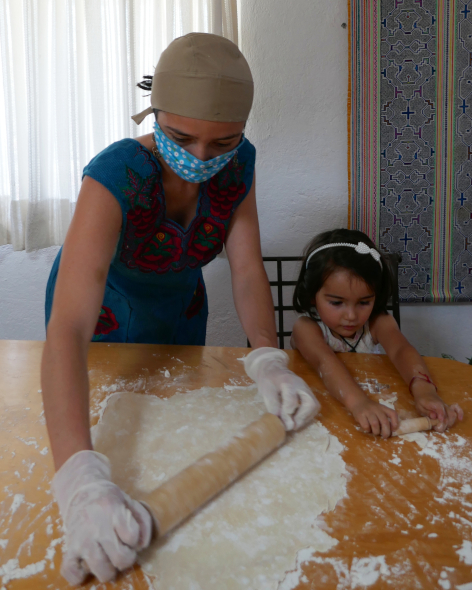 That success prompted a bright idea; to share Carmita's pies with the world at large. Her pies, with their diverse fillings, are a scrumptious historical document of a family legacy and, in fact, an entire nation's legacy. Topping it off, they're ideal for sharing. They needed to be made public.
Carmita was the daughter of an affluent family of Spanish descendance who resided in Villahermosa, Tabasco. Upon getting married, she and her young family moved to Colonia Juárez in Mexico City, a vibrant upper-middle class neighborhood at the time. Her husband was doctor to the city's wealthy families . She dedicated herself to tending to the household and learning the art of baking, a very appropriate passtime for an upper-middle class lady of the period. Carmita used her talents to titillate her family's appetite and instructed her female relatives in pastry-making. She was unconsciously building an important inheritance for her descendants.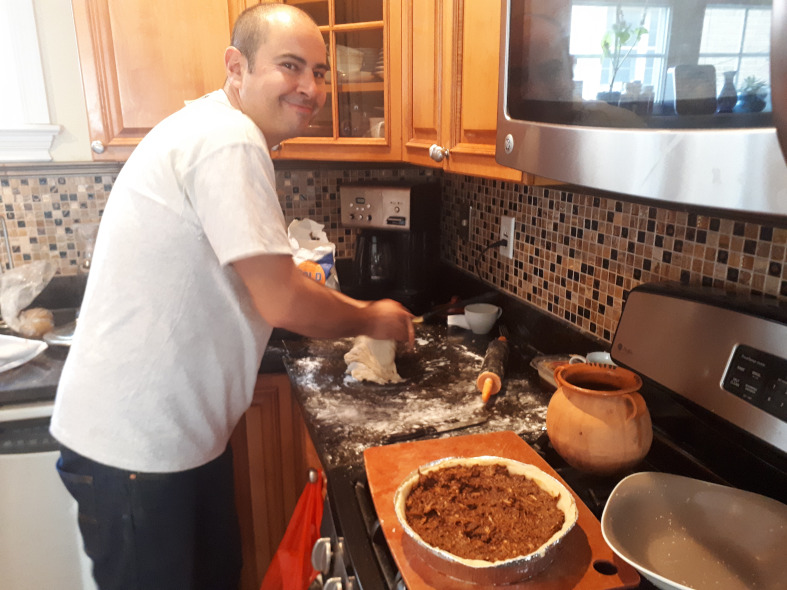 During that period there was a strong penchant in Mexico for invoking Europe through replications in architecture, fashion, art and cuisine. The French influences of the time gave way to the use of puff pastry, which Carmita used to envelope delicious stews, thus ingeniously giving rise to her new generation of pies. These pies are the true reflection of the "mestizaje," the fusion of cultures that defines modern-day Mexico.
Carmita's stew fillings include ingredients representative of the evolution of Mexican culture since prehispanic times: corn, regional chilis, cacao, amaranth, regional greens, chia, squash blossom, to name a few. Other ingredients arrived through historical processes of "cross-pollination," including dairy products, wheat, chicken, beef, pork, raisins, cinnamon, pecans, olives; these having originated in Europe, the Middle East and Asia.
The "chicken in mole" pie is a delectable example of this blending of Old and New World. It is made up of mole, a sauce created from cacao (Mexico), garlic (Asia), pork fat (Spain), nutmeg (Asia), chili (Mexico), tomato (Americas), clove (Asia), sesame (Africa)-- just to name a few of its many ingredients-- and, of course, Chicken (India). It is cooked using prehispanic Mexican techniques like toasting on the "comal" and grinding ingredients in the "molcajete." It is a dish that reflects the richness of the place in which it is made and celebrates abundance. One can similarly trace back the trajectory of this land and its people through her "chicken, poblano pepper and corn" pie, her kid-friendly but fancy "ham and cheeses" pie and her lavish "picadillo (minced meat)" pie.

The flavors and textures of Carmita's pies are a delight meant to be shared, yes. But they also pay homage to an important family-national-global history. That is why Adrián and I have decided to share this unique inheritance through our enterprise, "Carmita: Mexican Pies." Our pies are made to promote sharing the table and to honor Mexicanidad and the on-going melding of human cultures. We invite you to share in this treasure. Buen provecho.
***
For more information on our pies please visit our Facebook page:
www.facebook.com/MexicanPiesCarmita
**************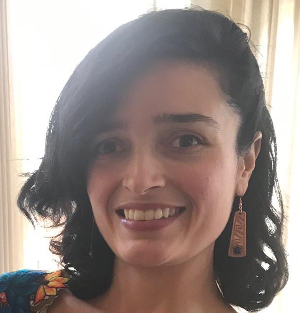 Natalia Ospina is a seeker of beauty and transformation: the transformation of a thought into an image, of a seed into a tree, of love into inheritance. The beauty of color, the breeze, laughter, Mexico transform her every day. In the small ways the universe may allow her to, she aspires to share beauty and transformation in all their manifestations with the world around her. Natalia was born and raised in New York City, with her family's native Colombia always in her heart. But her heart also called for Mexico and without knowing why, she listened. Mexico City, Oaxaca and San Miguel de Allende are now home.