Dr David, Editor / Publisher
San Miguel is a small town, very small when you consider just the extranjero community. We foreign residents know each other's faces, if not each other's names. When someone, whose face I do not know, tells me that they live here, they are almost always a recent arrival.
There are, of course, other circles, besides we extranjeros. One of these is made up of persons, largely between 30-50 years old, who are interested in alternative lifestyles: things indigenous, healing, Patchamama...
This little community is almost entirely Hispanic, but not rigidly so. By virtue of the fact that my girlfriend Veronica is a member I have found myself at many gatherings of the tribe. With my own alternative inclinations, and my Spanish not half bad, I can go with the flow.
Paulina, is a central character in this neo-hippie clan. Everyone knows and admires her. Well-loved, she is a strong, active person, with strong, active opinions. She has her own ways of doing things and she gets things done. She is fully alive, singing, dancing, partying... She is an earth-mother type with a great knowledge of plants, gardening and herbal medicine. She has a healing center just outside of town and another a 5-hour drive north out in the desert. Having apprenticed with the Huichol Indians, Paulina, at her center up north, offers peyote ceremonies compete with sessions in private hot springs. Except for the 5-hour drive, it sounds idyllic.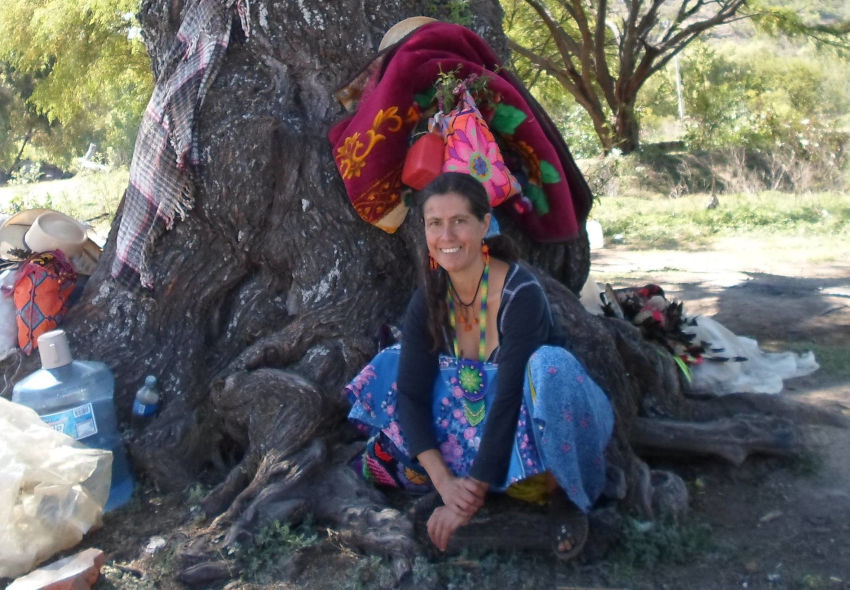 Having practiced herbal medicine for almost four decades now, I am also well-acquainted with it. Last night, Veronica and I drove out to Los Frailes to buy balms and potions from a friend and associate of Vero's, named Eva. Eva has a PhD in plant biochemistry and later studied herbology at the State of Mexico University. She taught chemistry for years at university and was the head of the department.
Her place is way down in Los Frailes not far from the water. We called when we arrived. Eva, wearing her white lab coat, opened the street door, letting us in to a courtyard, filled with flowers and the tranquil first night of Spring, Mexico at its best. As we entered her home office/dispensary, right off the courtyard, she sprayed us each, hands, head and body, with her own aerosol disinfectant, assuring us first that it was comprised only of natural oils. Yes, we bought some of that, also.
On our drive over Veronica told me that Eva's daughter had contracted the Corona Virus. After making our purchases Eva shared a bit more about that. She told us that her daughter, 47 years old and living in a nearby city, despite eating well and exercising regularly, had required hospitalization for the better part of two days to "clear out her lungs."
I wasn't very impressed with the Swine Flu. I was even less impressed with the Bird Flu, But I have to admit that this Corona Flu has got my attention. Now, after hearing about Eva's daughter, it has come closer to home.
I've always had great faith in my immune system. I work at staying healthy. I've gone decades without catching a cold, never one much more than a sniffle, never one lasting more than 48 hours. But at 62 I've had time to feel my body changing, aging. And the year before last I had a doozie of a cold.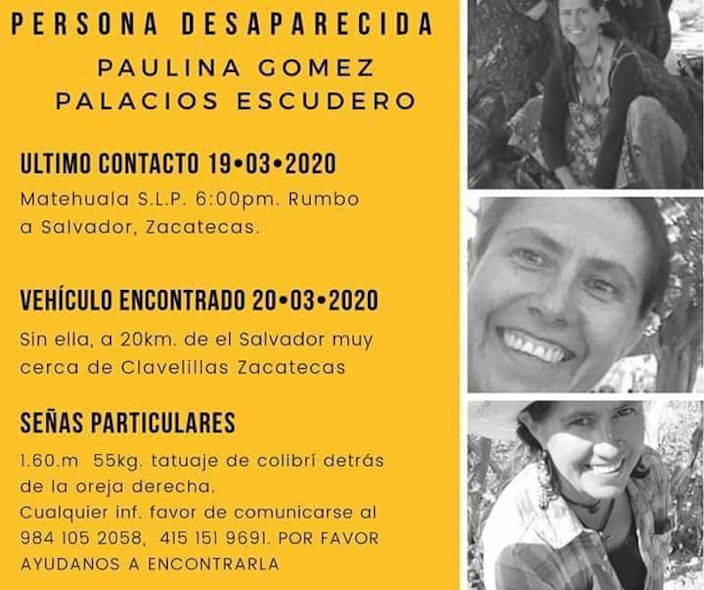 With everything shut down and everyone shut up; with the world on hold and everybody holed up; with all of the sympathy I have for the victims of COVID-19, the sick and the dying and the dead; with all of that, something happened in our little alternative lifestyles circle that put all that suffering, as horrible as it is, into perspective.
Yesterday we learned that Paulina had disappeared; that she was last seen two days before in a little town of 2,000 in the State of Zacatecas, up north in the desert; that the day before yesterday her car was found with the windows down and the key in the ignition, by the side of the road, 20 kilometers south of that little town; that a man, hiding not far away, was taken into custody and that on him was the 20,000 pesos of payroll Paulina had been carrying to her workers. Today we learned that her body was found a short distance away.
[This article was written two weeks ago. Since then we have learned that the man in police custody was probably working for someone who has a dispute with the owner of the land whereon is Paulina's healing center. The man in custody "committed suicide" in jail. Pauline's family is very well-connected. The Federal police have gotten involved, which is why there are any results in the case.]
There is dying and then there is murder. There is suffering, medicated in a hospital bed and then there is horror in the desert.
Veronica is in shock. Our small community is crushed. What good are my few tears?
Please take care of yourselves and live fully. San Miguel is a small town. I know your faces, if not your names. You are all part of my circle.
Flights of angels carry you to your rest, Paulina.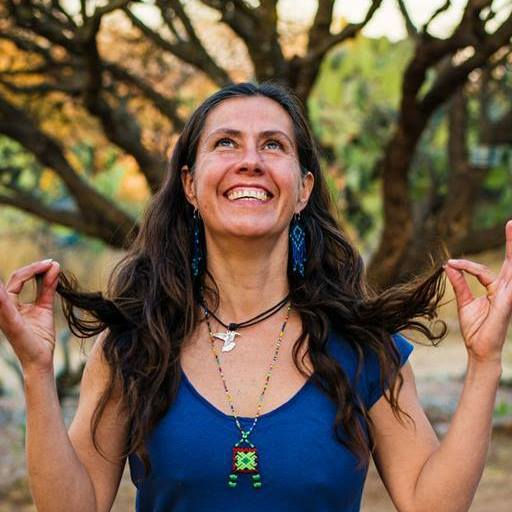 **************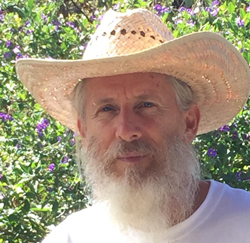 Dr David is looking for authors to contribute to San Miguel Sunday. He is also looking for people who want to add more meaning to their lives. See his new website below.