Award-winning jazz guitarist/composer/arranger Jaime Valle began his musical career as a teenager, where he immersed himself in the Tijuana music scene in the early 60s playing Rhythm & Blues. In the mid 60s, Valle relocated to Acapulco, where he became a founding member of the legendary jazz-rock group, "Love Army," an influential force of the counter-culture movement of that period. Love Army was one of the groups chosen to perform at the historic Avándaro Festival in Valle de Bravo, Mexico's Woodstock, followed by the release of the album, "Love Army Live in Avándaro." The public broadcasting of their song "Caminata Cerebral" (Walk Within my Brain) was forbidden by Mexican law due to "subversive lyrics."
Soon after, Valle immigrated to the United States, settling in Los Angeles, to begin his jazz studies at the Dick Grove Institute. In addition, he received private tutelage from jazz greats, such as Howard Roberts, Joe Pass, Joe Diorio, and Mundell Lowe.
Enticed by a thriving music scene, Valle relocated to San Diego, creating music for commercials, jingles, film and documentary scores, as well as accepting an Adjunct Professorship at San Diego Mesa College. Valle established himself as a mainstay of the Southern California jazz scene and formed his group, "Jaime Valle and Equinox," releasing 4 award-winning albums and was the recipient of 14 San Diego Music Awards (in as many years) for "Best Latin Jazz."


After headlining at the San Cristobal de las Casas Jazz Festival in 2007, the "Jaime Valle Quartet" received an invitation from well-known San Miguel jazz musician, Doug Robinson, to perform at the now-defunct "El Viejo Topo CaféTeatro" (Isaac Toporek) on Stirling Dickinson. Valle accepted the invitation, and after a joyous performance and the experience of a few blissful sunsets in town, the Valle family purchased a home and settled in San Miguel.
Within days, Valle met San Miguel's favorite son, guitarist-empresario, Gil Gutierrez, and they established a successful, ongoing musical collaboration. Occasionally, Valle has joined the "Gil Gutierrez Trio" at Bistro Mi Casa and Zandunga.
***
SMA Jazz Alliance:
The premier SMA jazz musicians have formed the San Miguel de Allende Jazz Alliance to present a unified front to the SMA jazz afficionado.  
Valle actualized the SMA Jazz Alliance concept in San Miguel, derived from his numerous and successful collaborations with similar organizations globally.  The mission of the SMA Jazz Alliance is to promote the music through concerts, festivals, clinics, and master classes, while sharing expenses, in order to keep the events as affordable as possible for the musicians, students, and the audience. 
Jaime Valle on the Jazz Alliance:
"I had a talk with a few musicians and I told them 'You guys should have unity. And then you are the creators. You decide how this thing flows.' Everybody liked the idea. And that's how the Jazz Alliance started. Partnership and collaboration is the name of the game. You have to nurture it. Create an ambiance where young guys can go rub elbows with guys who know better. This is not a horse race. Art is not a competition. There's no one better than you at being you.
"The idea is to promote the music from within, without the necessity of a promoter, to organize concert, clinics, nurture new talent, master classes... We're not inventing the wheel; the concept is all over, we're just going to adopt pieces from here and there that suit our purpose.
"Jazz is world music, borrowing, stealing, and integrating sounds from everywhere. The concert this Thursday will be world music sponsored by the SMA Jazz Alliance.
"The acceptance of jazz is about the way it is being presented. Most people when they listen to music are geared towards the lyrics. If the music is instrumental, they lose their track. That's why classical music seems to be hard for the masses. The Jazz Alliance hopes to make new converts to the art of jazz.
"This Jazz Alliance concert is the beginning of a new era, the premier concert, a turning point. San Miguel is an artsy town, and a cosmopolitan town deserves a great jazz scene. Don't miss this wonderful moment in San Miguel's jazz history."
****************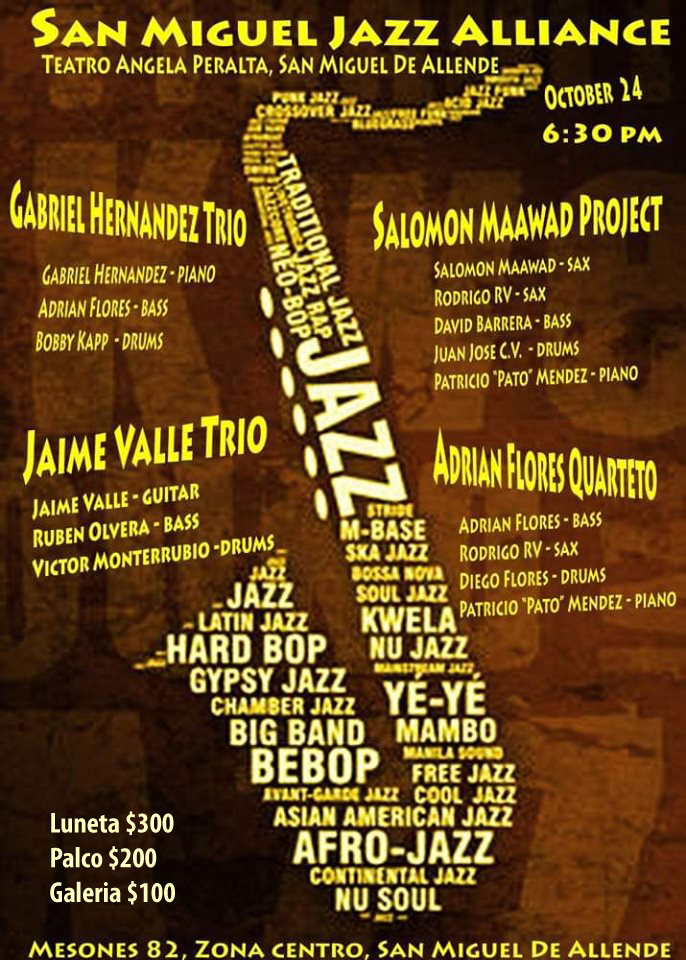 ****************
***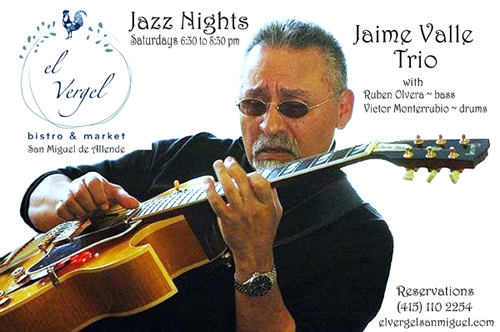 The Jaime Valle Trio continues its successful performances
every Saturday night at El Vergel Bistro & Market:
www.elvergelsanmiguel.com