Carola Polakov was born in Buenos Aires. When she was 5 years old the family moved to London and later to Barcelona. It was in that vibrant Spanish city, in the era of rebellion and creative explosion in the Spain of Franco, that Carola started her career as fashion designer.
"Everything I know I've taught myself... and what I didn't know how to do I would invent. I never had a formal education in design, pattern-making or photography, but I was really hard-headed as a kid. If I wanted to make something, I used my ingenuity and found a way to make it. I made my first dress when I was nine.
"I started designing when I was 19. A friend and I wanted to go to India. So we thought, what can we do to make enough money to get there. We started designing and manufacturing items. She was making shoes. I was making belts and bags and eventually clothes. This was in the late sixties. Spain was very isolated from the rest of Europe and fashion design was practically non existent and very conventional. I traveled to London, Paris and Italy, returning with with inspiration and ideas. Manufacturers repeatedly told me, at first, that what I wanted could not be done because it was out of the norm. But at my insistence they did it.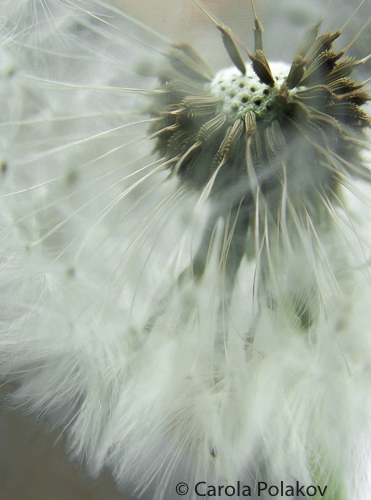 "I found these gypsy women who had all these amazing remnants of fabrics from the 30's and 40's. I started making clothes in my small workshop out of these fabrics, partially inspired by my mother's clothes from the 40's. At 21 I was hired by a young manufacturer who who had become prominent in the Spanish garment industry, as his laboratory. He gave me carte blanche to experiment and try out anything I wanted. It was probably my most important learning experience"
In 1973 Carola moved to NYC and was hired by Halston, the key American designer of the moment, by recommendation of Elsa Peretti, the famous Italian jewelry designer, model, philanthropist and Halston's muse. Two years later, Carola started her own company and was acclaimed by the press and the public for her innovative designs and comfortable, yet elegant, lifestyle clothing. She also designed costumes for experimental theater, dance and musical performances.
Having had frequent opportunities to spend time with photographers in their studios, observing and learning from them, she began photographing her own creations, as well as shooting portraits and documenting events.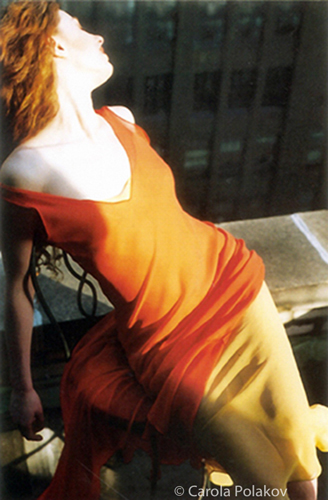 "My family was very photography oriented. My mother had the hallways filled with framed family photos. My sister, Sylvia Polakov, is a famous fashion, beauty and portrait photographer in Spain, but we have very different approaches. Her photography is perfectly composed. I'm a lot more experimental. Some of my best photos have been accidents.
In the 90's Carola stared taking pictures of her own designs, working with models and photographing her clients.
p>So, after over 30 years in fashion, Carola turned to her passion for photography, a passion that began at the age of seven in London when she was given Kodak Brownie by her uncle.
Always with camera in hand she traveled extensively, showing her work in Thailand, the Netherlands, Spain and New York. Her photos have been published in various newspapers, magazines and websites.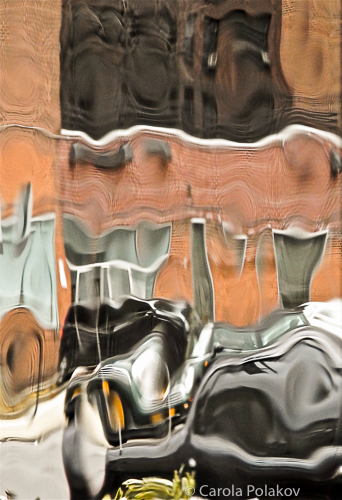 In 2013 she settled in Woodstock, New York. There, in the beautiful Catskill Mountains she was immersed in and inspired by nature: "Flowers are perfect models. I love seeing deep inside them. I spent many hours photographing ripples and ice formations in the creeks."
Being self-taught, Carola's approach to her creative work, both in design and photography, has always been through experimentation, to make an observation of what is not normally seen. Attracted by the unusual, the magical, the mysterious, the drama of nature, the sensuality of movement and light, she has recorded precious moments of visual poetry.
Sharing what moves her in a particularly powerful way, she hopes to connect with the viewers, stimulate their imagination and provoke an emotional response. On her visit to San Miguel de Allende in 2015 Carola's photographs were shown at Tao Studio Gallery. During that stay here she fell in love with the place, coming to live here a year later.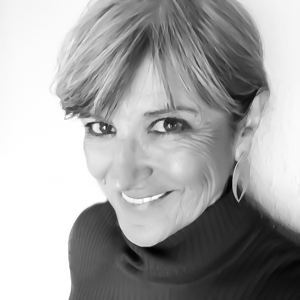 The upcoming show is in atelier of the very talented painter Lola Pico. There you can see her work as well as sculptures by Lisette Aguilar. Carola will be showing photos of peonies, dandelions and strangely distorted street scenes taken through wavy glass.
*****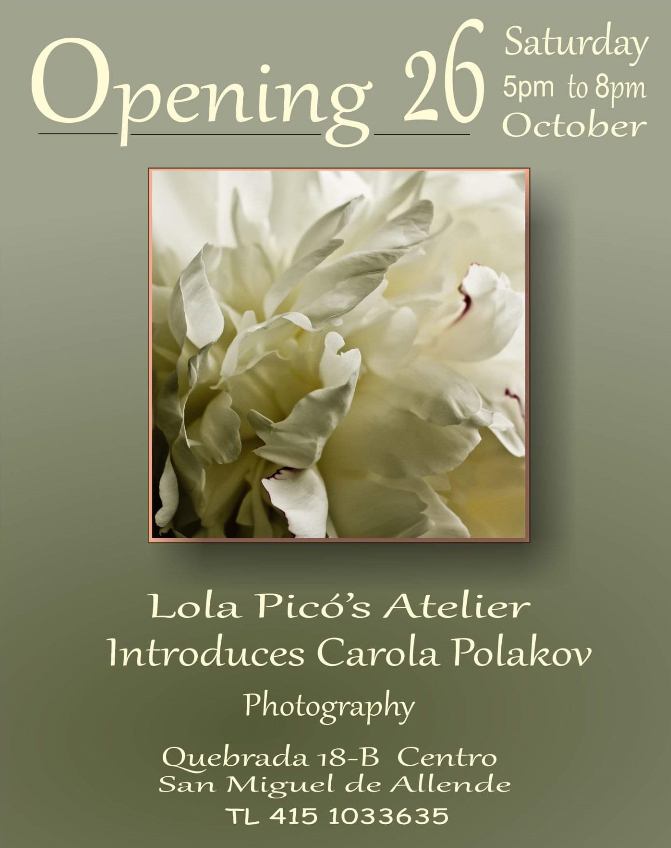 Exhibit through December