by Scott Umstattd
The Volkswagen Type 1 has a lot of nicknames: Bug, Beetle, Ladybug, Bubble, Frog, Hunchback, Turtle, Vocho, Flea and, for some reason, in the Domincan Republic, Ice Shaver.
The Bug has wonderfully infested our entire planet and has adapted to every environment it has been put in. People everywhere love their Herbies.
I'm tempted to give up and say that I don't know why I keep taking pictures of Beetles, but I think I have it figured out.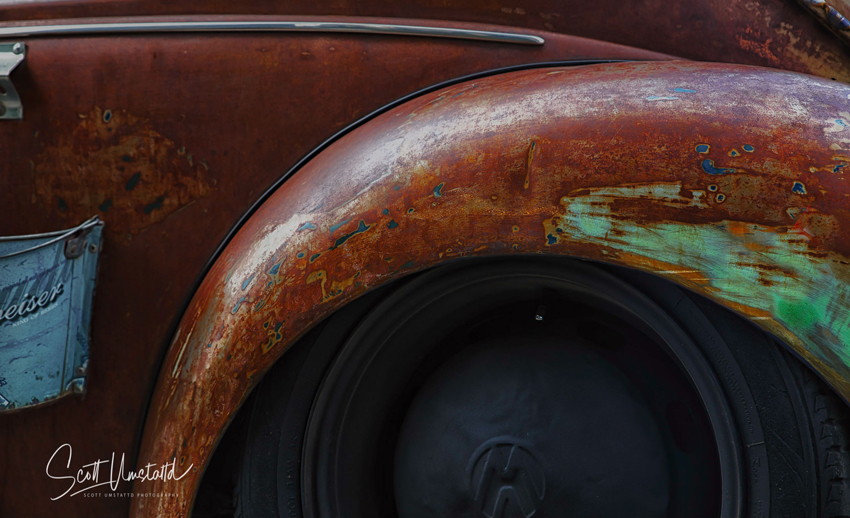 It must be the curves. No other car has embraced the curve like the Bubble. It's the curves that attract my eye.. It's the curves that make Vocho photos pleasing to the eye. Following the curves your eyes easily flow across the canvas (or the screen). It was made to be photographed. And, I concede, driven.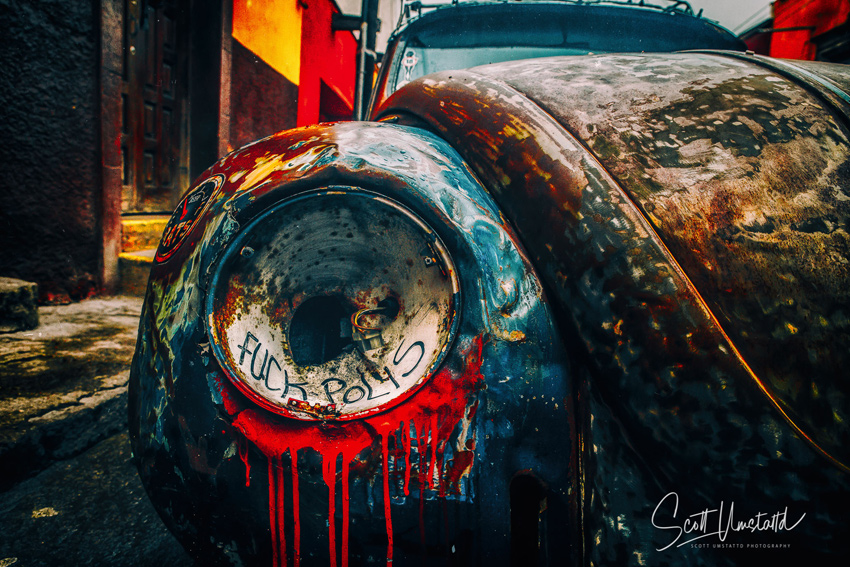 Wait. It might be the rust. Maybe that's why I like taking photos of Hunchbacks in San Miguel. I'm particularly attracted to Fleas that show some signs of wear and tear, especially those with second-rate repairs. Don't get me wrong. A freshly painted and washed and waxed Ice Shaver is a beauty to behold. But without the chips and dents and rearranged body parts, a fresh looking Turtle seems a bit out of place on the streets of Mexico, especially in San Miguel.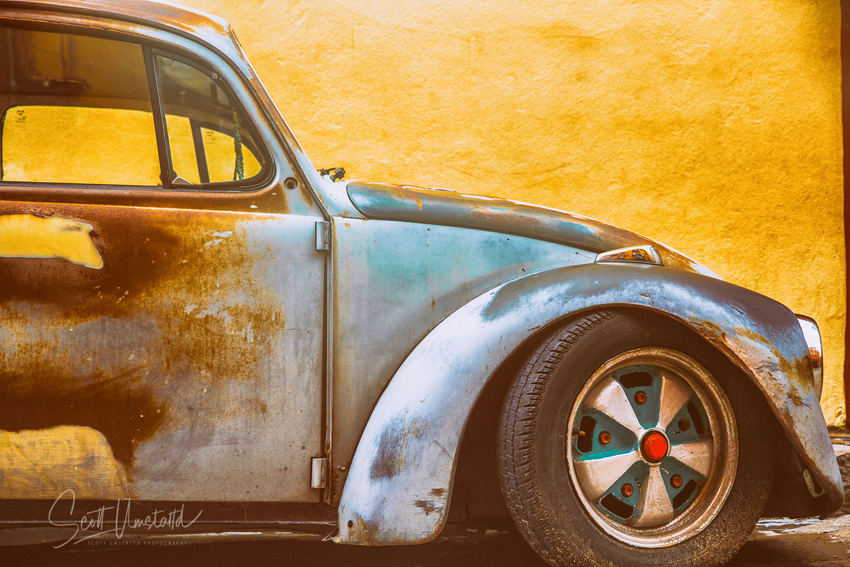 No. I think it's the owners. I love taking pictures of Ladybugs because, in some odd way, I'm taking a portrait of the car's owner. Every Frog, ok almost every Frog, looks the way it does because its owner has made a choice (or hundred of choices). "Do I put in a new headlight or do I choose to not drive at night? Do I paint the new door I put on last week? Do I really need a windshield? Do I fix what is wrong with it or do I live with it and let it mature into itself?"
Not many other cars get as much treatment and lack of treatment at the same time. It's much like how we treat ourselves as humans. We have some flaws that we can (or have to) live with. There are some flaws that define us. The same is true for the Hunchbacks.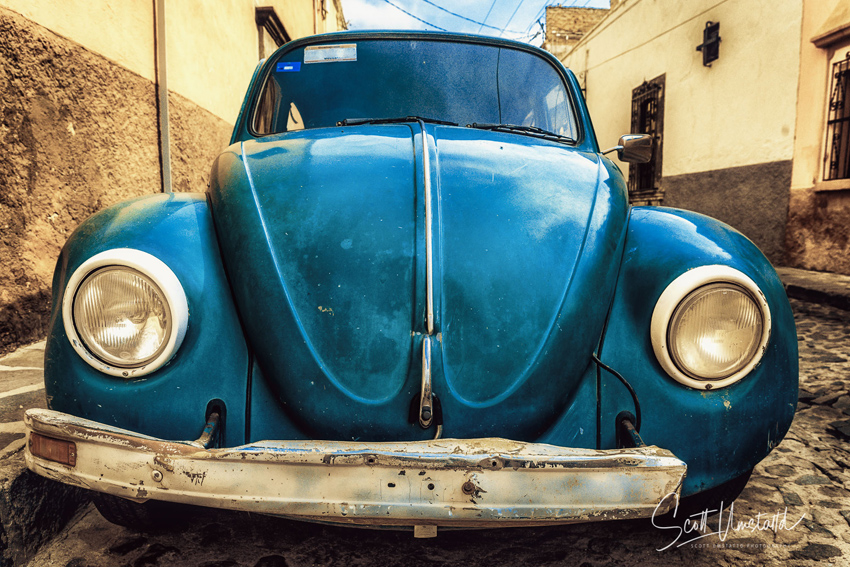 Perhaps all these reasons are truw, but the main reason I take pictures of the VW Type 1 is to find their flaws and show them as beautiful. As art. As part of us and our lives. I want to show that they change and stay the same all at once.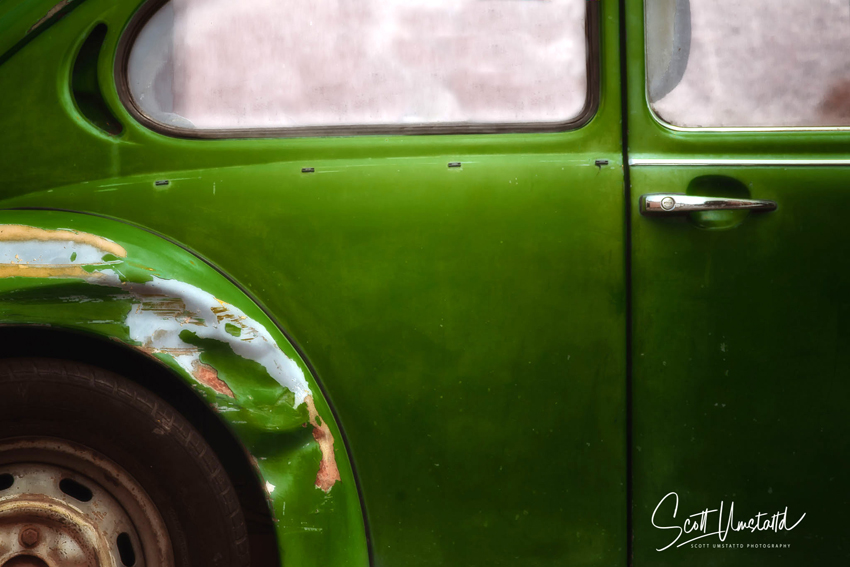 **************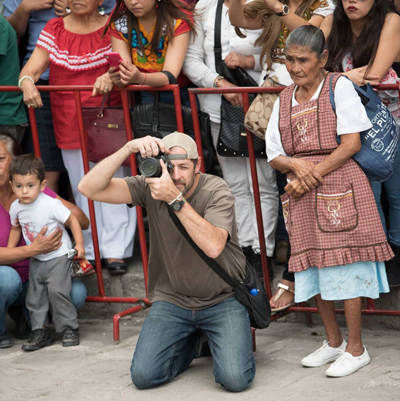 Scott Umstattd is a well-traveled photojournalist and freelance photographer working with numerous organizations and non-profits including Major League Baseball, Delta, Home Depot, Bank of America, Habitat for Humanity International and The Carter Center.
He does not own a car.
Currently inspired by the culture, colors and people of San Miguel de Allende, Scott is using his 20+ years photography experience for live event photography, fashion photography, weddings, portraits, art/archival photography and fine art photography.
You can see some of his work on his website www.scott-pix.com/
And you can follow him on Facebook www.facebook.com/ScottPictures/