by Joseph Toone
Until recently all I knew about the nearby town of Neutla was my dancing students, who live in neighboring Escobedo, often brought me honey on the hive from there. Being raised in Hershey, PA I take my sweets seriously. That fresh honey is the sweetest treat I've ever enjoyed.
Also a history of Neutla was the first book I ever read in Spanish. It probably was not the best choice as the history was written from the perspective of the various priests assigned there, and so was not a stimulating read in any language.
I was surprised, then, just how much I enjoyed Neutla on a recent visit. There was no shopping or restaurants, but there was plenty of other stuff to keep my interest in this surprisingly large town, known economically for honey, mines and ingredients used in concrete.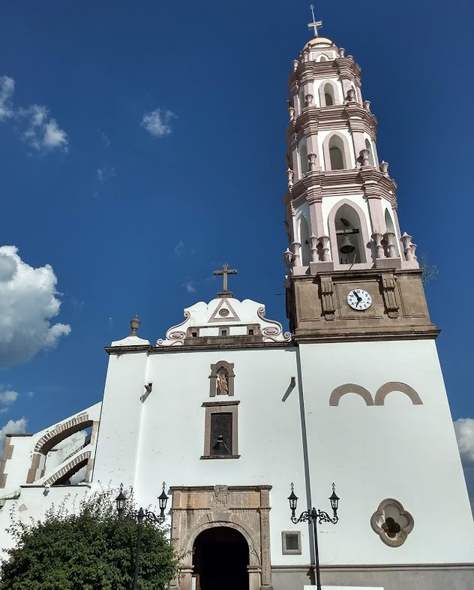 Nestled among the mountains is the town's visual focus, the church to St. James, the Apostle. St. James is known for having joined a battle for the Spanish against the Moors. He often appears in art with a hapless Moor beneath his horse's hoofs. The legend came to Mexico with the Moor often visually replaced with an indigenous Chichimeca. Oddly, the downtrodden often appear happy to be killed by St. James.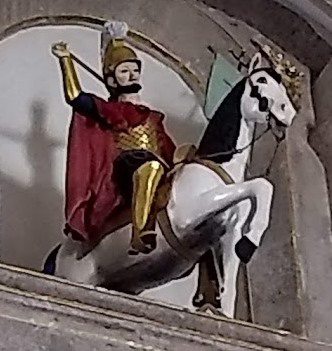 The church abounds with features of horses. Since it was the eighth of the month (Mary's birthday is September 8), the church featured Mary in a stylish carriage complete with rattle and stuffed toy. Our Lady likes to travel in style.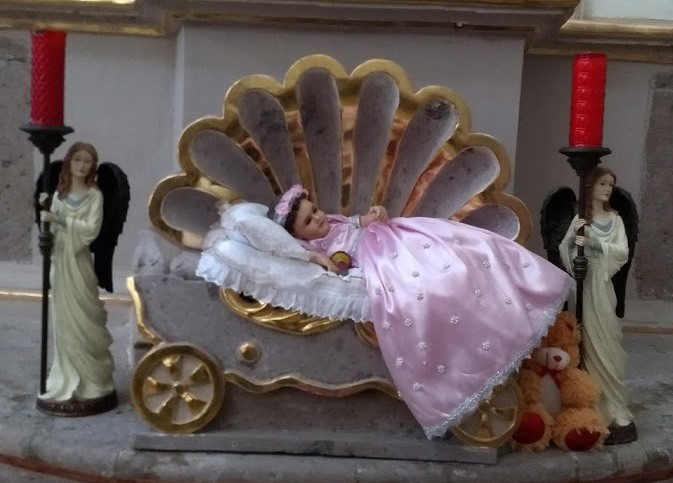 The horse motif continues in the town's cemetery, a lovely spot featuring many horse statues and the remains from the recent Days of the Dead, giving the place an intriguing Gothic flair.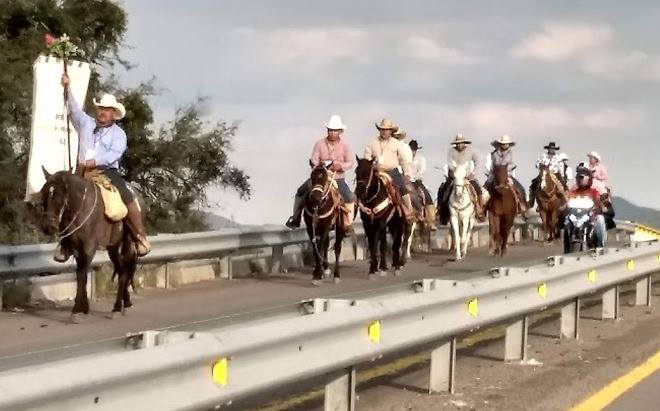 The importance of horses continues with the main street in town being named for St. Martin, the patron saint of cowboys. Lucky for me I visited on the day cowboys arrived from all over the state making their way to town of St. Martin, to have their horses blessed on his feast day. After a quick beer stop, the lads and lasses settled in a city park lined with hay for horses and pozole for people.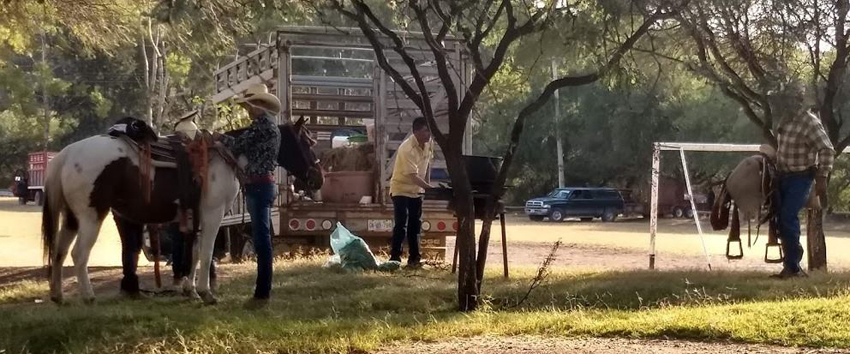 A stone's throw from town is an Alpine-like lake lined with mountains and wildflowers... truly gorgeous. It's marvelous to have a mountain lake so close to San Miguel. Granted, we've got our own lake, but ours, surrounded by shores of mud and thorns, is only pretty from a distance or in a kayak.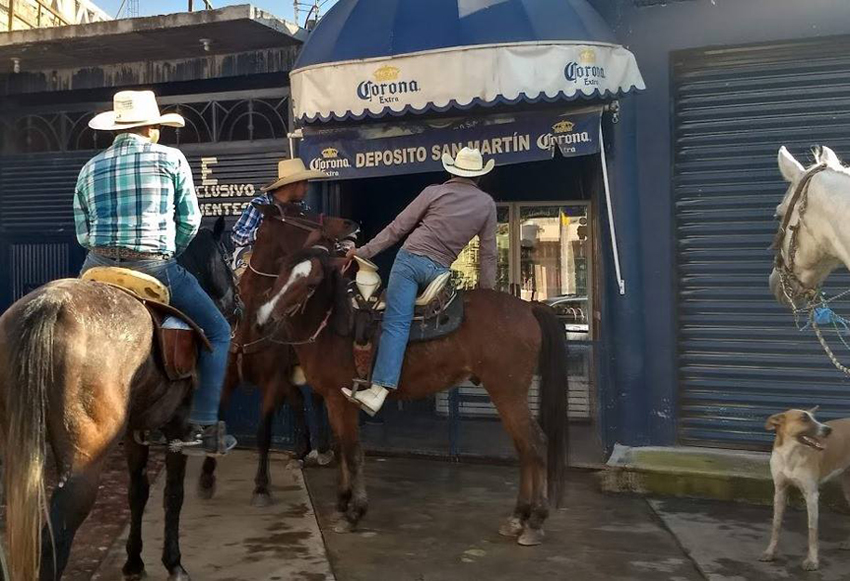 A decade ago I broke my arm along our lake. While my son got an ambulance my then teenage daughter informed me that if I passed out from the pain she'd load a soda bottle with lake water to pour on my face. I was aghast, admonishing her against such recklessness, "No, don't. Lord only knows what chemicals are in that water. I don't want a broken arm and a Dr. House disease!" I'm constantly amazed how many folks eat fish from the lake. I'd sooner eat my own foot.
Nearby Jalpa has a lovely lake, alongside both the town and the picturesque rectory ruins. However, both times I've lakeside there, there has has been an odd aroma of eminating from it.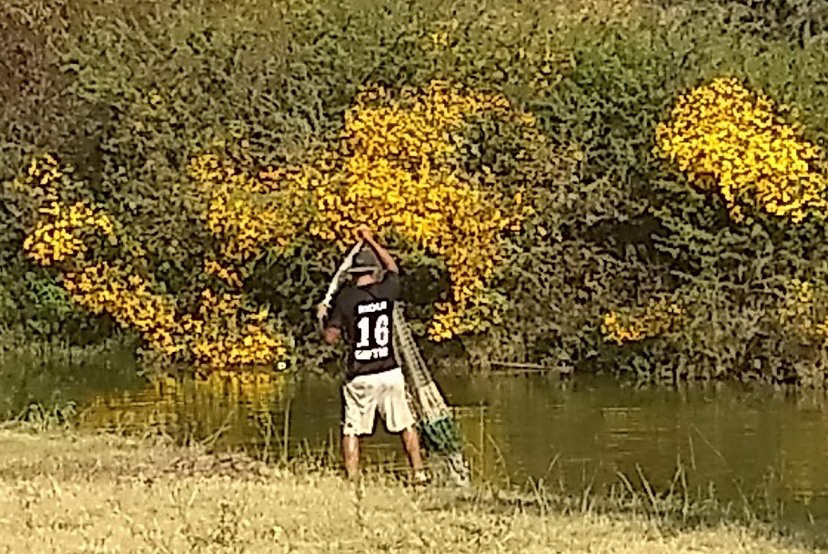 Not so in Nuetla. There the lake is border by mountains, two small farms and fields of those much-loved horses. For a mere 10 pesos you can park and enjoy a picnic with grills, bathrooms and shaded tables. It is simply breathtaking. I'd eat the fish caught there.
So if you like horses, honey, art or simply a day in nature with great views, Neutla is calling your name. Trot on over.
**************
Joseph Toone is Amazon's bestselling author of the San Miguel de Allende Secrets series of books and TripAdvisor's best rated historical walking tour guide. For more information contact toone.joseph@yahoo.com or visit History and Culture Walking Tours or JosephTooneTours.com, also on FaceBook.
You must register and log in to write a comment.
Please use the "login" link at the top (right) of the page.