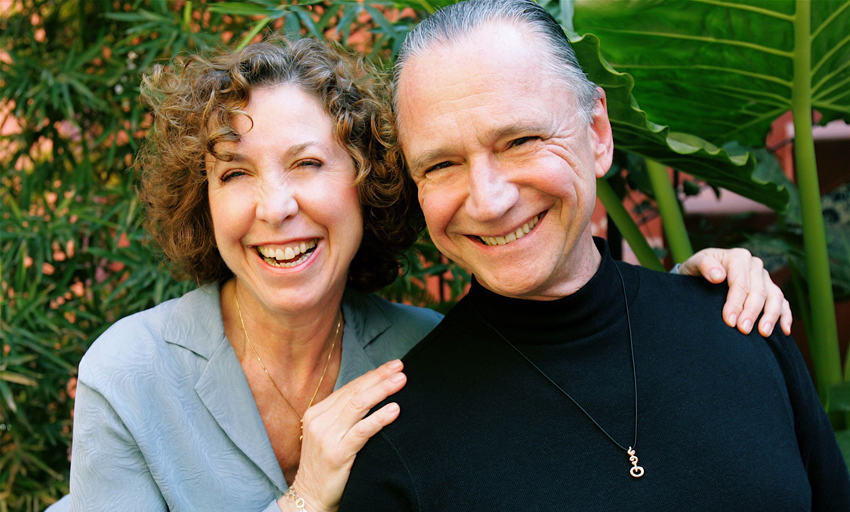 by Wendy Bichel
When Dr. Dave asked me to do a producer's blog, he suggested as a possible theme, what affect coproducing the musical is having on our marriage. Yesterday, sitting down to write, I realized that the answer to this question has actually found its way into the script of Bikers in Camelot.
I was a singer-songwriter in NYC when Ken and I first met. Ken's initial training and experience was as a classical pianist; he had graduated from Juilliard. When we met he was musical director for singers like Judy Collins and Janice Ian. I was shopping for a musical director for my show and spent an afternoon at the piano with him. We had what I'd call a serious rapport. I went home and told a girlfriend, "Now I know what my type is." Although we didn't end up working together then, he did offer me piano lessons... lessons that I'm still waiting for. A short while later we started living together, and, as is quite common when we fall in love, I had no idea what I was getting into.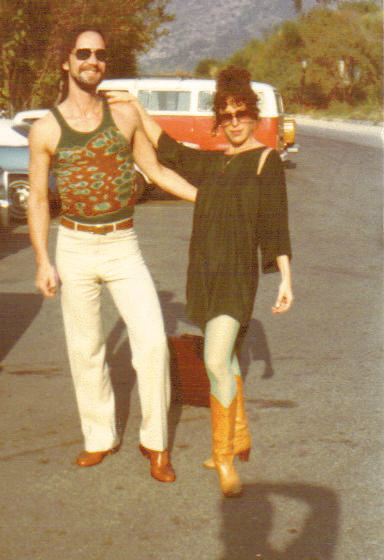 I have come to believe that we should interview our prospective partner's parents. If we did, we'd learn a lot. But we'd probably stop dating. Ken's mother was a challenging woman, with a lot of beliefs about who was good enough for her sons. She started indoctrinating them early. She often told Ken stories about the wife of the famed pianist, Sviatoslav Richter. Richter's wife sat outside the door every time her husband practiced, adoring every note he played and shooing away anyone who might disturb her genius. "That's the kind of wife you should have," Ken's mother repeatedly told him, thus cursing my life.
Although I was seriously in love, I had never even considered a full-time role as a devotee. I was a feisty chiquita with my own career. Since I was not going to be Mrs. Richter, we played a typical couple's game – Let's Make a Deal. We would both have our own careers and we wouldn't discuss them with each other. Looking back I suppose, that way we could at least pretend I was Mrs. Richter. Sometimes we really have to stretch to maintain a fantasy. In the musical, Bikers in Camelot, the two protagonists also agree not to read or discuss each other's work. It's as hurtful to them as it was to us. It's painful to be holding back parts of yourself in a relationship.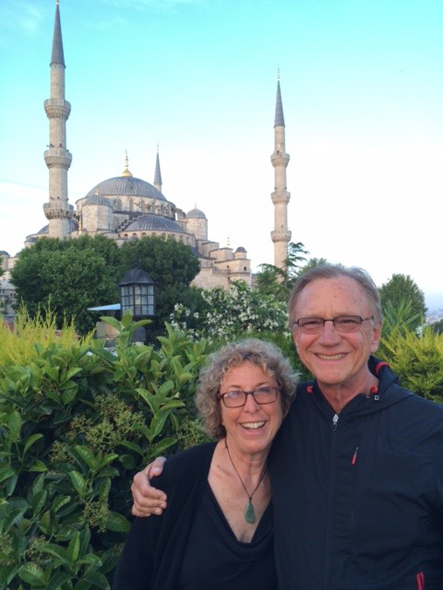 Ken and I maintained our contract for a while. I found a wonderful musical director, fresh out of Yale Music School, Kathy Sommer, who later became musical director for Beauty and the Beast. Every time I wrote a new show, and Kathy arranged it, Ken would play synthesizer in the band. A couple years down the road, I wrote a song called "Silver Antenna," about a Martian princess who falls in love with an astronaut. Ken loved it and created an entire synthesizer space ballet in the middle of it. Once I had a taste of what he could do with sounds, I began writing more and more songs that took advantage of the way he could create colors and moods with these crazy electronic instruments. It sneaked up on us, but we were collaborating.
So fast, fast, forward and here we are. Ken is arranging and conducting a show with 17 songs that I've written. We are also co-producing, and trying not to melt down simultaneously – a contract that is impossible not to break. Sometimes we have to do the boundary dance – this is your area and this is mine, but there has been no bloodshed. For our own sanity, we've made an agreement not to talk about the show... all of the time. Good luck to us on that one. Leisure is a word that is no longer in our vocabulary, but we're holding hands more.

*****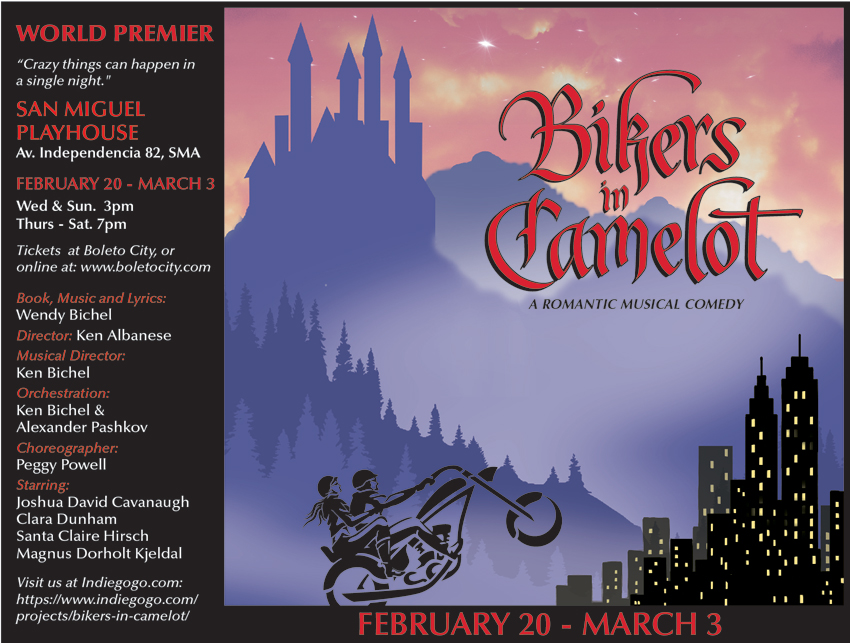 To learn more about the show and watch a teaser with a few snippets of the songs and learn how you can help the production, please go to our Indiegogo

https://www.facebook.com/bikersincamelot/

For tickets:
- www.boletocity.com or
- Boleto City upstairs at Sano Market or
- at the theater box office an hour before the show.

**************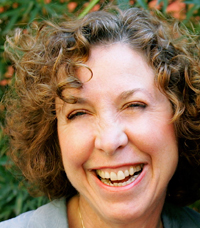 Wendy Bichel (producer, book, music and lyrics for Bikers in Camelot) graduated from Stanford in creative writing. After a successful stint in Europe singing jazz, she returned to New York City during the "golden age of cabaret," and performed a series of original one-woman shows, including the successful, Wendy Wonder and the Permanent Wave. She received a full fellowship from the highly acclaimed Masters Program in Music Theatre Writing at NYU. She was commissioned by Gail Merrifield Papp of the Public Theater to write a ten-minute musical, then a full-length musical, Love, Sex and Rock and Roll. A European PR firm commissioned her to write a musical/pageant, The Millennium Medicine Show for Tina Turner. Among her other works are a two-actor vampire musical, Are You Dying to Live with Me; an opera, The Garden of Katan; Emir, a children's musical; and Bikers in Camelot, which has had workshops and staged readings in New York City and further development in San Miguel de Allende, where it opens February 20, 2019.

You must register and log in to write a comment.
Please use the "login" link at the top (right) of the page.