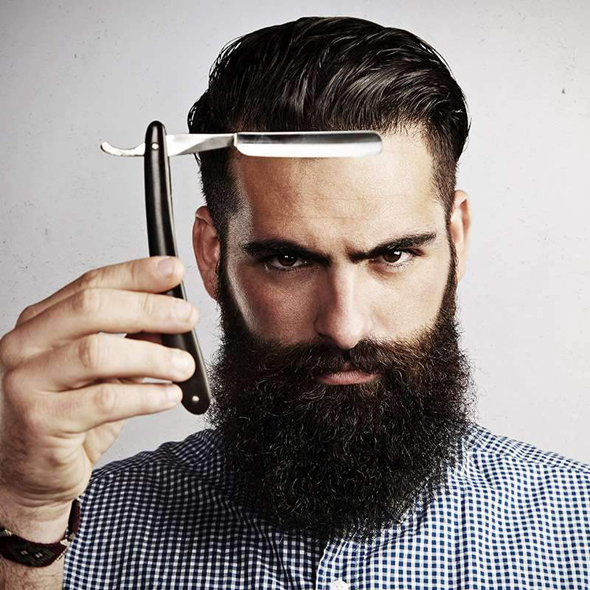 by Pam Walters
I crept to my hairdresser the other day. I'd held off as long as I could, even though Raul (not his real name) has repeatedly tolded me that if I go beyond four weeks, the shape of my cut is gone. Past six weeks, he says, I have an entirely different hairstyle -- one that could be defined as an alternative to style. The best way to describe my coif at that moment is that my hair looked 'surprised.' Even though I have fine, limp hair, pieces were sticking straight out. I don't know what was holding them up.
Raul approached me with a smile that was more like a sneer. He's tall, thin, dark-haired with a long Rastafarian braid... long past his butt. He's handsome in a smarmy sort of way. Of course, he wears black on black, plus a black nylon apron. His favorite combs and scissors peak out of the hip pocket on his smock.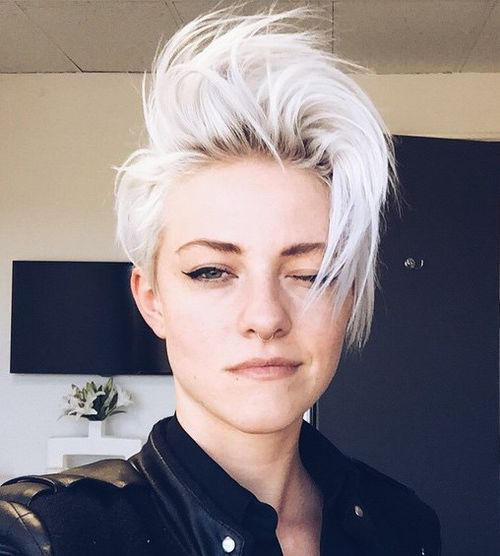 Yes, I'd gone too long between cuts. Did he even remember my name? Probably not. He's the kind of snarky hairdresser who wouldn't remember the name of an elderly woman even if she went to him weekly.
"Hon, it's been so long," he said … air kiss air kiss. He took his time evaluating my needs. He held me by my shoulders and gave me a 360-degree spin. "What were you thinking?"
Now how do I take that? Had I lost my mind in letting it grow out like that? Or, what kind of style was I considering now? In an attempt to keep our session friendly, I decided to take the second meaning.
"I'm thinking stacked bob, shorter in back and tapering to longer in the front."
Raul gives me an all-knowing head nod. (It's one of the most popular styles for women of a certain age.)
"Bangs?" he asks.
"Yes," I answer. "But not straight across. Taper them on the sides."
Raul rolls his eyes. "Of course, dear."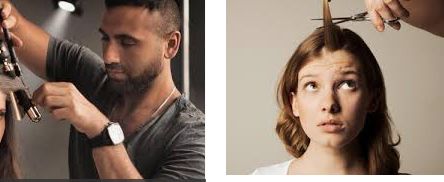 Am I that predictable? Or do I want instead to go for the other popular style for older women with white hair? Short, spikey, with lots of product to keep the points suspended in space – an explosion of sparkly, white shards of glass. This is supposed to show the world that you're still a woman to be reckoned with. That you're hip, fun-loving, wacky.
Well, don't let my conservative hairstyle fool you. I'm not and never have been in the Junior League. In fact, I'd sooner be in a biker gang.
Your cut also depends on the volume – or lack thereof – of your hair. Thick, fine, wavy, straight. I've got fine hair. Is that how you describe it when your hair is thinning? Mine seems to be going fast.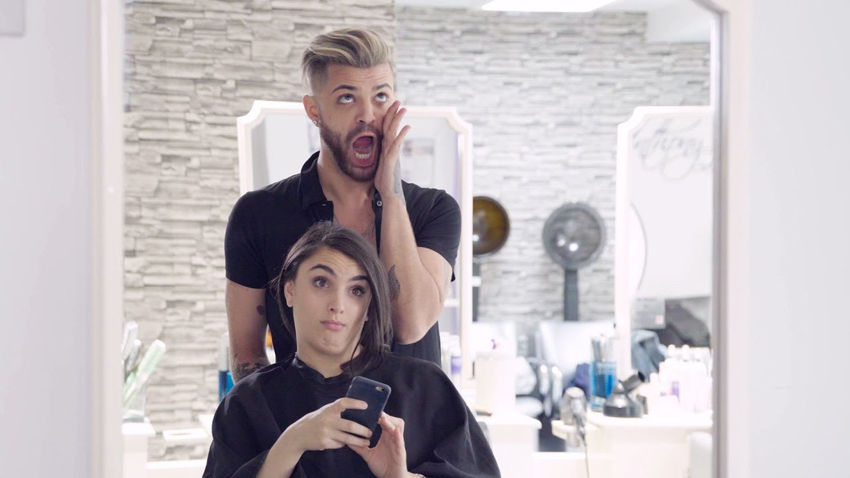 People usually have some affliction they're afraid of acquiring: pot belly, dowager hump, bow legs. For me, it's always been losing my hair. I saw a half-bald woman when I was younger. It so alarmed me that I said a quick prayer that I'd rather have big, saggy, eggplant-shaped breasts when I got older, but, God, please don't let me lose my hair. Now I have both problems.
There, in the salon I was upset with myself that I let Raul intimidate me. I thought of trying to shock him this time; go super short and die it pink or aqua to gain his respect. No, get ahold of yourself. Go with the stacked bob.
So, I let Raul do his thing. Even though I told him that I'm letting it grow and to just take off about ¼ of an inch, he took off an inch and a half. When he caught me pulling on my bangs to see if I could get them to at least touch my eyebrows, he said, "I decided to go a little shorter since you don't come in as often as you should."
Then the question of tipping arose. Would I tip him even though he didn't do what I asked? Well, of course I would. Why make the situation more uncomfortable? But how much? 15%? 20%. I added 20% onto his total, lest I be called a bad female tipper.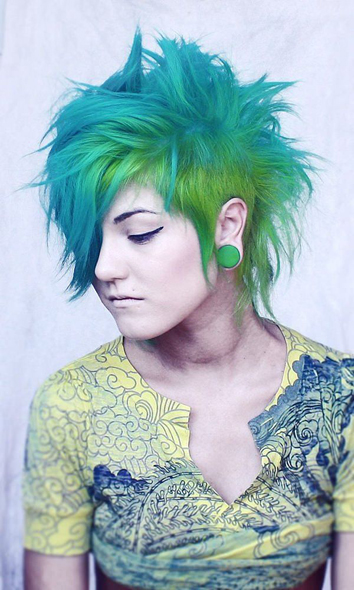 When I got home, immediately I went to the bathroom to examine the damage. Did he get both sides even? No. Did he leave enough in the back, to comb over my helter-skelter cowlicks? No. Does it poof out enough? No. But he did do a good job of blowing out my hair and then putting it through that hot clamping device to make it look all Uma Thurman-like in "Pulp Fiction." The silver edition, of course.
Several days later, I ran into Raul on the street. The first thing he did was physically turn me around to examine my hair. Of course, I wasn't able to recreate that smooth, bouncy look he achieved in his salon. And as upset as I was with him for giving me another too-short, crappy cut, I volunteer double air kisses.
"Do you love your cut?" he asked.
"Yes, love it," I said. If I didn't compliment him, he probably would never fit me into his schedule again.
**************
Pam Walters is a new resident of San Miguel de Allende. Her poetry and prose have been published in The Southampton Review, Chicago Literati, Switchback, Cutthroat, Cutbank literary reviews and Round-Up Writer's Zine. Seven of the chapters from her memoir, "I Hope Prince Charming Drinks," have been published in literary journals. She's won writing competitions for memoir and humor. Two of the chapters from her book were performed live. She recently won for non-fiction at the San Miguel International Writer's Conference. She and her husband reside in Centro.
You must register and log in to write a comment.
Please use the "login" link at the top (right) of the page.