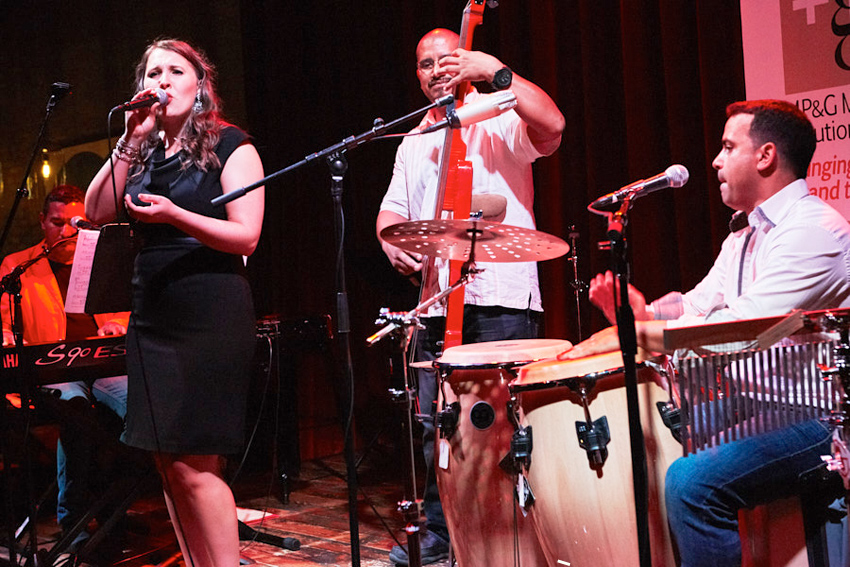 by Anne Nicolai
Two summers ago, a local trio of musicians called Jazzoneando climbed into my Ford Explorer and drove four days north to Saint Paul, Minnesota, where they performed at the Twin Cities Jazz festival. There, they met Ellis Marsalis, Francisco Mela, and other international touring artists. They also met a young singer named Katia Cardenas, who was generous enough to share the stage with Jazzoneando at a popular Minneapolis club. 
Now Katia is about to embark upon her first international performing tour at the invitation of her friends in San Miguel de Allende, and only because two years ago, she welcomed the musicians from Mexico when she could have turned us away.
A six-month plan, a four-day drive, and a two-week tour
Organizing a tour between Mexico and the United States is complicated and not without risk. As their American sponsor, before I could apply for a working artist visa for the band, I had to secure a consultation letter from the American Federation of Musicians in New York City (fee of $250us whether approved or not). This involved soliciting letters from big-name artists here in San Miguel who could vouch for the quality and professionalism of each musician traveling: Jazzoneando director and pianist Yamil Vázquez, percussionist Kimani Carrazana, and bassist/vocalist Aarón Romo.
Doc Severinsen wrote one of the letters. Ken Basman wrote another, and it was during our northbound road trip that we learned that he died, so the Jazz Festival concert was dedicated to him. We also received letters of support from a Monterey, California, journalist and Monterey Jazz Festival collaborator, the founder of Jazz Central Studios in Minneapolis, and a theater executive and former public affairs director of the Minnesota Orchestra.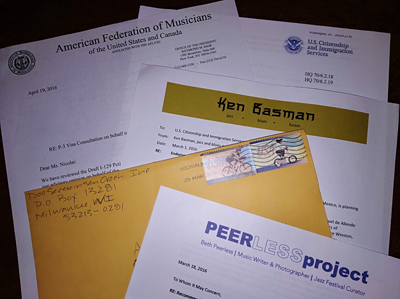 After obtaining the musicians' union letter, it was time to apply for a P-3 visa from U.S. Citizenship and Immigration Services (USCIS). The P-3 visa allows working artists to earn compensation in the United States, and without it, the band couldn't get paid. The USCIS application ($325us) totaled 47 pages, including each musician's biography, prior dates of travel to the U.S., and affadavits saying they had never been deported or convicted of a crime.
Aarón, the bass player, is Mexican and not only had he made several trips to Minnesota with me in years past, but in college he studied at the Brooklyn, N.Y. Bass Collective and is fluent in English, so we didn't worry about his passage.
Yamil (piano) and Kimani (percussion) are Cubans and neither had been to the States before, nor did either of them speak English beyond "please" and "thank you." That made us all a bit nervous. 
The possibility that a visa application can be rejected for any reason (or for no reason at all) is why some touring artists hire attorneys to prepare the application for them. I checked into that, but a mere phone consultation with an American immigration lawyer would have cost $500us, and the fees for their services start at $2,500us, which can easily double by the time the ordeal is over. I opted instead to follow the excellent guidelines offered free online by the nonprofit organization Artists from Abroad.
While we waited for an answer from USCIS, the guys scheduled face-to-face interviews with the U.S. Consulate in Guadalajara to obtain travel visas ($190us per musician. Fortunately, all three musicians received the necessary stamps in their passports, and the P-3 artists' visa came through as well, but didn't arrive until a week before we left.
Further complications ensued when Kimani went to Cuba the week before our scheduled departure and forgot to bring his Mexican passport, so Cuba wouldn't let him out and Mexico wouldn't let him back in. Arrangements were made and costs incurred to have a courier meet him at the airport in Havana with the passport, and he made it home the night before we left.
If you see a Mexican, two Cubans and an American woman in a car, who's driving?
The four-day journey from San Miguel to St. Paul was exhausting but fun, especially when the Cubans would find something new and delightful to love about the United States. In Texas they were pleased that everybody spoke Spanish and that Mexican food was readily available. In Oklahoma, we stopped at a self-serve ice cream bar where they sampled an endless variety of toppings.
In Kansas City, Jazzoneando was invited to perform at the Blue Room at the American Jazz Museum at 18th & Vine, and afterward we went out for the world's best barbecued brisket and ribs. In Iowa, we drove past several wind farms with gigantic, whirring turbines. And in Minnesota, the Latinos found themselves outnumbered by tall Scandinavians with blond hair and blue eyes.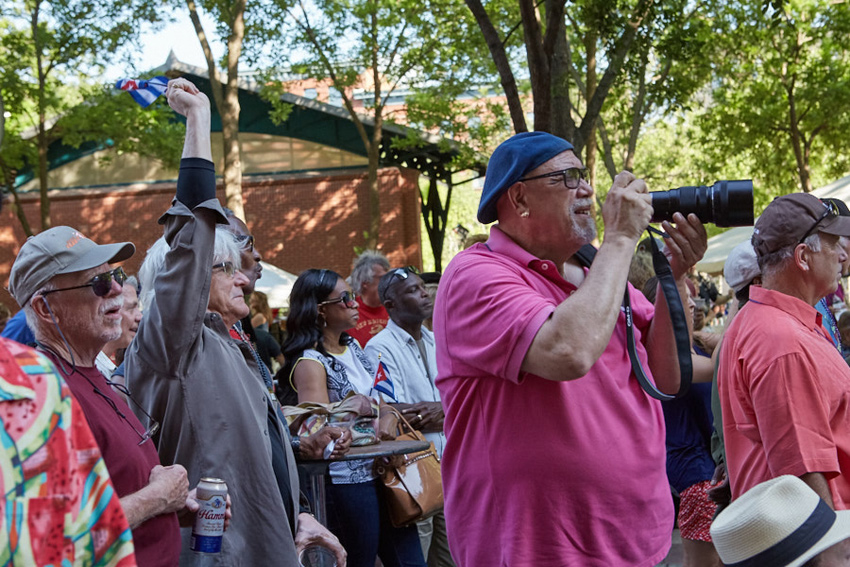 Two Cubans and a Mexican walk into a bar…
Back in April, I had booked Jazzoneando at the popular Minneapolis club called Icehouse, double-billed with Katia Cardenas. The venue said she would have to approve the arrangement, and we exchanged emails in which I introduced her to the musicians from San Miguel. After Katia listened to videos of Jazzoneando, she told Icehouse that we could take the stage at 10pm, following her CD release party. She also agreed to a 50/50 split of ticket revenues for the night, and both bands would sell their CDs.
When we arrived at Icehouse for an afternoon sound check, we found Katia scurrying from the stage, where her band members were setting up, to the balcony where she gave instructions to the sound engineer and staked out a spot for the videographer, to the merchandise table where her assistant was arranging CDs for sale, and back upstairs to the green room, where we finally had a chance to plan exactly how the night would go.
We figured most of the crowd that night would be Katia's fans, but a good number turned out for Jazzoneando, too, including a large table invited by singer/composer Lizbeth Lara, who lives and works in Minneapolis and is the daughter of San Miguel icon Benjamin Lara, the priorietor of El Quita Penas cantina.
Katia took the stage with her band first, and immediately gained the respect of the Jazzoneando trio. As world class musicians themselves, having trained at top academies in Havana and Mexico City, and having performed with the superstars of jazz and Latin music, Yamil and Kimani and Aarón are not easily impressed. But Katia's vocal talent and technique, as well as her energetic stage presence, are riveting. 
After she sang her initial set from the new CD, she brought Jazzoneando to the stage and introduced them, then hopped down to listen. Latin rhythms filled the room and soon everyone was dancing. Then the guys called Katia back to the stage for an impromptu collaboration that brought down the house.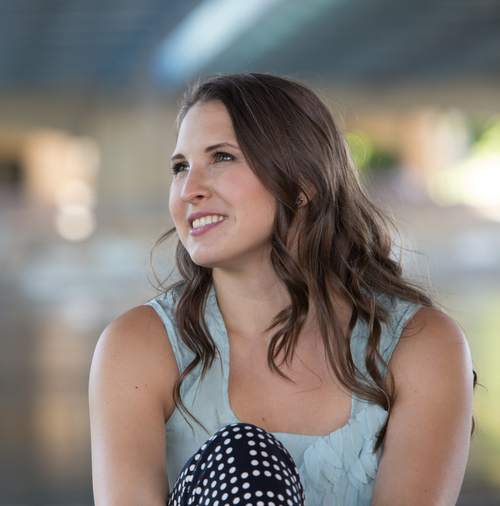 One tour leads to another across borders
Following their debut at Icehouse, Jazzoneando performed at the Twin Cities Jazz Festival in St. Paul, and at various venues throughout the Twin Cities area, visited radio stations for in-studio interviews, and conducted master classes at Jazz Central Studios, a center for jazz education and performance. 
In the midst of all the activity, Jazzoneando invited Katia to sing with them at an International Day of Music event at Groth Music Company, one of the sponsors of the tour, and Katia invited Jazzoneando to the stage during her gig at Vieux Carré, a club in St. Paul. The fit between Katia's voice and Jazzoneando's music, and the expertie of all four musicians at both Latin rhythms and American standards, left no doubt that a reunion tour would be in their future.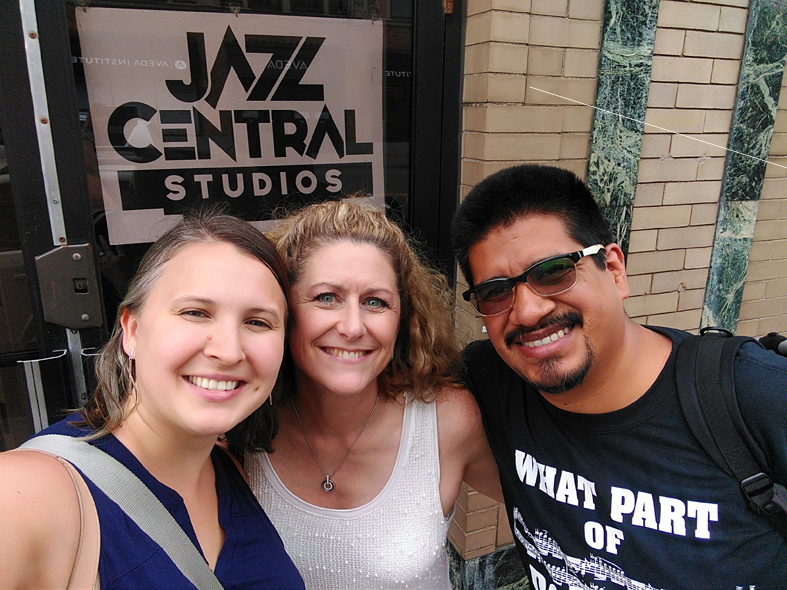 Two years in the making, the first international tour of Minnesota's Katia Cardenas and Mexico's Jazzoneando will be remarkable not only as a multicultural musical offering, but also as an example of how bridges are built upon kindness, generosity, mutual respect, the universal language of music, and the desire to create harmony and community as if there were no borders at all. 
The Katia Cardenas "Tour del Bajío" begins in November 2018 with appearances in Guanajuato, Querétaro, and San Miguel de Allende, and continues in January 2019 with appearances in Mexico City and León. Programs will include American jazz and blues standards, Latin jazz and boleros, pop tunes, and a few surprises, featuring original compositions and arrangements by Katia Cardenas and Yamil Vázquez. Katia also will perform with The Elements, a San Miguel rhythm and blues band (Aarón Romo, bass and vocals; Rick Shlosser, drums; Pato Peña, keyboards; Federico Azúz, guitar).
*****
About Katia Cardenas


Born and raised in the Pacific Northwest, Katia Cardenas grew up in a musical family. Her mother, Janis Kelly, is an accomplished vocalist, who sang with Maurice White and the Emotions, and opened for Rufus & Chaka Khan, Tower of Power and Carole King. Her father, Mark Cardenas, is a professional keyboardist, and a Platinum and Gold recording artist, whose credits include Prince, Morris Day and the Time, Janet Jackson, and The Song Catchers (featuring Charles Neville).
Katia's vocal music career began in 2013, when she recorded a demo with her father and landed gigs with bands in Minneapolis, Seattle, and Boulder, CO. The very next year, Katia performed at the world-renowned Dakota Jazz Club in Minneapolis. She developed tribute shows honoring her idols, Ella Fitzgerald and Carole King, and in 2015 recorded her first solo CD, "I'll Be Seeing You": https://itunes.apple.com/us/album/ill-be-seeing-you/id1124585867
Katia is a gifted vocalist with a passion for bringing energy and soul to her performance. She brings emotional authenticity to every song, and strives to bring people together through the universal experience of music. She is currently performing solo shows in the U.S. with top jazz and r&b instrumentalists and with Casablanca Orchestra, a nationally renowned touring show band. The November 2018 "Tour del Bajío" with Jazzoneando is her first international concert series, with performances in Guanajuato Capital, Querétaro, and San Miguel de Allende. The tour continues in January 2019 with appearances in Mexico City and León.
For more information, visit www.KatiaCardenas.com. http://www.katiacardenas.com
*****
Katia Cardenas + Jazzoneando "Tour del Bajío" is sponsored by:
Zoom-A-Lo Moving & Storage
Lavinia's Framing
MoveToMexico.org
*****
November concert schedule (more dates and cities may be added)

Sunday, Nov. 4, 1:00 p.m. - Casa Museo Gene Byron, Guanajuato
https://www.facebook.com/events/439902653168519
Friday, Nov. 9, 9:00 p.m. - Mi Delirio Café, Querétaro
https://www.facebook.com/events/307885563305672/
Saturday, Nov. 10, 7:30 p.m. - Teatro Ángela Peralta, San Miguel de Allende - with Jazzoneando and special guests
https://www.facebook.com/events/1145738412247808/
Sunday, Nov. 11, 3:00 p.m. - El Coyote Flaco, San Miguel de Allende - with The Elements
https://www.facebook.com/events/584797508603967/
January 2019 concert schedule to be announced. 
Tickets available at each venue.
To use PayPal or for group ticket orders, email annenicolai@earthlink.net.
*****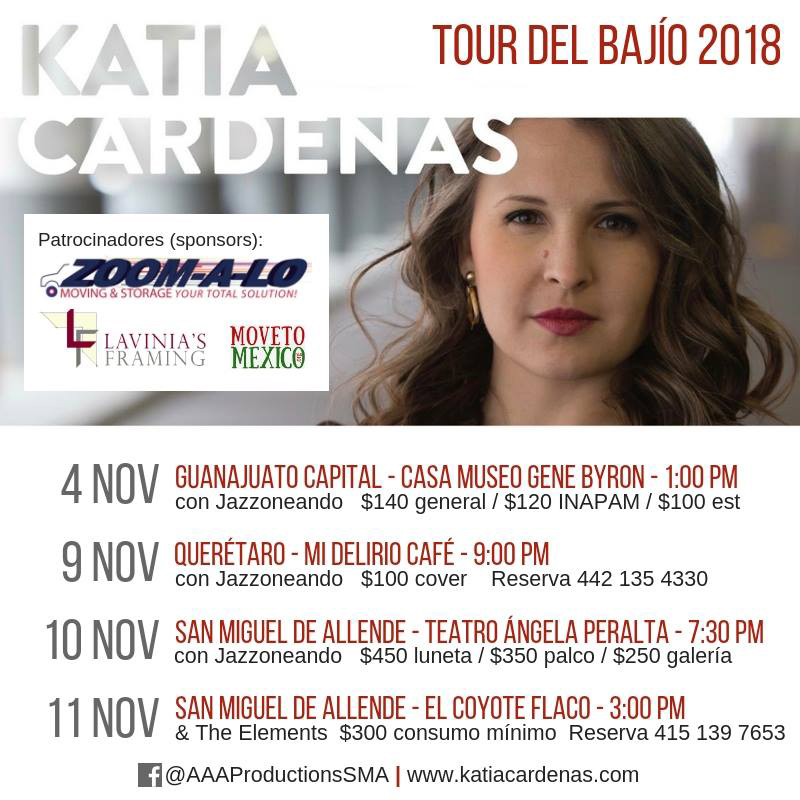 *****

For more information, visit:
http://www.katiacardenas.com
www.jazzoneando.wordpress.com, or
@AAAProductionsSMA
https://www.facebook.com/AAAproductionsSMA/

**************
Anne Nicolai, AAA Productions SMA
You must register and log in to write a comment.
Please use the "login" link at the top (right) of the page.