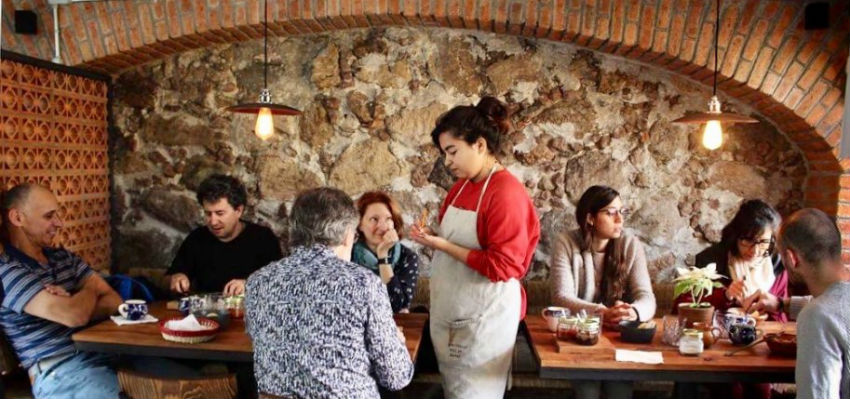 It's not exactly my kind of place. It's more of a tight fit black jeans than a baggy-ass blue jeans kind of place. It's more a linger over a second cup of coffee than a third bottle of beer kind of place. It's a breakfast or lunch not a dinner kind of place. It's a funkier, younger crowd than most place. If you're into those kind of things, it can be a healthy, vegetarian and gluten-free place.

It's a books on table rather than a three big screen TVs on the wall place. It's an oatmeal place but it's also a bacon place. And I do enjoy being there. It has a certain creative charm. A good vibe. And it would be very difficult to not like the delightful couple who run it.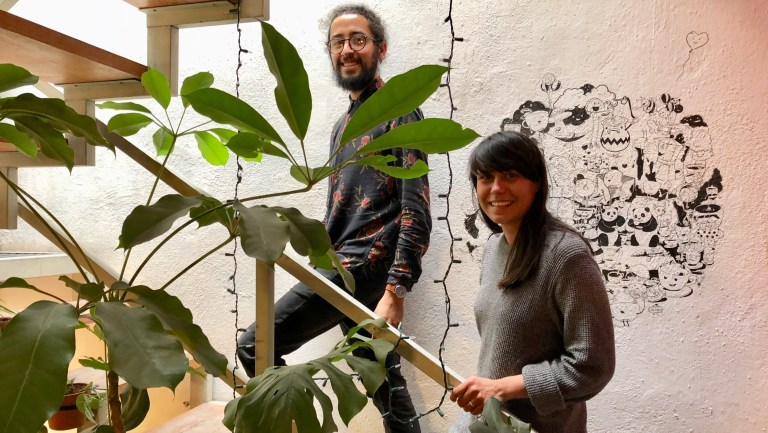 The couple are Teu Campbell and David Barajas Ramirez. She's a Kiwi. He's a born and raised San Miguelense. They're newlyweds. And it shows. They communicate in coos and grins. They haven't even been able to fit in a honeymoon yet with everything that's going on in their business.
The business is called Inside Cafe. Its star attraction is a cup of java. Teu and David confidently call it "the best coffee in town" as I think at least eight other establishments do. It certainly is one of the better cups in town.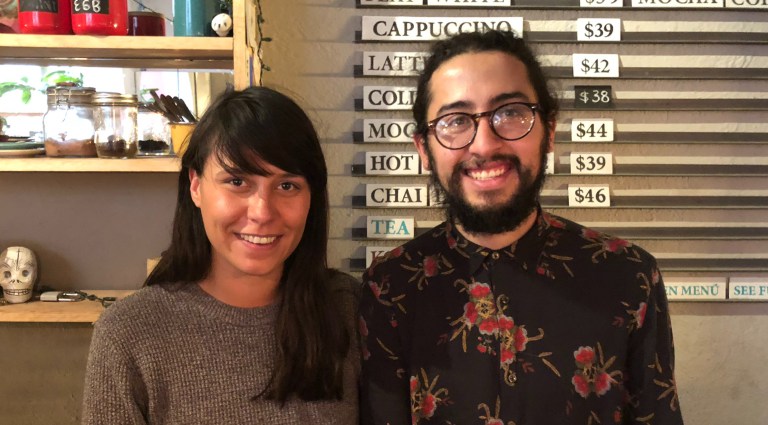 "We learned to make coffee in New Zealand and brought back what we learned here", David told me. And no, they're not importing their beans from down under. "They come from Guerrero", added David.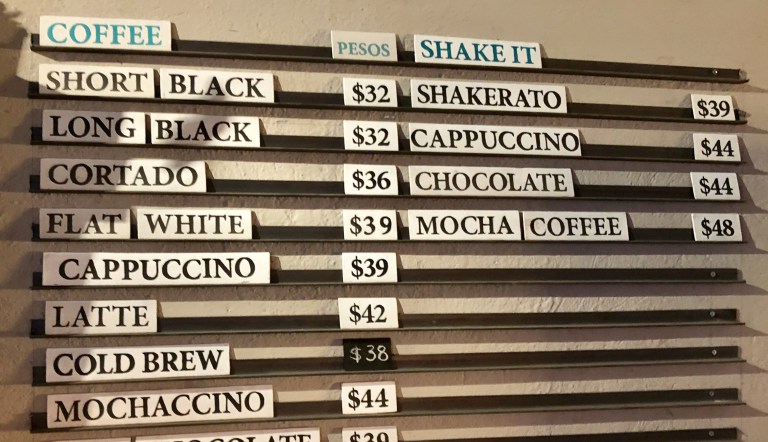 The "learned" is more about the different styles of preparation. There's a short black, a long black, a cortado, flat white, cappuccino, latte, cold brew and mochaccino. I wasn't even sure what each coffee was but I enjoyed Teu's enthusiastic explanations.
Pastries are a big part of Inside Cafe's breakfast business with bagels and croissants front and center.

"We source from three different bakeries in town in order to have the best of everything", David told me. I recognized Buonforno's almond croissant in one of the cases. It may not just be the best in San Miguel; it may be the best in the entire world.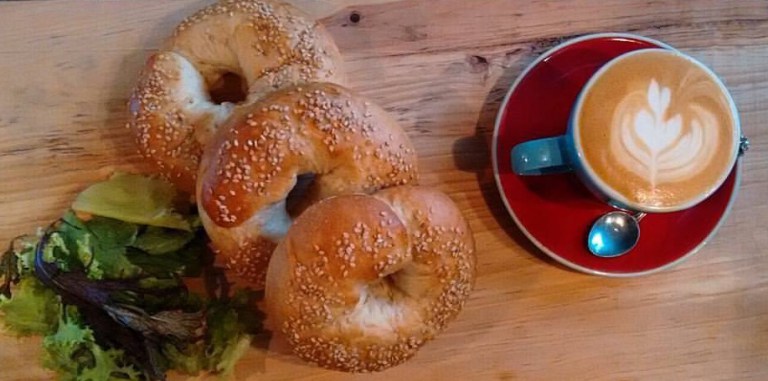 You can order a simple bagel with toppings such as honey, jam, cream cheese or nutella or you can fancy it up by ordering something like "the cheesy" that includes sundried tomatoes, a selection of local quesos, leafy salad greens and a balsamic dressing.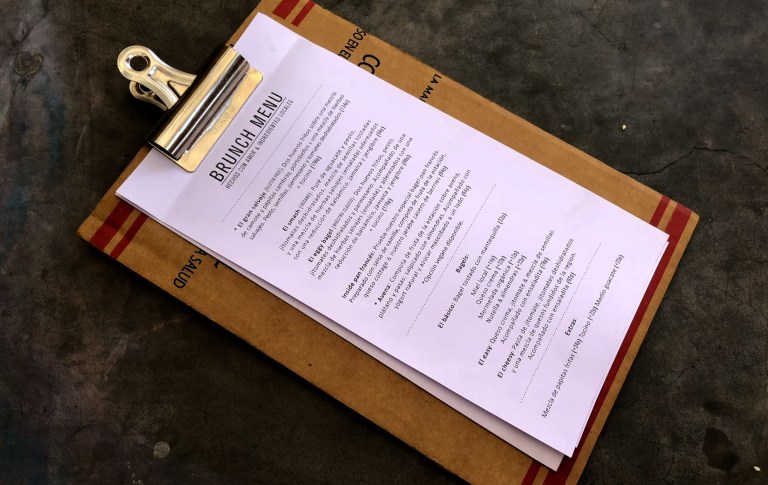 There are five hot dishes on the brunch menu. My favorite choice and a lot of other's favorite as well, judging by the plates that the very pleasant server with the wide smile, Natalia, kept passing by with, is "the big wild".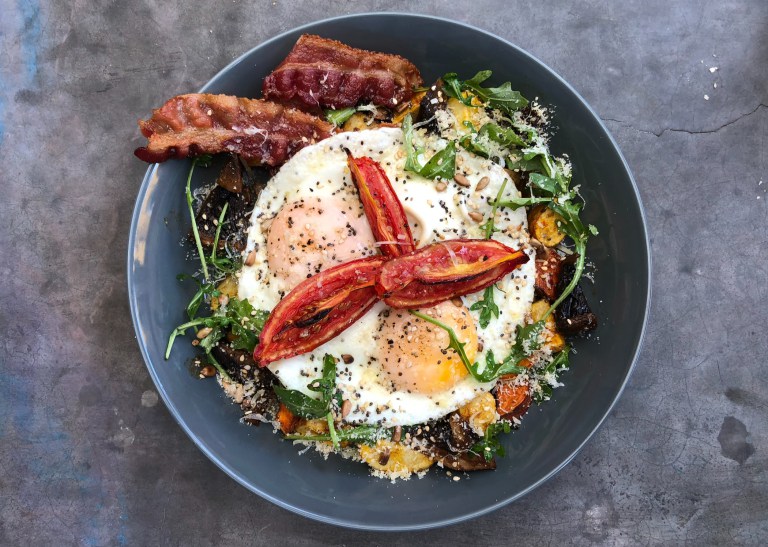 On a bed of fried sweet and baby potatoes plus portabellos come two fried eggs and salad greens plus a topping of shaved parmesan, seeds, pesto, grilled tomatoes and, for a few pesos more, a couple of strips of crispy bacon. I'm not a huge fan of most breakfast fare; I am a huge fan of "the big wild".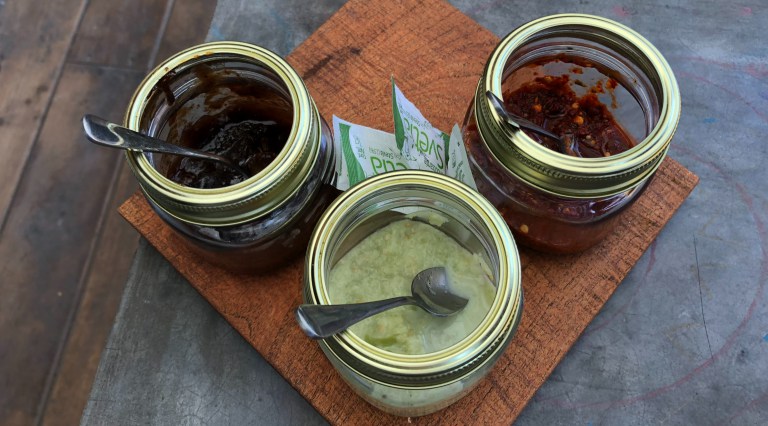 Before your order arrives, bread and butter and three mason jars appear at the table. I cannot resist sampling all of them. There's a tamarind chipotle jam, a very hot and fruity puya chile sauce, and a green olive sauce. Decisions, decisions, decisions.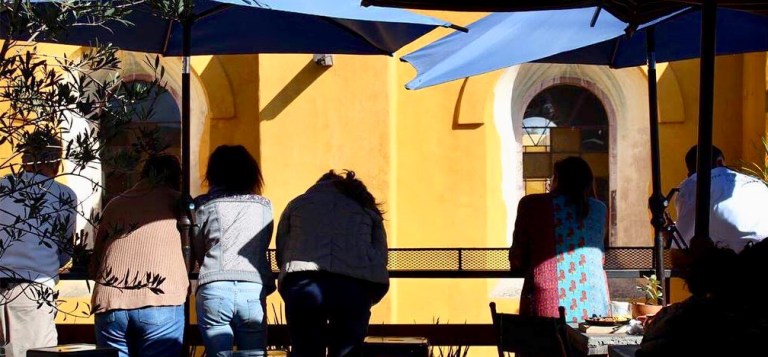 Inside Cafe is a work in progress with a lot of the additions suggesting Outside Cafe may be a more appropriate name. There's already an excellent third floor patio with a view of the church and library across Calle Insurgentes.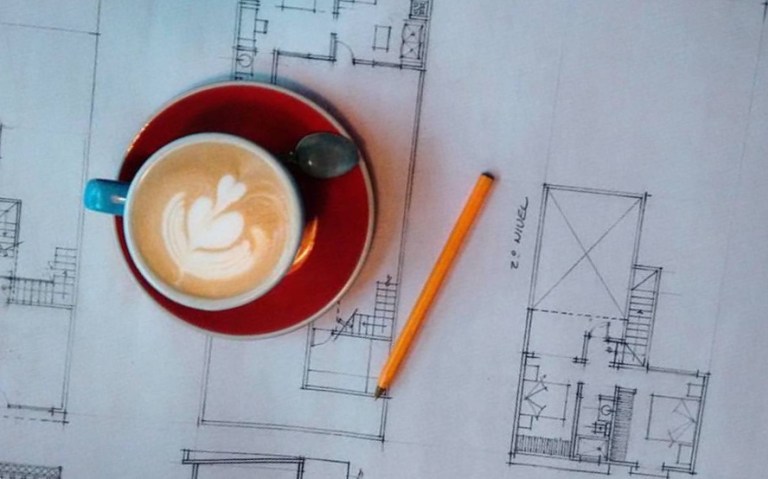 A terraza on the fourth floor and a stage on the second are coming soon.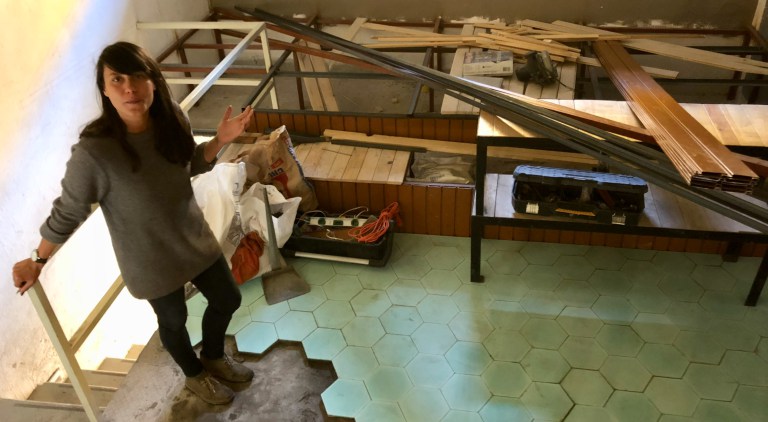 "We are planning an open mic on Thursday evenings", said Teu Campbell as she checked out the new tile installation in front of the stage. "We want to attract not just musicians but spoken word, stand-up, you name it."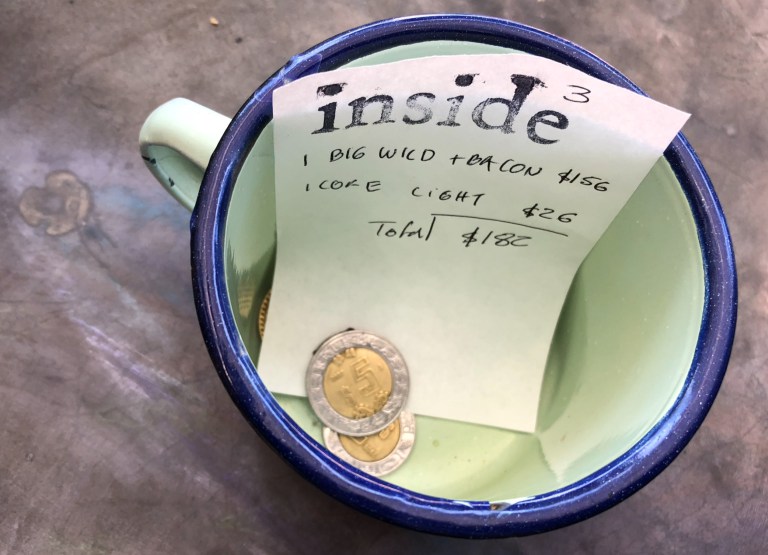 I'm not sure I'm going to make the Inside Cafe a destination on its own but I do know I like it after shopping at Bonanza or the Ignacio Ramirez market or checking out a book at the Biblioteca. I expect you'll like it too.

Inside Cafe is located upstairs from La Herradura at Insurgentes 66 in San Miguel de Allende, Mexico. They are open from Wednesday to Saturday from 9:00 am to 4:00 pm. Sunday from 10:00 am to 3:00 pm (Closed Tuesday).
**************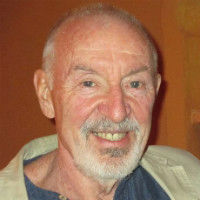 Glenn Griffin writes about food and wine in San Miguel under the pseudonym Don Day. You'll find his blog at www.dondayinsma.com
You must register and log in to write a comment.
Please use the "login" link at the top (right) of the page.