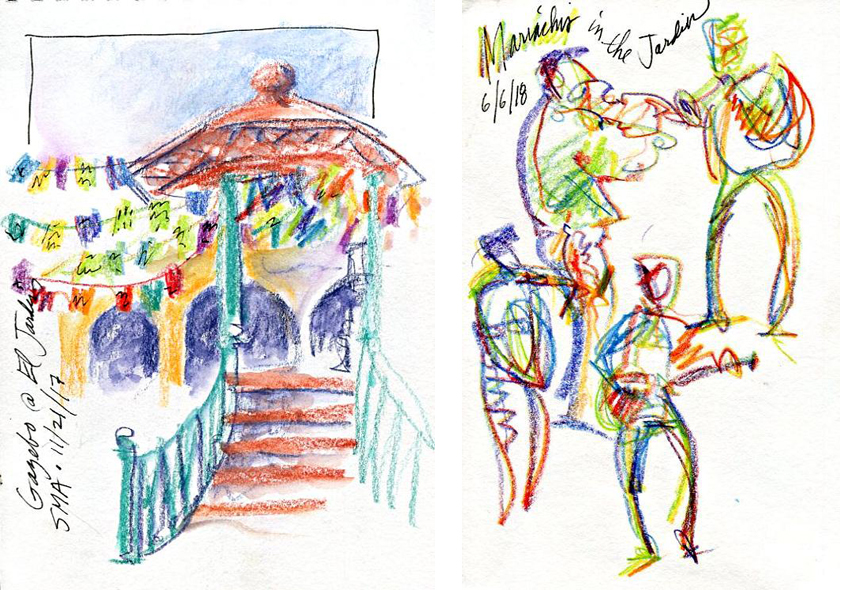 As a kid growing up in Chicago in the '40 and '50, I always loved to draw. My parents encouraged me, and took me to the famous Art Institute of Chicago for Saturday classes. I also spent many hours drawing and painting stuffed animals at the Field Museum of Natural History. When MAD Magazine made it's first appearance I was eleven years old and I was immediately fascinated by the work of the talented cartoonists who contributed to the movie parodies and other irreverent potshots at current celebrities and events. I thought how cool if would be to become a professional artist, maybe the first girl to work at MAD magazine. But on my first day of High School, when I announced that I wanted to be an artist, my adviser, as she waved my high test scores in my face, yelled that I was "too smart to be an artist" and I took it to heart.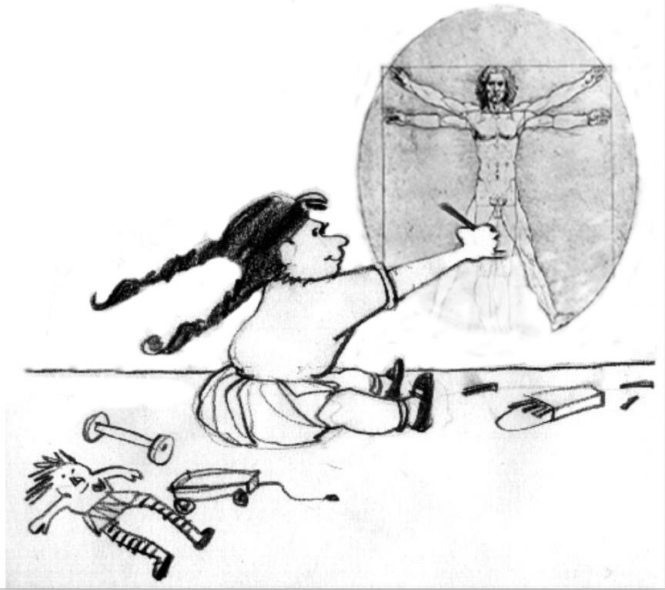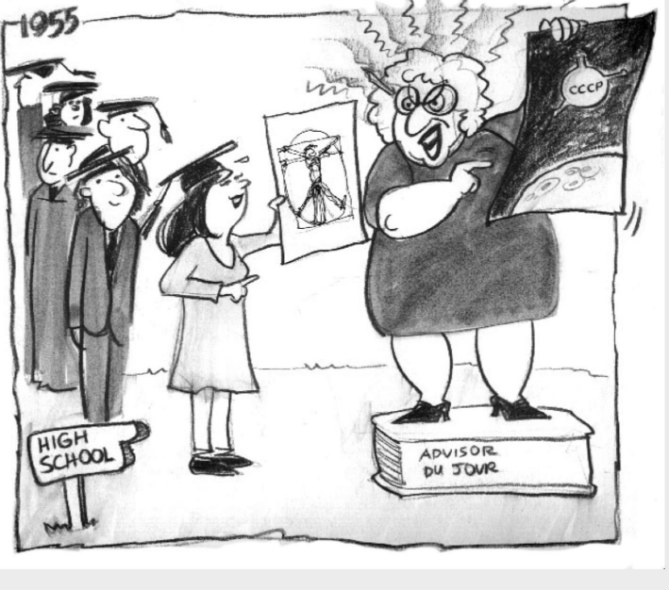 Fifteen years later I discovered I wasn't that smart. So I went back to my first love, drawing. I started taking classes at community colleges and quickly developed skills that had been on the back burner for so long. I took my drawings and prints to art festivals and street fairs without selling much. Then, I noticed a fellow drawing people for cash, and I thought, "I can do that."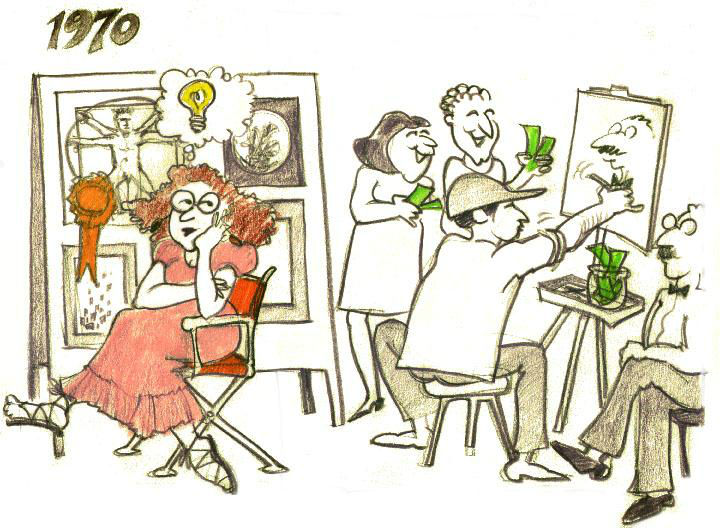 During my 45-year career as a professional caricature artist drawing humorous faces at events, I developed a rapid-fire style for capturing a colored pencil likeness in about 3 minutes. About 6 years ago I began to apply my fast-and-loose technique to travel sketching, as I toured Europe and India. Back home in the San Francisco Bay area, I taught workshops in "Sketching Fast & Loose." These classes led to sketching excursions down the coast to Carmel-by-the-Sea and Hearst Castle. Santa Fe New Mexico was as far away as I got, until 2016. That's when I brought students from California down here to San Miguel to sketch the colonial architecture and the spectacles surrounding Day of the Dead. This year I became a full-time resident of SMA, and I'm offering my third annual Dia de los Muertes sketching adventure. Here are some of the sketches created along the way.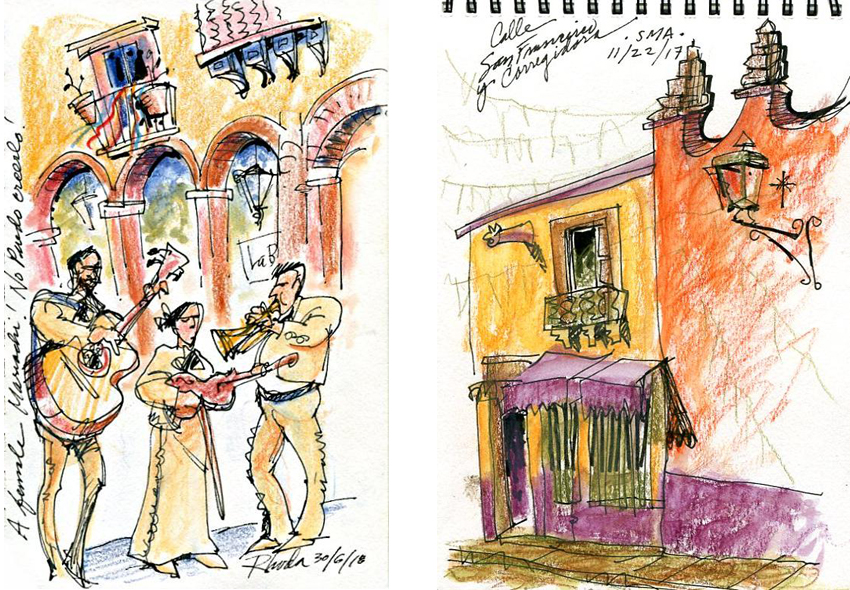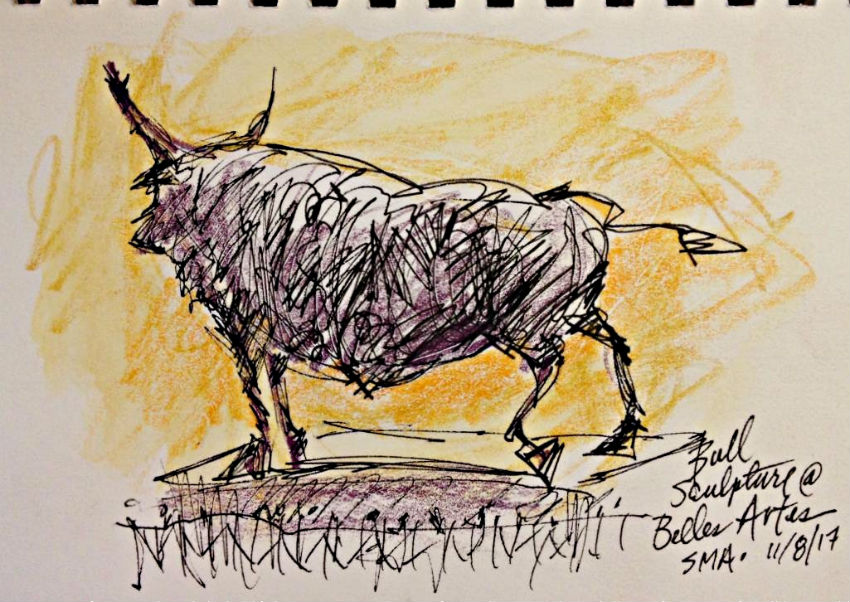 The "Fast & Loose" method is designed to capture the essence of a subject without getting caught up in minor details. I use a few basic art supplies: A mixed-media quality sketchbook, two ink pens, thin line and a flexible Brush tip, a half dozen aquarelle (water-soluble) colored pencils and a water brush to liquify the pencil pigment. Many traditional watercolor effects can be created with these "low maintenance" materials. I provide my students with a transparent vinyl pouch for supplies, designed to hang around the neck, allowing for hands-free sketching. One of my students called it the "Rhoda Bag" and that name stuck.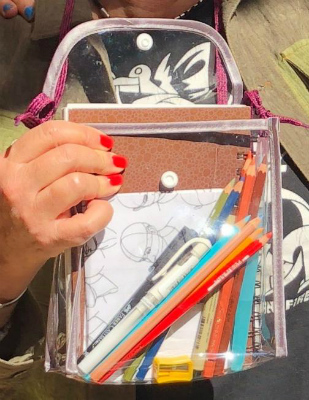 I encourage my students to avoid precision and accuracy, but to embrace the accidental, approximate and "close enough" mindset. We practice filling in shapes, rather than outlining edges. I provide frequent demonstrations, such as continuous single-stroke drawing, where you don't take your pen/pencil off the paper, and "blind" sketching, where you don't look down at your paper. Blind strokes are great for practicing eye-hand coordination. I love working with beginners and folks who think they can't draw. It's astonishing how quickly they "get it," because they come to me without the bad habits and attitudes they might have picked up in Art School.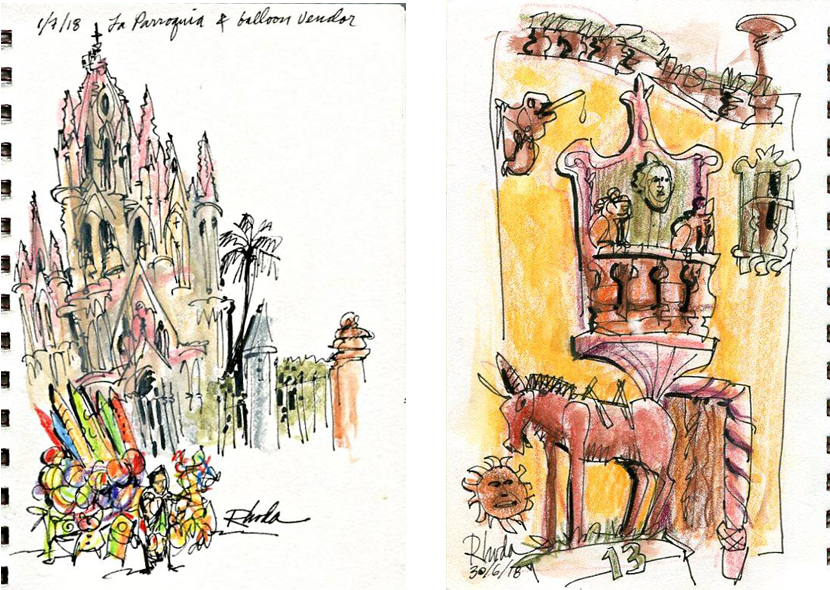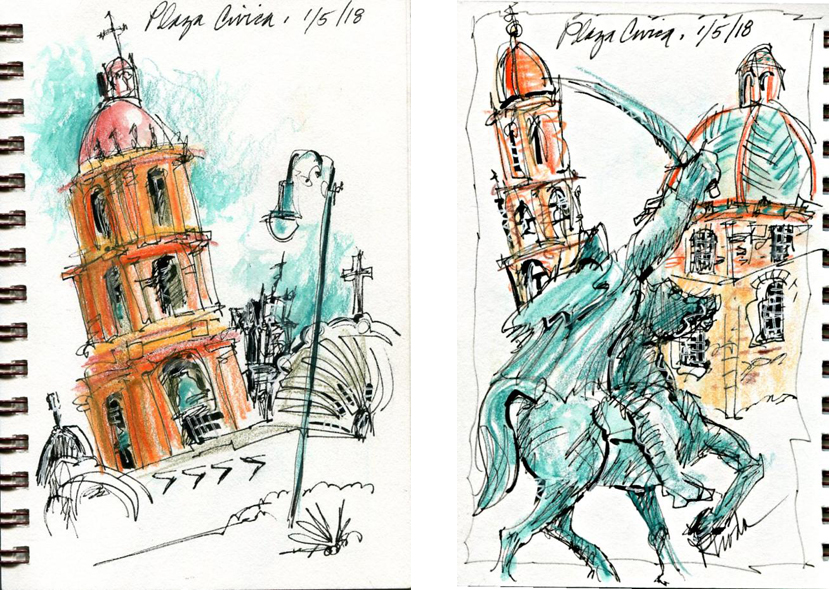 Sketching Fast & Loose works best with bold strokes and a fearless, confident approach. I remind students who might be timid at first that it's "only paper." Most of the folks who sign up for my workshops are already risk-takers. The ex-pats packed or sold everything and came down to San Miguel, trading familiar places, customs and language for a challenging and exciting new life. Even the "snow birds" have considerable courage to live in a foreign country part-time. After all that, making a few marks on a sketch book without looking down shouldn't be too scary.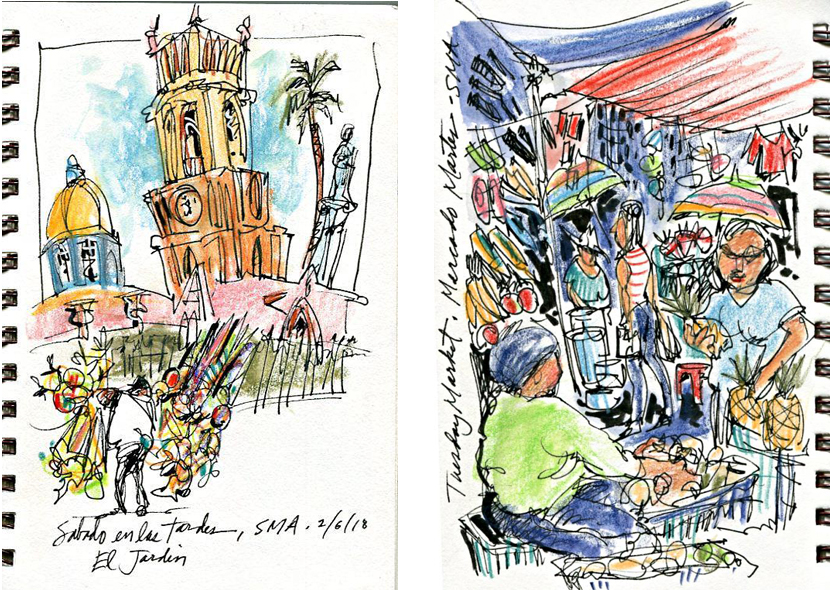 It was risky to bring eight students with me for my first visit to SMA. That week taught me a lot about how to do things better the following year. In 2017, I added a couple of workshops for locals, and spent the entire month of November getting acquainted with this amazing town. I kept meeting more artists and risk-takers, mostly women around my age. I began to feel that I belonged here. Until then, I believed I was too old to make a leap into a new country. But I told myself what I tell students who are making blind strokes on their sketchbook: just don't look down.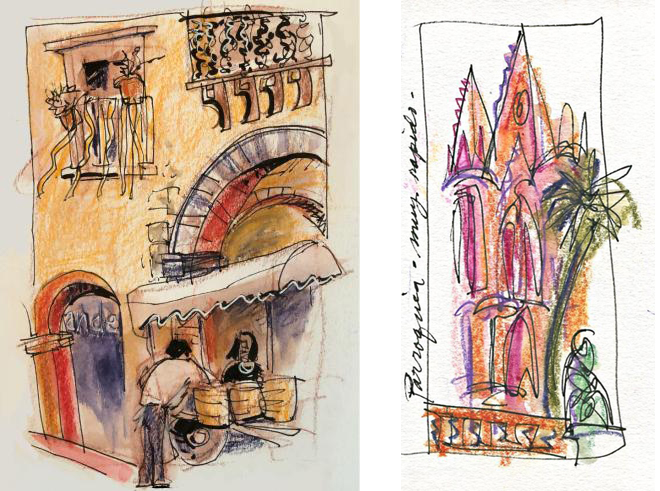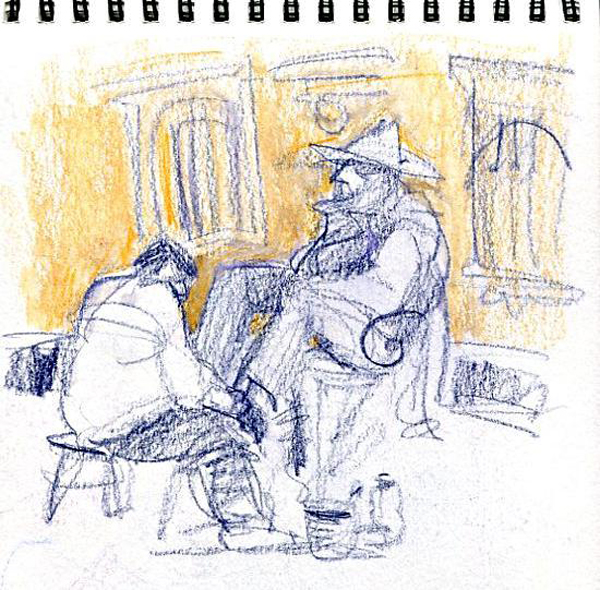 **************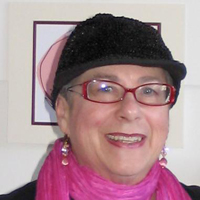 Rhoda Draws (that's her legal name since 2009) is an active member of the Urban Sketchers movement, which has a vibrant San Miguel chapter.
*****
Rhoda Draws teaches Sketching Fast & Loose classes in San Miguel and other locations. Rhoda offers a series of three classes most every week from 9:30am to 12:30 devoted to sketching THINGS (Thursdays), PLACES (Fridays) and PEOPLE (Saturdays). Take all three sessions for a well-rounded introduction to Sketching Fast & Loose. The special 5-day workshop during Dia de Los Muertes covers the same basic techniques, but there will be lots more choices for interesting venues, events and people in costume.
For more information, contact: rhodadraws@gmail.com, or visit her website: www.rhodadraws.com.
You must register and log in to write a comment.
Please use the "login" link at the top (right) of the page.