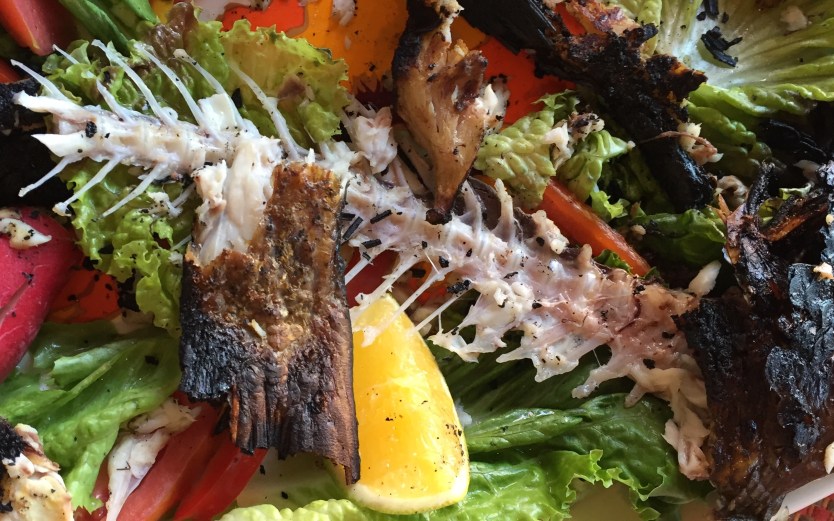 by Glenn Griffin
Oh, I do like to be beside the seaside.
Oh, I do like to be beside the sea.
And when I want to be beside the seaside
Mario's is the place I want to be.
I was in Puerto Vallarta when I first learned the Spanish word huachinango. I couldn't stop saying it. Almost singing it. Waaaacheeeenaaaango. Waaaacheeeenaaaango. Nevermore would I ever ask for red snapper in Mexico.
No matter whether you use its English name or Spanish name, you don't get much practice doing it in San Miguel de Allende. For fresh seafood isn't an easy find in a town a few hundred miles from an ocean. That is except for one place. One very good place. Mario's Mariscos Frescos.
I ran into the always effervescent Mario Cabrales at the Tuesday market last week.
"Mario", I asked, "will you bring in a nice big fish and grill it whole for us."
"Of course", said Mario, "just name the day. I need five days notice to bring one in from the coast."
This week, eight of us got together for two big huachinangos at Mario's.
Red snapper is one of the best tasting fish you can buy in Mexico. And the best way to cook it is to grill the whole fish with some very simple seasoning over charcoal, letting the taste of the flesh speak for itself.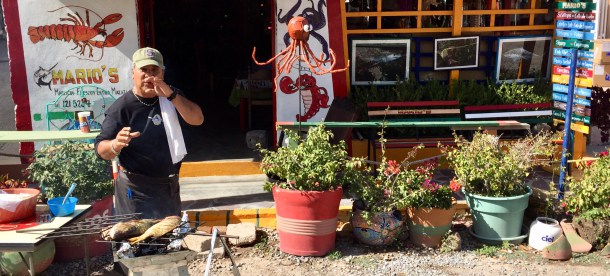 Taste isn't the only reason for using the whole fish rather than filets. With un pez entero, you can see exactly what you're getting and be much more confident that you're really eating what you paid for. It's a particular problem purchasing snapper. A few years ago, a study at the University of North Carolina found that 17 of the 22 red snapper they bought turned out to be something else.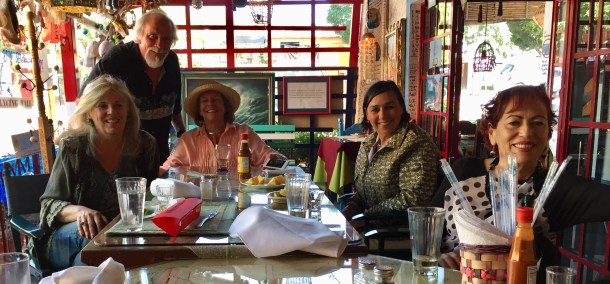 I told the other seafood lovers that I had asked Chef Mario to "feed us", meaning we were going to be dining on a number of delightful denizens of the deep. They all smiled. I think they liked the idea.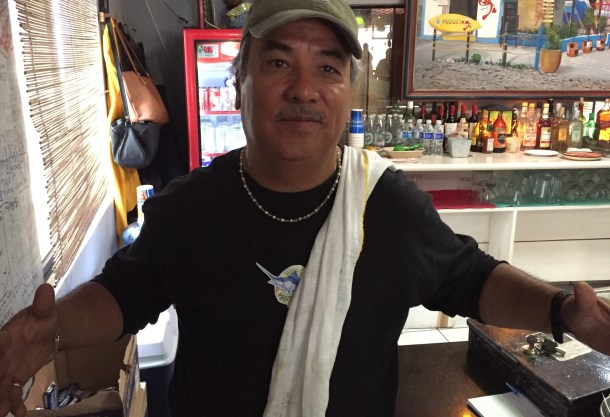 After the obligatory hug from San Miguel's host with the most, signature towel of course in place over his left shoulder, we started the seafood feast with bowls of smoked marlin mixed with tomatoes, onions and cilantro. Every time I eat marlin, I ask myself why isn't this fish so much more popular?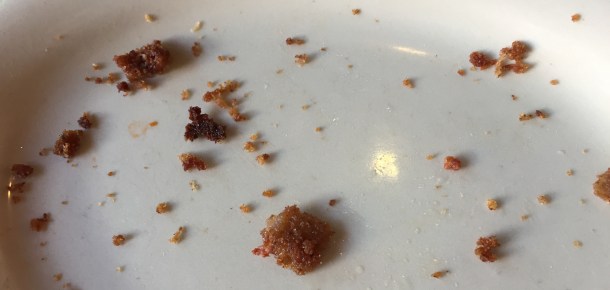 Next up was atun con chicharrons, tuna imaginatively coated in crispy pork rinds, with creamy, homemade tartar sauce on the side. I was recently surprised to discover that tuna was the number two harvested fish in Mexico (after sardines, which also surprised me). I'm glad there's lots out there in the Pacific because it disappeared off the plate.
Third on the menu were oysters and a type of oyster that even a ripe old foodie like me had never had before in his life. Ostiones de piedra Mario called them which translates as rock oysters.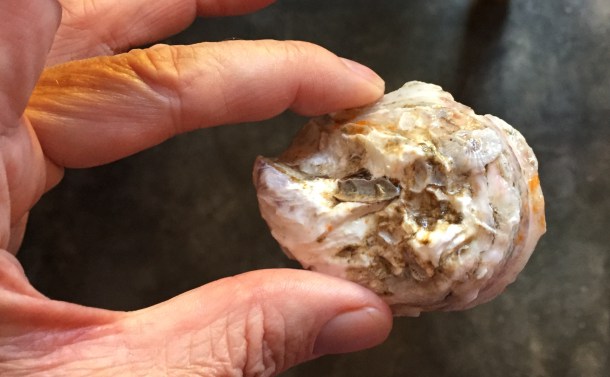 They were whiter on the outside, rounder on the inside, with a remarkable amount of meat for their size. As Mario does with almost everything he serves, he confidently dressed the oysters with lime and hot sauce before they emerged from the kitchen. I congratulated him on serving a type of oyster that had never swam in my direction before.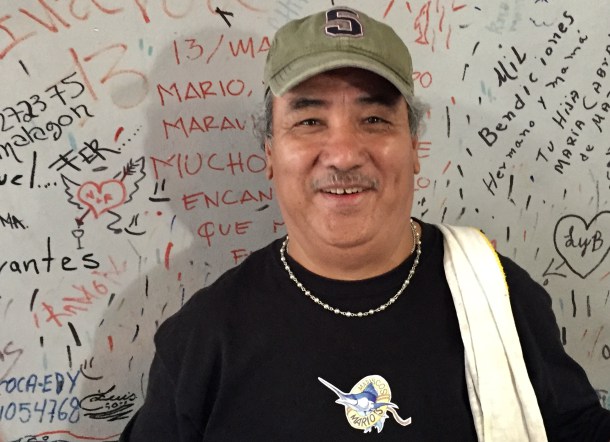 "And if you don't come back to Mario's, you'll probably never have them again", said Mario.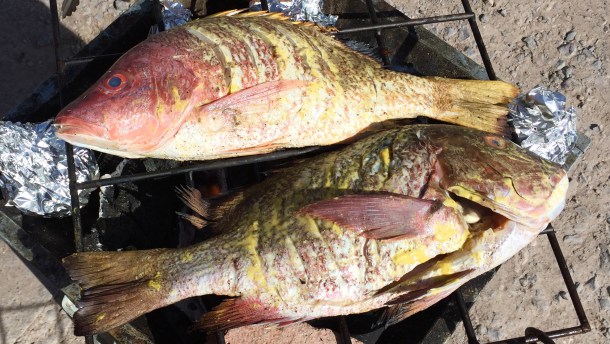 Next on the line-up was the star of the show, those two huachinangos or red snapper. One weighed in at about four pounds, the other about three. Both were covered with sea salt, grated peppercorns, mustard (which explained that mysterious yellow color) and "the tiniest bit of garlic" Mario told us. The first mouthful reconfirmed that, yes, red snapper is one of the world's best tasting fish.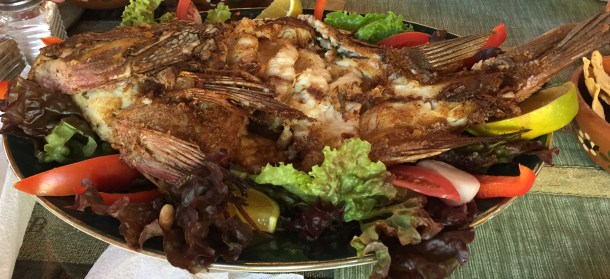 When I ran into Mario Cabrales at the market, he reminded me that it was langosta season again. And that yes, they're back in Mario's kitchen.
I must admit that I'm a snob when it comes to lobsters. I grew up on Northern clawed lobsters and was taught to poopoo their clawless Southern cousins.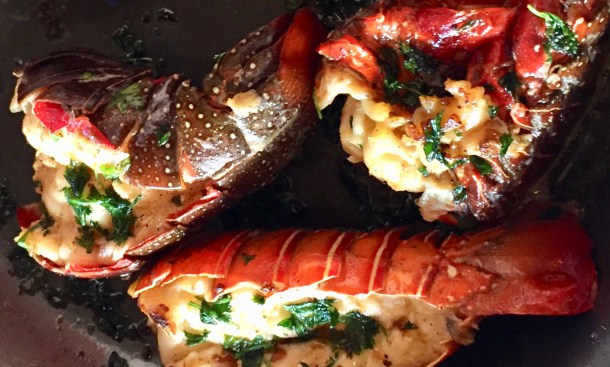 That's probably why it had been a few years since I had a tail from one of those clawless rock or spiny lobsters and (skip over the rest of this paragraph, fellow Canadians), I must admit, I thought the meat was even sweeter, even better, than my last Northern tail.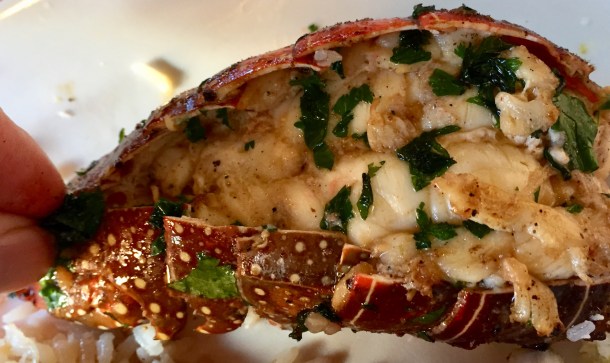 Mario kept up his philosophy of letting the meat do its own talking with the lobster tail, bathing it in a simple butter sauce with "cilantro from my own garden" and serving it without any sides.
With seafood this good, I couldn't help doing my rock lobster impression (you'll have to imagine me using my forefingers as antenna).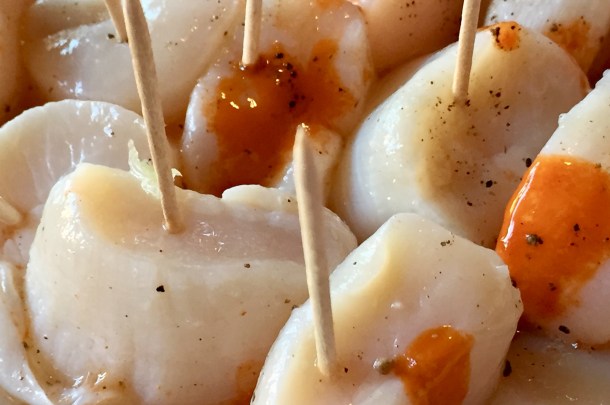 We weren't finished yet. There was still dessert. Something I ask for every time I go to Mario's. Something I would rather eat raw than salmon or shrimp. The other raw S word. Scallops.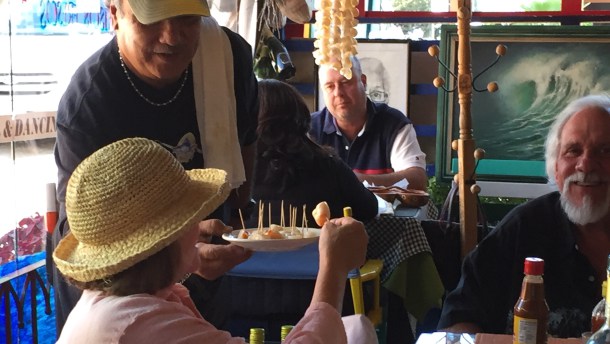 Mario serves them very simply. With just a toothpick, swimming on a plate of briny water with a light grind of pepper and just a dot of Tabasco. I was tempted to add a drop more of hot sauce. I didn't. I'm glad.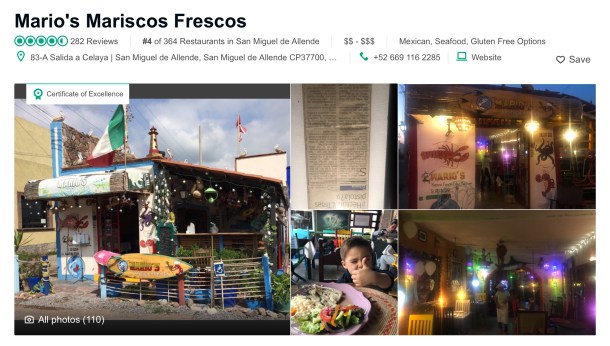 Now you may remember that, back in the headline, I called Mario's a top three restaurant in San Miguel. 3rd out of 326, actually. But it wasn't me who gave him that rating. It was other people, a lot of other people on Trip Advisor. And that's despite Mario's being more than a hoot and holler from tourist central. Despite it having a very specialized menu. Despite the lack of tuxedo-clad waiters, Reidel glasses and glittering chandeliers. Despite the fact that until a few days ago there was something very lacking.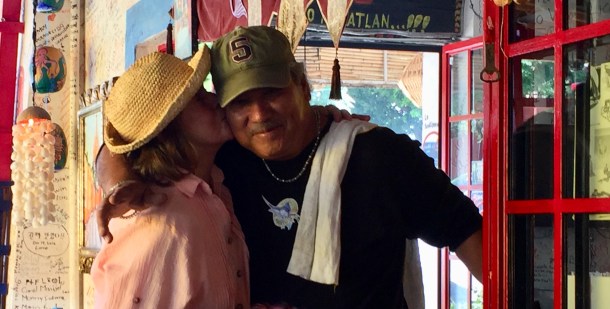 I don't know if it was his announcement that "finally, after three years here, I have that precious liquor licence" or his usual charm but there had to be one more hug and kiss for Mario before he finally took that towel off his shoulder and headed out to the street To use it to wave us down a cab. Such a complete host, I thought, such a complete seafood lunch.
Mario's Mariscos Frescos is located at Salida a Celaya #83A in San Miguel de Allende, Mexico. It is recommended that you have at least four people and you give at least five days notice to Mario if you would like him to have a large red snapper or robalo (sea bass) shipped in. You can reach him at 52 669 116 2285.
**************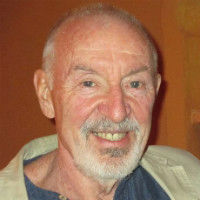 Glenn Griffin writes about food and wine in San Miguel under the pseudonym Don Day. You'll find his blog at www.dondayinsma.com
You must register and log in to write a comment.
Please use the "login" link at the top (right) of the page.