by Michael Dorfman
It was the summer of 85 in Miami Beach. My wife Delia and I were in the back yard, enjoying the view overlooking calm Biscayne Bay. All of a sudden Adán, our 8 year old son, burst through the screen door, screaming Mom!, Dad!, Come!. Our 14 year old, Renato, had just fallen through the shower door in the bathroom and the razor sharp glass edges cut deeply into both legs, severing his sciatic nerve, and resulting in the loss of a lot of blood (2 quarts). Fortunately, the paramedics in South Florida, among the best in the country, arrived in a few minutes and immediately administered serum. He had no pulse upon arrival at the hospital and entered surgery. 11 hours and 200 stitches later he was out of surgery... and alive.
My wife Delia, Renato and our other son Adán, had been living in South Florida for eight years after residing the previous seven in Mexico City. This accident, together with my father passing away in January of the same year, gave us enough reason to believe that it was a time for change. Renato kept saying, "Let's go back to Mexico". But, where to go? Carl, an old friend of ours from Mexico, came to visit and convinced my wife and me to give newly-created Cancún a try, which we did.
CANCUN
In 1986 Cancún was a special place. It was young, vibrant and alive and open to anyone with adventure in their heart. It was located on one of the most beautiful beaches in the world, with crystal clear turquoise waters, the Mexican Caribbean. It was also smack dab in the middle of the Mayan culture with its pre-hispanic history. The population was 146,000, and I remember how friendly the people were. The local supermarket was small and I would always meet people I knew there. There were no traffic lights and the local newspaper had only 8 pages. On the downside you could never count on water or electricity 24/7 but, on the upside, there were always wonderful and hidden beaches to discover and explore down the coast. Our family fell in love with Cancun. I was in my forties then and Cancún was the perfect place for middle agers. That's why we spent the next 29 years there. Because of the attractions and the fact that it was a neighbor of the U.S., I remember, that for the next several years, with population increases of more than 24% annually, due to an explosive local birthrate and the influx of Mexican and foreign migrants to serve the tourists, it ranked as the fastest growing city in the world. Cancún's streets were paved with gold. At least, that was it's image. Everything was just right, until the arrival of Hurricane Gilbert
Hurricane Gilbert
History told us that the last hurricane to hit Cancún was way back in the 50s. At the very last moment they all seemed to veer off into the Yucatan Canal and into the Gulf of Mexico. So, nobody took the warnings very seriously. After all, Cancun was "immune" to hurricanes. However, here it was, September 13, 1988 and the most powerful Atlantic hurricane ever was heading towards us. In Vegas, the odds of a direct hit went from 20:1 to 2:1. Coincidently, my brother Arthur and his wife Ingrid were on vacation at the Fiesta Americana which was right on the beach. With the projected hit now a few hours away, I called him and pleaded that they come to our home. He refused, saying that the hotel manager assured the guests that there was nothing to worry about and that a hurricane party was being planned. I became more anxious and worried as the news on the radio confirmed the strike, first over Isla Mujeres and then Cancun, with winds over 200 mph. I called my brother again. His tone had changed. The entire hotel zone was to be evacuated and all guests would be sent to the armories. "Forget that!" I replied. "You don't want that experience. I'm coming to get you!". So, I drove out to the hotel zone from our home in downtown Cancun with the now tropical storm winds in full bloom. Since we had boarded up the day before we were ready for the inevitable impact. Here we were, my wife, our 2 sons, my brother-in-law, Ariel and my brother and his wife, all together in our small 2 bedroom casita ready to spend a few days together. I remember how scared Renato, at the age of 15, was. We had to assure him that everything would be ok.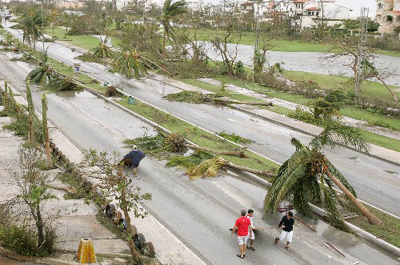 Gilbert's roar was deafening, like a freight train passing through the house. Through little cracks in the wood we could see all kinds of things flying around: parts of trees, garbage cans, loose roofing. We were definitely glad to be inside. Then, to our surprise, it was over so quickly. The roar turned to silence. The sun appeared. We went out to experience the calmness and the strange pink colored otherworldly sky. It felt like the munchkins would appear at any moment. Then, all of a sudden, I thought, "Uh oh, something is not right" Things started flying around again. We had just experienced the eye and it was starting all over again, in reverse. What was weird was the complete lack of rain.
Well, as all good and bad things eventually come to an end, it was finally over. However, the hard times were about to begin: no electricity for weeks and a scarcity of food and drinking water. The times were especially difficult for my brother and sister-in-law. They had to wait it out for a week before flights were renewed and seats was available. Ingrid never wanted to return to Mexico. The day after Gilbert's wrath we decided to check out the devastation in the hotel zone which was hardest hit. It was like a war zone with fallen trees and wide construction damage. Down the coast the scenario was surreal. Gilbert's winds were so powerful and dry and it passed through so fast, that it sucked up all the moisture from the surrounding jungle, which appeared as if it were dying of thirst. Nothing green was left in its wake. It took years for the jungle to recover its colors.
On the Cul de Sac where we lived most of the damage was to the trees. I remember clearly the support the families living there gave each other. Everybody was so neighborly. As in all disasters, the best of humanity shows itself.
Fast forward one day in 2015, while Delia and I were having breakfast in our downtown home, we started talking about what had changed in this city, now with a population of more than 1,000,000, hundreds of traffic lights and a "googol" amount of mosquitos (1 followed by 100 zeros). Actually, the founders of google.com were inspired by googol as it represented the almost infinite capabilities of the internet. Originally a middle ager's paradise, the focus in Cancun was now on the youth, the new generation. We pioneers were now senior citizens or, as the government labels us, "ancianos" or ancient. Except for the cinema, there was very little to do for the elderly. Another phenomena that was happening or seemed to be happening. The summers were getting hotter and more and more humid. Before, the hot months were from mid-May to mid-September. Now it was from April through October. Was it from Climate Change or a result of being an anciano? It didn't really matter. What had first attracted us to Cancun was long gone. The love was no longer there. After 29 years it was again a time for change. The question again was, where to?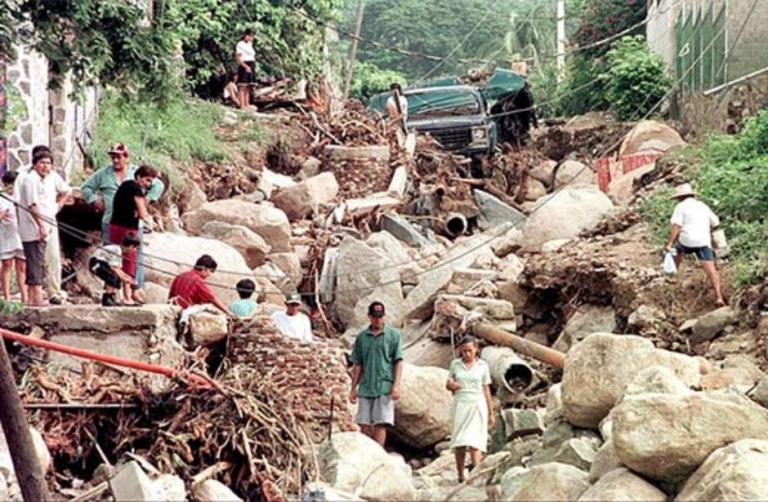 John Paul, an old friend who I hadn't seen in 4 decades, arrived on the scene just in time. He and his wife had moved from Dallas to San Miguel after a previous visit seduced them. They were in love with San Miguel. They told us about a house sitting they had done there to test the waters and to see if this was the right place for them. It so happened that the same house sitting opportunity would be available the following spring. The timing was perfect.
**************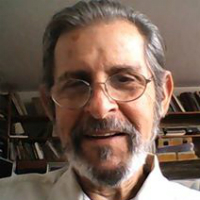 Michael Dorfman was born in Brooklyn, New York on January 6, 1942. He received his B. A. at Brooklyn College and completed 2 years post-graduate work in Educational Psychology at Queens College. Once he finished his formal education in 1964, he decided to travel through Mexico and ended up meeting his wife Delia in Mexico City, in 1969. Michael fell in love with Mexico and ended up spending 40 years of his life here. Before moving to San Miguel, three years ago, they lived 29 years in Cancún. Michael´s passion is whole food plant based nutrition. He became a vegetarian in 1976 and adopted a whole food vegan lifestyle 7 years ago. He is interested in providing the latest cutting edge information on the benefits of this lifestyle. Last year in San Miguel he gave interactive presentations in Lifepath Center, Via Orgánica, Mercado Sano and Sala Quetzal at the Bibliotéca. This year, the plan is to give presentations at the Veganfest, which will be a monthly event at Mercado Sano.

For more information:
www.gowholefoodvegan.org
Facebook: go whole food vegan
gowholefoodvegan@gmail.com
You must register and log in to write a comment.
Please use the "login" link at the top (right) of the page.