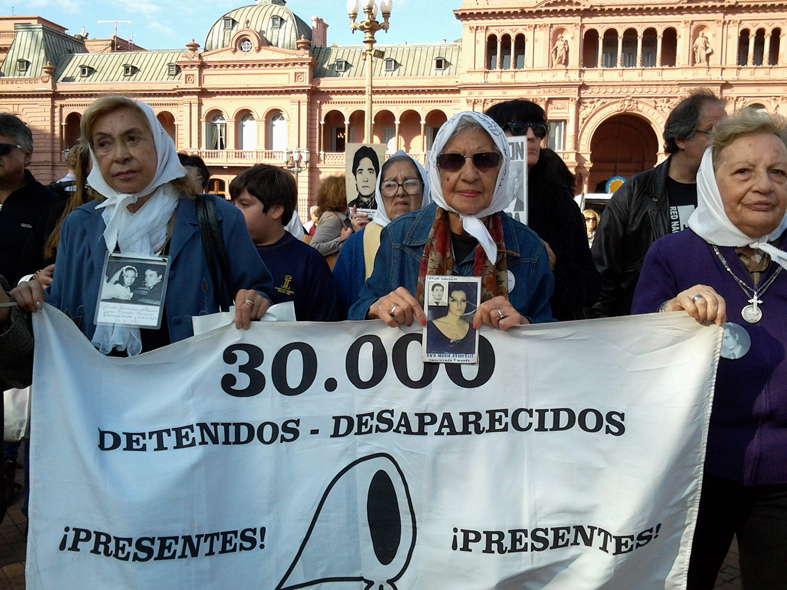 by Fredric Dannen
It is 1978, and we are in the Buenos Aires apartment of Josefina Acosta, a widow with a daughter and granddaughter. Argentina is ruled by a military junta. Anyone who speaks out against the regime may be taken into custody and become one of the Desaparecidos (the Disappeared). Even those who privately disagree with the government and its policies are in danger of scrutiny by an extensive network of spies and informers. Josefina's 20-year-old granddaughter, Belén, is among the disappeared. The girl's mother, Carolina, is a militant who has joined the Madres on their Thursday marches, but Josefina is deeply conservative, and believes her family must at least pretend to support the regime. She clings to the fiction that Belén is living in Paris with her husband.
This is the setting of Stephanie Alison Walker's award-winning new play The Madres, which earlier this year had its rolling world premiere in Los Angeles, Chicago, and San Diego, to wide acclaim. ("Astounding!... Demands to be seen." — Broadway World; "A powerful night of theatre that will keep you on the edge of your seat." — Annenberg Media.) Walker has contracted with La Troupe, the theater company based in San Miguel, to present The Madres for the first time outside the United States. La Troupe's production (opening at the San Miguel Playhouse on Thursday) is being performed in a new Spanish translation authorized by Walker, with projected supertitles in English. Walker will be attending the first two performances.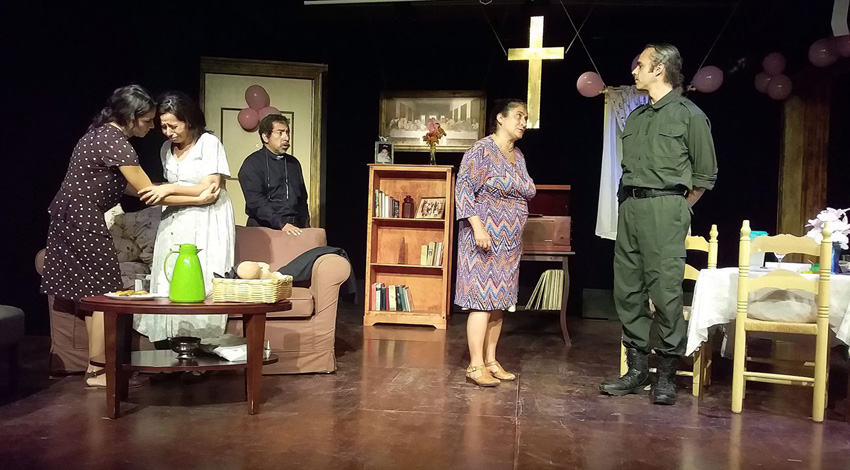 Pamela Cordero, Julieta Rodríguez Barajas, Antonino del Valle, Laura Crotte, Rodrigo Demian
Setting the play in Spanish makes it more authentic, and has enabled La Troupe to cast five professional Mexican actors. Laura Crotte, in the lead role of Josefina, was personally selected by the playwright, who had seen Crotte act in Chicago. The supporting cast includes Pamela Cordero, Antonino del Valle, Julieta Rodríguez Barajas, and Rodrigo Demian (who played Edmund Tyrone in Long Day's Journey Into Night). Marcela Brondo directs.
Mexico's own crisis of disappearances was undoubtedly was a factor in the recent election. Human Rights Watch declared, just this past February, "In a region where most people think of enforced disappearances as a practice of past dictatorships, it's actually a reasonable assumption in Mexico today." The relevance of Walker's play is unlikely to be missed by audiences in San Miguel, though it is fundamentally a family drama and decidedly not a polemic. "I am a character-driven storyteller," Walker says, "and as such, this play is about the characters more than it is a 'history play.' I hope it entertains, horrifies, challenges, and ultimately inspires audiences. Though this play is about a difficult and dark subject, it's filled with moments of hope and joy and humor. Because that's what we do. We humans. It's how we survive."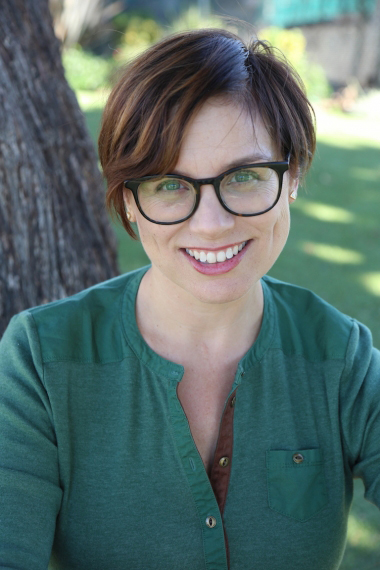 Stephanie Alison Walker
Ever since The Madres won first place at the New Plays Festival in Ashland, Oregon, in 2016, its status as an important new play was assured. The La Troupe presentation will be the fourth full production of the play to date. The Madres essentially depicts the radicalization of a far-from-radical woman, Josefina Acosta, who strongly objects to her daughter Carolina marching in protest against the dictatorship. But Josefina's convictions are being steadily worn down by events and the seeming betrayals of those around her. The well-meaning but equivocating priest Padre Juan urges conformity. Her former neighbor, Diego, who was enamored of Belén till she rejected him, has become a soldier and a fanatical supporter of the repressive regime. He seems willing to use his power to wreak his revenge on Belén and her husband.
Laura Crotte was the actor whom Walker wanted as Josefina for her play's Chicago premiere this past April. Though born in Mexico, Crotte has lived in Chicago for nearly twenty years. She has performed with two of Chicago's – and America's – most esteemed theater companies, Goodman and Steppenwolf. Though invited by Walker and Chicago director Ricardo Gutierrez to play Josefina at Chicago's Teatro Vista, Crotte said she could not accept the role. "At the time," she recalls, "I had already planned a trip to Mexico, which I didn't want to reschedule." The news did not go over well. "They were mad," Crotte says. "Ricardo called me and said, 'Stephanie is very unhappy with your decision.'"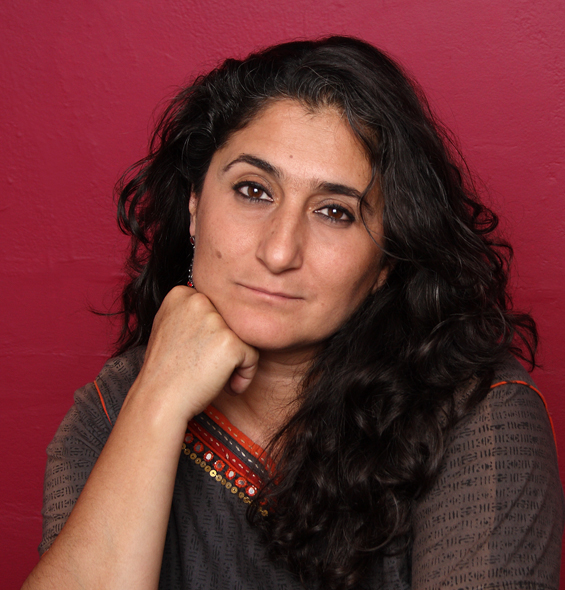 Laura Crotte
But when The Madres opened in Chicago, the playwright told Crotte that her play was going to be produced in Spanish by La Troupe in San Miguel de Allende, for a run of eight performances. Crotte auditioned for the La Troupe production and was offered the role that same day. Crotte, a MacArthur Fellowship recipient who began acting at age 12, is also an outstanding vocalist and musician, as well as an educator. In the latter category, she produces her own shows, using masks, dance, and music, to promote Mexican culture and history. These pageants are performed at schools and community centers throughout the state of Illinois, and in other parts of the United States.


Rodrigo Demian
La Troupe was created last year with a mission: to use live theater, the most communal of all art forms, as a means of uniting people of different nationalities. All La Troupe productions are bilingual, to be shared by a combined audience of Spanish and English speakers. The company's debut production last year, Eugene O'Neill's Long Day's Journey Into Night, was performed in Spanish with English supertitles. Obie Award-winner Jesusa Rodríguez called the production "a tour de force." One attendee wrote: "It was such a joy to see so many Mexicans at the production and to be able to invite two Mexican friends to share a theatrical experience. A gift to the community." The supertitling system has since been improved further – it is easier on the eyes and faster to absorb, so the experience is akin to watching a foreign film with subtitles.
*****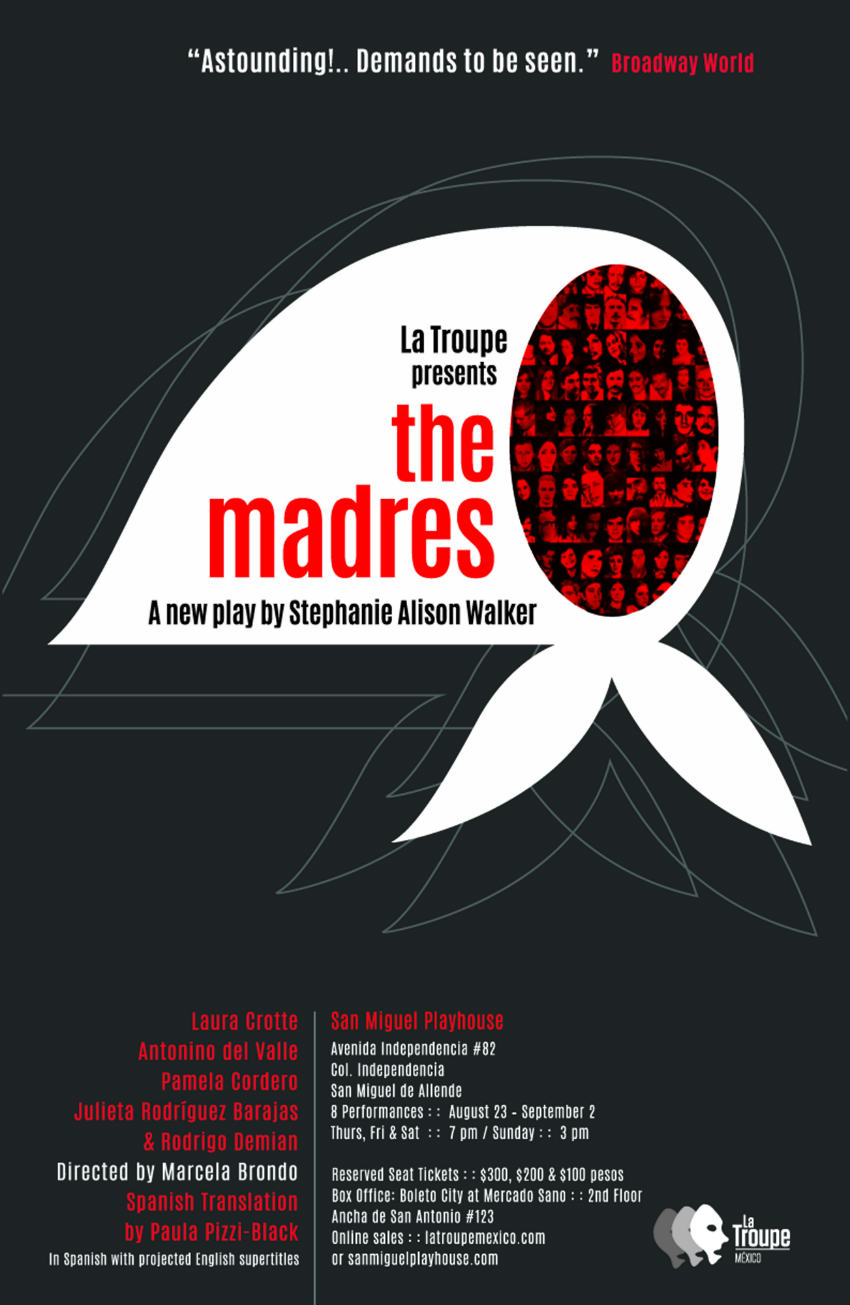 The Madres will run for eight performances only, Thursday through Saturdays at 7pm, and Sundays at 3pm, from August 23 through September 2. Tickets for the play are now on sale at Boleto City, the ticketing office on the second floor of the Mercado Sano (Ancha de San Antonio 123), every day except Sunday, from 11am to 5pm. Tickets can also be purchased online via sanmiguelplayhouse.com or latroupemexico.com. Ticket prices are 300, 200, and 100 pesos – the least expensive seats are for the only section of the San Miguel Playhouse from which supertitles cannot easily be read. The San Miguel Playhouse features free secured parking and taxi concierge service.
**************
Fredric Dan­nen is a jour­nal­ist and author with a spe­cial­ty in crim­i­nal jus­tice. He has been a staff writer for the New York­er and Van­i­ty Fair.
In 1990, Hit Men, his book about the Amer­i­can music indus­try and the influ­ence of orga­nized crime, spent a mon­th on the New York Times best­seller list. The book is #2 on Billboard's list of 100 Greatest Music Books of All Time. One of his Van­i­ty Fair arti­cles prompt­ed the Six­th Cir­cuit Court of Appeals to rebuke the U.S. Jus­tice Dept. for fraud­u­lent­ly with­hold­ing excul­pa­to­ry evi­dence in the case of Cleve­land auto work­er John Dem­jan­juk, who was extra­dit­ed, wrong­ly con­vict­ed, and sen­tenced to hang in Israel as the Nazi war-criminal "Ivan the Ter­ri­ble." He secured the only inter­view given by Los Ange­les police chief Daryl Gates on the heels of the infa­mous Rod­ney King beat­ing, and the only inter­view ever given by crime boss Loren­zo Nichols, the crack king­pin of New York City.
While con­duct­ing research for a forth­com­ing book, Dan­nen uncov­ered lost evi­dence in the case of Calv­in Wash­ing­ton, a Tex­an wrong­ly con­vict­ed of homi­cide. As the direct result of Dannen's efforts, Calv­in Wash­ing­ton won a full par­don for inno­cence, the first ever grant­ed by Tex­as gov­er­nor Rick Per­ry under the state's DNA statute.
You must register and log in to write a comment.
Please use the "login" link at the top (right) of the page.