by Joseph Toone
When my kids were young they spent the summer at Colonial Camp living like colonists. That sounded like hell to me, but they loved it. In the fall we had Civil War reenactments. October brought the cemetery tours where actors portrayed mini-biographies of the tomb's resident. Today, however, was the first time I experienced some living history in a fiesta.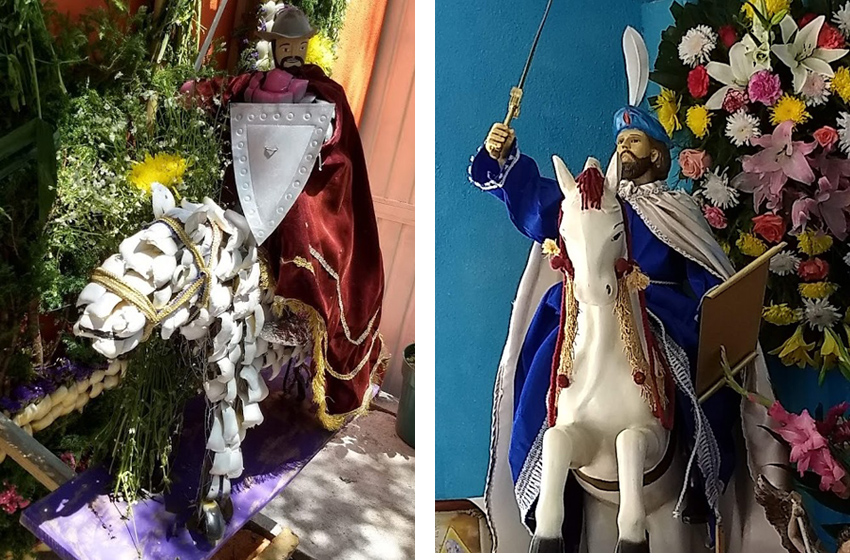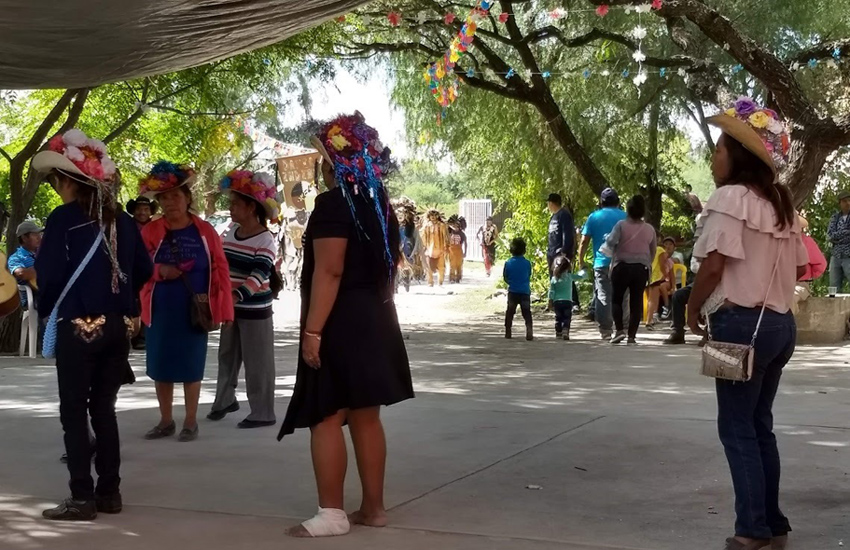 The day long party was in honor of St. James, the first apostle to be martyred, though certainly not the last. Actually all the apostles had horrific deaths, reinforcing the notion that to be pals with Jesus in his own lifespan was a questionable decision.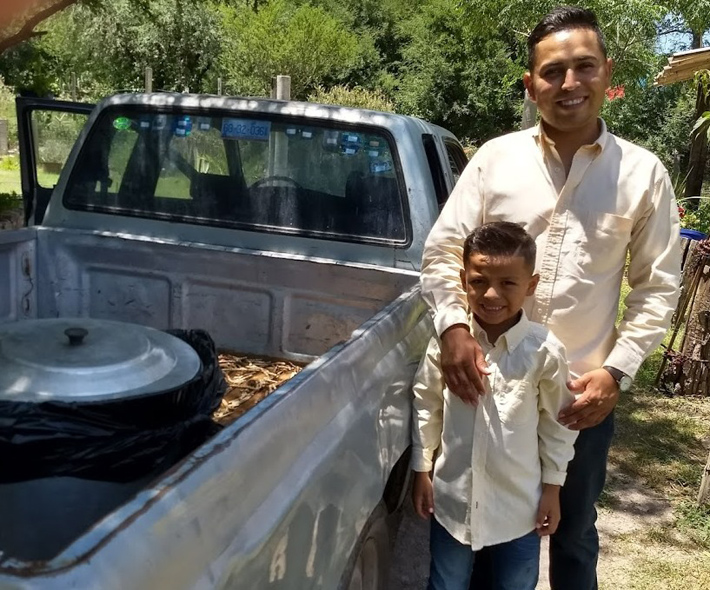 After James' beheading, legend states his body was taken up by angels, and sailed in a rudderless, unattended boat to Spain where he had converted Spanish earlier in his life. He is the patron saint of Spain and pilgrimages to his grave, since the early Middle Ages, have become the most popular of all pilgrimages. They still drawing over 100,000 pilgrims each year.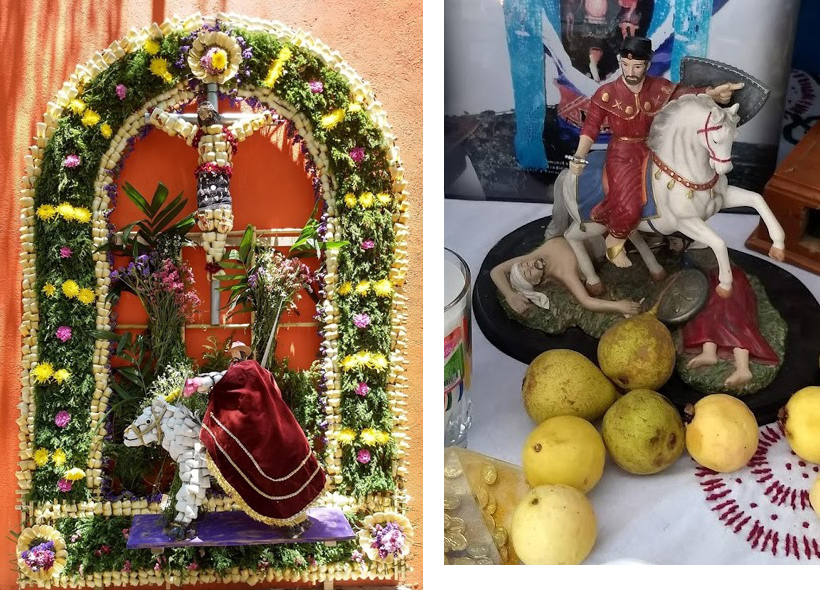 St. James is said to have miraculously appeared to fight for the Catholic Spanish army against the Moors. Since then his name has been a battle cry for the Spanish armies and was used again when the Conquistadors fought the indigenous Mexicans in the 1500s. St. James' image in art is still seen around. These feature him on a rearing horse, beneath whose hooves are either Moors or native Mexicans.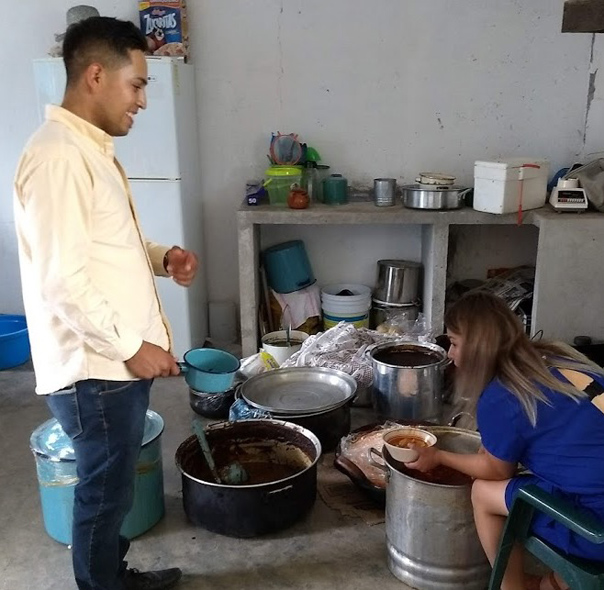 Oddly enough, then, it is the indigenous tribes that latched on to St. James. He provides miracles and his feast day is still celebrated in the countryside surrounding San Miguel. The epicenter of these celebrations is Los Lopez, a ranch community between San Miguel Viejo and Cieneguita.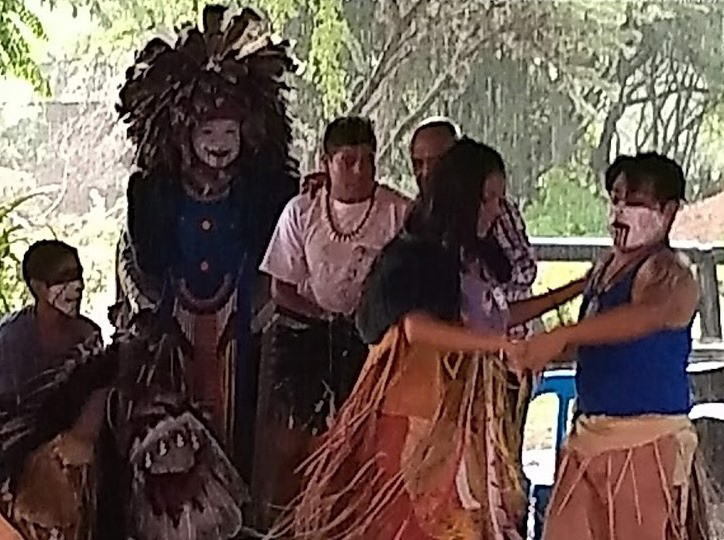 This year's celebration focused on all-day indigenous dancing by the pilgrims that came to Los Lopez to thank St. James for his help.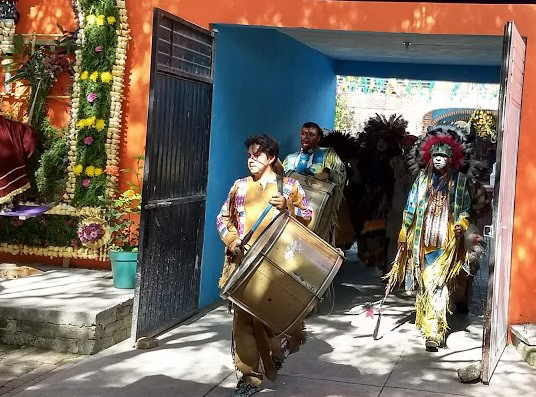 At the ranch of a local grandmother, images of St. Jame made from every material imaginable, from cactus to plastic, paintings to ceramic were featured. His icon and flower-filled altar exuced the aroma of copal to appease ancestors. Pilgrims came all day approaching on their knees. Musicians offered up their music. Meanwhile, in the front portion of the ranch, Otomi women wearing hats gaily decorated with bows, tinsel and garland, danced for hours.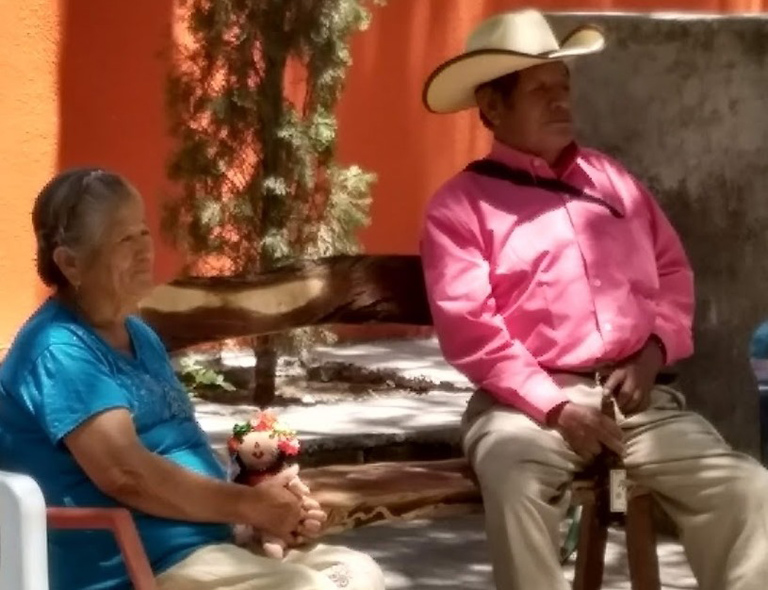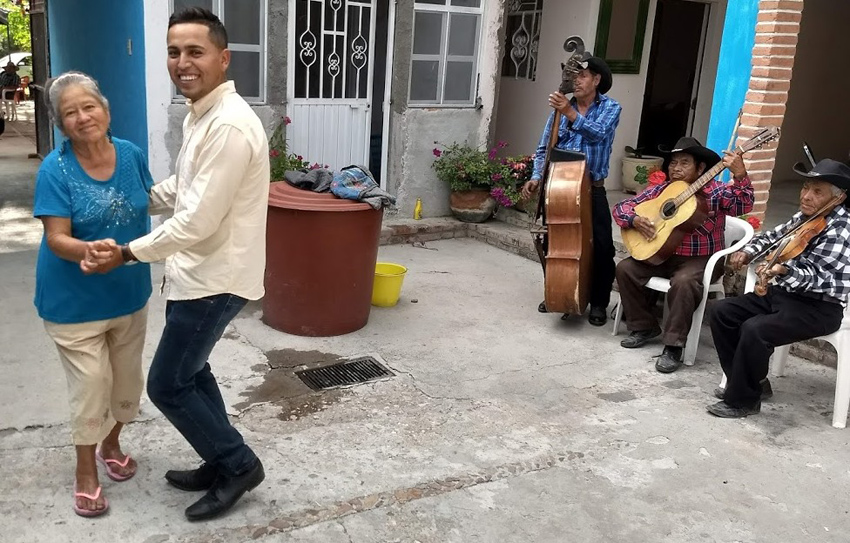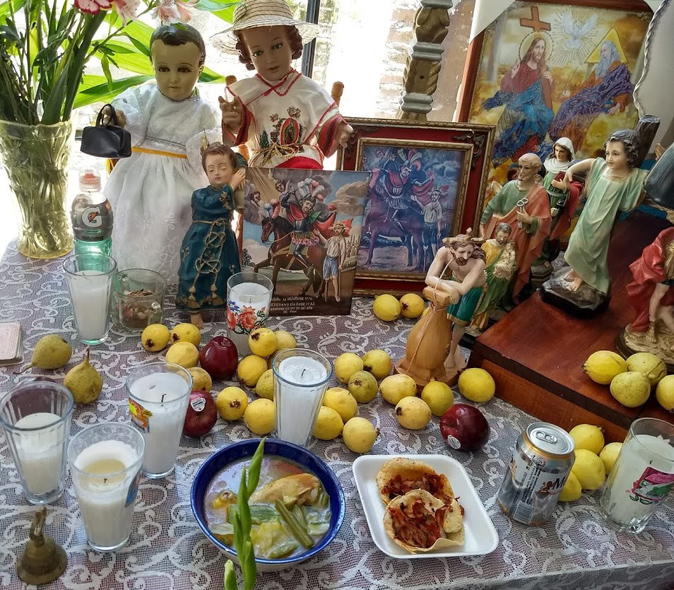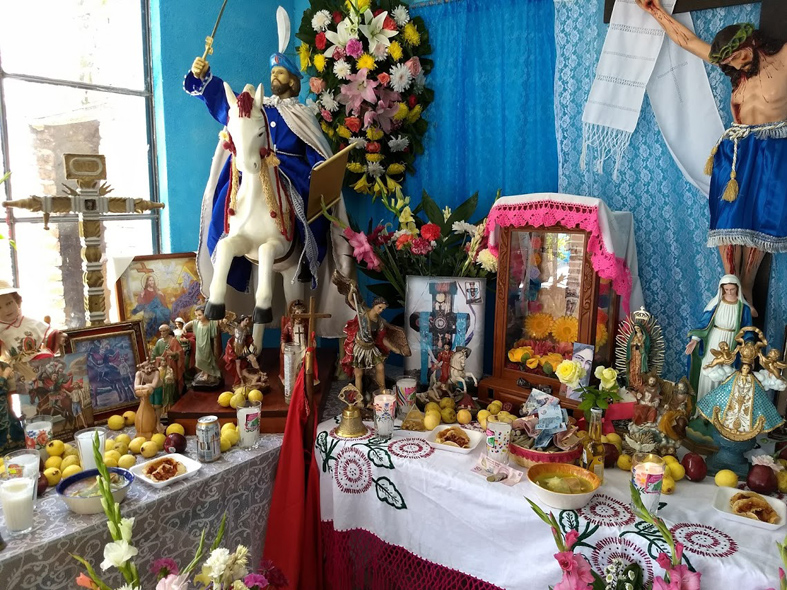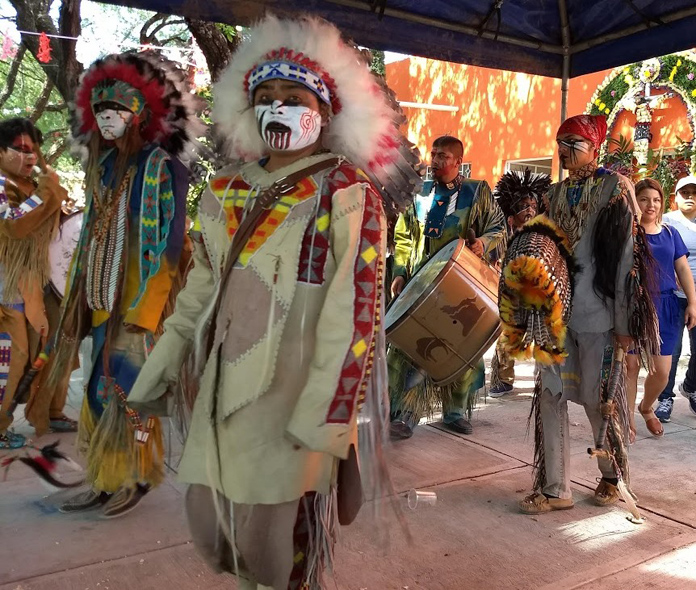 The Otomis were the indigenous farming tribe here when the Spanish arrived. The hunter gathers were called Chichimecas. On this day their pilgrims arrived during the late afternoon, during the Otomis dancing. They were widely ignored by the Otomis... for the moment.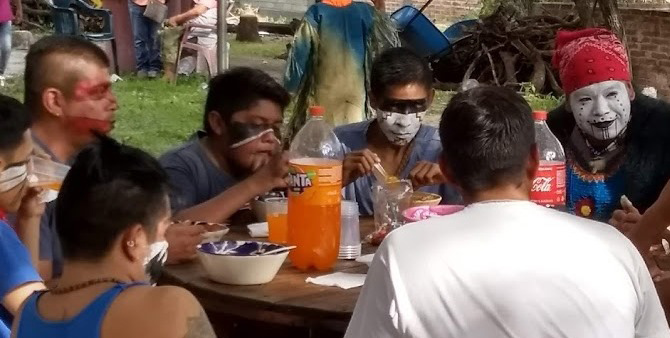 The Chichimecas are show stoppers by their very nature. They have drums the deaf can hear, feathered head dresses and makeup that makes the dancers bound to appear in your future nightmares.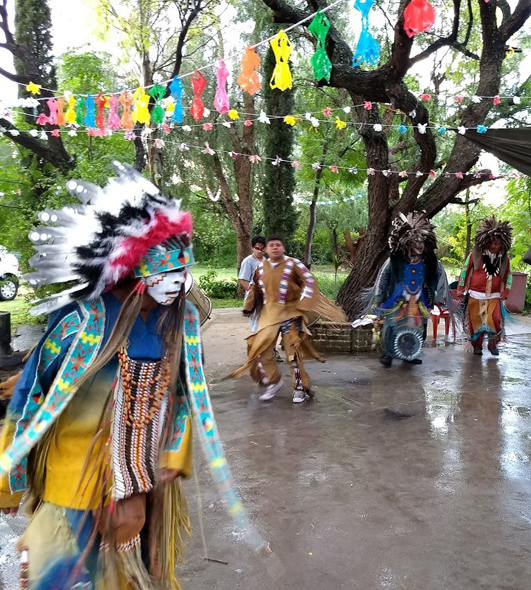 I realized that one of the dancers was my ten year old dog-walking pal. It was great to see him in his element and I was stoked to cheer him on.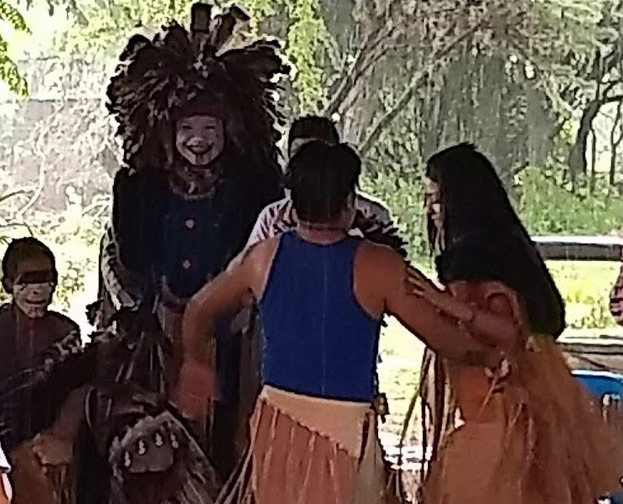 With the sheer volume of dancers and viewers I was corralled into kitchen detail, there to be amazed how big cooking vats can be, perfect for a super-sized witch's cauldron. I've never seen pots so big and they were all filled, with pazole, chicken, rice and mole. Pazole may not be worth its weight in gold but a pot that size filled with it weighs as much as gold bricks.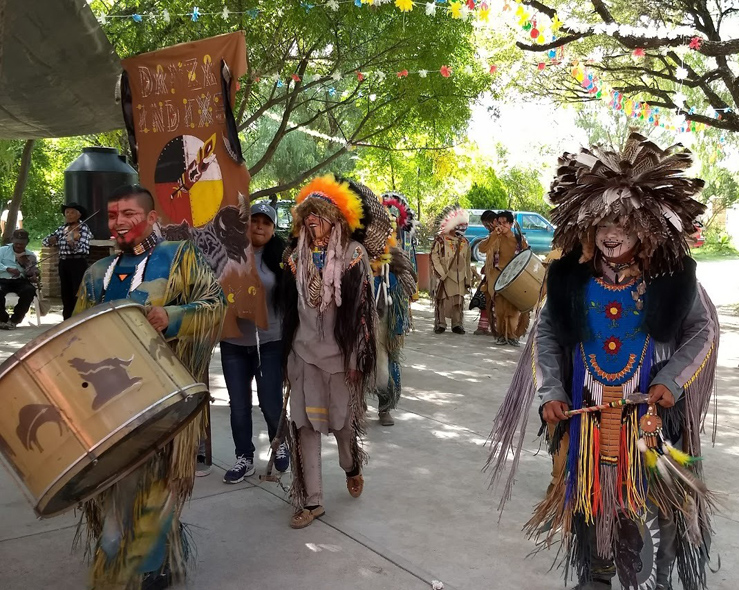 Just then a dog day of summer thunderstorm blew through and the winds picked up the party. There was Otomi, Chichimeca and banda music. Another tent started playing cumbias. You know where I was. There is something feral and sexy about dancing a cumbia in the rain. Everyone should try it even if your kabuki makeup-wearing nightmare is grinning at you from the sidelines.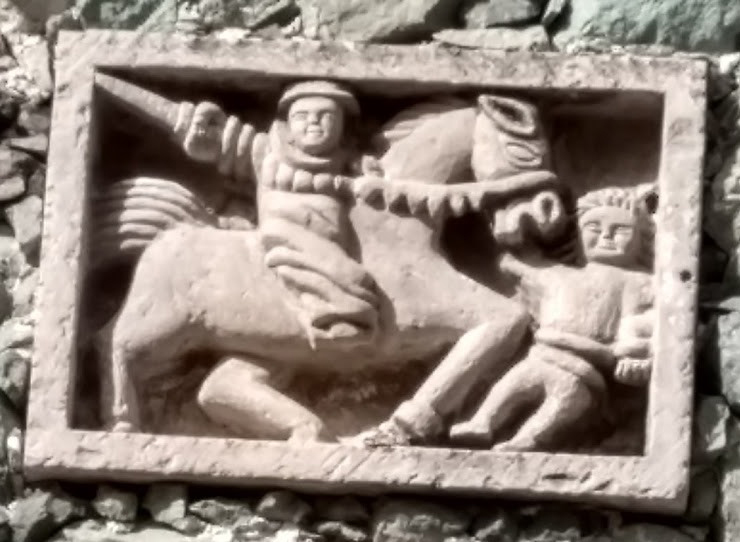 I wanted to give the elderly (meaning older than me, and how many of those are still around?) hostess a gift. Normally, I'd give her an image of Mary as a baby. Since I didn't know this woman, or, with her fascination on St. James, wether she'd like a Baby Mary, I brought along a pearl-wearing Mexican Maria doll, named for the Virgin. The Mexican Maria doll brought forth from her sentiments of being a child. I learned later that she was sold by her parents for a five pound bag of corn and beans. If you give a doll image of Mary to a senior, she'll treat her like a treasure, featuring her at the best seat in the house and in her heart.
**************
Joseph Toone is Amazon's bestselling author of the San Miguel de Allende Secrets series of books and TripAdvisor's best rated historical walking tour guide. For more information contact toone.joseph@yahoo.com or visit History and Culture Walking Tours or JosephTooneTours.com, also on FaceBook.
You must register and log in to write a comment.
Please use the "login" link at the top (right) of the page.