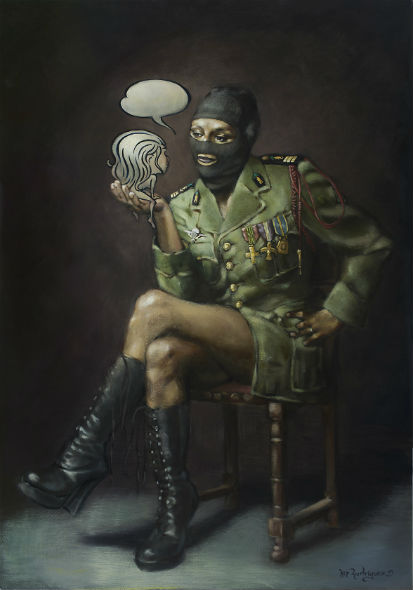 by Isis Rodriguez
For more than 10 years, Los Angeles-born artist Isis Rodriguez has been quietly working on a large body of work here in San Miguel. The work is of darkly glamorous images of women portrayed in uneasy familiarity with aggression, anger, idealism and romance. Rodriguez sees her work as addressing the "evolution" of conflict, how it begins and develops. In her paintings, females wearing black ski masks become the modern image of conflict. The black ski mask here in Mexico is associated with the Zapatista rebellion and is known as the pasa montaña. But Isis intends it as a symbol for the world at large. The artist explains, "People think that conflicts are outside of themselves in a specific location. But they can also be inside oneself. I hope to show what the internal personal conflict might look like, how it might manifest, and, hopefully, how it can be resolved."
Rodriguez' images of women reference the realms of myth, religion and legend; from the Garden of Eden, to Amazons, to Aztec civilization. Long-time American museum director Mitchell Kahan comments, "She joins sexual allure with power, sometimes imbued with an element of fear. Her bravura technique borrows from baroque painting, fantasy illustration and classic figure painting." The potent combination of female beauty, the regalia of war and the fear impelled by black balaclavas has inspired harsh reactions from some feminist quarters and a fear from Mexican gallery directors, who want to avoid imagery having potential associations with Mexico's violence, historical and current.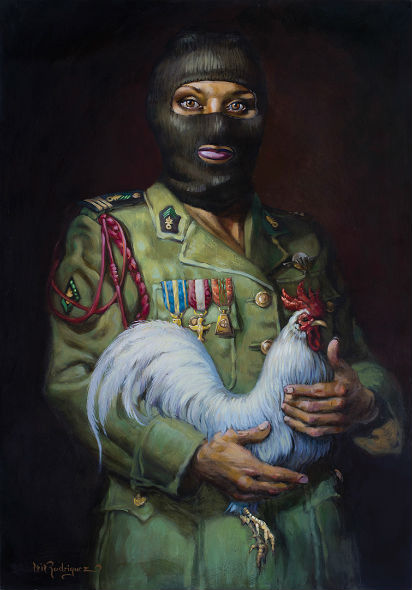 Isis notes, "Everyone I talk to is worried about global warming, natural disasters, wars, rapes, famine, gun violence and hunger. There's a fatalistic view toward humanity right now. People want to see things end, especially government and are eager to overthrow politicians. People watch the news and think the conflict exists outside of themselves. But no, the conflict first starts inside of us, with all our fears that we experienced throughout our lives. Most of those fears are then transmitted onto others and it creates more conflict. I ask myself, 'And after your revolution, then what? Will you now be happy?' My show may look revolutionary, but it's really about the evolution of conflict towards peace. I believe that art should be a vehicle to show adults human values and struggle. That's what I did for kids when I did, 'Niñají' comic. Now that's what I'm doing with Legends from the Realm of Nepantla. Basically Legends is an epic Mexican Baroque graphic, a modern myth for adults. It is filled with symbols. Each painting represents a part of the journey from conflict to its resolution. I will be one of the few painters in the history of art who has devoted over 10 years to a theme, and I still have over 40 paintings to go. When people arrive, they will be in Nepantla and they will be given information about the symbols so that they can read each painting and even put their own experience into it. In that respect, it is an interactive evolutionary show."
Isis Rodriguez is known in San Miguel as the illustrator for a children's novel, a comic called Niñají. The heroine is an Prehispanic princess who dies during conflict and then is resurrected to live her life again in modern Mexico to resolve conflict. After completing 5 issues, Isis says, the novel is done.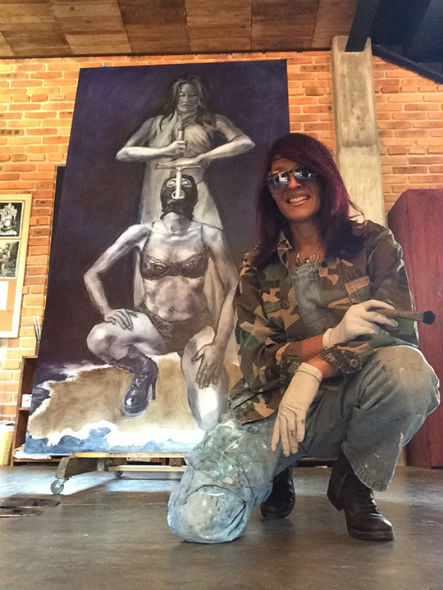 Isis originally came to Mexico, to Oaxaca, to develop a new body of art at an intensive artist residency, called La Curtiduria (leather factory), run by Oaxacan artist, Damien Flores. This body of work was made of of masked women. It attracted Mexican curator, Gloria Maldonado Ansó, who selected The Contemplation for the Cervantino Art Festival 2008 at the Museo Alhondigas de Granaditas in Guanajuato, for her show, Insurrectas y Estridentes en Mexio: 100 Años de Simone de Beauvoir.
Legends from the Realm of Nepantla is a series of over 36 works, of which 25 canvases, pastels and oil sketches will be on view at Nepantla Gallery, Pablo Yañez 9, Colonia Independencia. The grand opening will be Saturday, October 14, 4-8pm. The show will travel in 2018.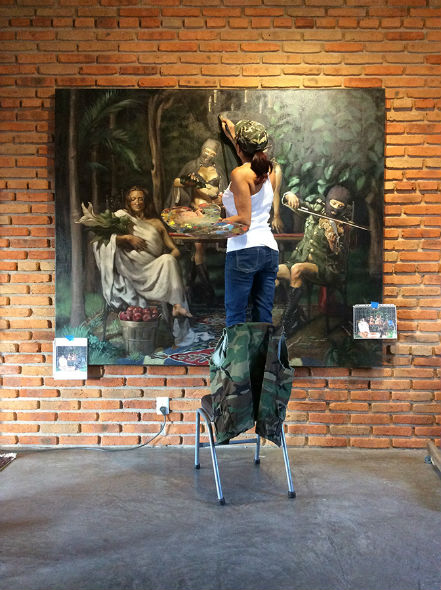 The inauguration will mark the grand opening of Galeria Nepantla, which will have regular hours Thursday 12-5pm, Friday 2-5pm & Saturday 12-5pm.