by Chuck Scalin
I was fortunate to have received seven residencies at the Citè Internationale des Arts in Paris, France. During these 2-month stays In Paris, I wandered the cities streets, passageways and courtyards capturing, composing and documenting the textures that were established by time and human presence. In my camera, many of these micro details began to emerge and when enlarged, they resembled abstract paintings.
These images eventually became the impetus of my photographic explorations for a series of images titled, Unsung Views of Paris. In 2012, this photographic series was exhibited in Paris.
Fast forward...when we decided to come and visit our daughter in San Miguel de Allende, Mexico, I once again began to wander a new city's cobblestone streets, extracting images from walls and surfaces. As before, these images may not have been noticed at first glance by most and so began new photo series titled, Unsung Views of Mexico (mostly San Miguel).
I'm pleased to share this series with all of you and look forward for another visit to San Miguel, when I'll continue my search for new images to add to this series.
*****
Mexico
The visual landscape of our urban environment, with its rich textures and details, provide the creative impetus for my photographic work. I'm a gleaner. I scour streets and alleyways extracting small fragments—details that might go unnoticed or even left behind by another viewer. To some people, these details may be seen as something mundane and they may pass them by.
In many of my photographs, the discovery of scratches, markings and stains become the raw textures that form the foundation for abstract compositions. All images are composed and cropped directly in my camera—what you see is exactly what I viewed at the time.
During a first time visit to Mexico, we arrived in Mexico City and then traveled on to San Miguel de Allende to visit our daughter. I was immediately captivated by the cities' alluring colors, textures and architecture. I began to roam their streets, photographing close-up images and also documenting visually interesting or intriguing imagery.
**************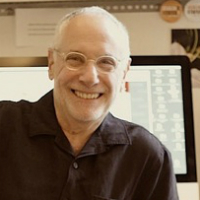 Chuck Scalin's parents were immigrants to Chicago. There he was born 76 years ago. He was the first in his extended family to attend college and received two degrees in the arts, a BFA and MFA. Even though he failed a public speaking course while attending college, he's been teaching for the past 50 years at the Virginia Commonwealth University and/or at the museum school of the Virginia Museum of Fine Arts. His wife and both of their children are professional artists, who have also taught in universities. Chuck loves to travel, has a passion for Latin music, plays conga drums and is not a bad salsa dancer either. He is a visual artist:  photographer, collage artist, clay artist, glass artist and painter. His work has been exhibited in over 250 exhibitions.