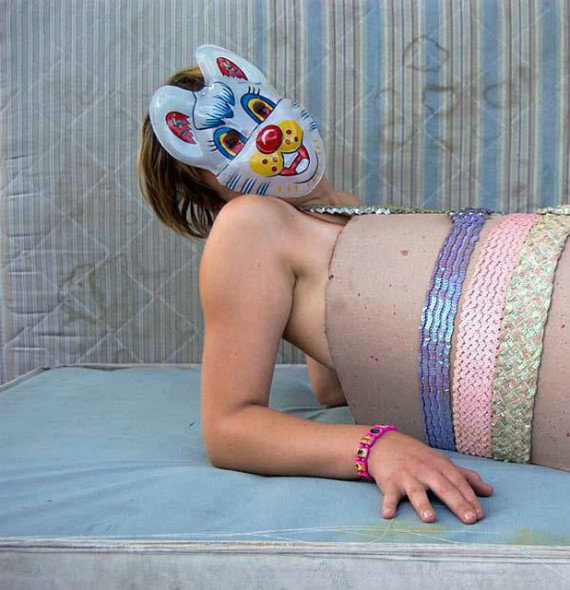 by Laura Honse
When Eva arrived in the city of Oaxaca from Germany as an exchange student for a semester of art classes, immediately she found she had fallen down a rabbit hole into Alice's Wonderland. After an industrialized nation, the landscape she landed in could not have been more surreal or topsy-turvy. She soon fell in love with a Mexican, Anselmo, himself from another planet. Eva was tall, white skinned, green-eyed, blonde, robust, curvaceous, and, as the Germans tend to be, on the reserved side. Anselmo was small, thin-boned and wirey. He was a caramel-skinned, dark-eyed, dark-haired, wild boy. His small frame could barely contain his high voltage of energy. He possessed an irresistible charm and sensuality. The lips on his chiseled face curled in a mixture of cunningness, humor and seduction. He dressed wickedly, like a poverty-stricken dandy. Whenever he visited me, he would put on my jewelry, my clothing, my butterfly sunglasses, my lipstick.
I met Anselmo before Eva had even set foot in Mexico. I met him on the street, hanging out with some hippie street vendors, who were always on the run from the police. He looked like a waif and I invited him to my hostel and prepared him a simple meal in the hostel kitchen. I had only recently arrived in Oaxaca from Germany myself and my life was up in the air.
Shortly thereafter, we spent my first Mexican New Year's Eve together, hitting the bars masqueraded as luchadores [fighters] in masks I had bought in Chiapas. His mask was blue, red and silver. Mine was multi-colored and glittery. The slit at the mouth of the masks was just big enough to insert a coin, like a slot machine. Trying to sip our beers and shots of mescal in the bars was a humorous feat and we sweated profusely within our costumes' nylon fabric. Still we kept up the masquerade until the end of that unforgettable last night of the old year.
Spending time with Anselmo promised blockbuster hours of feeling centerstage. He had what it takes to be a superstar, charisma mixed with intelligence and madness. If you were to ask me what he did for a living, I would have to admit that I have no idea. Maybe he played gigolo to the young foreign girls. He himself never seemed to have a peso. I do know that he was well-versed in the medicinal properties of herbs and such, having once brewed me a tea for my cold out of various parts of various plants. After New Years we had a date for me to make a portrait of him, but he suddenly disappeared into thin air like a cat in heat. He had met Eva.
Anselmo and Eva shacked up in a tiny rooftop room in Xochimilco in a building, a maze of dozens of hodge podge rooms on various levels rented out by an alcoholic Mexican landlord, who also sold mezcal. The landlord himself crashed out every night on an old sofa in a covered area off the garage. Coming home drunk in the middle of the night he preferred to rent out his own bedroom to desperate tourists. Unlike the other rooms, most of which shared a communal kitchen and bathroom, Eva and Anselmo's room had the good luck of containing its own fridge and stove. Directly across from their room was another room rented out by a young boy, and this room possessed the good luck of containing a bathroom. So, sharing the extra commodities between the three of them, life was grand. Outside of the fridge, the stove, a sink, a small table and a single bed there was room for nothing else. Usually entering this space was like entering a war zone. Chaos reigned as far as the eye could see, which wasn't far.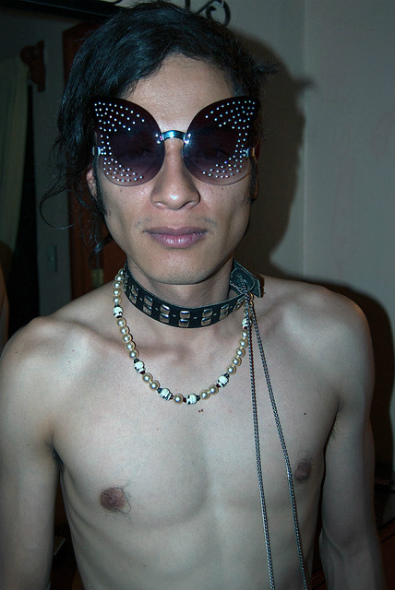 Eva and Anselmo's rooftop room had even a further privilege, a spacious terrace overlooking the cemetery and the center of town. This terrace turned into a kind of Studio 54. There were generous parties, into the wee hours of the night, with whoever happened to turn up. Endless weed was consumed. A bottle of mezcal containing a scorpion was drunk. Someone had dropped it in so that the scorpion's poison could raise the toxicity of the mezcal. Giant art projects, old stained mattresses, broken furniture, plants, the remains of last night's party, a spontaneous meal, an all consuming love affair, laundry on a wash line and even slumbering foreign bodies in hammocks littered the terrace.
We planned art projects and happenings which never came into fruition, fearing trouble in the already troubled city of Oaxaca. But up on the rooftop we did as we pleased. Life became very intense and fulfilling in a bizarre way. But sometimes, as in Alice's Wonderland, I had the feeling we were just going in mad circles. Just how long could we stay down the rabbit hole, without becoming as mad as a hatter?
Things began to disappear. One or another of the renters could be seen running around screaming accusingly, "off with his (or her) head!" Then also, Eva and Anselmo had a way of appropriating things for their own use, like the blender or all the ice from the ice dispenser in the communal kitchen. They would even sneaking down there to steal food. They never got up until past noon. And then, as quickly as it had begun, it was over.
Eva's exchange semester ended and she reluctantly returned to Germany. The two rooftop rooms became available and I moved in. The left room with the bathroom became my bedroom. The right room with the fridge and stove became my living room. I rendered it more livable by freshly painting the walls sky blue and changing the shabby, single mattress into a sofa with pillows. I hand-sewed the pillows out of crimson fabric embossed in huge gold fleur-de-lis and covered the mattress with a leopard print plush fabric.
Life became relatively quiet and I proceeded to have my first photography exhibition on Mexican soil up in my new home. New prints were hung on two walls of the living room. Against the outside walls of the two rooms under the terrace eaves I hung older work in beautiful black and gold frames I had brought from Germany. A transexual I had met, who played violin for the symphony, staged a performance. He changed clothes in my bedroom and stepped suddenly outside onto the terrace that night in my red glitter heels and a dress to play music. It was the first time he had ever cross-dressed in public.
A storm broke loose that night and once again we all fell down the rabbit hole as a dashing French-Mexican grabbed a knife and drunkenly slashed about in a frantic dance entertaining and frightening us, we who were all mad as hatters.
Then the Mad Hatter days became fewer and farther apart, bringing some relief, but also, nostalgia. Yet, even now, if we stand before the looking glass mirror, there is in it an alternative world, still sometimes within our grasp.
**************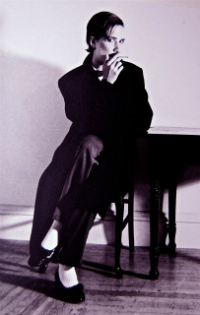 Laura Honse, born in the U.S., was raised overseas in Brazil, Uruguay, Australia, New Zealand and the Bahamas. She studied painting and photography at the Rhode Island School of Design in the USA, graduating with a BFA. After living in New York and San Francisco, she spent twenty years in Germany, where she opened Gallery Atomic Salon in Hamburg. Besides painting, she photographs and make collages. She now resides in Mexico, where she has exhibited her photography in San Miguel de Allende at El Nigromante Bellas Artes and at Art Print and in Leon at Instituto Cultural de Leon.