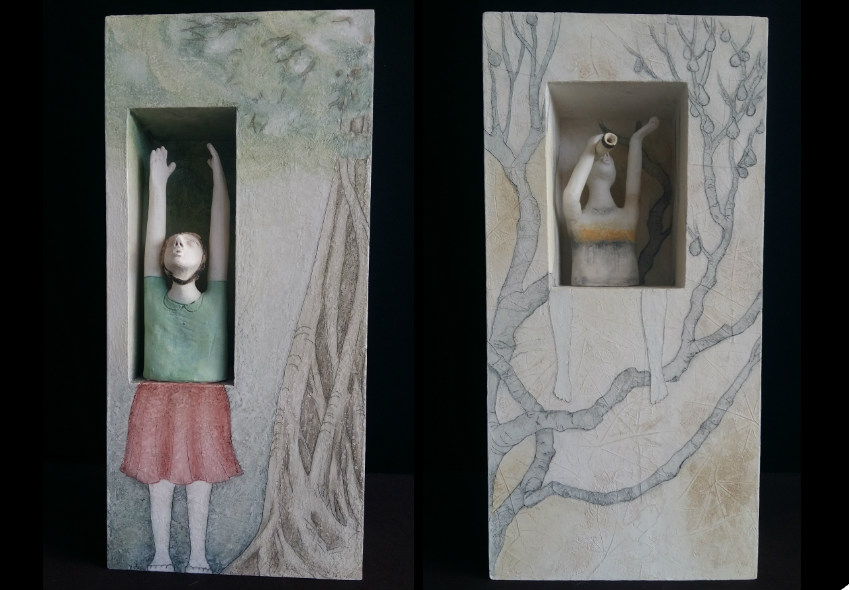 "Chant of Two Gardens" is the union of two artists, two languages, two ways of saying one idea at one time. Each piece contains the beauty and richness of the poetic language of Octavio Paz and a visual interpretation of the poem. The integration of materials and techniques, mimics the binding of several words or phrases forming poems. Ceramics, drawing, painting, volume, 2D, planes and textures are available as vocabulary for such representations.
The word of Octavio Paz, generating images by itself, leads us to imagine within his extensive repertoire this small number of visual poems, in which trees are the guests of honor. Roots, stems, leaves and branches, suggest this space for contemplation.
In this exhibition we want to pay tribute to the word of one of the icons of our literature and our culture, Octavio Paz.
At the same time our intention is to approach a silent world around us, with its foliage and its subtle dances, a world where trees still sing.
This project was initiated by the fascination we both felt for Octavio Paz, and our desire to work in a partnership. We've known each other for many years, and the mutual admiration for the work of the other is a constant in our relationship. The poetry of Octavio Paz created the expected link.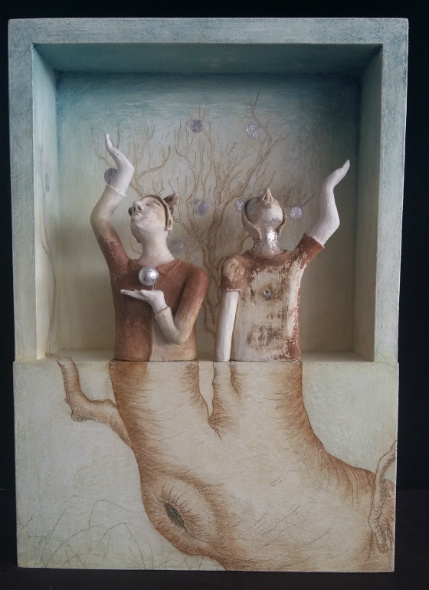 We had to develop an idea where ceramics and illustration then blend. So reviewing the poems of the writer we found that the joint point would be trees. It is no secret that the poet felt a deep love for them, and that trees were a constant reference in his writings from his youth. We had to solve how to integrate both languages, so that 2D and 3D became one piece. The harmony came in a format of 10 boxes that serve as canvas for Alifie and as structure and containment for parts of my sculptures, one complementing the other. Then came the selection of 10 fragments of the work of Octavio Paz in which, of course, trees are the protagonists.

*****