by Eva Luz Villalón Turrubiates
According to the writer and chronicler Don Isauro Rionda Arreguin in his book 'Testimonies about Guanajuato', Fray Francisco de Ajofrín was a Spanish Capuchin friar born in the province of La Mancha in the eighteenth century, who traveled to New Spain in 1763 with the mission of getting payments and collecting alms to maintain the Catholic mission of Tibet. He arrived in Veracruz in December 1763 and traveled through these lands for several years until he returned to Spain in May 1767, having fulfilled his mission. During his trip he wrote his "Travel diary which, by order of the Sacred Congregation of Propaganda Fide, I made to North America in the company of Fray Fermin de Olite, lay religious and of my province of Castile." The original is in the Library of the Royal Academy of History of Madrid. In September 1764 Fray Francisco visited the town of San Miguel el Grande and this is the testimony that left us of this visit:
"I left Santa Catarina the other day in the morning for the town of San Miguel el Grande, which is eight leagues away, without finding any shelter until I arrived at the river that is a league from the town. I was greatly distressed by weariness and thirst, for the road was stony and there was no water anywhere, not for the love of God. It is true that it was a singular diversion for me to see such a variety of beautiful flowers as the Creator of all had put in these fields. There were many perpetual white and red, turkey mocos, bell flowers of various sizes and colors, tiny pink roses and showy. But more than any of them attention was stolen by a humble herb that produces small piles of delicate and very fine flowers called nubladitos, of a very strange color like blue. I have not seen them anywhere else in the kingdom but in these fields.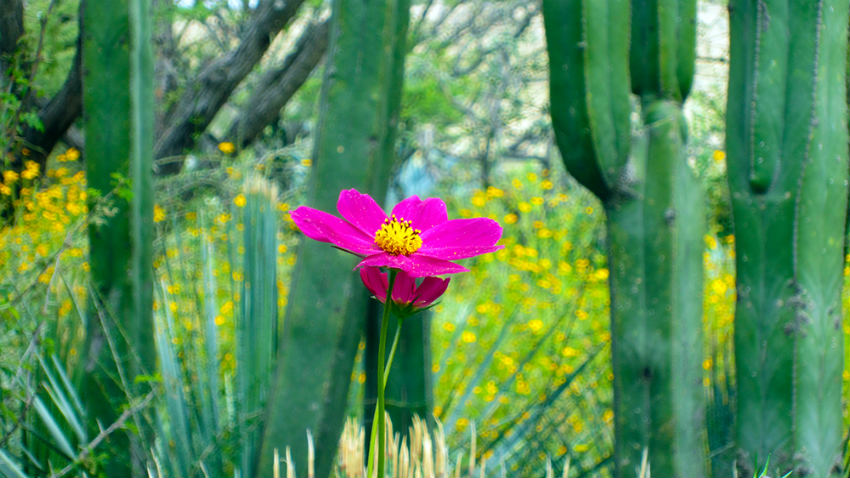 The river was swollen and difficult to pass. The current dragged me down and I grew faint. I gave up and a good man took me on his back and with great effort passed with me through the impetus of the waters. I arrived at the famous villa of San Miguel el Grande on September 12 in the afternoon. Journey, 8 leagues. I was received with much love and charity in the house of the captain Don Baltazar de Santo, distinguished and rich knight, from the lordship of Vizcaya.
This village is located at the foot of a hill, at 272 degrees, 10 minutes in longitude and 21 degrees, 30 minutes in latitude. It has as it immediate neighbors the two jurisdictions of Querétaro and Guanajuato, the first by the quadrant of the south and the second by the west. It enjoys a very healthy temperament, benign airs and sweet waters, in particular those of the source that they call the Chorrillo, that is in a district very leafy and of special amusement.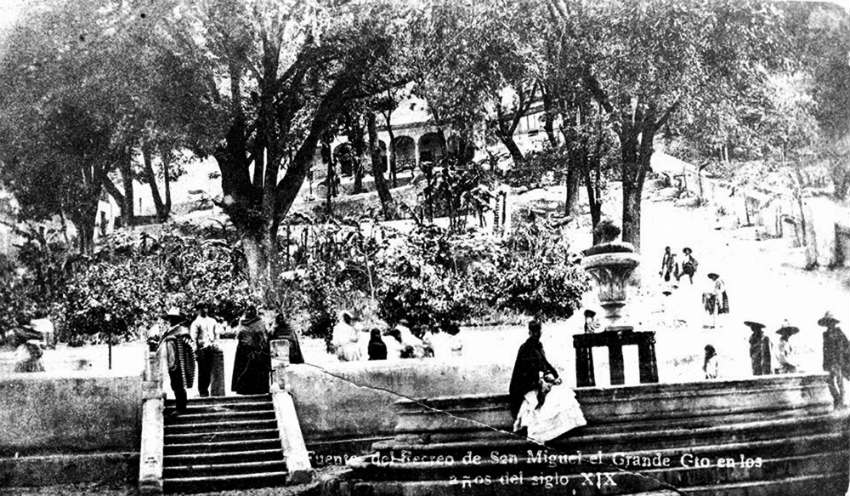 It has enlarged its population and rich trade. They founded it on the Spanish and Tlaxcalan principles, conquering the Chichimec barbarian Indians who inhabited the country, and thus left the main population of Spaniards, mestizos and mulattoes, now has over three thousand families, without counting the growing number of Otomi, in its neighborhoods, haciendas and obrajes.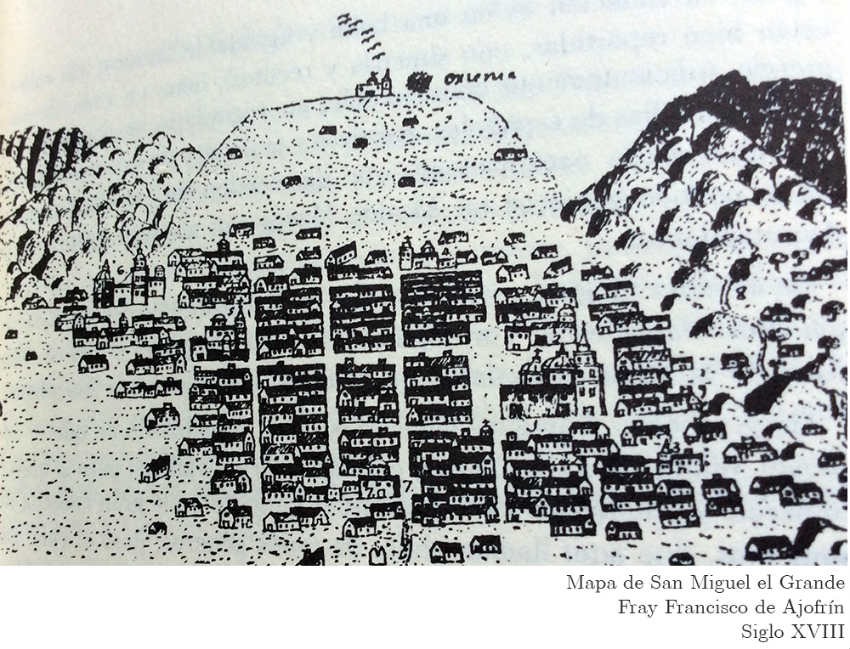 There is a parish with a priest who has his vicars for the spiritual administration, which is so numerous, that the priest assured me has more than 70,000 souls. The parish is magnificent and at the present time they are making a rich stained-glass window, with a burial vault below, with great capacity and perfectly finished.
A miraculous image of the Christ of the Derision is venerated in the altar of the said parish in the passage of the Ave Rex Judecrum, that is the asylum of all the neighbors in their works and necessities. It is most devout and of great majesty.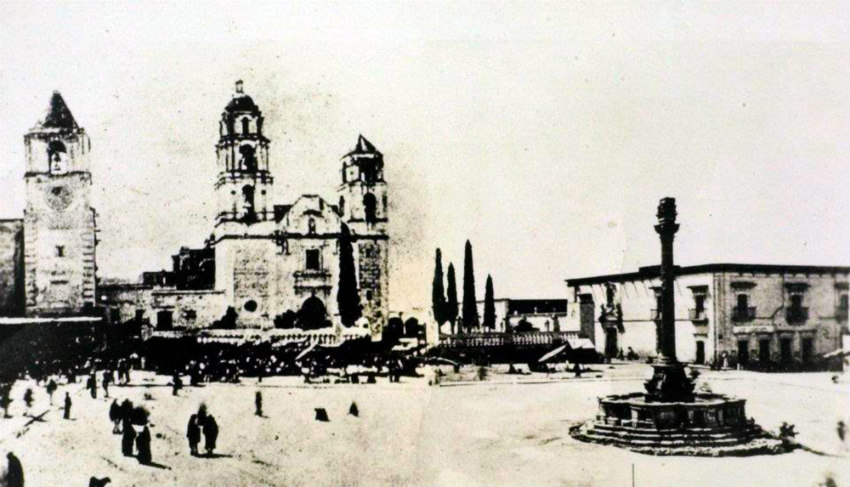 In the same parish there is next to the Gospel a chapel and in it a crucifix is ​​venerated with the name of Battles, and it is tradition that was brought from Spain by those first Franciscan Fathers who planted the faith in Jesus Christ in this whole Province of Michoacán. On the sides of the walls there is an old painting of the martyrdom given by the fierce Chichimec Indians near the city to two venerable Fathers, called Fray Francisco Doncel and Fray Pedro de Burgos, priests, to whose martyrdom Torquemada near the city ... their bodies are said to be buried in this chapel, although they have not been found.
There is a convent of Observant Fathers with a beautiful chapel of the Third Order, Oratory of San Felipe Neri, with several scholarships for schoolchildren and major and minor studies. And also there is school for children, all at the direction of said Fathers of the Oratory. They have a sumptuous chapel of Our Lady of Loreto, richly adorned by their special benefactor Don Manuel de la Canal. There is also a church or beaterio for Monjas de la Concepción and inside of it a school for girls.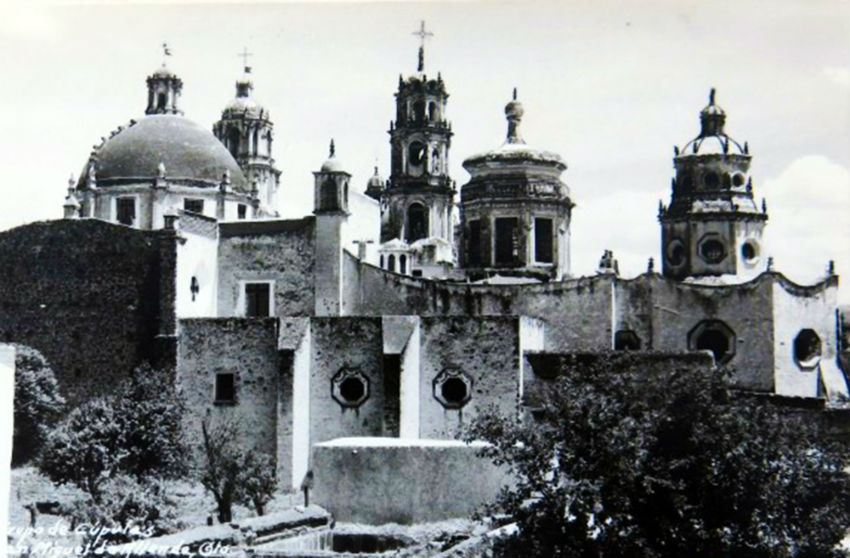 The town is governed by a Mayor and two ordinary mayors, with its council of councilors, and other necessary positions. Also under the jurisdiction of this Mayor's Office is the town of San Felipe, a capable population, and it breeds a lot of exquisite pears, pomegranates, very large quinces, nuts, apples, grapes, and other peculiar country fruits such as guavas, cherimoya, magueyes, etc. And a little distant town called Los Dolores, where these fruits are grown, especially the grapes, with more abundance.
Many fruits are also grown in San Miguel el Grande, in particular grapefruits, lemons, oranges, chayotes, granaditas from China, etc. By the northern side half a league away, there is over an eminence, an ancient factory of the Gentile Indians which today is called Cuecillo, and they say it was a famous temple or shrine. It seemed to me after having examined its circumference, factory and a way of construction, that is was a fortress or castle, for there are still several forts and bastions around the main building, which looks like a parade ground.
In the jurisdiction there are several large estates and broods of cattle, and in the neighborhoods of the town, large obrajes and factories of exquisite cloths and almost as fine as those of Segovia. There are many tanneries where all types of furs, cows, soles, antes, chamois, cordoban and corazas are worked. Filar and firearms are made: swords, machetes, shotguns, pistols and other instruments of war.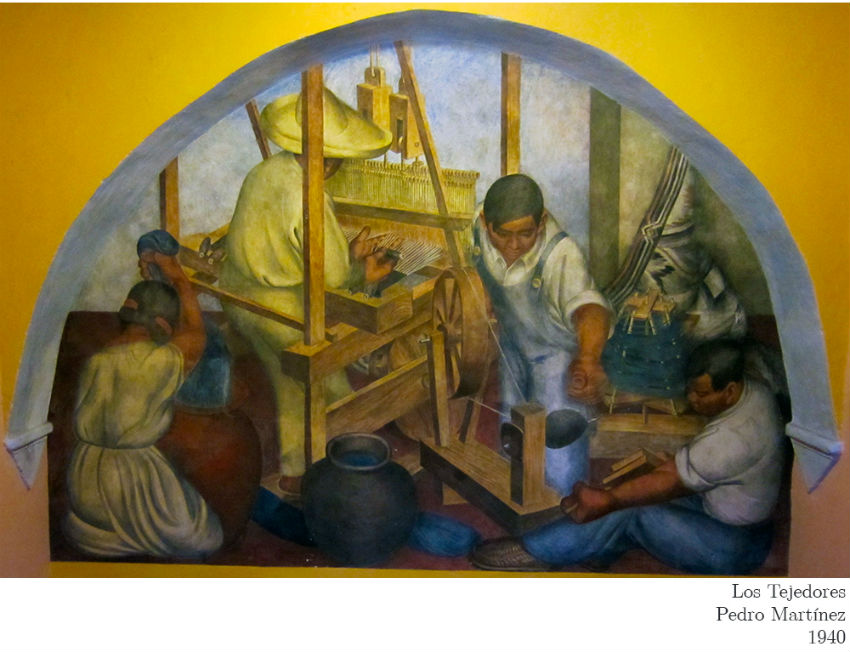 Women embroider with needle, bedspreads or blankets for beds and carpets or carpets for the floor, with great beauty and art. I have seen some works of this kind as tasteful as could be made in Europe.
I was in San Miguel el Grande from September 12 to 24, 1764, the day of Our Lady of Mercy, when I went out to eat Chamacuero in the morning. "
Bibliography:
Rionda Arreguín, Isauro. Testimonials about Guanajuato. Guanajuato. Editorial La Rana. 1999.
**************
Eva Luz Villalón Turrubiates:
Born in Celaya but Sanmiguelense by heart, she is the author of two books of oral history, traditions, folk tales and legends of the city of Salamanca. She's a professor in the university, a historical researcher and a volunteer in the Biblioteca Publica of San Miguel. She has written for several newspapers and magazines and also has been awarded with the literary prize "El Timón de Oro" by the Naval Academy. Currently she's working on a historical fiction novel set in San Miguel in the post-World War II era.