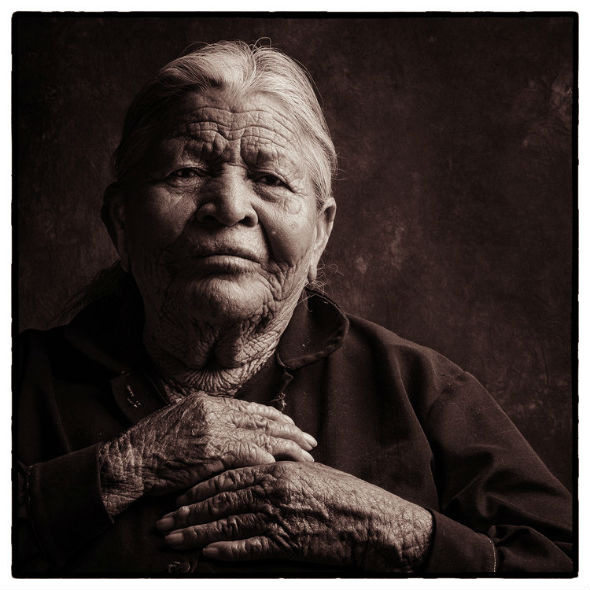 by Joseph Toone
A few months back a German documentary filmmaker approached me asking for my help in doing a film about my napkin-selling sweetie, Isabel. Isabel and I have breakfasted on Saturdays for years. Ours is a tumultuous relationship you may have read about in earlier articles.
She was hit by a car last year. I have no idea how one hits an elderly woman who moves at a snail's pace; it's not like she ran out into the street after a ball. Since then her mobility as gotten even worse. My arguement to the director was that since she barely moves, there would be little motion in his motion picture, making the piece visually dull.
Taking my point, he switched directions. He began photographing interesting local faces for a future exposition. He wanted to include Isabel in this work. To date he has had one hundred models. He is shooting for two hundred before putting his work in a show. I was all for it. However, while I advocated he photograph Isabel in the street, he insisted on only doing studio shots.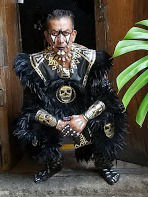 I studied his studio's location in person. I understood that it would take Isabel about thirty minutes to get herself from the curb out front into his studio.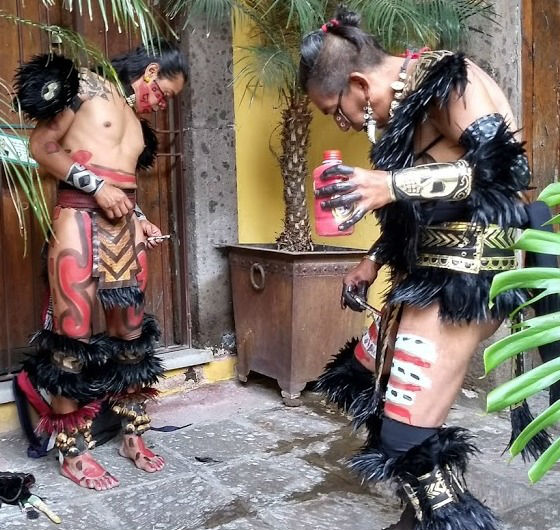 On the day of the shoot, while I was walking to meet my sweetheart, I passed a group of three men wearing the bells around their ankles, who were obviously indigenous dancers. One man, in particular, was very animated. I thought, as they were a fun crowd. that if I didn't have to meet Isabel in a few minutes, I'd follow them to see where they were going.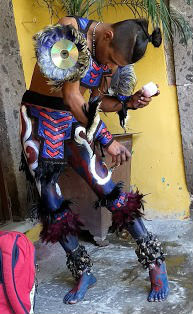 Well, as my lady friend and I slowly inched across the courtyard to the photographer's studio, I learned my merry band of gypsy dancers were going to the same place. They also were to have their images taken by Carlos G. Maier. Whereas, my super model simply removed her hat and the magic happened, the lads needed more time in hair and makeup than I thought possible.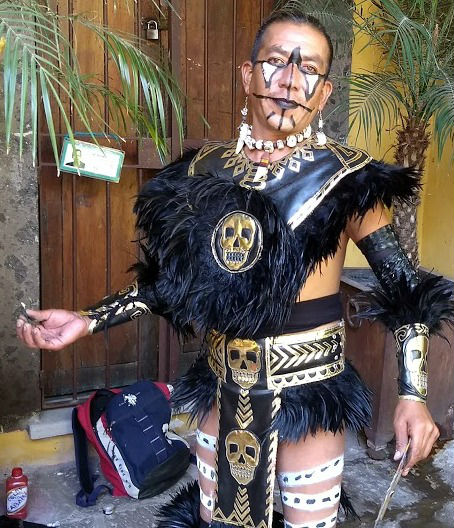 Once recorded for prosperity, I knew my exhausted pal could not walk another step. I found a chair in the courtyard for her and went to buy tamales, fruit and empanadas for all. Then she and I sat back to enjoy the best show in town on any Saturday morning.
The lads really had male makeup to an art form. They painted their legs much like a 1930's Teutonic movie star once did to pass as Arabian. I was spellbound, thinking I could never do that; I'm much too hirsute. Then it dawned on me that the lads, who were wearing nothing more than a cock sock, featured as little body hair as a newborn baby, making this whole makeup process way more applicable.
Next they used their Cover Girl sized compact mirrors to do their faces. Again, the level of detail, and subsequent transformations, were amazing.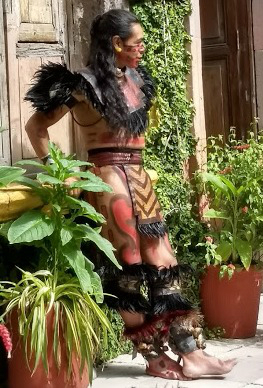 The most animated lad, Skull Face, was a chatty bloke and lived for compliments. At one point, gesturing to the three of them, he turned to me and asked, who was the most handsome man there.
"That's obvious," I replied, "Me."
Unhappy with that response, he asked Isabel for the lady's opinion, to which she replied "That's obvious," while pointing towards me, "him." Proceeded, she pointed to my dog, "Then him."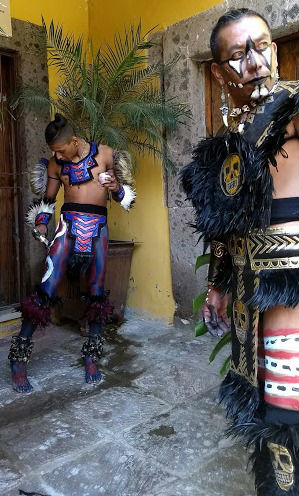 Following their time in the studio the dancers proceeded to the Jardin for some money making photo opportunities with tourists. Where they put their cash, baffles me. I escorted Isabel home.
I'm very much looking forward to Carlos' exhibit. With his keen eye for selecting models who needs Tyra Banks.
**************
Joseph Toone is Amazon's bestselling author of the San Miguel de Allende Secrets series of books and TripAdvisor's best rated historical walking tour guide. For more information contact toone.joseph@yahoo.com or visit History and Culture Walking Tours or JosephTooneTours.com, also on FaceBook.