Sunday November 11, 2-5 pm
Alameda #6 (google #5) Colonia San Antonio
Free
Magic Object, Secret Soul
by Hope Palmer
The starting point of the new show at Kathleen Cammarata's studio is an entrance into a world where visible form in it's darkest essence celebrates the magic of landscape. Forms appear as if they are beginnings of new growth. Cammarata's drawings discard their substantiality as if waiting to discover their secret soul.
Complimenting the drawings are objects by Maureen Morris that have a sense of mysticism hovering over them, projecting their own darkness and earthly shadow. The surface of the pieces have an alchemistic sheen similar to graphite and wings sprout in uncanny places.
The drawings penetrate to the womb of nature, the primal ground of creation, where the secret key to all things lie hidden. Art has become mysticism presented in inky blackness that suggest regression into Stygean depths where everything turns unstable. Balls are rolling out of sight in an undulating landscape. These balls or eggs are connected or loosely scattered in the compositions. They appear to regress into an impenetrable back lit space. There are hidden recesses where the beginning of life ignites, a changeless background asserts itself, and Cammarata's art has become mysticism.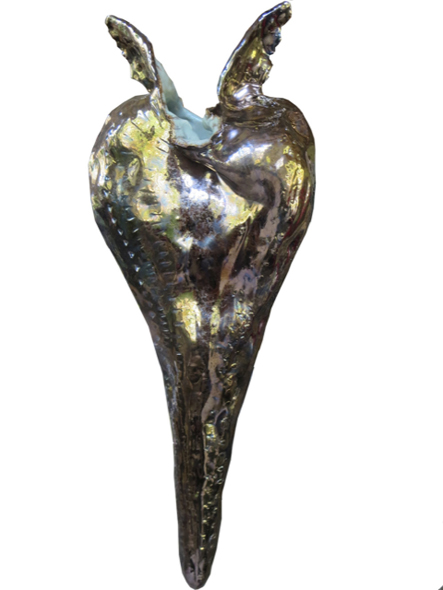 The exhibition does not entirely vanquish reality because Morris's sculptures present that concrete thread that stretches into tangible space. There is a curious animation about her work that compliments the drawings and in turn becomes a symbolic representation of time and place.
Each drawing and sculpture is a revelation of a world sensed as familiar but later dissolves into the unknowable. They seem to carry on separate existences but make you, the viewer, believe in the surprising effects of this strange beauty.
Morris is a ceramic artist living and working in San Miguel for ten years. She works in a studio with other ceramicists sharing ideas and inspirations as well as formulas and techniques. Her sculptures are made with paper clay or other clays that are thin but strong.
Cammarata is a painter and draftsman. She has had 25 solo shows and has participated in numerous group shows. She taught in two museums and in a USA university. Her work is in both private and corporate collections.
Magic Objects, Secret Souls can be seen on Sunday Nov. 11th from 2 to 5 pm or by appointment katcammarata@gmail.com