Saturday, Sunday, September 25, 26, 5-8pm
La Conexion, Aldama 3
free
by Cameron Jones
The town of San Andrés Huayapam is located twenty minutes outside Oaxaca City. The Ukrainian-Canadian artist Andrew Osta lives and paints here, up a sloping unpaved road that Google Maps hasn't quite reached, in a lush garden where chickens, former street dogs and his two kids run free, in a bright house covered with paintings by deceased friends and an entire wall of rare Russian icons. It's this type of setting that expresses the breadth of an artist's vision probably better than any single painting.
When I met Andrew six years ago he was living in San Miguel de Allende, learning from the late Toller Cranston. Toller's eccentricity was legendary and the property he built, stretching a city block near Parque Juárez and growing in every direction, was a destination for dozens of tourists, artists, fans and friends. Then there was the inner circle. Toller kept a few close friends very close, hosting them for breakfast nearly every morning before they retreated to their own studios. Andrew was the youngest painter in this group and Toller let him in on the practical lessons not discussed over eggs: how to coax certain effects out of your paint, how to approach older artists who have something to teach you, how to position your work in the minds of dealers and buyers, how to let yourself come through your subject.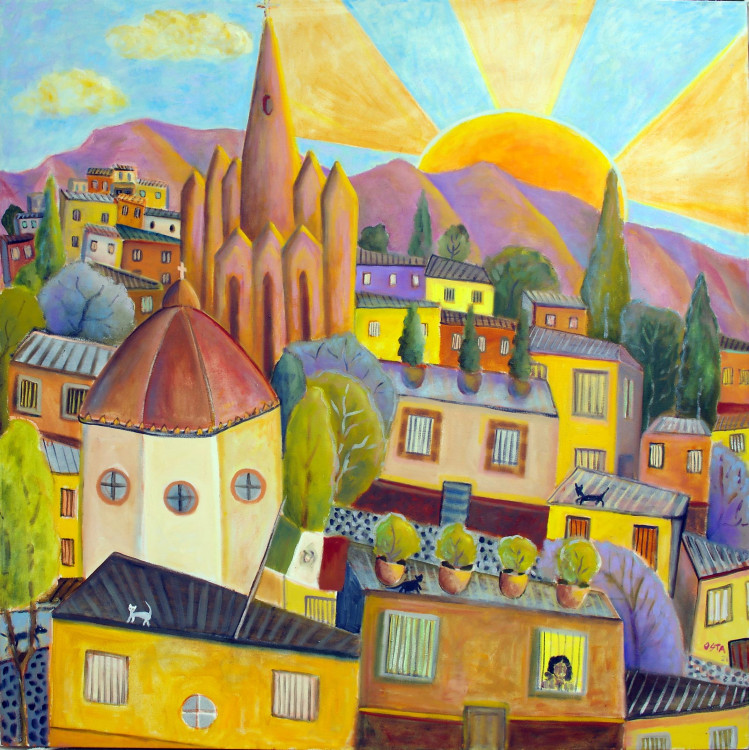 Andrew has found a technique to put that final lesson to practice. Rather than conceiving of an idea for a painting or what it's supposed to mean, he prefers to bring the painting to a place where it starts making its own decisions. This gives a youthful surprise to the work. Here, the painter isn't a domineering force but a participant in that surprise. In his paintings of saints, the holy men wear shocked faces like they can't get over the surprise of receiving a secret knowledge— or that someone has painted them into existence. Andrew, holding the brush, may be feeling the same thing. But it's not just whimsy; these paintings are also mysterious and meditative. The centerpiece of the living room in Huayapam is a large portrait of a woman with birds for eyes who appears to be so loosely tied to the earth she could fly away on a stray thought. It's the same slumbering, holy contentment worn in early Renaissance frescoes and Russian Orthodox icons, and it's a face also worn by some of Toller's subjects and those of fellow San Miguel painter Marion Perlet. The woman in the painting bears a close resemblance to Andrew's wife, Ninfa, so I asked Andrew if it was her. "No," he said, surprised, "but it could be like Toller's belief: every painting is partly a self-portrait."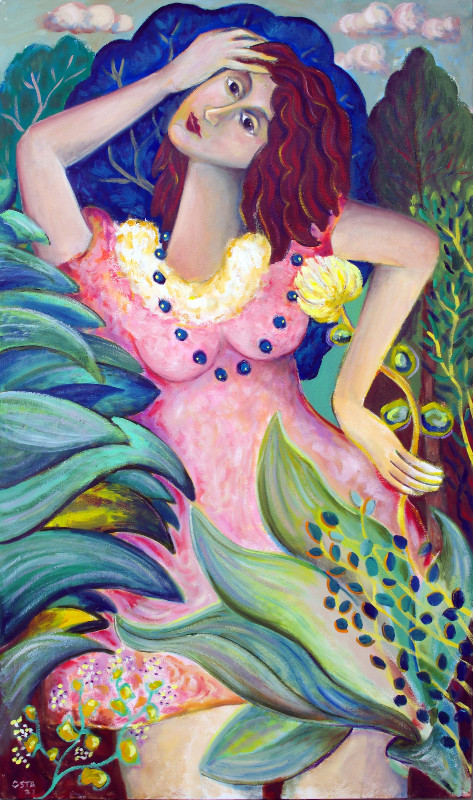 I have seen Andrew's world grow over six years. His family, his garden and his vision are larger. This July we hiked in the hills above his house as the sun set over the fields, and Huayapam reminded me of those French towns where the Impressionists painted. Andrew, a transplant from the former U.S.S.R., from Canada's biggest city and from an education in San Miguel, has landed in what the artist Pierre Bonnard called "ma roulotte"—his caravan, his camp. We watched his son run down the trail and he told me about how the house, for sale, was waiting for him the first time he visited. Knowing that landscape, knowing his mentor and knowing his family, I know how personal, honest and true even his most fantastical subjects are.