Teatro Ángela Peralta
Saturday, October 15, 6pm
$500, $400, $300 online (QR code below), $450, $350, $250 at the window
Español abajo
Balkan Dance and Music
Judy Sanz
La Bohème Ensemble and Darbukanos come together with a special selection of music and dance inspired by the Balkan region.
La Bohème Ensemble is a Mexican group specializing in world music. These musicians, who will be performing in San Miguel as a duet, have traveled far and wide throughout the Mexican Republic, taking their art to the streets, theaters, and wherever their music is appreciated. Their travels have led them to incorporate styles and songs from each region, bringing a musical diversity to their repertoire, which spans the gamut from Oaxacan and Macedonian rhythms to bolero and tarantella.
For this occasion they have prepared a special repertoire composed of pieces such as "Djelem Djelem" by composer Zarko Jovanovic, and "Borino de Oro" and "Venzinadiko" by Goran Bregovic, among others.
The duet includes Fernando Galeo, whose vocals move between Mexican popular song and bel canto⏤a style evolved through a continuous process of learning and refinement.
This concert will feature interpretations of Eastern European and Balkan folklore. The other half of the duet, Benjamin García, is self-taught in piano and accordion, thanks in no small part to his ongoing passion for world music, in particular that of the region of Macedonia, Romania, Turkey, Serbia, etc.
On the Darbukanos side, Roger Vargas plays the oud, and Moises Ponce the darbuka, from which the name of the group derives⏤both instruments essential elements to this repertoire.
Fridha Chacón, a professional dancer and leader of Darbukanos, is passionate about sharing her art, and over the years has increasingly focused on tribal dance and bellydance with the Darbukanos project.
We will also have two guest dancers with distinguished careers: Elsanne Barrows, a super teacher and guru for many dancers nationally and internationally, well-known for her studio La Libélula; and Ani Torres, a gypsy music and dance aficionado, who will also help make this early fall evening a very special one.
Musicians
Fernando Galea (singer)
Benjamin García (piano and accordion)
Roger Vargas (oud)
Moises Ponce (darbuka)
Dance
Elsanne Barrows
Fridha Chacón
Ani Torres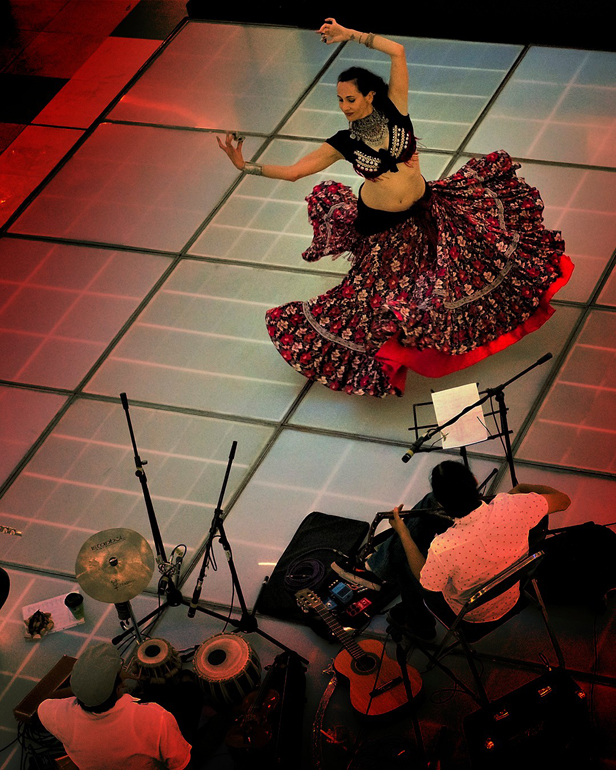 Teatro Ángela Peralta, mesones 82
Sábado, 15 de octubre, 6pm
$500, $400, $300 en linea (QR codigo abajo), $450, $350, $250 taquilla
Danza y música de los Balcanes
Judy Sanz
La Boheme Ensamble y Darbukanos se reúnen con una selección especial de música y danza inspirada en la región de los Balcanes.
La Boheme Ensamble es una agrupación mexicana que interpreta música del mundo. Para esta presentación serán un dueto, mismos que viajan por la república mexicana, llevando su arte por calles, teatros y cualquier rincón donde se aprecie su música. Esta movilidad les ha permitido incorporar estilos, cantos de cada región, incorporándose a su propio repertorio una diversidad musical. Podemos decir que en su repertorio hay desde ritmos oaxaqueños hasta de Macedonia, desde un bolero hasta una tarantela.
Para esta ocasión han preparado un repertorio que particularmente está compuesto por piezas como ¨Djelem Djelem¨ del compositor Zarko Jovanovic, así como ¨Borino de oro¨ y ¨Venzinatiko¨ de Goran Bregovic, entre otras.
El dueto está integrado por Fernando Galeo. Su estilo vocal transita entre el canto popular mexicano y el bel canto que ha sido un proceso de continuo aprendizaje y refinamiento.
Para este concierto hará una interpretación del folklore de Europa del Este y los Balcanes. Su compañero Benjamin García es un apasionado desde siempre por la música del mundo, en particular por aquella de la región de Macedonia, Rumania, Turquía, Serbia, etc., que lo ha llevado a conquistar de forma autodidacta su estudio del acordeón y el piano.
Por parte de Darbukanos se integran a este ensamble Roger Vargas con el oud, instrumento que no puede faltar en una presentación de esta música, y Moises Ponce con la darbuka, instrumento esencial y del que deriva el nombre de la misma agrupación.
En la danza tenemos a Fridha Chacón, bailarina profesional y líder de la agrupación quien tiene mucha motivación por compartir su arte, y que a través de los años se ha ido consolidando en la danza tribal y el bellydance con el proyecto Darbukanos.
Además tendremos dos bailarinas invitadas de gran trayectoria: Elsanne Barrows, super maestra y gurú de muchas bailarinas a nivel nacional e internacional - todos la conocerán por su estudio La Libélula;
y Ani Torres, bailarina apasionada de la música y danza gitana, quien también viene a compartir su arte y hacer de esta noche una velada especial de inicio de otoño.
La Bohème Ensamble y Darbukanos
Músicos
Fernando Galea (cantante)
Benjamin García (pianista y acordeonista)
Roger Vargas (oud)
Moises Ponce (darbuka)
Danza
Elsanne Barrows
Fridha Chacón
Ani Torres