Wednesday, September 28, 5-8pm
Bordello Galerià, Organos 19
free
By Gabrielle Brie
Please join us for an Artist Reception as the Bordello Galeria to welcome Jan Bowen, an exciting new talent to the San Miguel art scene. Jan's opening debut coincides with her birthday!
Originally from Austin, Texas, Jan Bowen has called San Miguel home since 2015. Jan, whose work career was in hospice social work, has always created art as a way to offset the demands of her career. For many years she found that drawing and painting helped her to create that sense of balance.
Now retired, Jan discovered that the historic buildings and magical light of San Miguel has provided her with a rich visual palette and new inspiration.
Like many of us taken by surprise by the pandemic in the Spring of 2020 when the world seemed to stop turning. Jan decided to explore new artistic endeavors and threw herself into abstract painting and 2 types of hand built sculptures.
Her paintings are done with acrylic on canvas and the sculptures are from 2 different mediums, homemade porcelain clay and paper mache product, both starting with recycled cardboard stacked together to give the 3D base. Then either paper mache, or the homemade porcelain clay, made on there stove, is placed over the cardboard pieces. After drying, gesso is applied, and then painted with acrylic paints. Recycled orchids stick are placed in between the cardboard to stand it all up.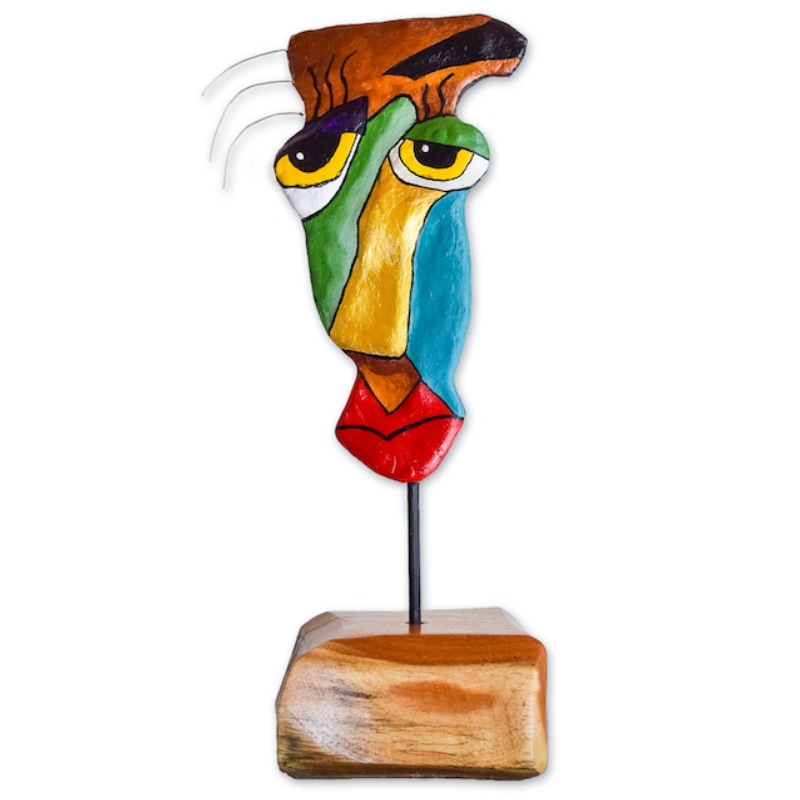 Jan's debut art show, aptly entitled "Color me Picasso" features bold, colorful, stylized portraits of women, and sculptures echo the same theme. Jan's love of color, shapes, and textures is reflected in her entire collection.
These whimsical, happy faces are sure to delight all who view her work.
Jan's been told her art causes people to smile...the ultimate compliment.
Jan looks forward to sharing a glass of wine, and a bite of chocolate birthday cake at her reception at the Fountain Patio of Casa de la Noche.
Join her this coming September 28th, Wednesday evening from 5 to 8pm where her work will be available for viewing and purchase.
See more of Jan's art on her website:
www.JanBowenArt.com

Bordello Galerià is located in the public spaces of Casa de la Noche,
especially known for hospitality and art.
Our location is Organos 19, Centro,
1/2 block off Hernandez Macias.
Please visit, and bring your smile