Sunday, January 22, 1-4pm
private home
$?, RSVP: WhatsApp 415 117 2942
We would like to invite you to join us for a special musical event the afternoon of Sunday January 22nd. We will be having a concert of Indian Classical Music followed by a reception catered by Hecho Con Amor in a beautiful private home. One of the musicians, Ross Kent, is my grandfather and it is the first time we have been blessed with the opportunity to do an event like this together. We would love for you to join us! I am attaching a flyer with more information.
Please RSVP if you are interested in attending as space is limited. You can reach me here or through WhatsApp at +52 415 117 2942. I look forward to hearing from you and hope to see you there!
Best Wishes,
Delani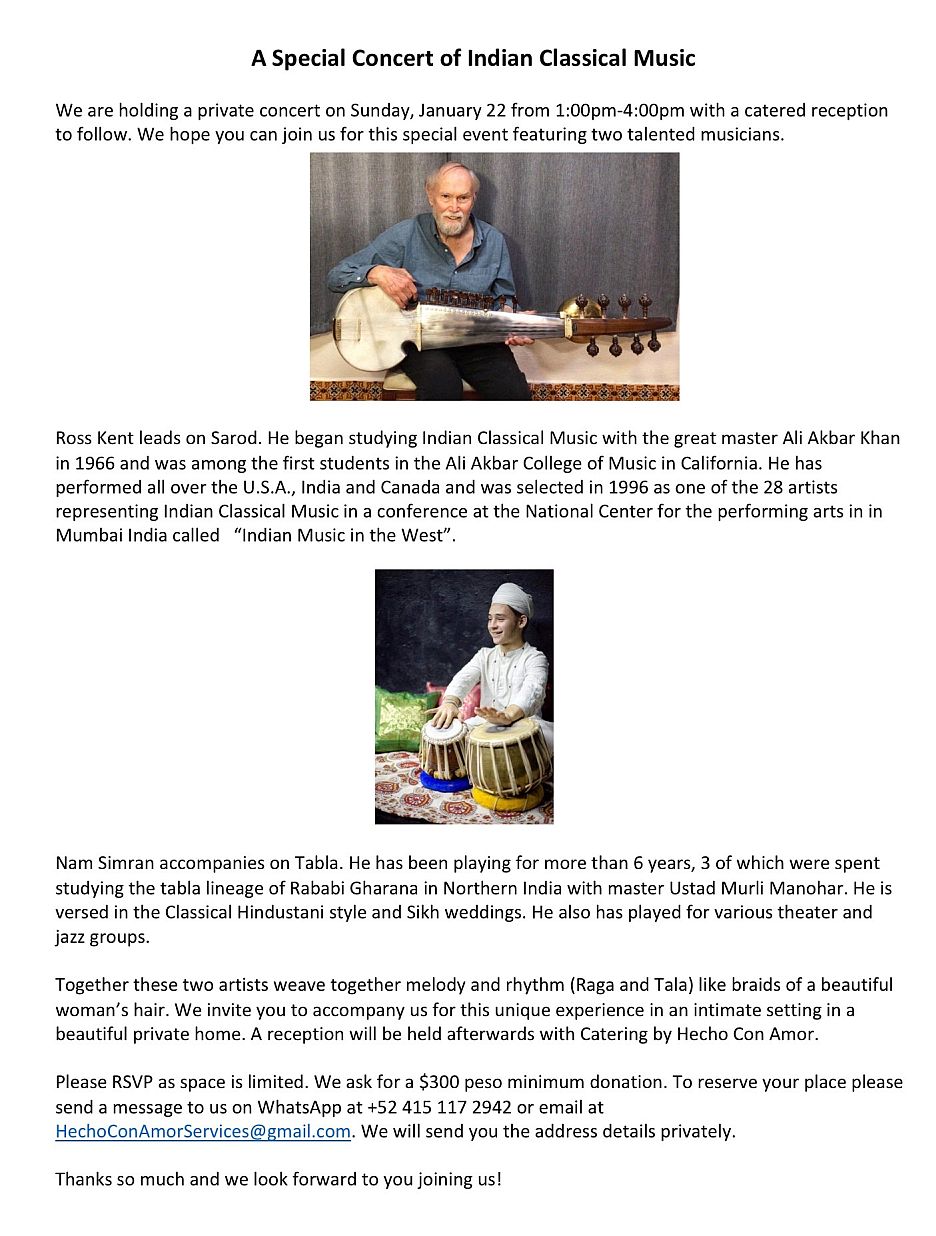 Hecho Con Amor is proud to offer catering, event planning, private chef and catering services in San Miguel de Allende. Whether you are planning your upcoming wedding or another festivity, or simply want to enjoy a beautiful meal with friends, Hecho Con Amor is here to serve you with a smile! We utilize the best available ingredients with delicious recipes to create a unique and memorable dining experience. We have options available for any dietary needs such as vegetarian, vegan, glutten free, dairy free, and heart healthy. Hecho Con Amor translates to Made With Love. It's the truth, we absolutely Love what we do! It is our joy and pleasure to serve you, and a dream come true for us to bring your ideas into life. We focus on providing quality locally sourced cuisine that highlights the beautiful flavors of Mexico. With Hecho Con Amor you can indulge in the rich authentic flavors of Mexican cooking while still caring for your health and well-being. Our highest intention is to do everything we do with Love. It is our dream to share beautiful food and create fond memories for you and your family and friends. Enjoy cuisine that fills your stomach and your heart. Experience the difference when Passion and Gratitude are the first ingredients in your dish and everything is Made With Love.