Monday, January 23, 6-9pm
Arbol de Vida Waldorf School
$300 suggested
Español abajo
The Polyglot Soul and the Genius of Language - Masterclass
Six City Tour
by Matia Sol Tollmar
info: Teacher Veronica - 415-117-8436
***
"Language is much wiser than all of us. You will agree with me that language has not been made by men.
"Suppose that men had had to sit in parliaments and, based on their intelligence, had determined what their language should be like, you can imagine what would have come of it! Something as smart as our laws! But the structuring of the language is really more intelligent than the laws of our State. The structure of language contains true treasures of wisdom.
"Much can be learned from the way a people or a tribe speaks. If we become familiar with the structure of the language, we learn a lot about the genius of that language.
"It is especially important in learning to feel something concrete from the action and interaction of the language genius. It is paramount to believe that the genius of the language acts in the structuring of the language."
Rudolph Steiner
GA 294- 4th conference.
Stuttgart, August 25, 1919.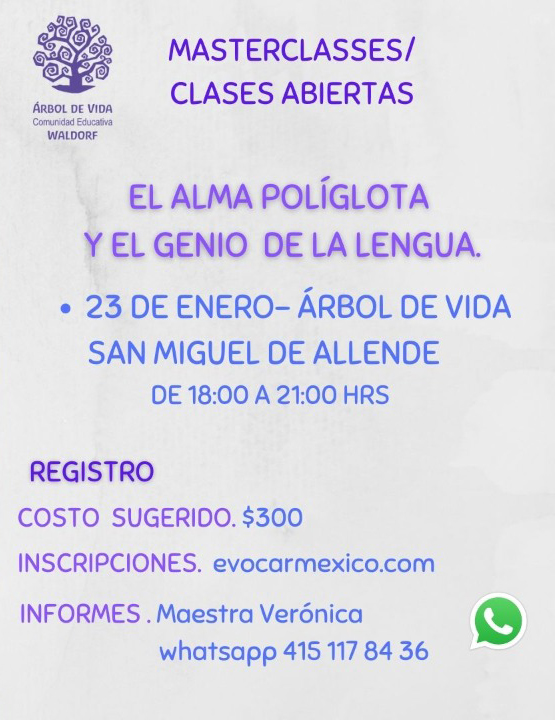 "El lenguaje es mucho más sabio que todos nosotros. Estarán de acuerdo conmigo en que la lengua no ha sido elaborada por hombres.
"Supongamos que los hombres hubieran tenido que sentarse en los parlamentos y, partiendo de su inteligencia, hubieran determinado como había de ser su lengua, ¡ya pueden imaginarse lo que habría salido de ello! ¡Algo tan inteligente como nuestras leyes! Pero la estructuración de la lengua es realmente más inteligente que las leyes de nuestro Estado. La estructura del lenguaje contiene verdaderos tesoros de sabiduría.
"Se puede aprender mucho de la manera cómo habla un pueblo o una tribu. Si nos vamos familiarizando en la estructura del lenguaje, se aprende mucho del genio de esa lengua.
"Es de especial importancia en la aprender a sentir algo concreto de la acción e interacción del genio de la lengua. Es primordial creer que el genio de la lengua actúa en la estructuración de la lengua."
Rudolf Steiner
GA 294- 4ta conferencia.
Stuttgart, 25 de agosto de 1919.