Friday, February 16, 5-7pm
Bordello Galeria, Organos 19
Free
Imagined Landscapes of Mexico, San Miguel and Beyond - opening
by Mary Ann Carter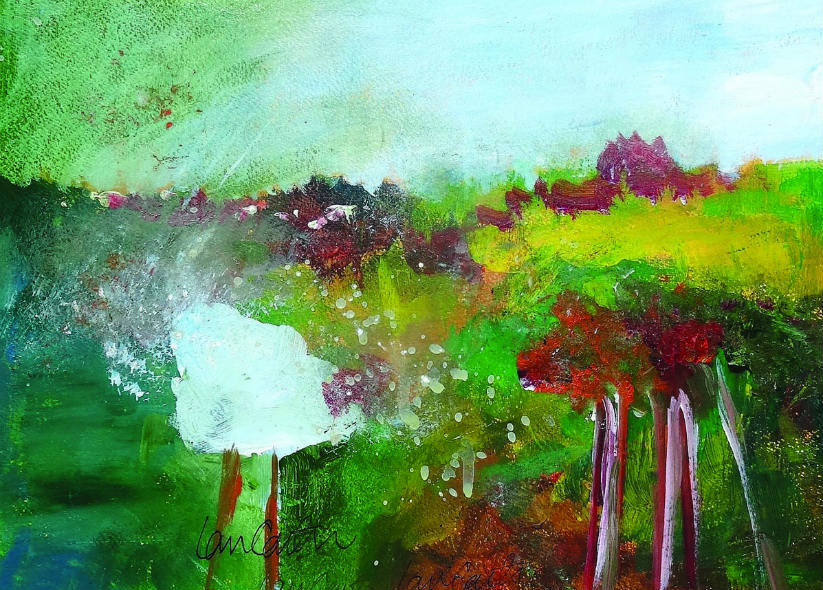 Ian Carter, my husband, and I were having cocktails on our San Miguel patio: the sun was setting, the bright green hummingbirds sipping nectar from the rosemary flowers. Ian looked over at me and asked, "Why don't we see if our landlord will let us stay here for six months each year?" Our landlord was thrilled!
That was in the early spring of 2014, and now, in 2018, Ian will have an art show at La Casa de la Noche, La Bordello Galeria, Calle Organos #19, February 16th through 18th, 2018 with an Opening Reception, on Friday, February 16, from 5 to 7 p.m. A generous contribution will be given to Centro Infantil de los Angeles, a San Miguel pre-school with which we are involved, sponsoring two children and doing some interesting research on the graduates of this delightful, lively preschool.
The numerous art workshops Ian has taken since moving to San Miguel have been motivating and inspirational for him: his various teachers in San Miguel and Vancouver challenging him to use several different mediums, including watercolor, acrylics and mixed-media. On September 2016, he had a successful show of his drawings, watercolours, landscapes, and acrylics in the restaurant Stephen Greenham and Lorne Tyczenski formerly owned in Vancouver. The watercolors were mostly scenes from Europe, BC and San Miguel. The acrylic paintings are abstract and they are "Imagined Landscapes of Mexico; San Miguel and Beyond." Some of these are also mixed-media, combining collage, joint compound and torn paper.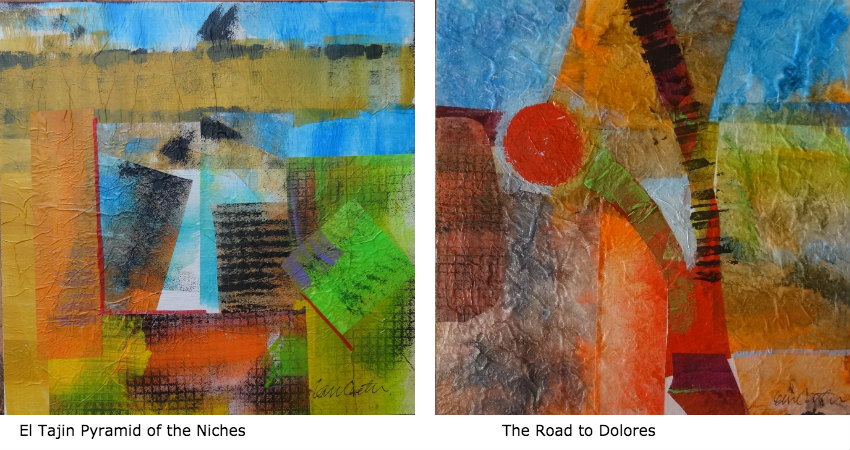 In December 2017, he had another successful Vancouver show in the Meme Brooks Studio, showing and selling his paintings. It all began with Ian's fantastic idea, and my instant agreement that long-ago evening.
So, from March to June 2014, we purchased an apartment at the University of British Columbia, Vancouver, BC, with all-round views, sold our house and made the front page of the local newspaper as we didn't sell to the highest bidder but to a family who was not going to demolish the 1934 house and rebuild. We had come to San Miguel in the first place because of our two friends, who have two homes in San Miguel and strongly encouraged us to come here. In 2011, we came to stay for ten days on Alameda. We took several trips to surrounding villages and archeological sites and fell in love with San Miguel.

We returned in 2012 and 2013 and enjoyed being in their house for a few weeks each, with plans for Ian to take more painting classes, continue our violin and guitar lessons, learn Spanish, and enjoy the many cultural pleasures of San Miguel. The third time we stayed a month.
We have visited many fascinating places in Mexico, including Vera Cruz, Xilitla, Oaxaca and Puebla.


In 2014 we stayed on San Dimas which is where we have stayed since for 6 months each year. Our music teacher got us involved in a swing band with three Mexicans and three "Gringos" with an age range from 27 to 75! We've performed a few times and call ourselves, La Banda Sin Nombre. The name derives from our first gig, where Ian was asked "What is the name of your band?" He said we didn't have a name, so the MC announced us as The Band with No Name! Our drummer, a Mexican said that the name would sound much better as La Banda Sin Nombre. So it stuck. Our lives are busy and wonderful in San Miguel: this was one of the best "wild" decisions we've ever made! Art and Beauty and Mexican and Gringo friends abound.


Ian's show of acrylics is an introduction to "Imagined Landscapes of Mexico". These paintings are remembered from actually visited places in Central and Southern Mexico. He first sketched and photographed these places and then painted them. They are acrylic, and acrylic with mixed-media. The watercolor paintings are of San Miguel de Allende and surrounding areas. In these, Ian tried to capture the spirit, colour and culture of San Miguel and although the scenes are certainly recognizable as real streets and buildings, they are not like photographs, they are impressions of very special places and moments in our lives. The entire exhibition of 40 plus paintings is entitled "Imagined Landscapes of Mexico, San Miguel and Beyond." Hope to see you at the Art Show on February 16, 17 and 18, 2018.